Melbourne was a default inclusion in my Australia itinerary because it is one of those touristy cities you always hear about when anyone mentions the land down under. Having read about the coffee culture, the impressive street art, the vibrant nightlife and the numerous outdoor restaurants, riverside bars and beach-side eateries, I knew I wanted to go to, and 'Melbourne - to go or not to go?' was not a question that crossed my mind.
I placed Melbourne at the very beginning of my (almost) 3 week trip to Australia. Maybe the mistake I made was that I visited in March, which I had believed would be the beginning of their 'autumn' and hopefully, good weather. However, I was greeted by unbearably sultry weather, that made it next to impossible to happily explore the outdoors. And be warned, the Australian sun is relentless, it burns your skin in a way that you literally feel like you're being barbecued. Applying a high SPF sunscreen every few hours is probably the best way to save your skin from getting severely dehydrated and burned, but it's not going to protect you from the torrid heat of Straya.
One thing that shocked me in Melbourne was the amount of drunken/stoned people, lying by the roadside or simply pissing on the streets in broad daylight. This might be common only in certain areas (I was staying on Flinders Street) and probably only on weekends (I was there on one) but nevertheless, it was quite a disturbing sight.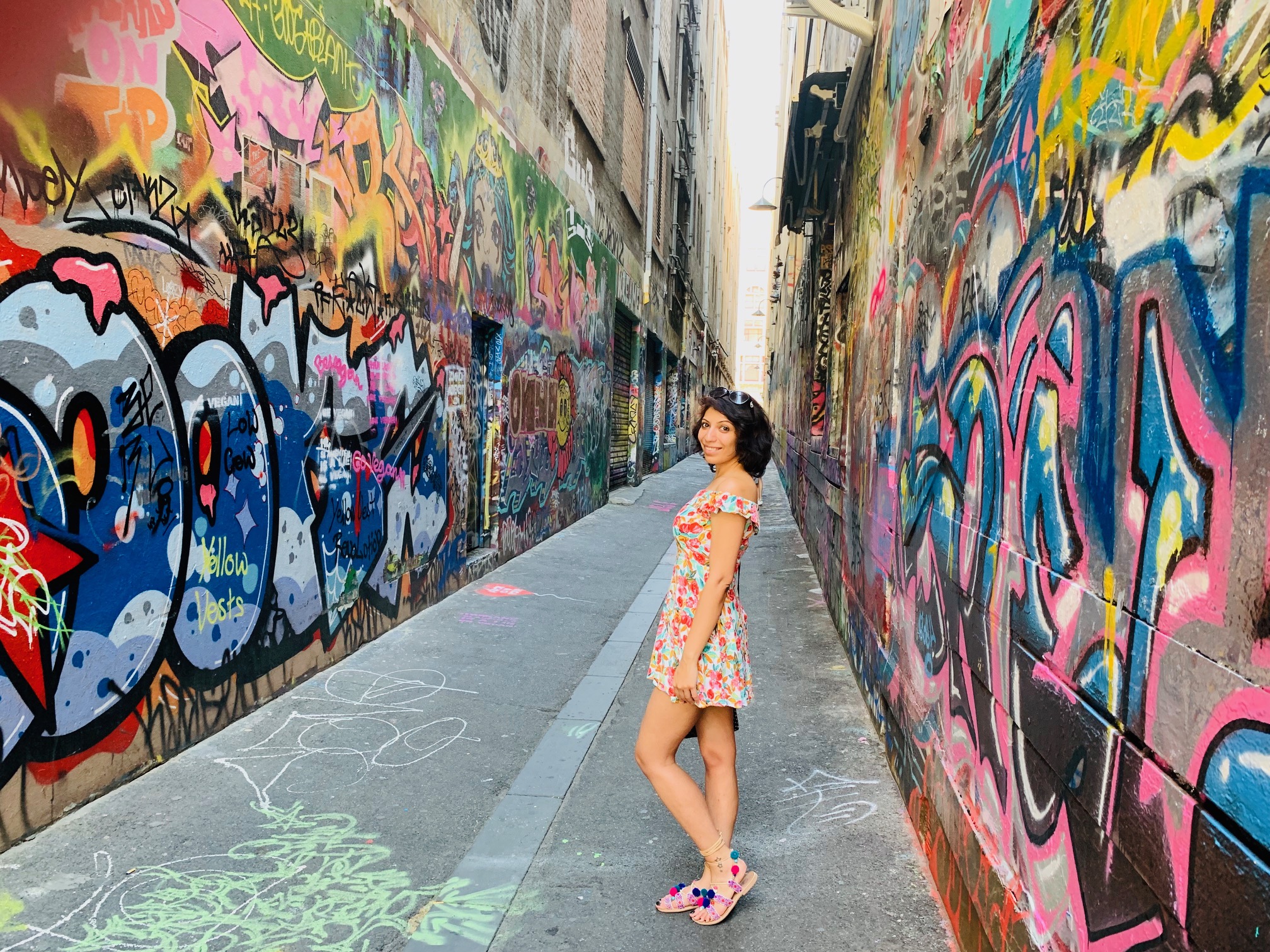 Melbourne - to go or not to go? I'd say, definitely go, but not because the city itself is so amazing. It is because of the wonderful day trips that one can take from there that make Melbourne a great base. The ideal amount of time that I recommend you to spend there are 4 days, and probably in April or May, when the weather has cooled down, making it much easier to explore. Here's how I recommend you to spend your 4 days in Melbourne.
---
Day 1: Explore the city
To be honest, 1-2 days in the city are more than enough. The city centre (Central Business District) is covered by the Free Tram Zone (you can get the map here) and is a great way to explore some of the popular districts such as Flinders Street and Queen Victoria Market. Alternatively, this area can also be explored easily by walking, something I highly recommend as it'll take you through some hidden laneways and patio cafes and restaurants. If you wish to explore further out, I recommend you to buy a Myki card which is valid on the trains, trams and buses in Melbourne and can be easily topped up.
If you're willing to travel a little outside the city centre, you can get your breakfast fix at Industry Beans in Fitzroy, an award-winning cafe located in the suburbs, which can be reached by tram and is 15 min outside the CBD. Needless to say, their coffee is amazing and is also available for sale. It's a local favourite, making it a great place to mingle. However, if you're not too keen on travelling outside the CBD, several restaurants located within CBD are also great options for a filling breakfast and great coffee.
Head to Queen Victoria Market, a historical marketplace that has been in operation since the 1800s. It started as a wholesale fruit and vegetable market back then and has expanded now into clothes, souvenirs, accessories, toys and speciality foods market now. A great place to pick up some authentic and typical Aussie souvenirs and gifts, its one of the largest markets in Melbourne.
Take a walk back from Queen Street Market towards Degraves Street, while passing through The Block Arcade, a fine 19th century elegantly built heritage shopping arcade filled with boutique shops and cafes. Stop at Haigh's Chocolates to pick up premium handmade chocolates or taste the gourmet cakes and pastries at Hopetoun Tea Rooms.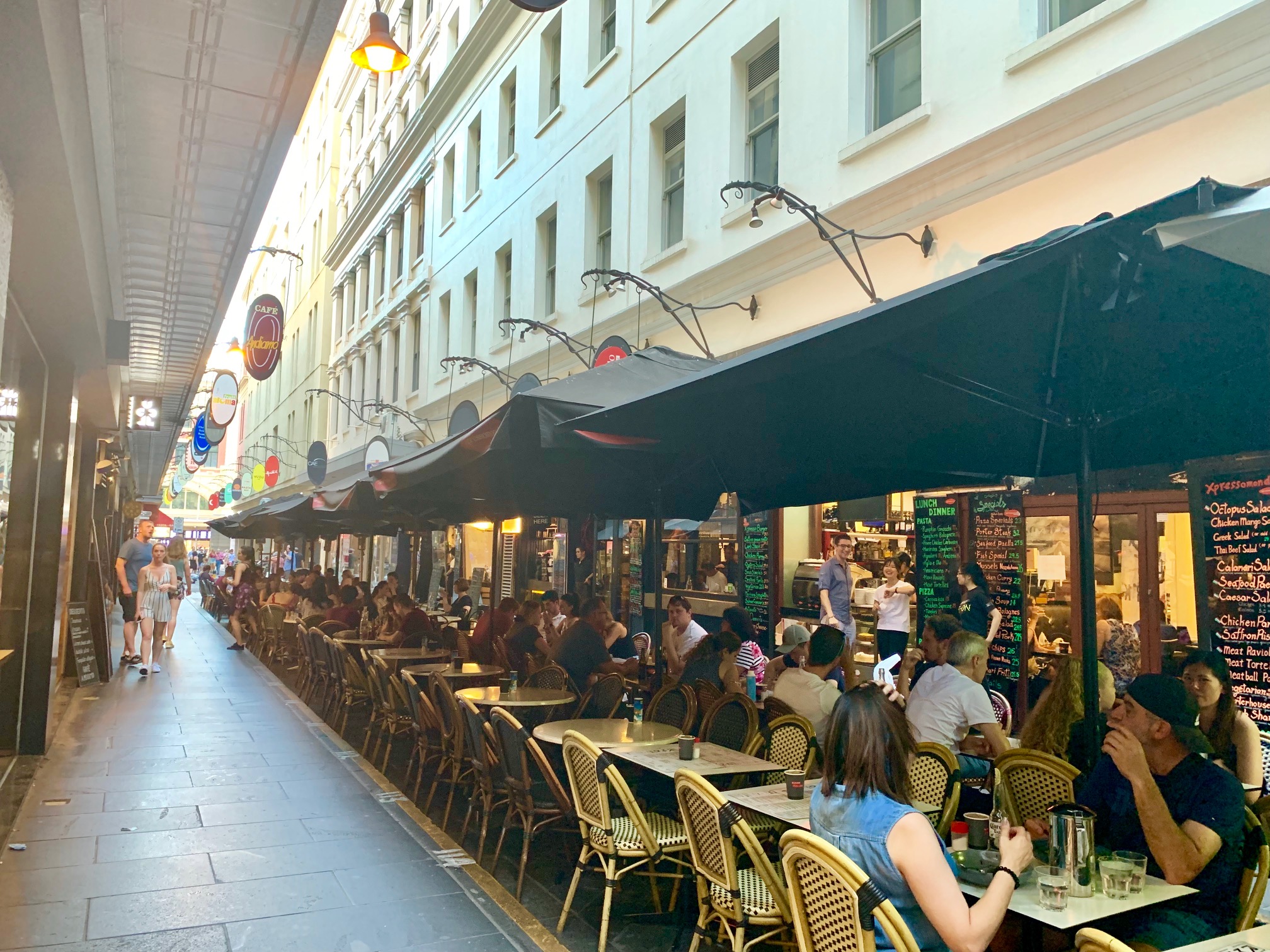 When in Australia, you have to try kangaroo meat. A cosy, small restaurant called Metro Burgers, located in the heart of Degraves Street may not look like it but offers some of the best speciality meat burgers in town. Kangaroo meat, emu and crocodile are some of the popular burgers of choice here. Take a short walk to Hosier Lane on Flinders Street, a colourful Instagrammable street full of street art by the local artists. If you're lucky, you might even catch an artist in action! Although it is not uncommon to see street wall art in Melbourne, the work on this particular street is actually quite commendable!
In the afternoon, you can head to St Kilda Beach, a popular beach suburb located 20 min away from CBD. You can catch tram 96 (direction St Kilda Beach) from Southern Cross Station or Bourke Street. Although you're unlikely to see them before sunset, the beach is popular for the penguin colony that can be often seen here. You can enjoy a scenic ferry ride from St Kilda Pier, rent a paddleboard, or simply sunbathe here, and sipping on a cocktail in one of the beach restaurants on a hot day may not be a bad idea. Republica, in particular, has a fantastic collection of hot and cold drinks, a patio seating with great views and spectacular snacking and food options. If you're at St Kilda on a Sunday, do explore the Esplanade Sunday Market, with pop-up stalls of handcrafted goods, jewellery, wood carvings and souvenirs.
Head back to CBD towards Federation Square, a popular hub for literature, arts and crafts enthusiasts. This is also the place where a lot of events take place usually during the weekend. You're likely to find this place very buzzing during the evenings, with the restaurants and bars swarming with people. What I personally enjoyed the most, however, was heading down towards the Yarra River, a great place to take a walk along it or simply sit in one of the riverside bars for a quick drink. Arbory Bar and Eatery was my favourite place; the ambience, the view, the menu and the music were all great.
Recommended budget place to stay in Melbourne CBD: Riverside Apartments Melbourne
---
Day 2: Drive the Great Ocean Road
The main reason why I included Melbourne in my Australia itinerary was for this iconic drive and the famous 12 Apostles. Most people do this as a day trip, starting early in the morning and returning to Melbourne by night. However, my recommendation would be to do this drive at leisure, with ample towns to stop at on the way and scenic spots to be explored. Returning to Melbourne on the same day can make the trip rushed and it doesn't do justice to the beauty of the places en-route. I decided to stay overnight in a cosy and cute town called Warrnambool, which is an hour ahead of the last tourist spot on the Great Ocean Road. And I am glad I did!
Click here to rent-a-car in Australia.
Firstly, it's best to rent a car and drive this route by yourself. Start early from Melbourne, and stop along the way in cities and towns that have various experiences or scenic spots to enjoy. The best part of the drive is, several breathtaking viewpoints are clearly marked out on the road, giving you enough heads-up to get ready to stop your car, park and take pictures. The entire drive is not coastal, although it sounds like it would be. Most of the road was carved from the rocky cliff faces and steep coastal mountains and runs either along the coast or amidst urban forests. Nevertheless, the drive is pleasurable and it's best to take it at an easy pace.
Suggested route & stops:
Torquay (1 hr 20 min)
Famous for Bells Beach which is a surfers' paradise, Torquay also makes for a great stop to enjoy a sumptuous breakfast with sea views. A laid back town meant for outdoor enthusiasts who love water sports, biking and hiking, Torquay is the home of Rip Curl and Quicksilver brands. It also comes along at the perfect point during the journey, after an hour and a half of starting from Melbourne. I found a really nice place for breakfast called The Pond Cafe. Torquay is also from where the Great Ocean Road begins.
Lorne (50 min)
About 45 km ahead of Torquay is yet another coastal haven called Lorne. Lorne is home to several waterfalls, bush walks, dense forests and white sandy beaches. Lorne Main Beach is a photographer's paradise. With miles of sandy shores dotted with rocks and not too many people to be seen, Lorne Main Beach is quiet and untouched. A short scenic stop here is highly recommended. High above the beach is Teddy's Lookout, a popular viewpoint that offers insanely gorgeous views of the unending deep blue waters of the ocean.
Apollo Bay (45 min)
Yet another 45 min ahead of Lorne is Apollo Bay which comes at the right time during the journey. Apollo Bay is a haven for seafood lovers, with restaurants offering fresh catch of the day and local wines to go with them. Chris's Restaurant, although a little high end, offers some of the best fresh seafood available and a wide selection of grapes. If you're lucky, you might also spot koalas in the wild here. A leisurely along the Grey River Road (1 km return, easy walk) promises a view of sleeping koalas in the trees.
Cape Otway Lighthouse (40 min)
I have a thing for lighthouses, they look so majestic perched on cliffs with the blue seas in the backdrop. This one, unlike many others, allows guests to access the balcony of the light station which offers spectacular views of the ocean. While driving towards the lighthouse, you will cross Bimby Park, yet another place known for spotting koalas in the wild. There is also a cafe at the lighthouse, serving light snacks and beverages until evening hours.
Drive to Warrnambool (2 hours)
Recommended centrally located budget place to stay in Warrnambool: Mahogany Motel
---
Day 3: Return to Melbourne via Bay of Islands & 12 Apostles
Bay of Islands (40 min)
A short drive from Warrnambool towards 12 Apostles requires for a short stop at the viewing platform of Bay of Islands. From here, you can enjoy spectacular views of the limestone rocks that dot the blue ocean, with the waves splashing against their rugged surface. There are two viewing platforms here, hardly a 150-m walk from the car park, so you won't need much time. Just enjoy the stunning views, take a few pictures and move along!
Loch Ard Gorge, 12 Apostles & Gibson's Steps (25 min)
As you near 12 Apostles, there are 3 spots next to each other that deserve your attention. Loch Ard Gorge, a popular stop point just 5 min before 12 Apostles, is an inlet with two large yellow-faced cliffs surrounding it. Not only is this a picturesque storybook place, but the story behind its name is also quite interesting too. A ship called Loch Ard was wrecked in a nearby island long ago and only two survivors from it were washed ashore to the gorge, from where they signalled for help and found their way out. If you wish to explore the area more and view interesting cliff formations, you can choose a walking trail such as the Wreck of the Loch Ard which takes you from the viewpoint to the cemetery.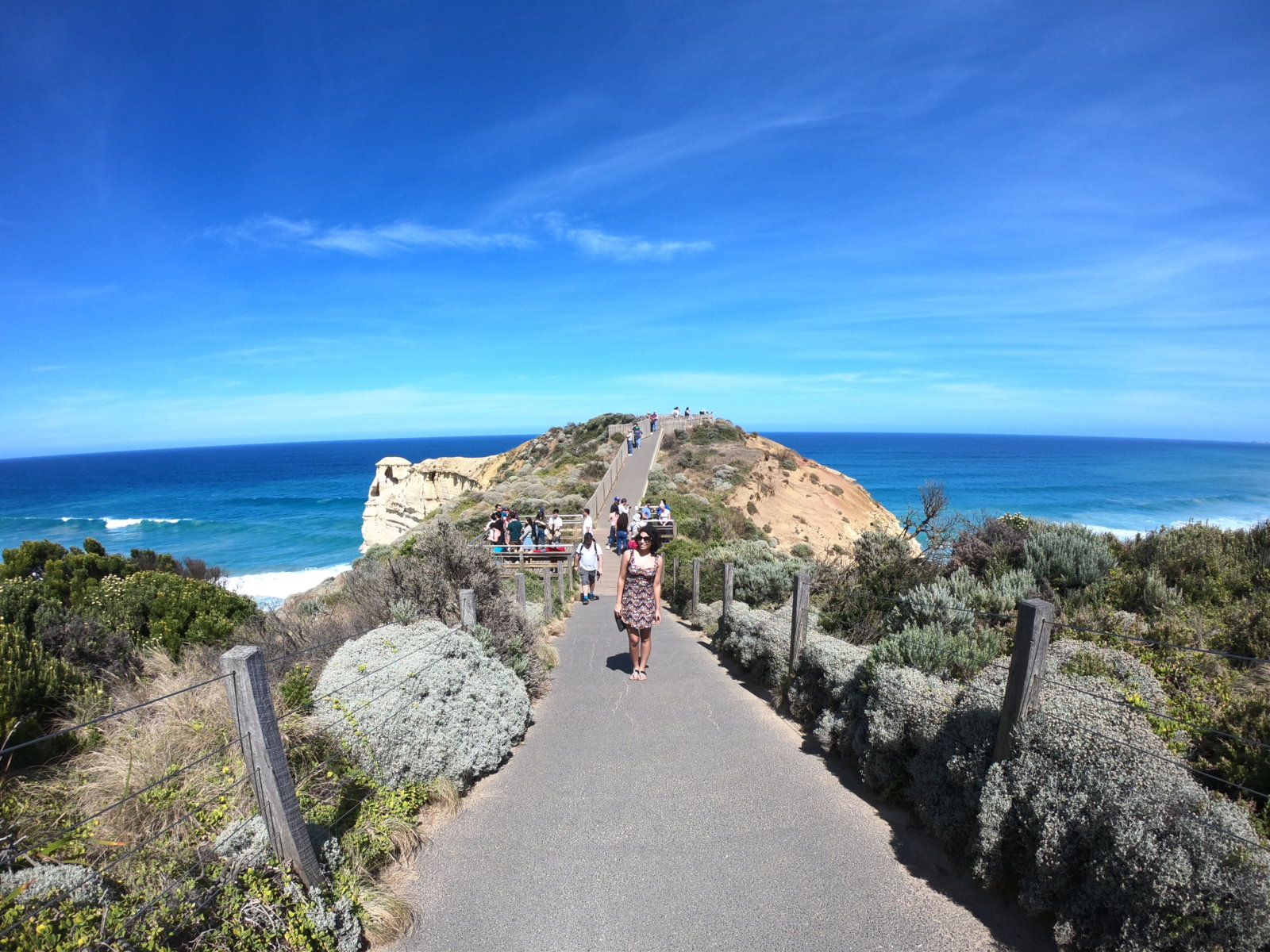 The best time to visit 12 Apostles is during the day, as you'll be privy to the bluest of waters, endless ocean views and the famous rock formations standing magnificently amidst the sea. Undoubtedly, this is the highlight of the Great Ocean Drive and you'll need to visit it to know why! No amount of pictures or words can do justice to the breathtaking beauty and splendour of this place. Created by constant erosion of the limestone cliffs since 20 million years ago, the stormy ocean and strong winds gradually eroded the softer limestone, at first forming caves in the cliffs and then arches, finally leaving collapsed rock stacks up to 45 metres high isolated from the shore. If you ever see yourself questioning the power of nature, a visit to places like this one can provide enough proof.
Should you wish to go down to the beach, only 2 min ahead of 12 Apostles viewing area are the Gibson's Steps. You will feel like a dwarf when you take these 86 steps, carved into the rocky surface by a man called Gibson, down to the sandy beach, surrounded by the large limestone cliffs.
Back to Melbourne (2 hrs 45 min)
On your back to Melbourne, you can take the inner highway rather than the Great Ocean Road. Once back in Melbourne, if you still have time, head to The Shrine of Remembrance, a memorial for those who died in various global conflicts throughout the nation's history, including WW I and II. Climb to the rooftop to enjoy unobstructed views of the gardens surrounding the shrine and the skyline of Melbourne in the backdrop.
If you're a fan of skyline views, Eureka Skydeck on the 88th floor is the highest viewing platform in the city and also the southern hemisphere of Australia. The panoramic views of Melbourne from The Edge, a switchable glass cube which slides out from the building, with you inside, are priceless.
If you're a fan of rooftop and terrace bars, The Rooftop Bar on Swanston Street in a great one. I loved their concoctions and the vibe, although you cannot expect much of a view. The music is great and if you're not too fussy about food, some burgers are available to go with your drinks.
At night, you can visit Southbank, an area that stretches along the Yarra River towards its south, across the bridge on Elizabeth St. It is a lively precinct with entertainment, restaurants, live performances, trendy cafes and hotels, and even a casino!
Recommended centrally located hotel to stay in Melbourne CBD: YTI Garden Hotel
---
Day 4: Wine tasting at Yarra Valley or Penguin parade at Phillip Island
Unfortunately, I had only 3 days in Melbourne. However, I highly recommend that you spend another day here only so that you can take a day trip to some really unique places, not too far from the city.
If you're a fan of green mountains, rainforests and wineries. a trip to Yarra Valley and Dandenong Ranges is something you're sure to enjoy. An early morning Hot-air Balloon Tour is a fantastic way to enjoy a bird's eye view of the valley and its sprawling vineyards. De Bortoli Yarra Valley Estate is known to be a popular choice for the locals to taste some great local wines and pair them with authentic Australian food. And a tour in the Puffing Billy Steam Railway that runs through the rainforests in the Dandenong Ranges is bound to be an iconic experience. Yarra Valley is about a 1-hour drive from Melbourne and is sure to make for a great day trip amidst nature and greenery, with a touch of elegance with a gourmet sojourn in a winery.
Alternatively, another unique experience that's not too far from Melbourne is Phillip Island. A 90-minute drive from the city brings you to this little piece of coastal heaven which is famous for its penguins and fur seals. There are several guided and self-guided tour options available for the Penguin Parade, that takes place at sunset. Click here for more information.