Greece is one of the top destinations in Europe to visit at this moment not only because it is affordable but also because it is fantastically beautiful! The iconic unmatched landscapes of Santorini are often talked about as are the famous windmills of Mykonos and the historical remnants of Athens. Greece is one of only a handful couple of nations that have a history dating far back to hundreds of years BC. A diverse blend of history, culture, beautiful scenery, nightlife and relaxed vibes, this European nation ought to rate high on your bucket list, if you haven't already visited!
If you have planned a 1-week vacation, here is the ideal itinerary that combines a visit to the most famous sights with ample time to relax and enjoy the pristine beauty that this country is known for. The best time to visit are the summer months of June - August. However, if you're looking to avoid the crowds, September is a good time as well with pleasant temperatures and lesser expensive hotel stays.
---
#Day 1 & 2: Athens
Most flights will lead you to the capital city - Athens. It is also the heart of the ancient Greek empire, a powerful civilisation which dates back to the 5th century BC. You will find ample landmarks and ruins from those times and ancient relics that have been preserved in museums. Although many of you might not care much about history, a visit to some of these ancient sites and reading stories about the people and lifestyle of those times is certainly fascinating, to say the least!
Here are a few places I recommend you visit in Athens:
Acropolis: perched high on a hill that sets the backdrop to the city below, Acropolis gets lit up beautifully at night and provides a great view at night for those strolling in the city. A visit during the day to this ancient citadel that has great archaeological and historical significance, is absolutely a must. You must also enjoy the views of the city from the cliff.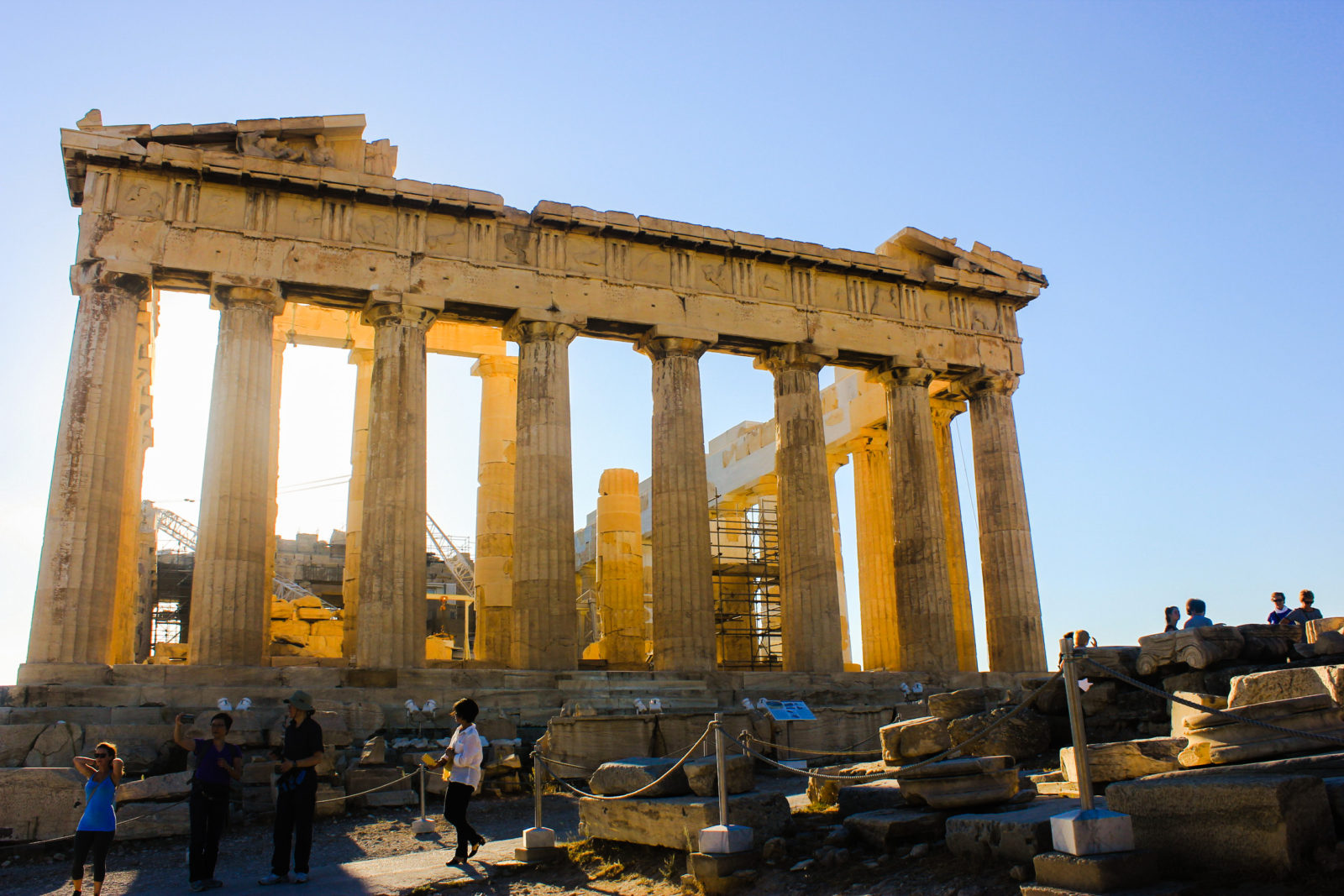 Erechtheion: An ancient Greek temple located right next to Acropolis on the same cliff, stands out because of the faces of the Greek Gods that have been beautifully carved on the porch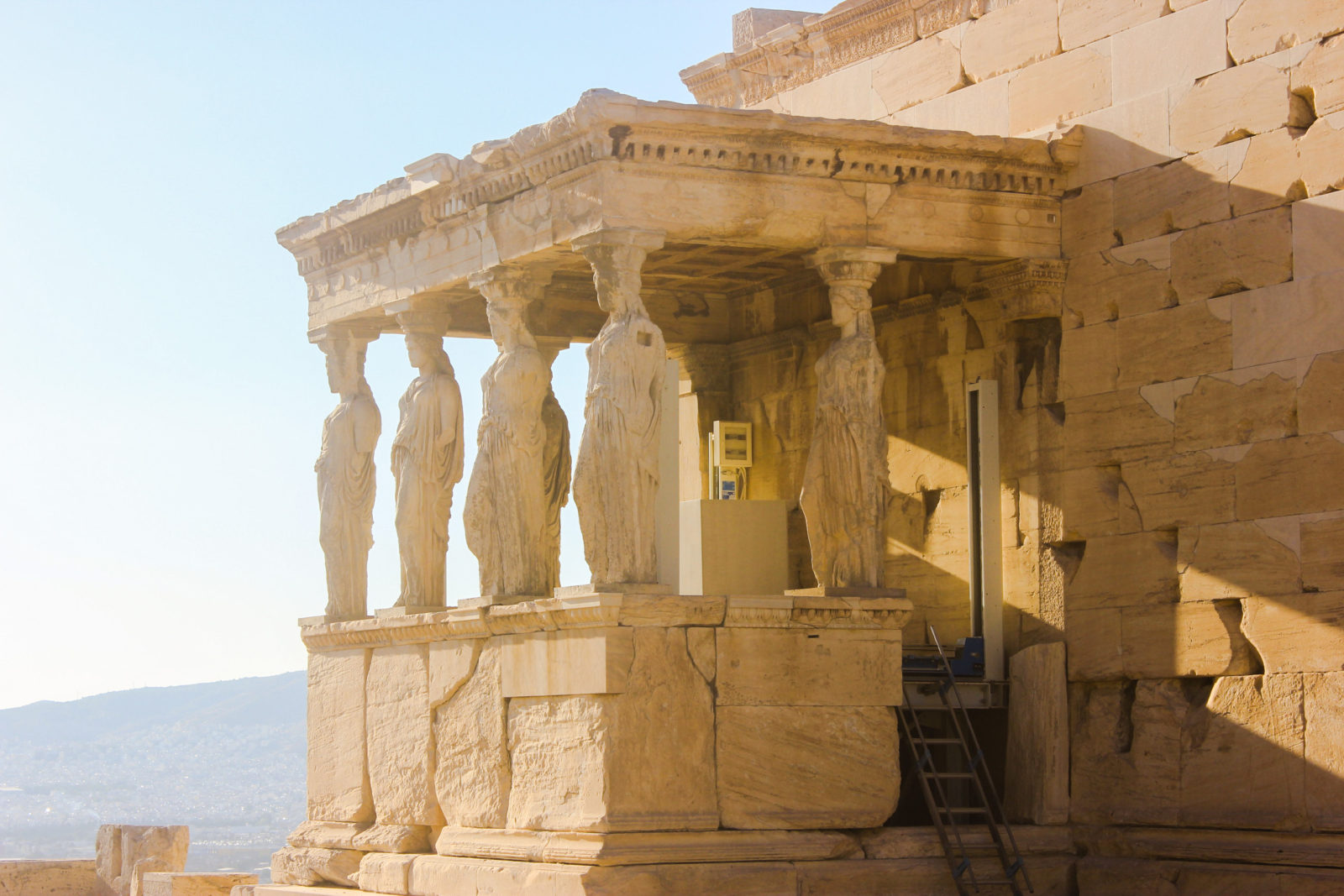 Parthenon: Another ancient temple dedicated to the Goddess Athena, has been restored magnificently, keeping most of the structure intact.
Odeon of Herodes Atticus: Also located in the same area is this amphitheatre and is still a popular place for holding plays and entertainment.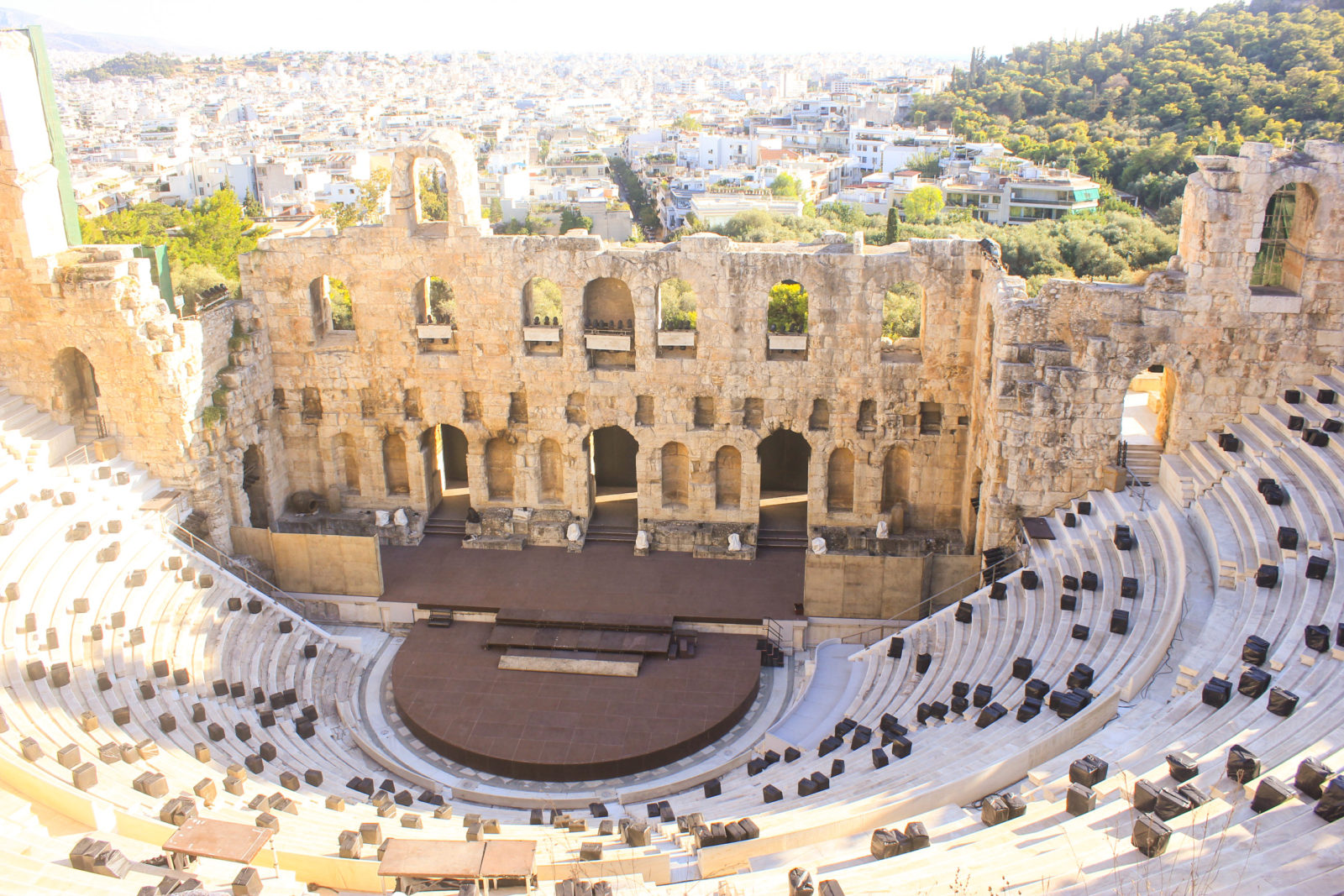 Temple of Olympian Zeus: A colossal structure that is located right in the centre of Athens, the ancient temple now has only the massive columns left, which are reminiscent of the typical Greek architecture.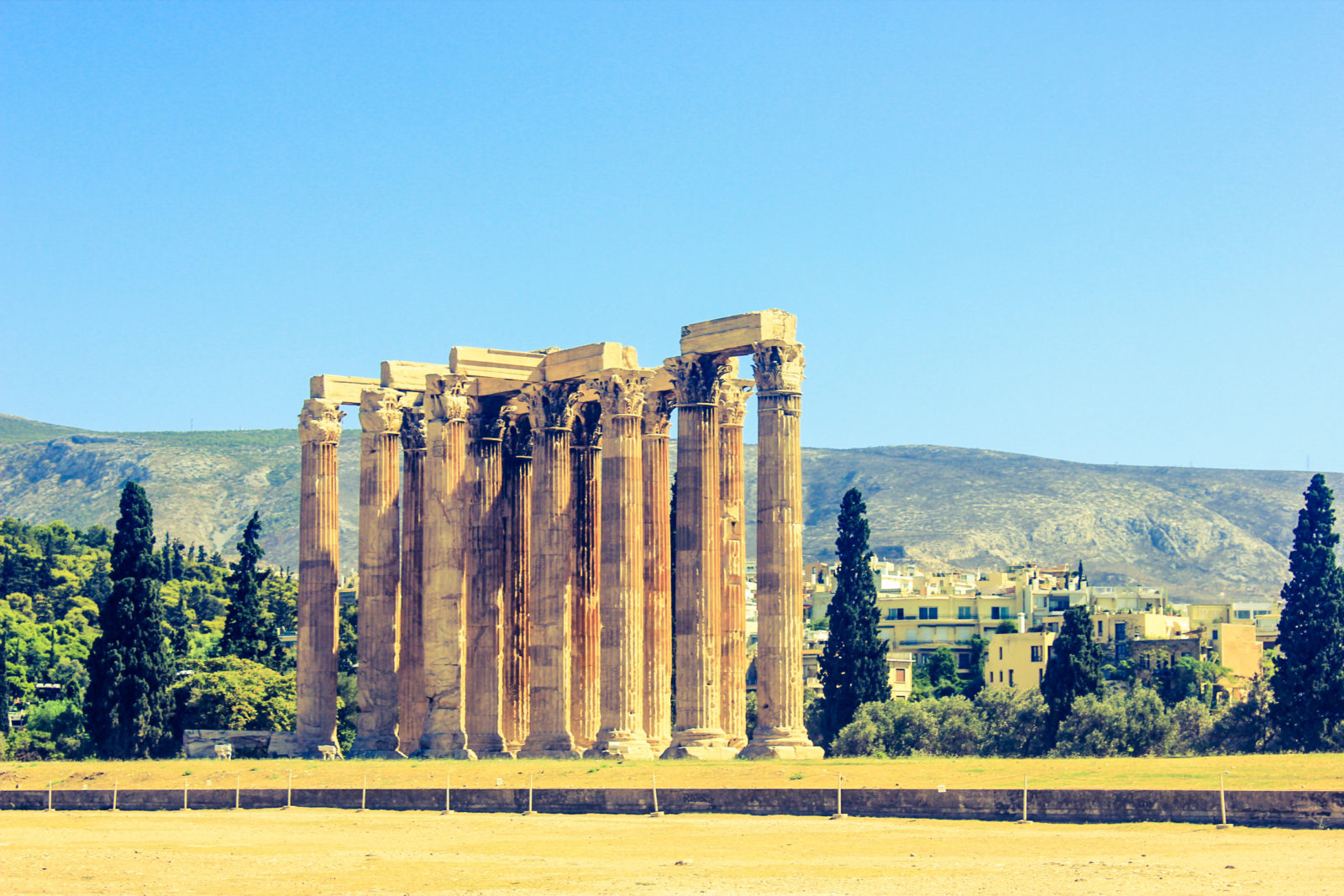 Ancient Agora of Athens: If you have not already had enough of history and archaeological discovery, here's another ancient structure that might seize your interest and fascination. This is not one structure but an extensive area of excavations that includes temples, concert halls and arcades. Some small relics that have been preserved can also be found at the museum located onsite.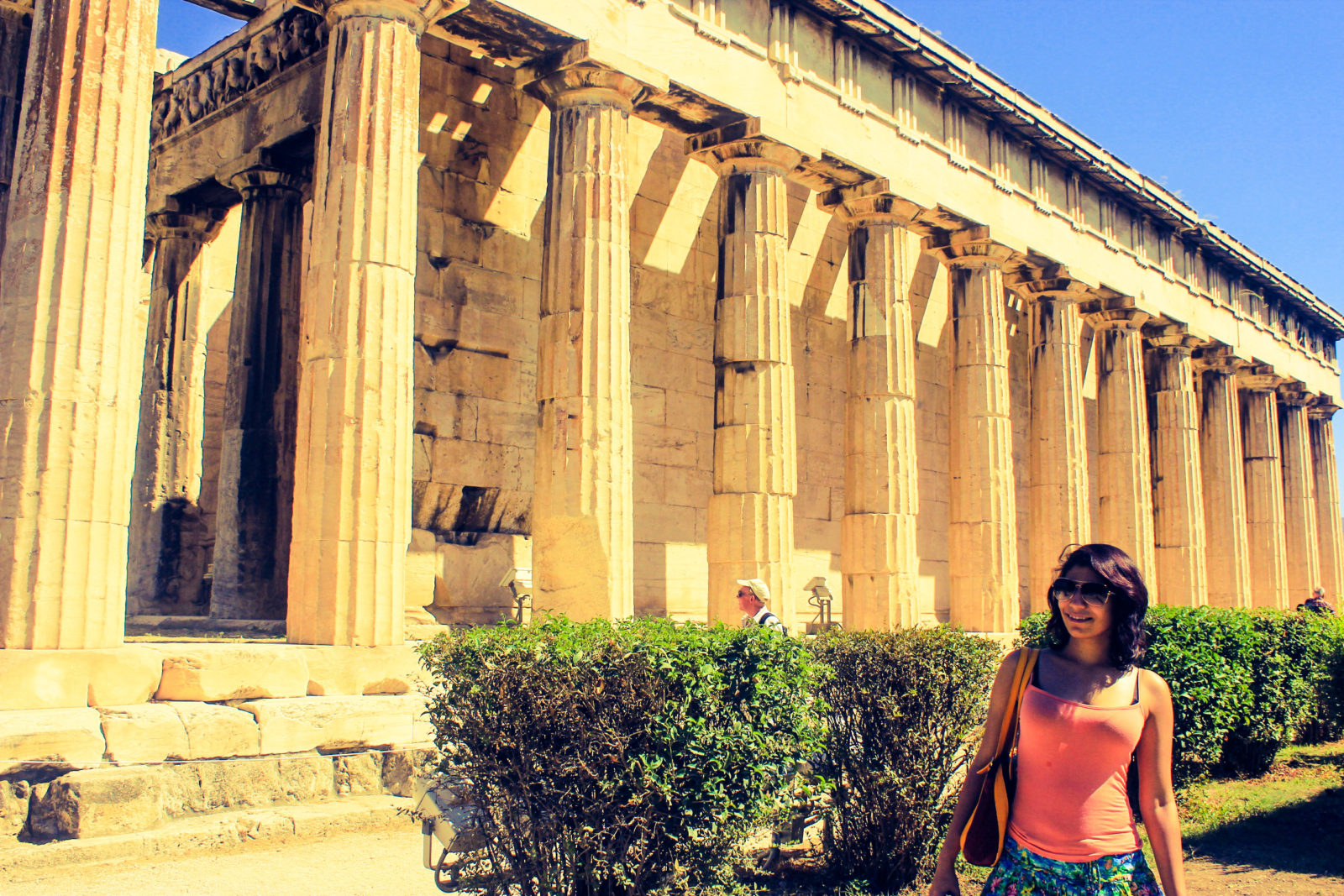 Plaka: Enough with the historical sites! This is the heart of the city which comes to life during the day with thousands of locals and tourists strolling down the cobbled stone paths, teeming with cafes, restaurants and boutique shops.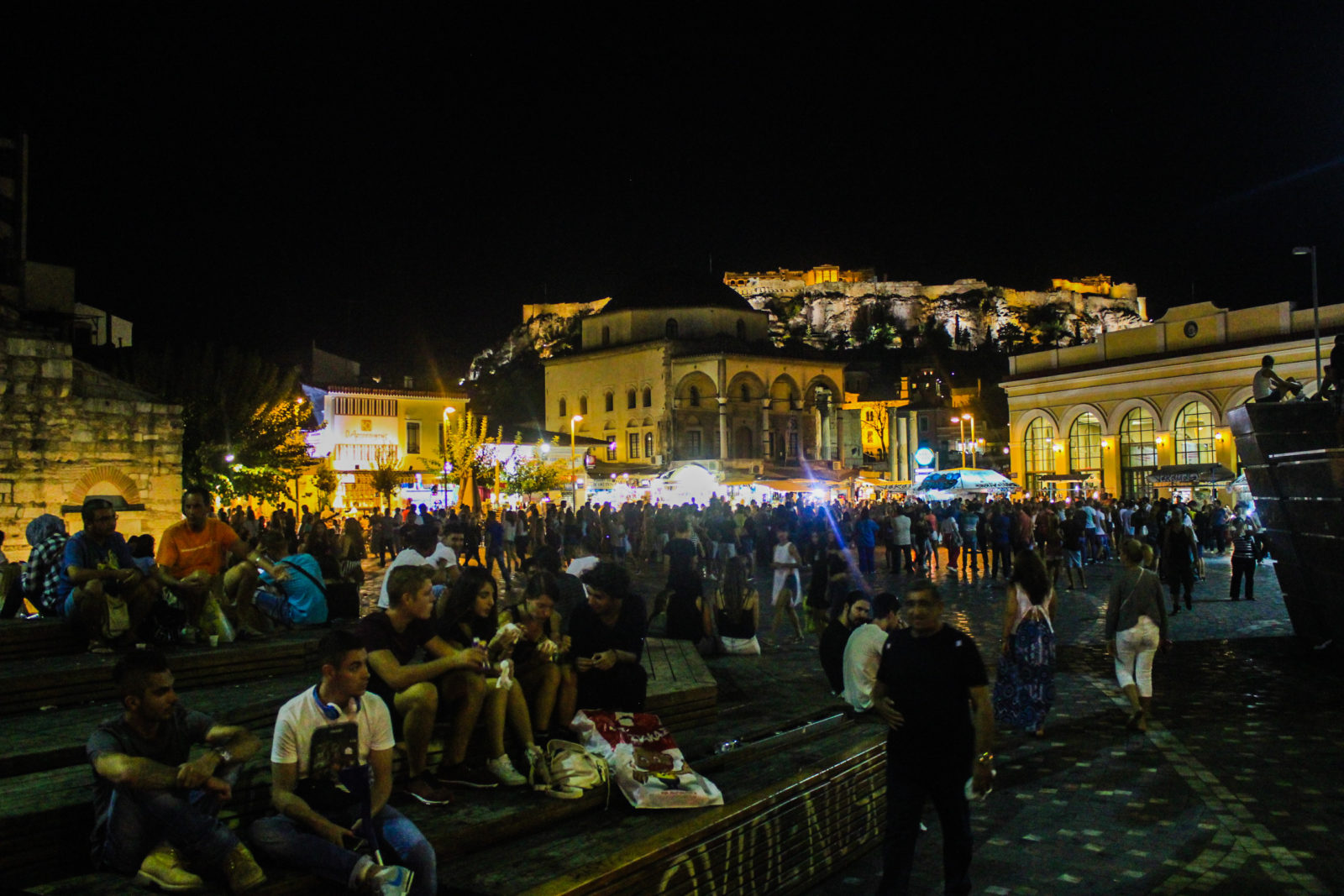 Anafiotika: This hidden white village under the Acropolis cliff can be very hard to find! You might go in circles and winding lanes due to miscommunicated directions and might even give up before you chance upon this beautiful little neighbourhood. The village has been correctly referred to as one of the archaeological treasures of Athens.
Adrianou Street: This street is a part of Plaka and has some of the best patio restaurants and cafes spilling over the kerb. The staff of these restaurants are extremely inviting and also hospitable, happy to offer customisation to dishes and take you through the fresh catch of the day. This is also a good place to pick up a souvenir.
Monastiraki Flea Market: A colourful market with friendly vendors who will invite you to their shops, cheerfully show you some of the strangest souvenirs you can buy and happily negotiate the price as they're more than keen to make a sale. Although the actual flea market takes place on Sundays, the area is surrounded by many antique shops that are open through the week.
You might ask if 2 days are enough to cover all the above sites, the answer is yes! All of these monuments are located at pretty much walking distance from each other. Just wear nice comfortable walking shoes and you are good to go!
Suggested budget stay in Athens city centre: Athens Cypria Hotel
---
#Day 3: Day trip to Cape Sounion & Temple of Poseidon
Hardly a 2-hour drive from Athens, and for the most part along the coast while passing through some stunning shorelines, is this Cape which offers superb sunset views. Temple of Poseidon is perched on the edge of a precipice that juts right down into the ocean, making this landscape a unique one.
Click here to book your car.
The GPS might show you a shorter route towards Cape Sounion. However, choose the scenic coastal road instead. On the way, you can have a pit stop at Glyfada beach and sip on a cocktail or dip in the cool waters. Take a short hike up the Temple of Poseidon, once you reach Cape Sounion and you're sure to enjoy stunning views.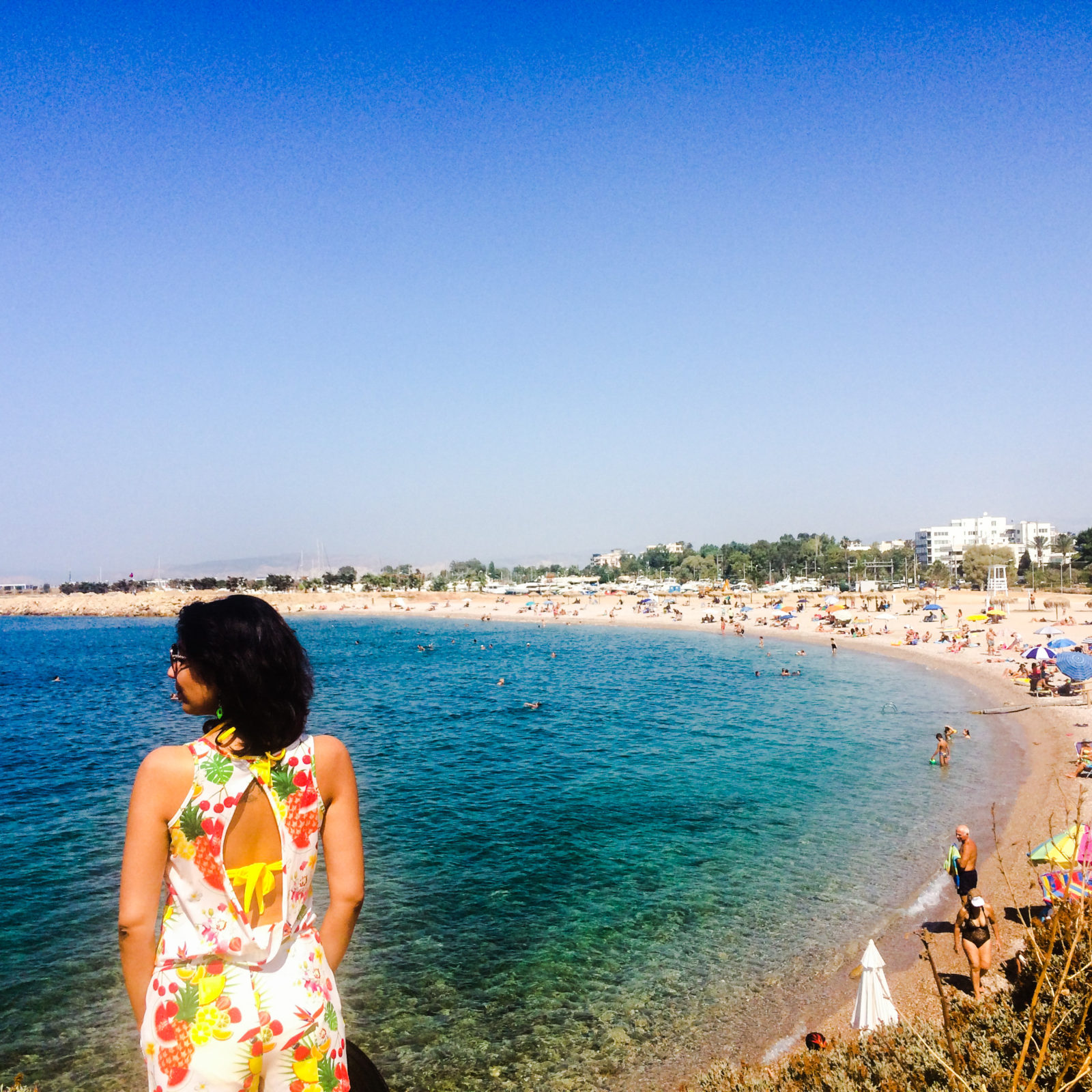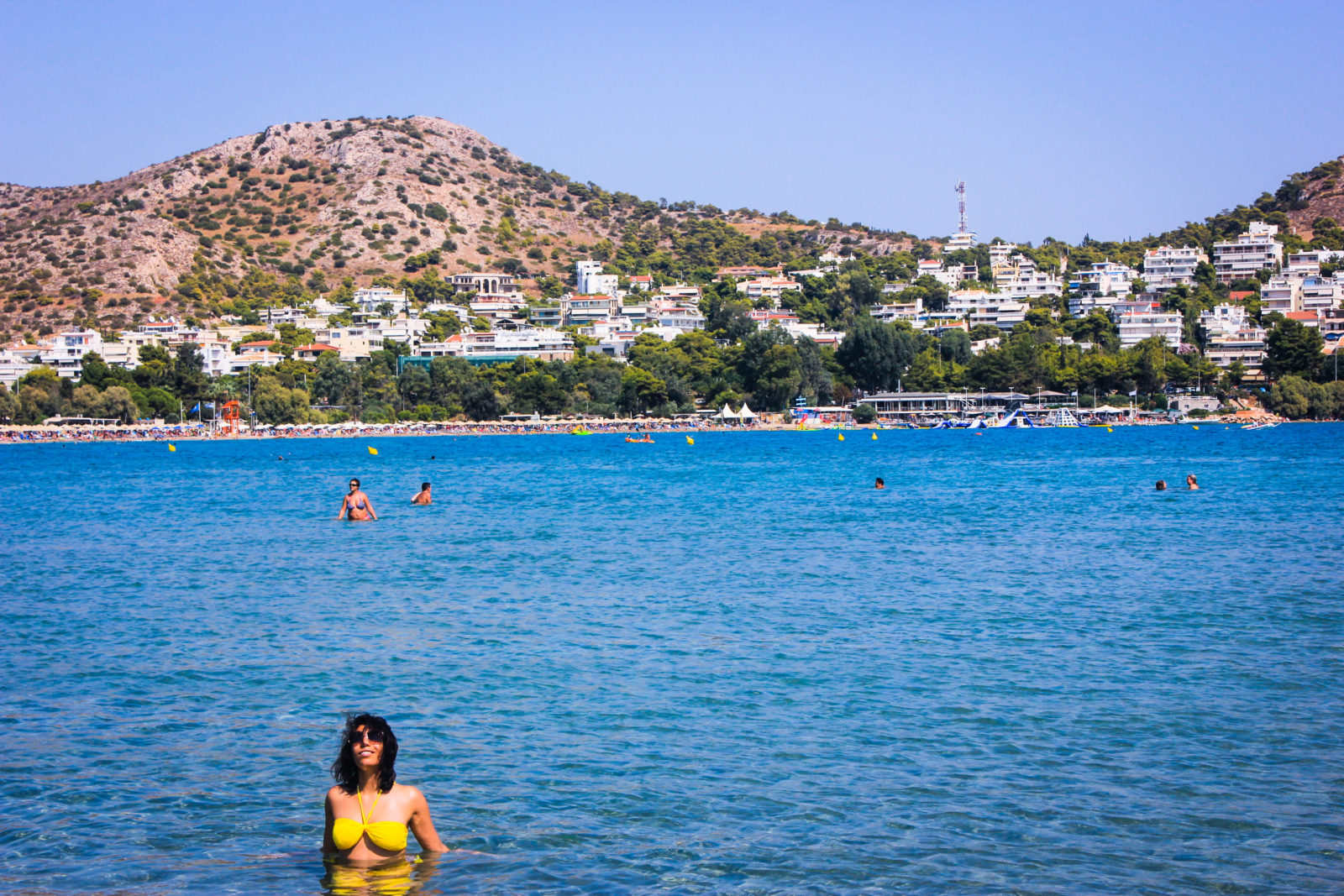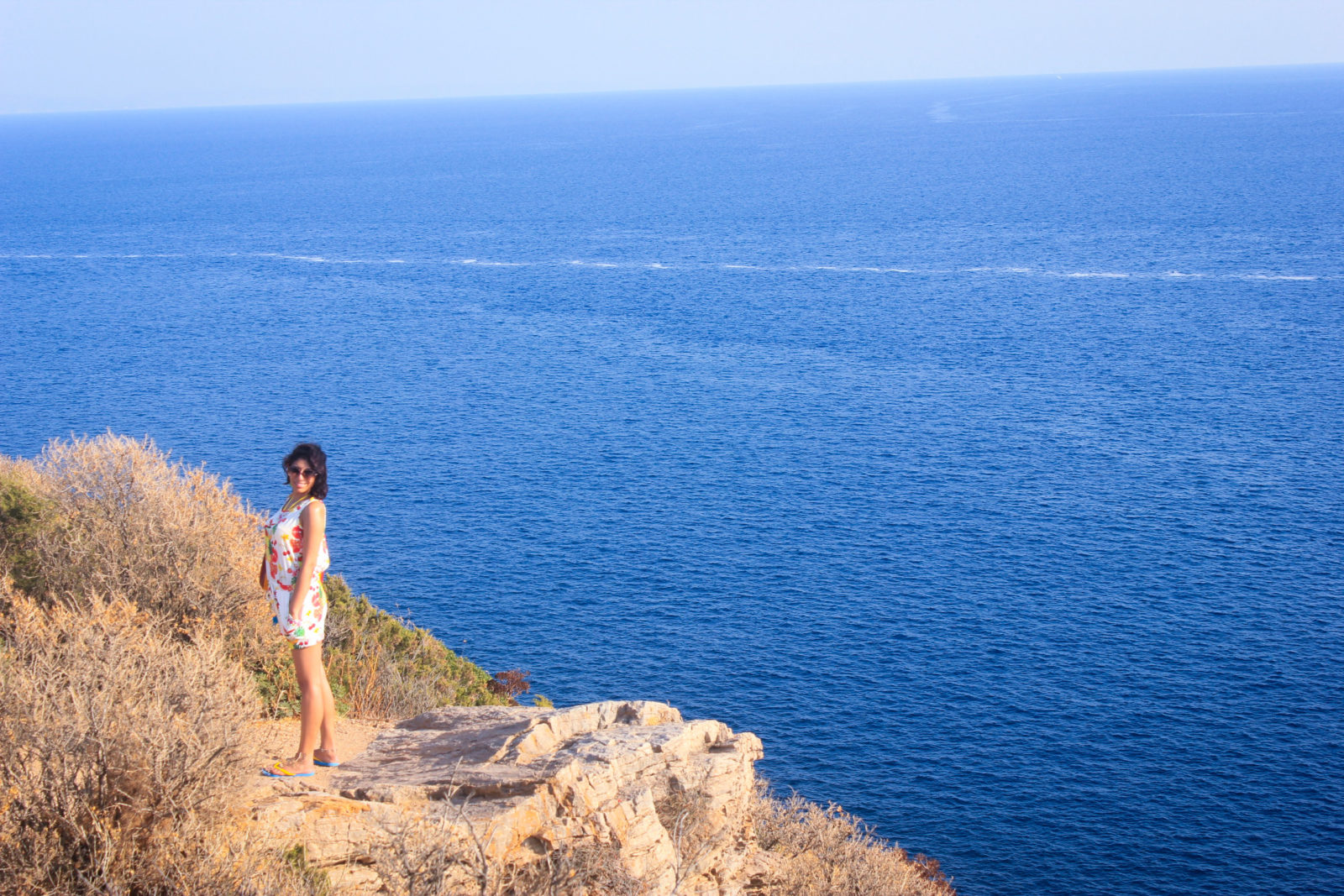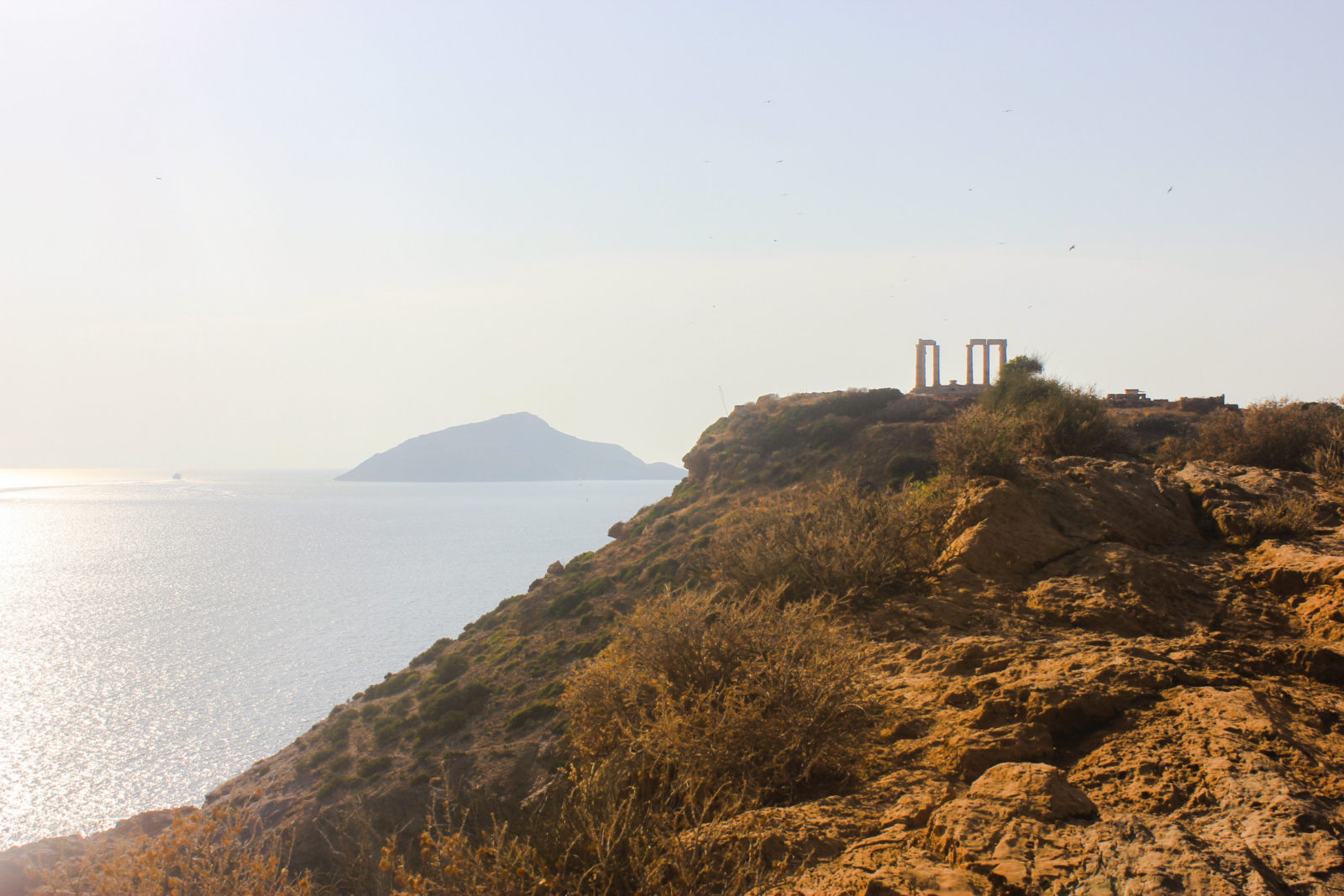 ---
#Day 4 & 5: Mykonos
This is the party island of Greece! Although September is when the lively vibe and crazy parties begin to die down and July-August is the best time to visit them, if you are travelling early September, you might be lucky to catch some parties still going on for the whole night.
How to get there: Take a ferry from Piraeus Port in Athens (you can check timings, other information and make bookings here). If you book the Superjet, the journey time is hardly 2.5 hours and costs about € 75 per person during the peak season.
On the island: I would suggest renting a Quad as the whole island is best traversed on that. All beaches, city centre areas and hidden gems are easily reached and you will find many other people on ATVs rather than cars or scooters.  Here are the places you must explore while in Mykonos:
Mykonos Town: Walking on the winding blue and white streets of the town is an absolute visual pleasure! A few things that you should take note of while visiting the town: you must visit Panagia Paraportiani (the church), the windmills and little Venice.  Pick up a souvenir from the shops, walk along the coast to the top where the windmills are and enjoy gorgeous views of the sunset, sip on a cocktail in Little Venice or enjoy the lively nightlife in Mykonos Town.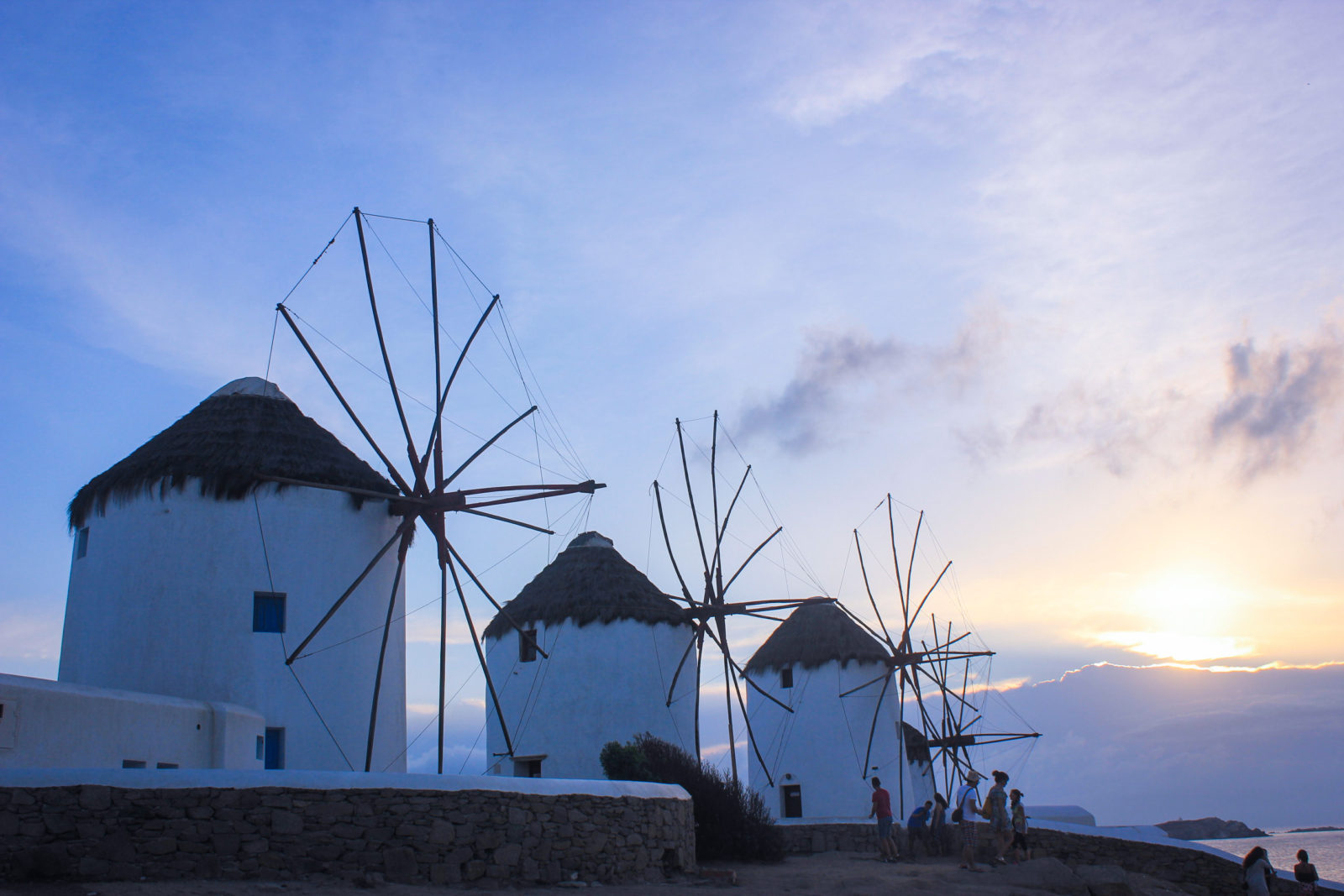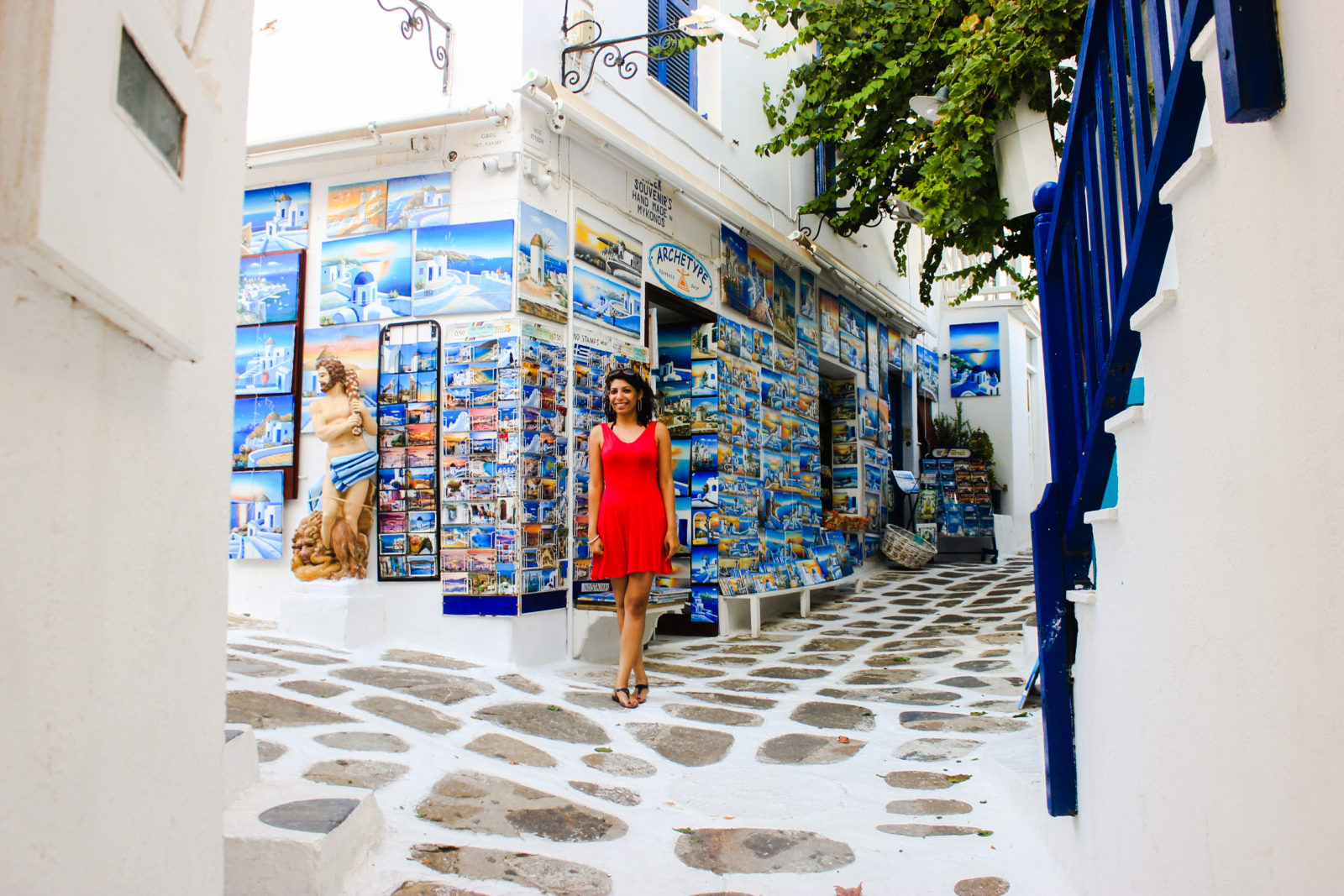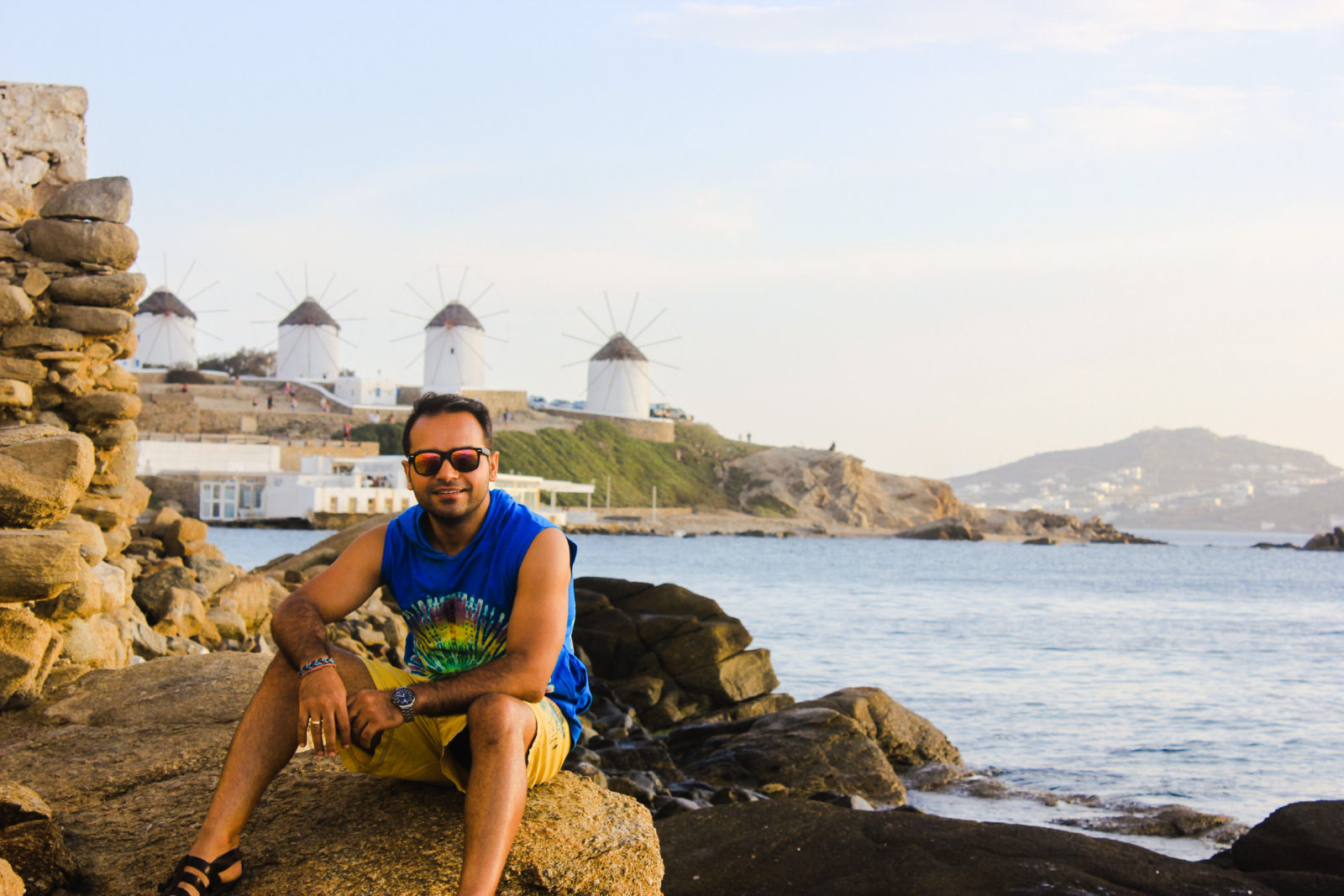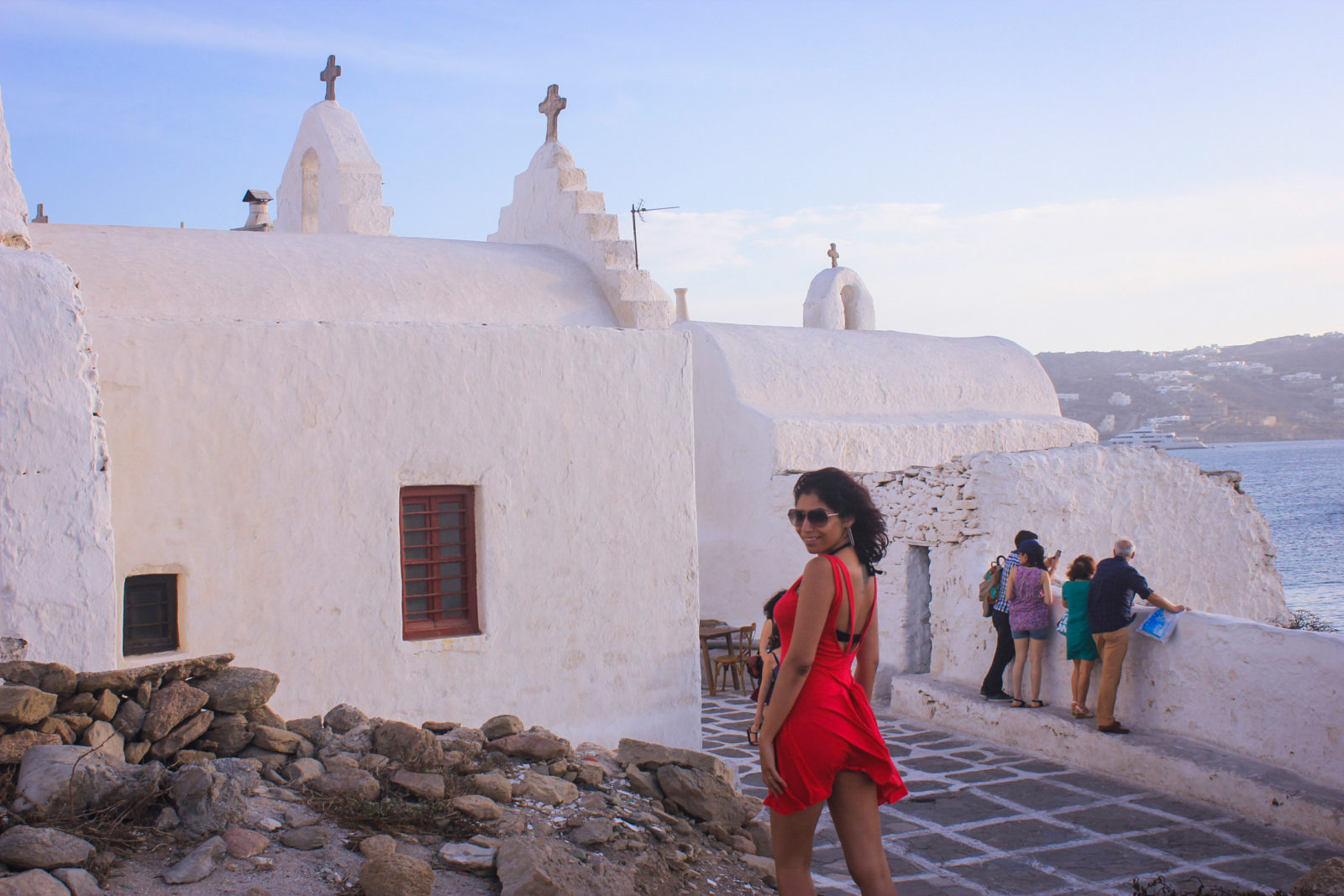 Paradise Beach: The Tropicana Club on Paradise Beach is my personal favourite. This beach is one of the most lively when it comes to all-night parties and the Tropicana Club starts to buzz in the afternoon itself. The parties go on until wee hours of the morning. Don't forget to catch sight of the club's host who can be seen around walking in an elephant-trunk banana hammock! He loves to pose for pictures and loves to shake the trunk at you if you stare. Lol.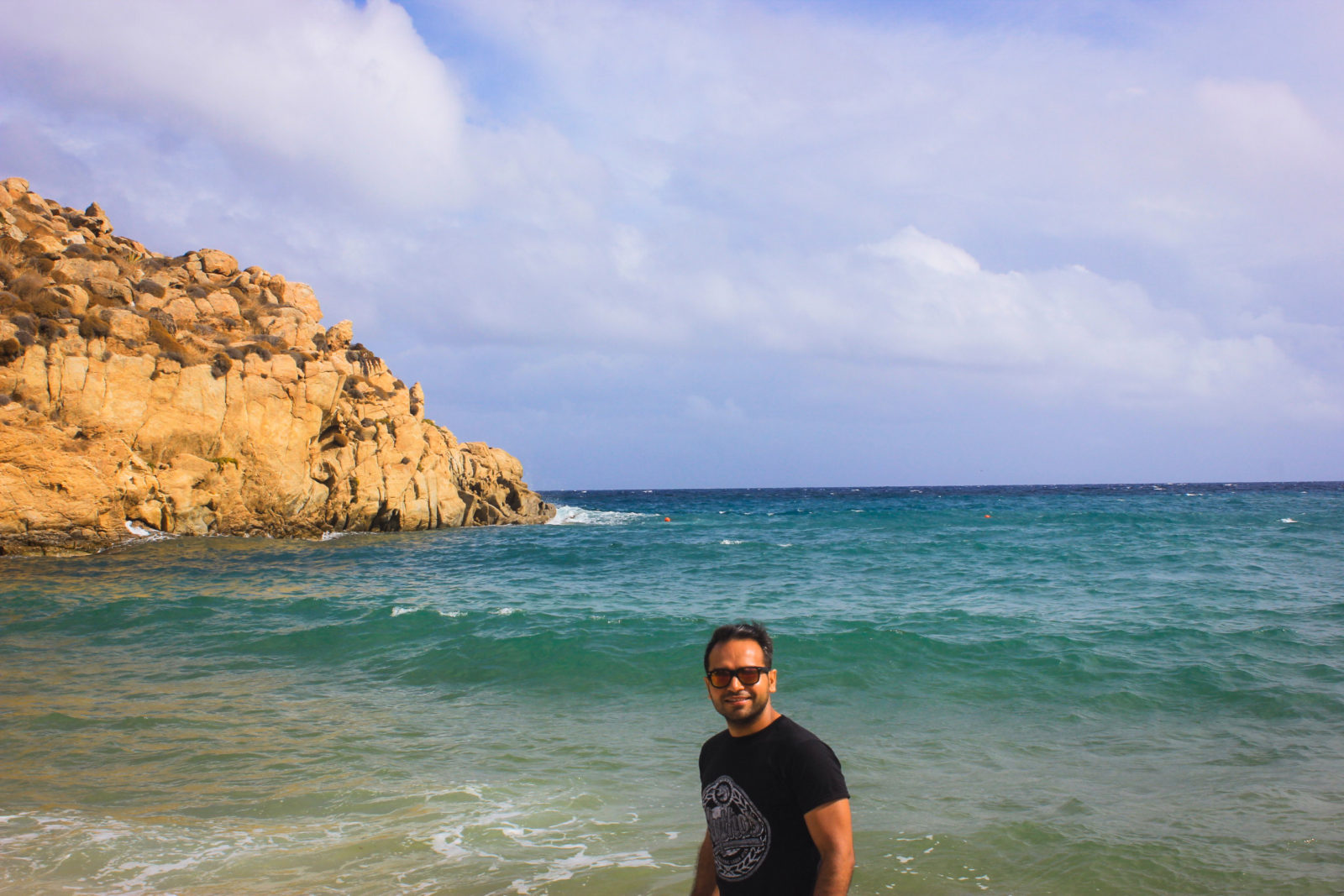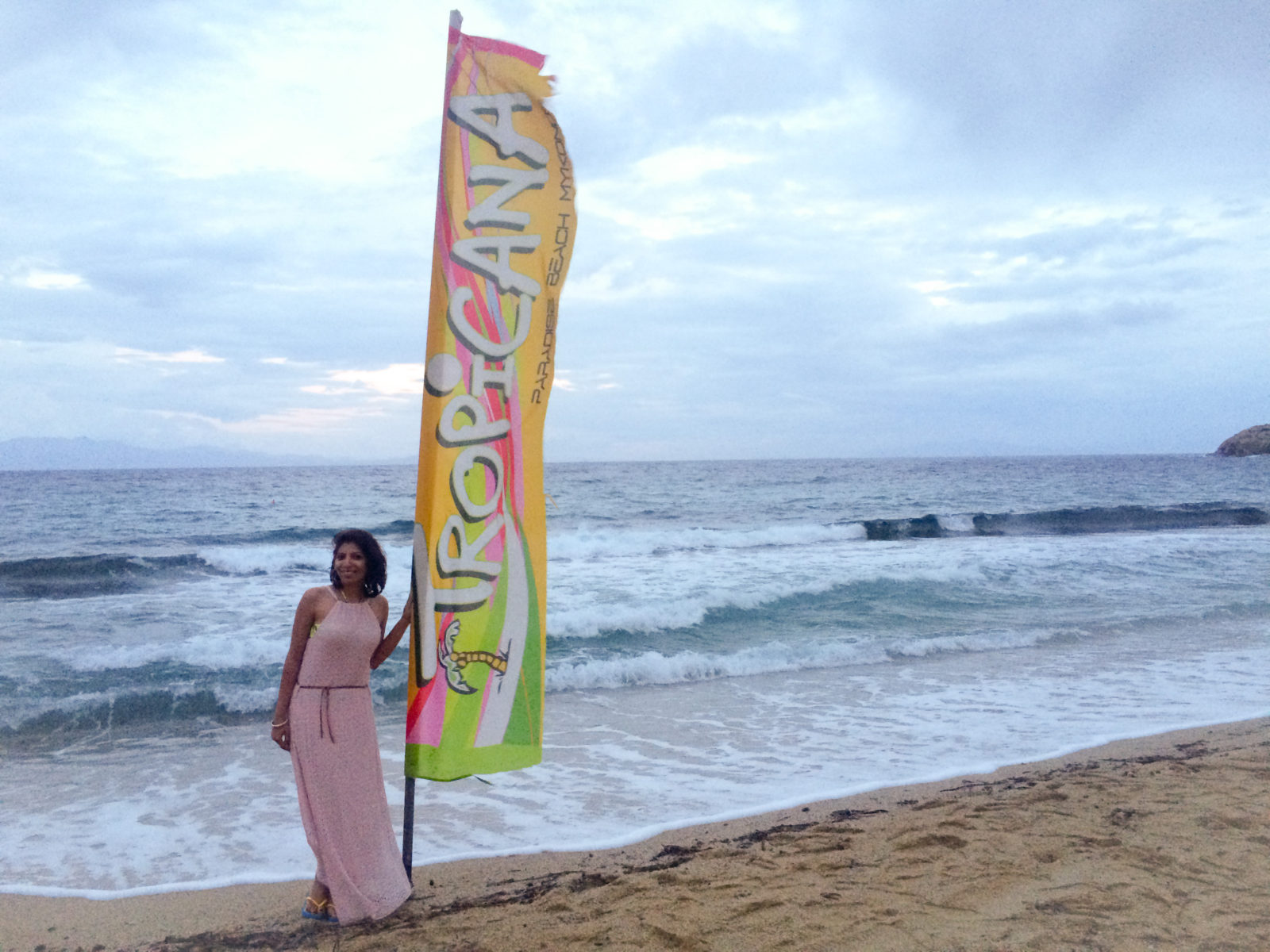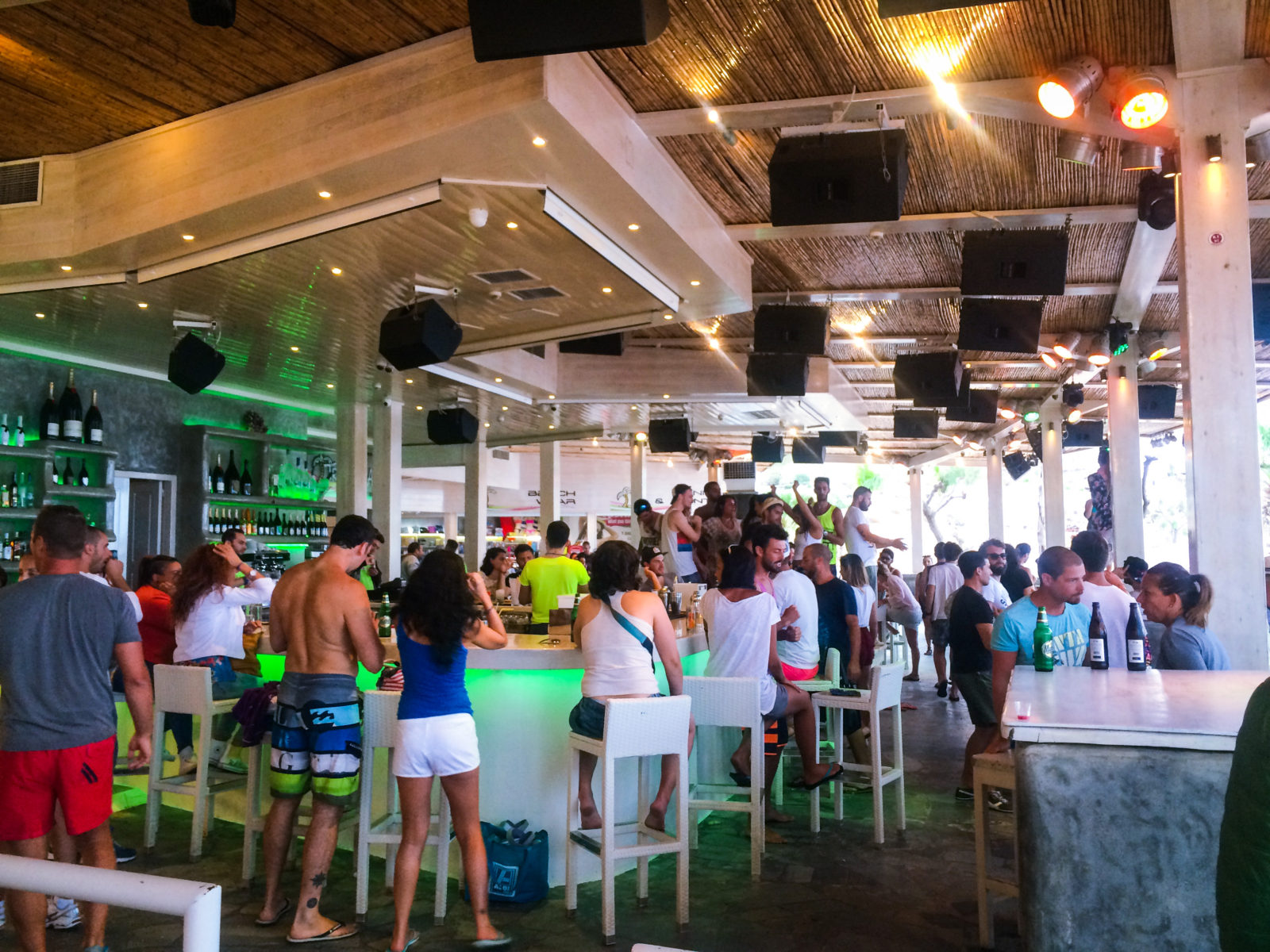 Cavo Paradiso (Super Paradise): Super Paradise beach is located next to Paradise Beach and is said to have one of the craziest parties on the island at Cavo Paradiso. This party, which is a pool party, starts only at 11 pm and goes on all night. Although it can be reached by a boat from various beaches on the island, you can also drive right up to it (or take your ATV).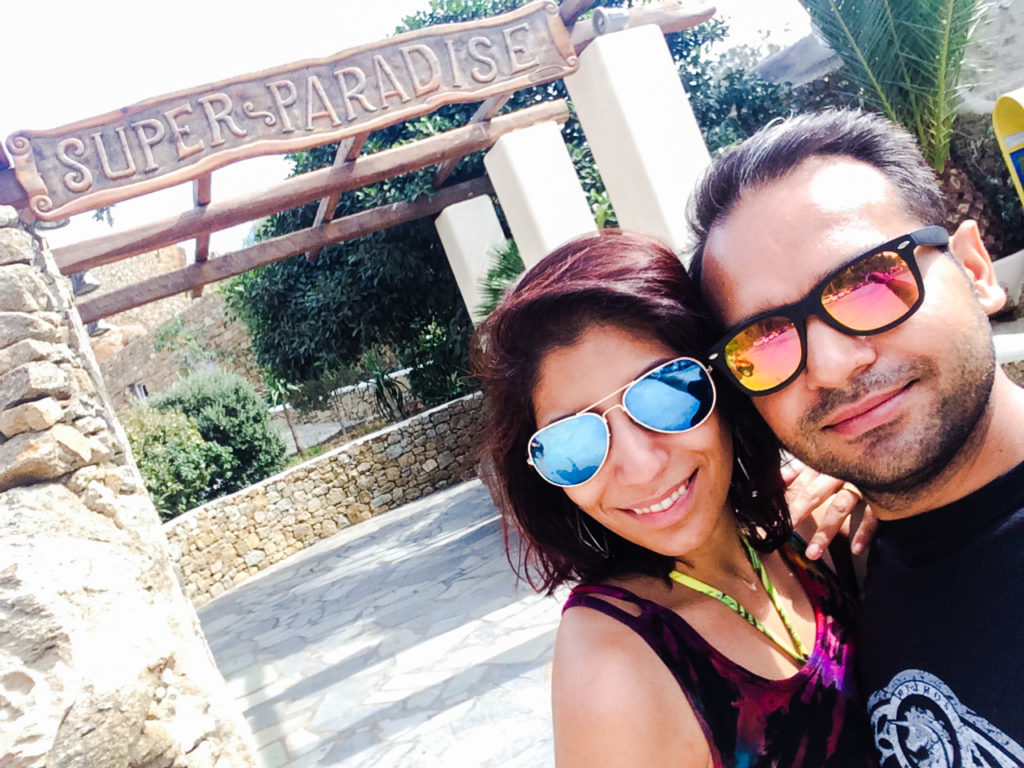 Platis Gialos Beach: This is another pretty beach that is lined with many hotels and resorts. You will find ample bars and restaurants along this beach - I would recommend having a nice romantic dinner at one of the fine dining restaurants here.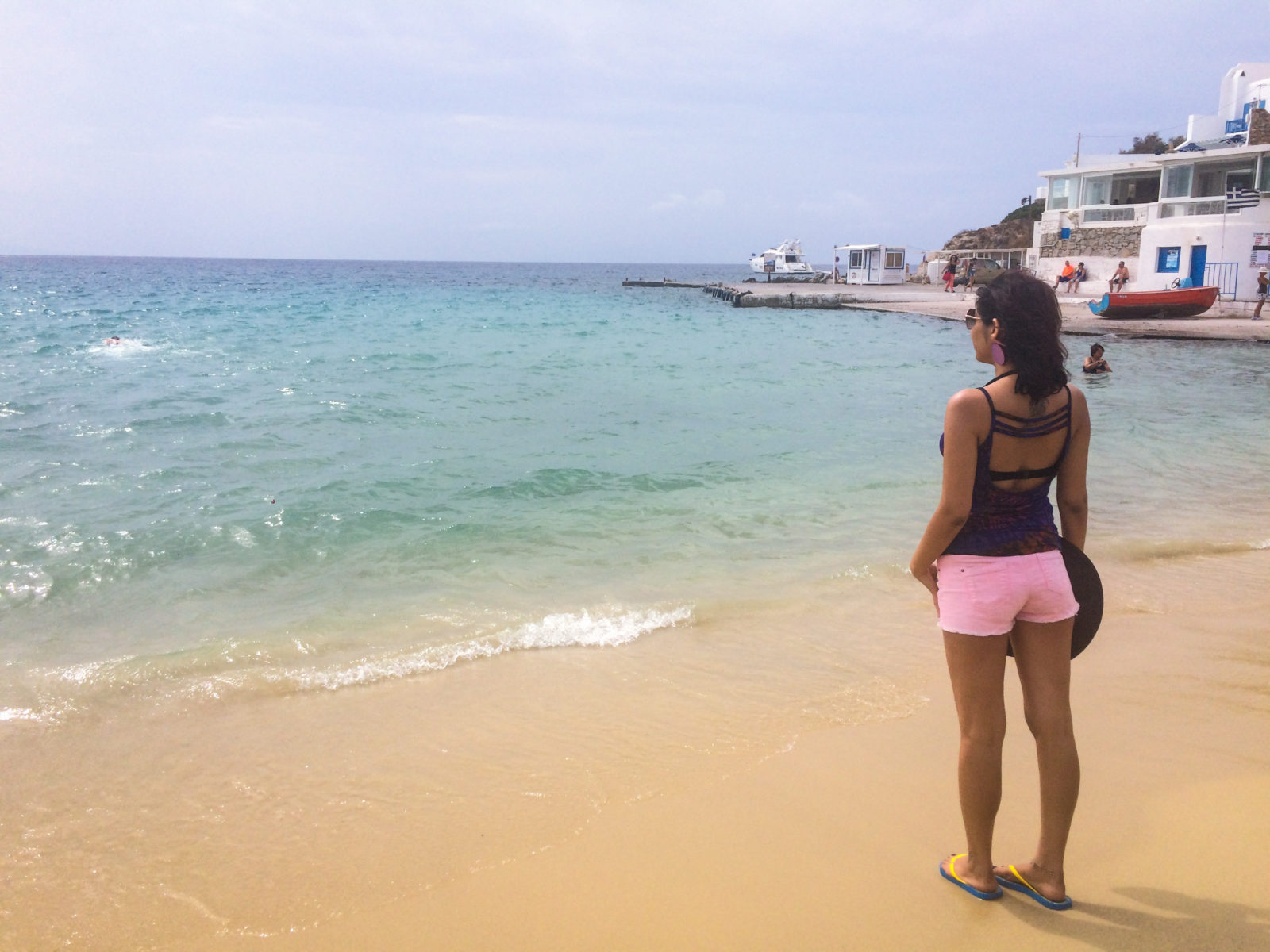 Psarrou Beach: The drive up to this beach is quite breathtaking. We were a bit unlucky as we encountered some rainy weather on the day we visited, however, the beachside bar and cafe seemed to be a good place to relax and sip on a cocktail while enjoying good music.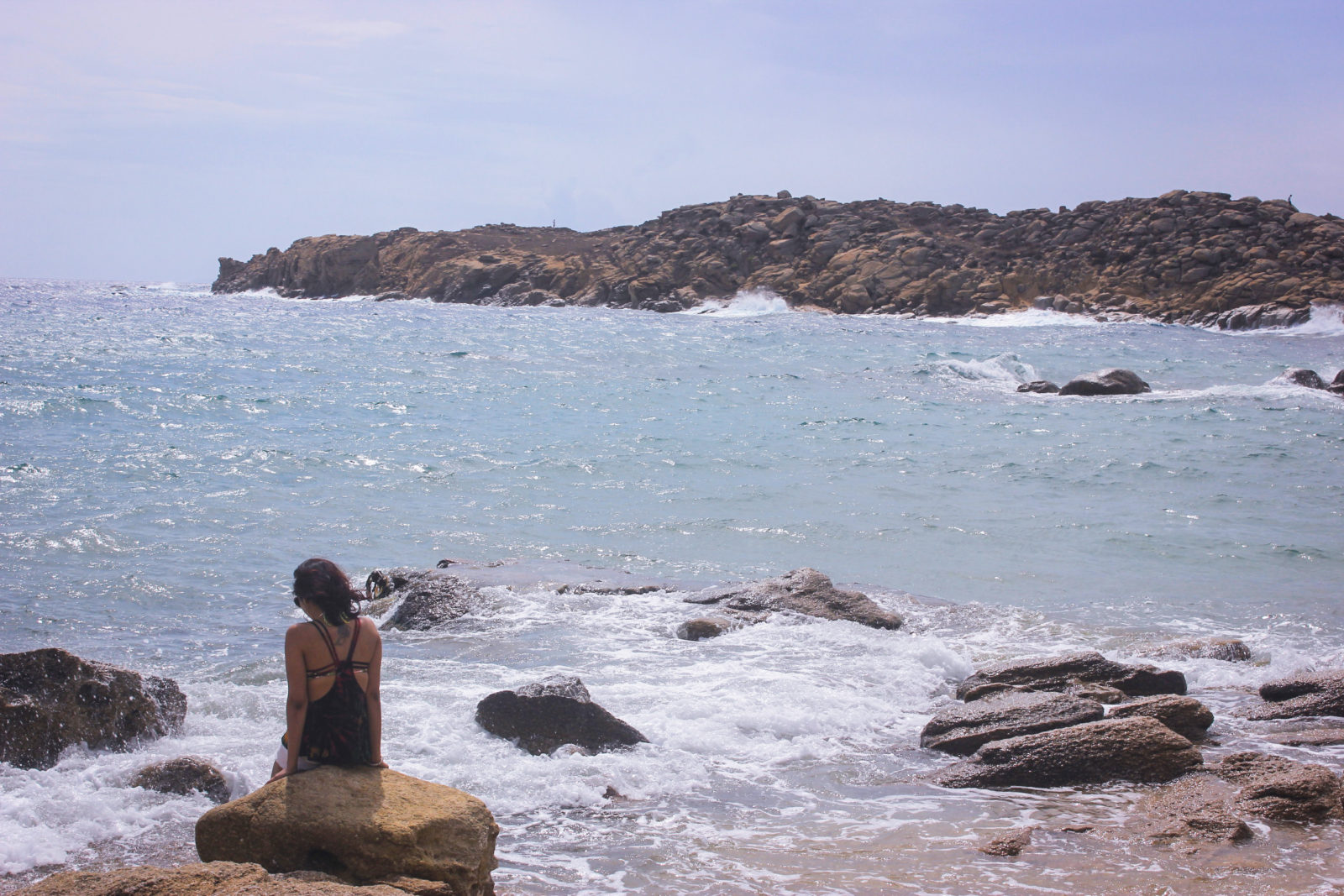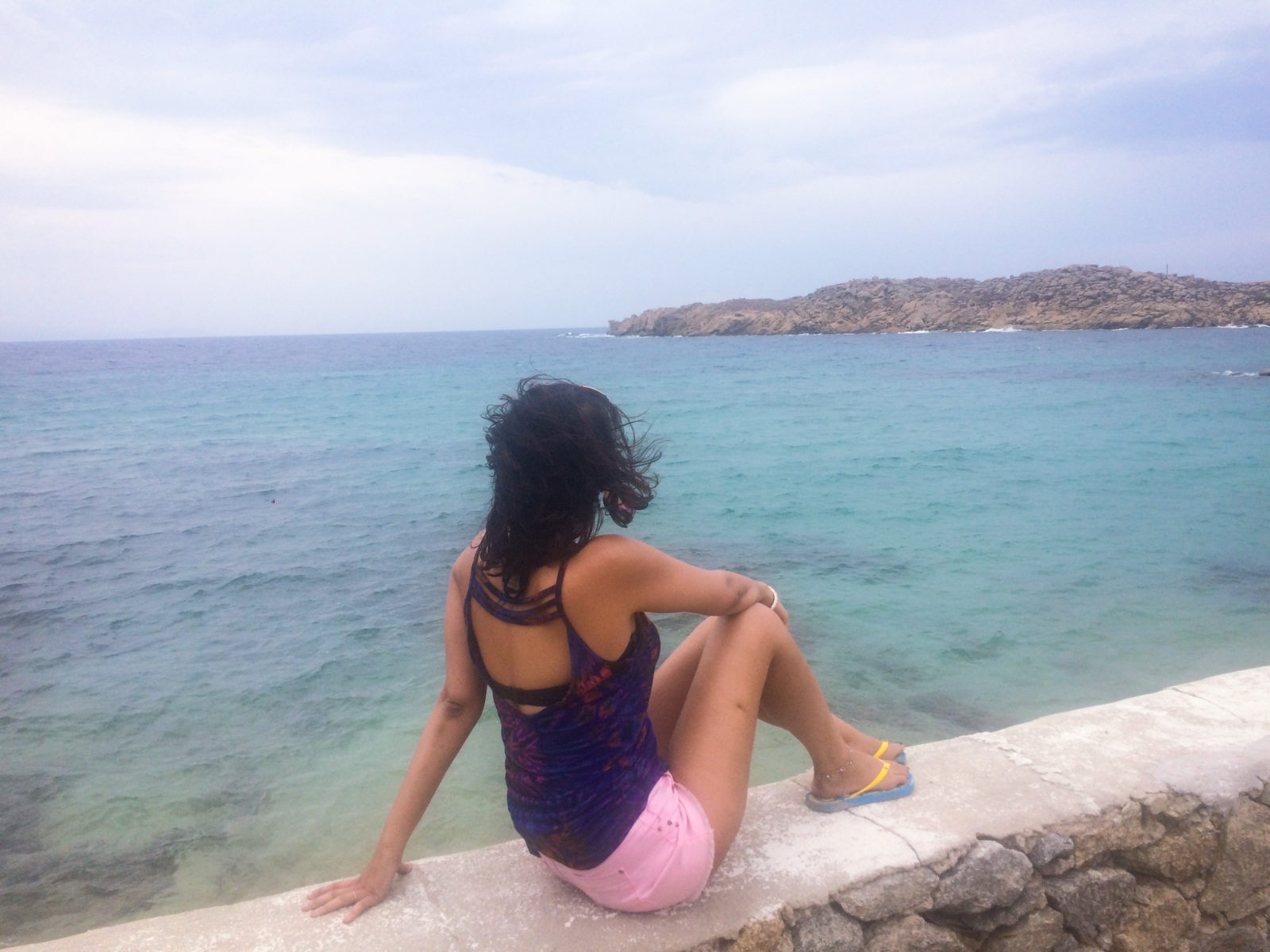 Suggested stay: Acrogiali Hotel, Platis Gialos Beach
I found this place to be a gem because it is located right on the beach, with their own private access and it is not even expensive! The hotel is made in the typical white and blue theme, giving a flavour of Greece with spacious rooms, very friendly staff and a decent breakfast which you can enjoy at the beach. At night, you can walk across to many other restaurants which are also on the Platis Gialos beach, making it a lively place to be.
---
#Day 6, 7 & 8: Santorini
From Mykonos to Santorini, the fastest ferry is Sea Jets that takes less than 2 hours for the journey and costs about € 60 per person during peak season (you can make bookings here).
Welcome to paradise! This is probably one of the prettiest islands I have seen, with amazing views from the caldera's edge, of the volcanos and deep blue seas. Undoubtedly one of the most romantic destinations, this island is popular for honeymooners and young couples. It is also famous for the lovely sunset captures so get ready with your cameras because this will be one place you won't be able to stop clicking!
Where to stay: I would definitely recommend choosing a hotel on the caldera with views of the ocean. Unfortunately, you might have to shell out extra money for that. The most popular places to stay are Fira and Oia because this is where the nightlife and most cafes, restaurants, shops and bars are. Oia is slightly more expensive as compared to Fira but also lesser crowded and quieter. The hotels are fancier in Oia so depending on your budget, you can choose which area and what kind of hotel to stay in.
As we wanted to be in the more lively and happening part of the city, we decided to stay in Fira. However, we decided to break the 3 days up into 1 night at a fancy (yet not too expensive) hotel and 2 nights in a budget hotel with super caldera views.
Suggested medium/ high budget hotel in Fira: Cosmopolitan Suites I chose this particular hotel because of its wonderful infinity pool. I'm personally crazy about infinity pools and one with such gorgeous caldera views - Wow! The pictures of the hotel might make you think its a really big one, it is not! They have hardly 10 rooms in all and it is not a very luxurious hotel. But the stay was totally worth it because we were upgraded to the suite which was right in front of the infinity pool and the views were to die for! All the pictures below have been taken from the hotel.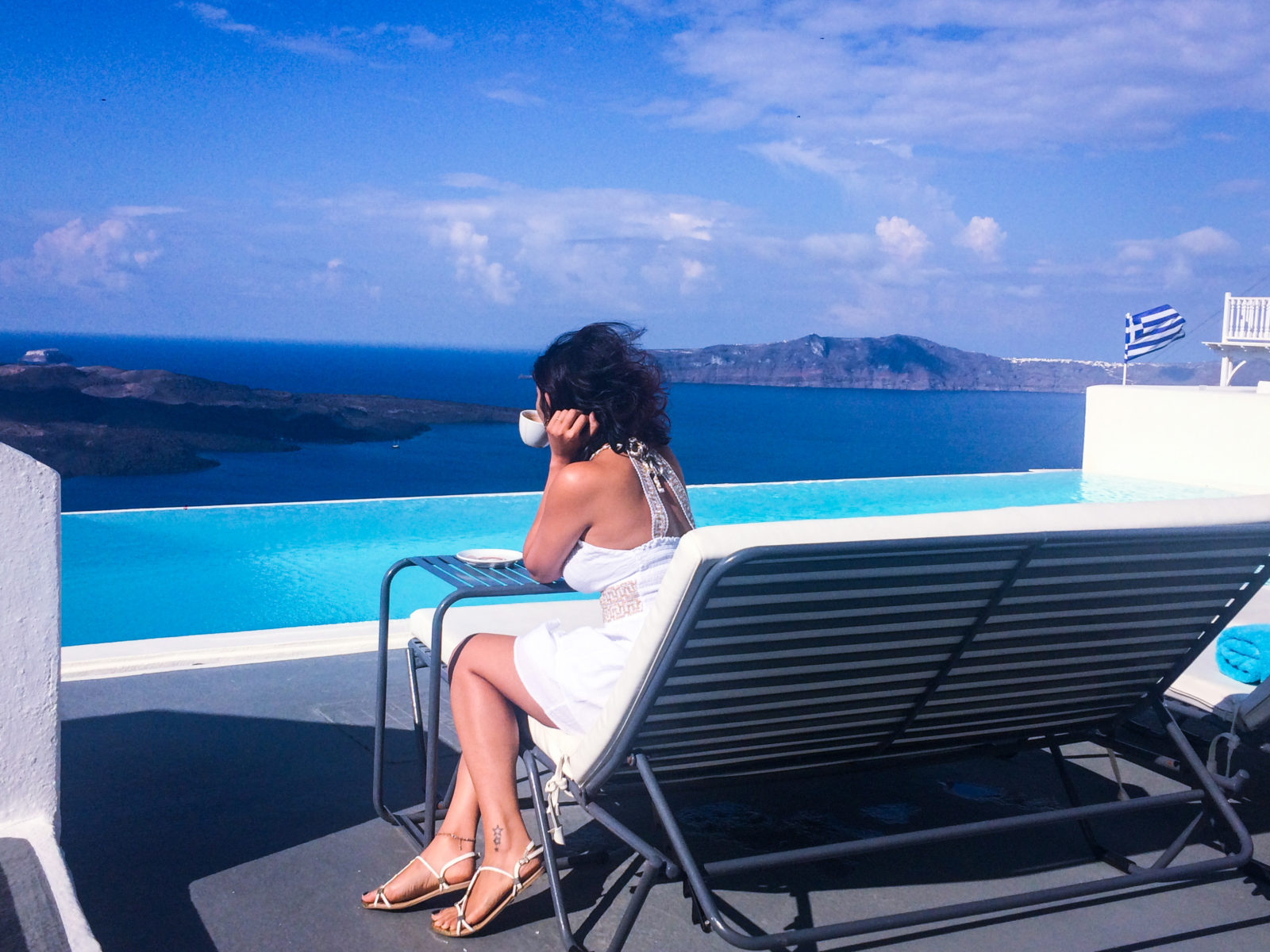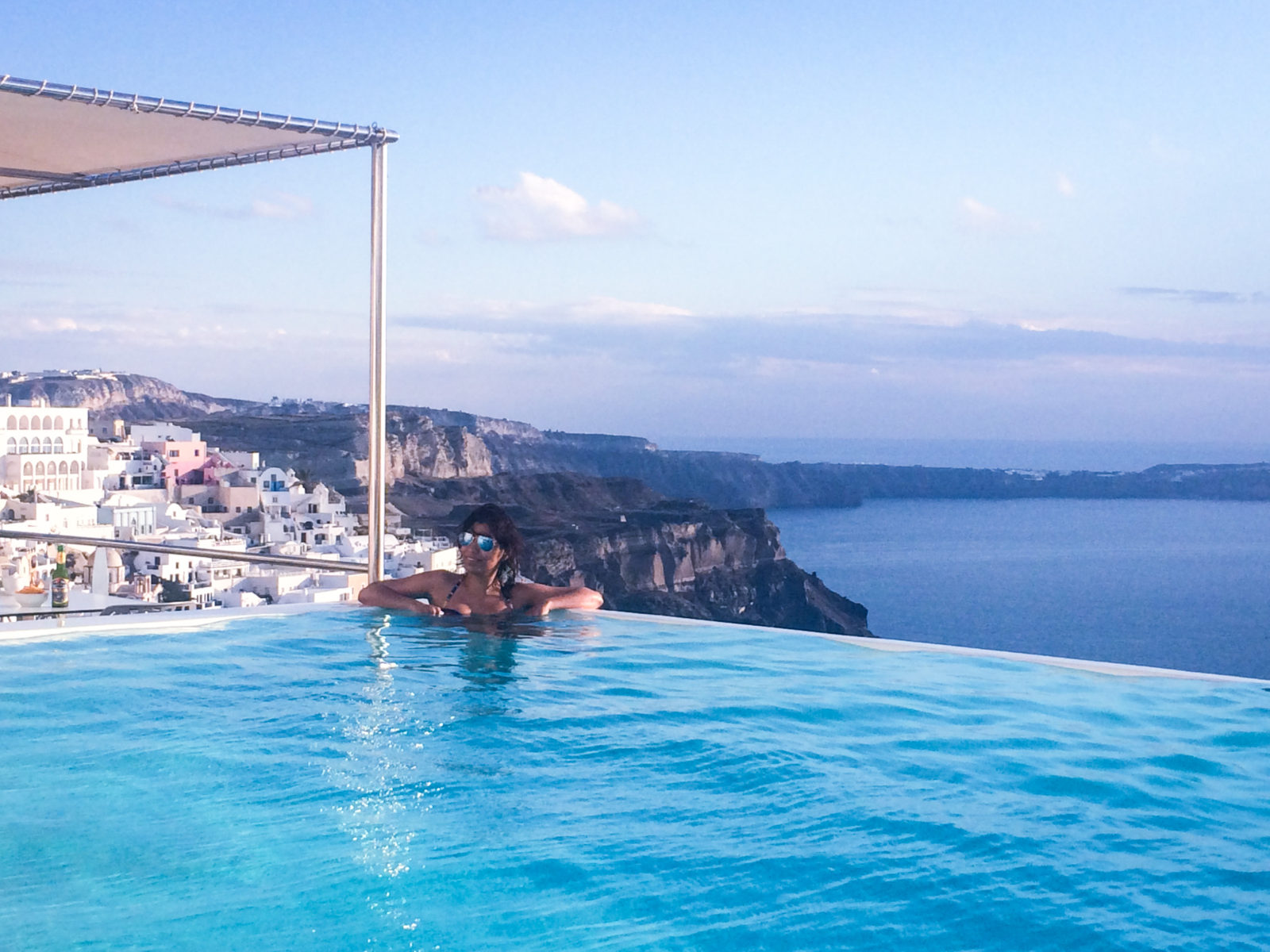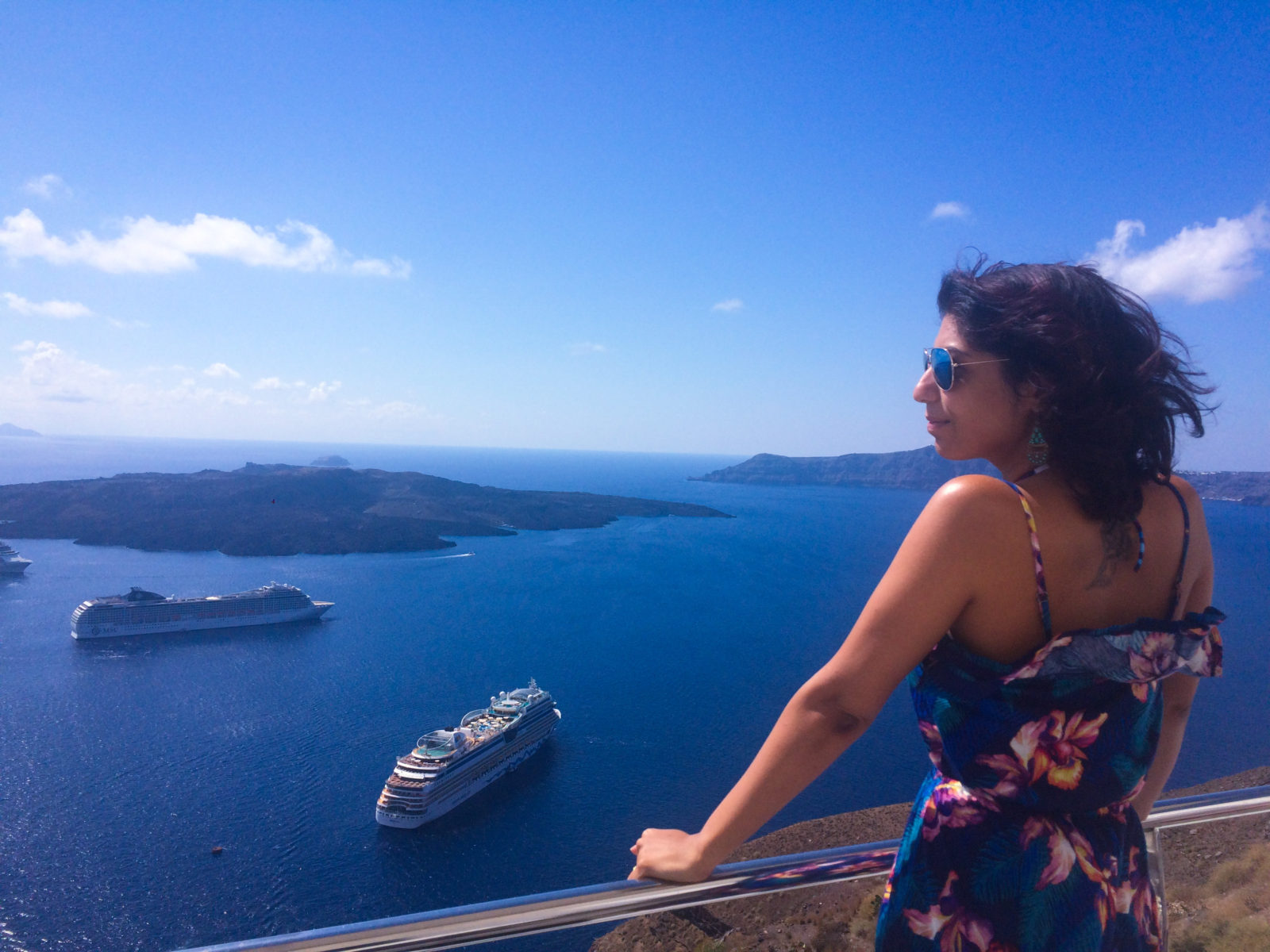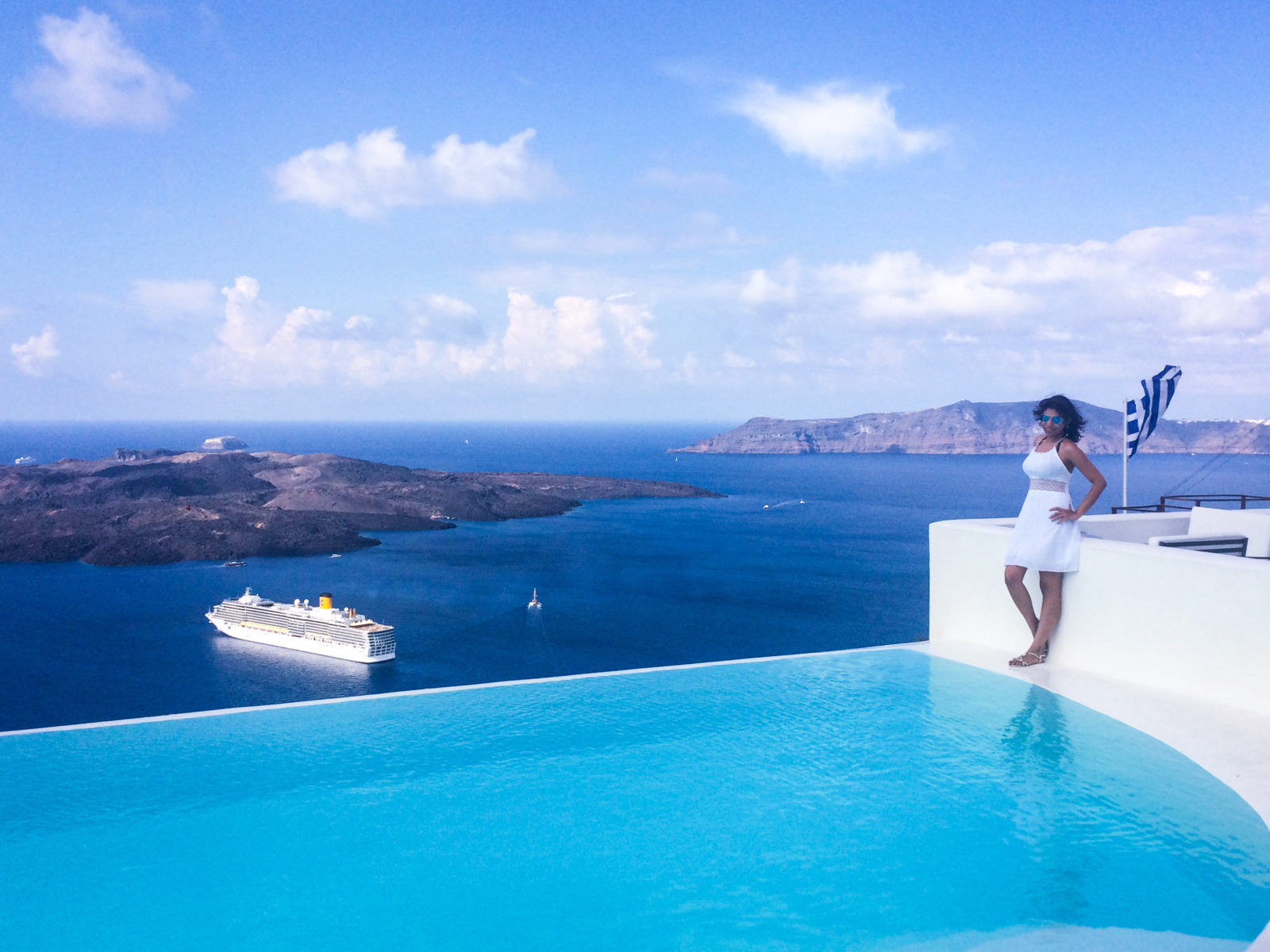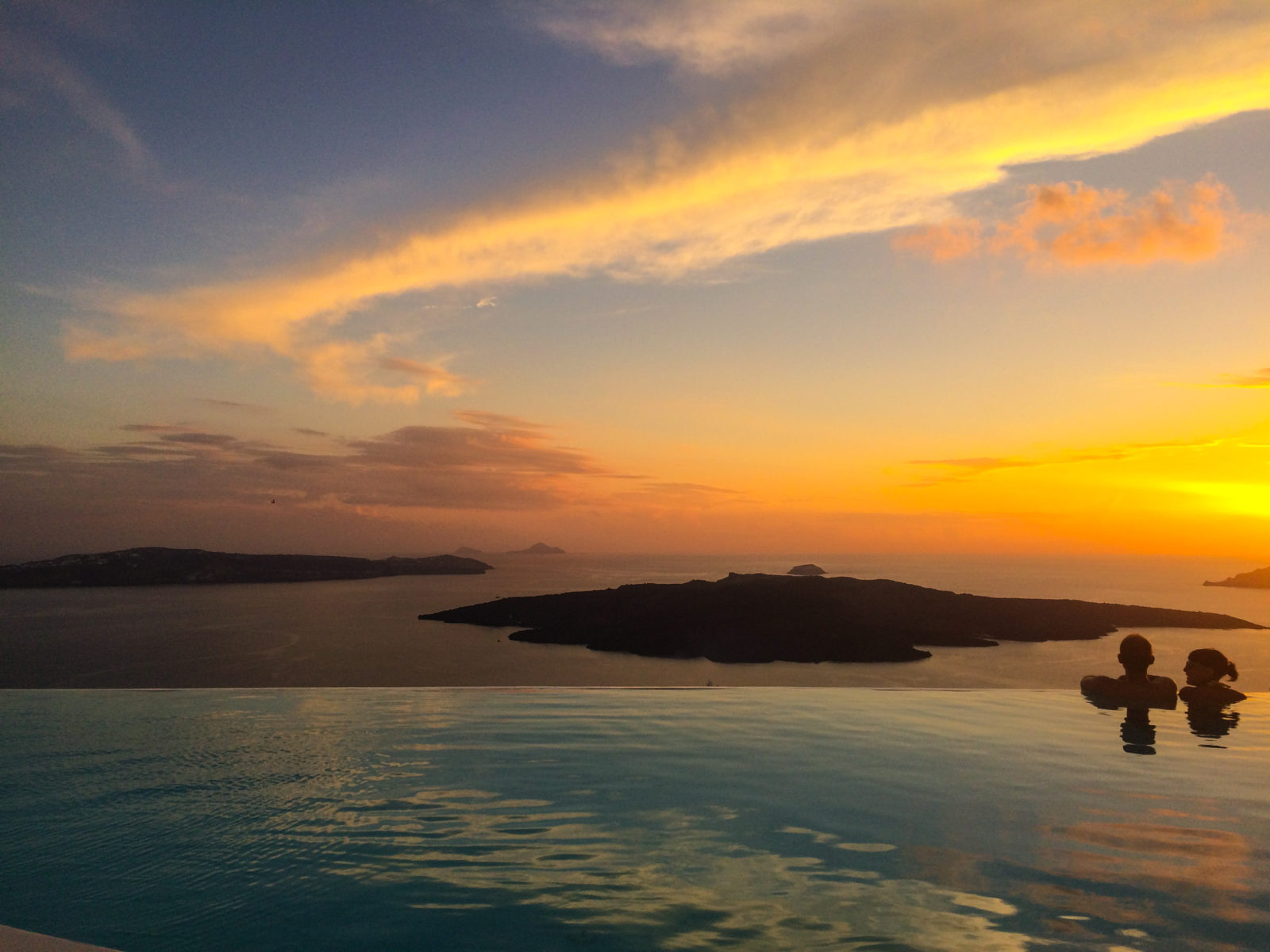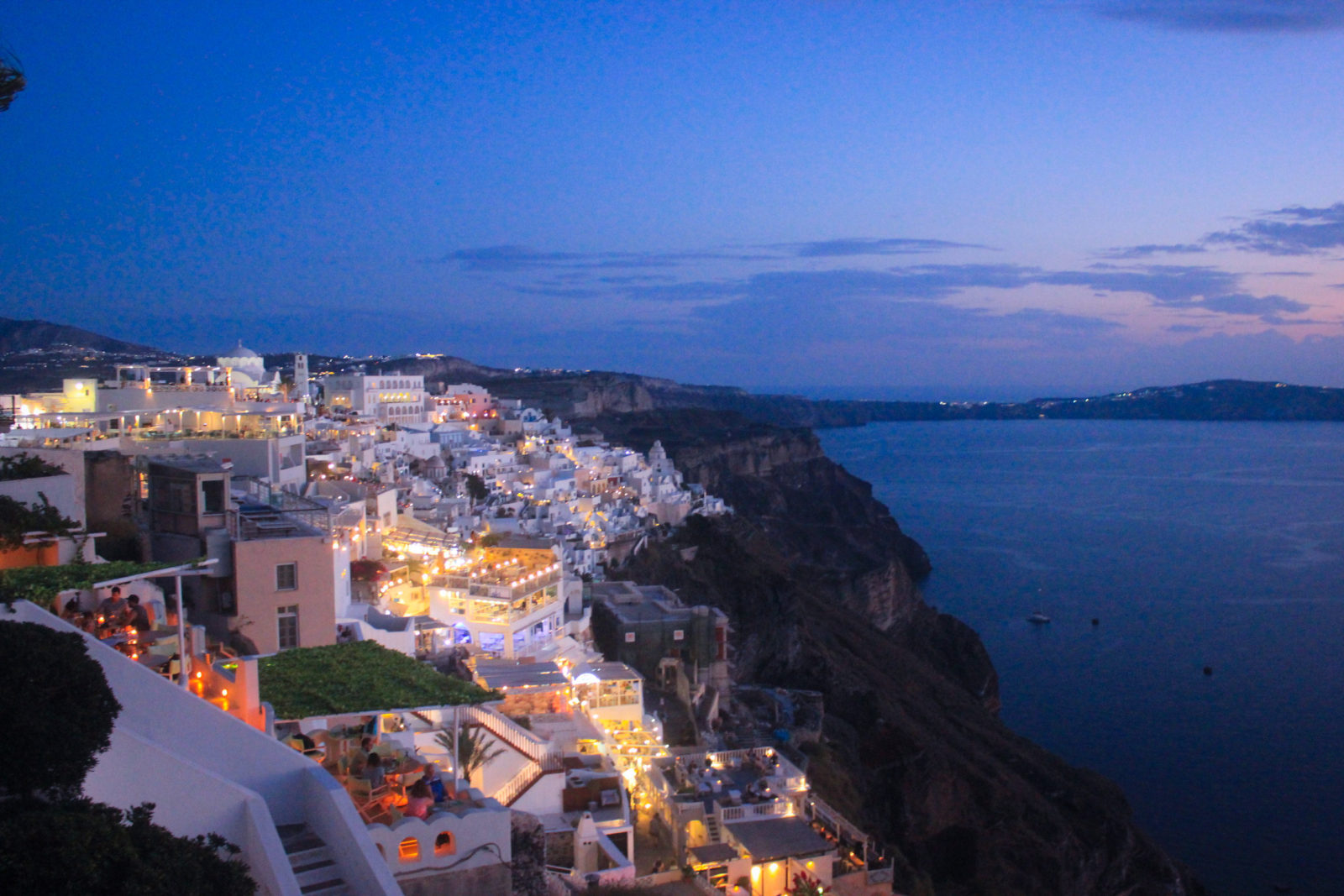 Suggested medium/ low budget hotel in Fira: Nonis Apartments
I loved this hotel because of its cave-style interiors, beautiful views from the terrace and the best part was - the price was so low! There's no feeling like enjoying a cup of coffee early in the morning or a Greek salad on their terrace. Below pictures were taken from this hotel.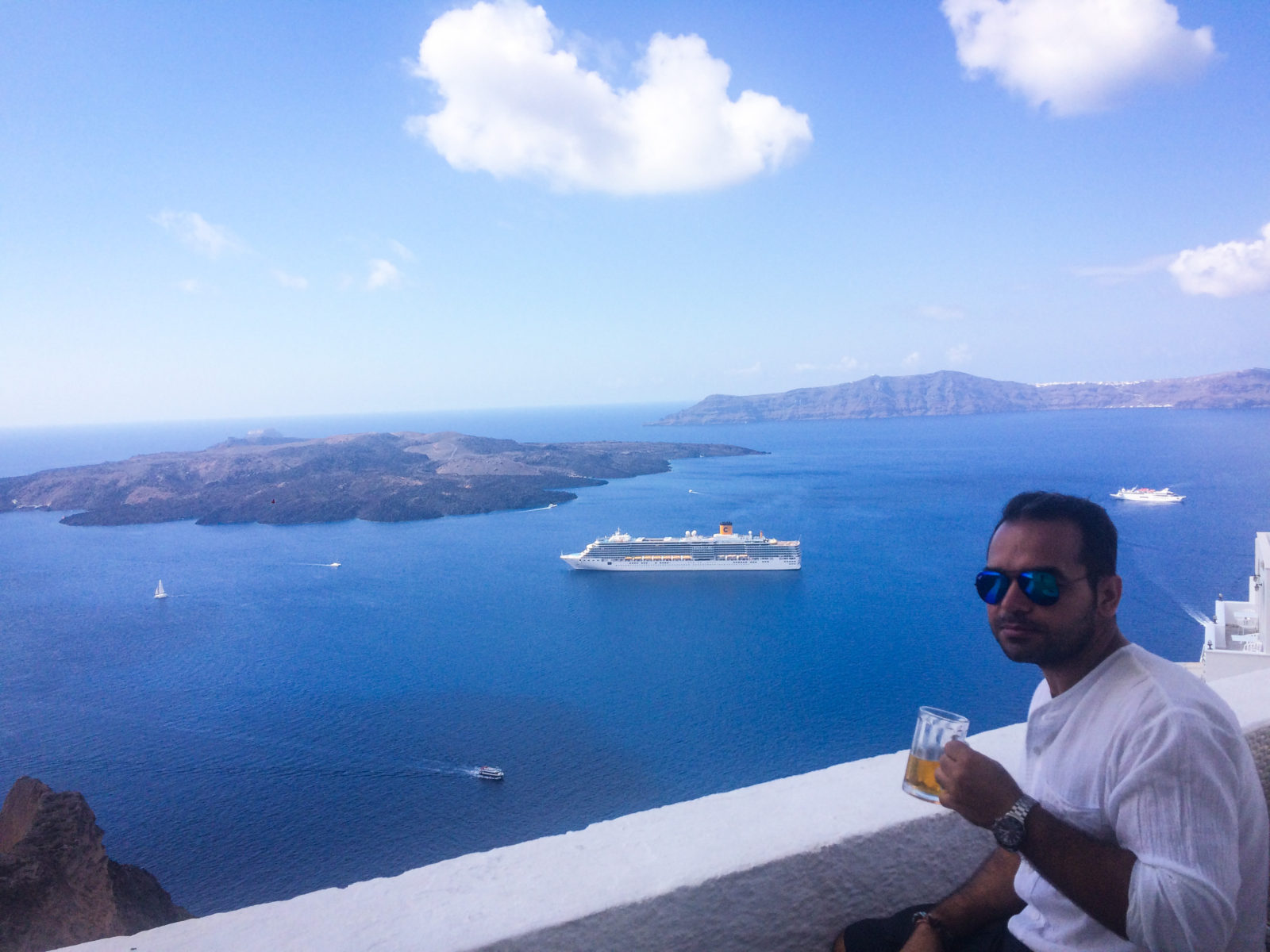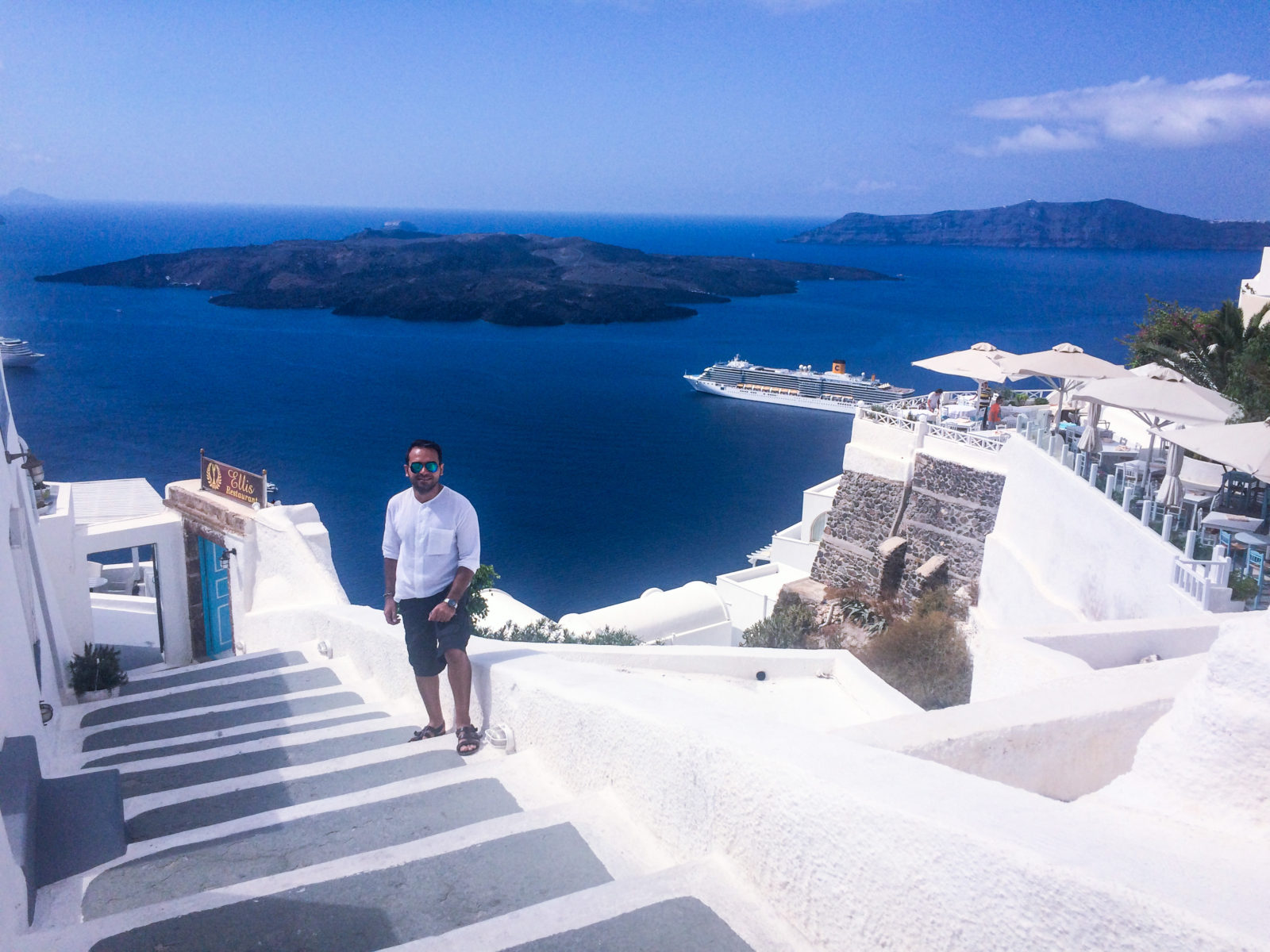 Things to do and see in Santorini:
Spend one day exploring the beautiful streets of Oia. The white churches, the windmills, the restaurants on the cliff, the boutique shops, the Greek food and the famous sunset spot are some places you wouldn't want to miss. About 20 minutes ahead of Oia, you will find Amoudi Bay, right next to the crystal clear waters where the restaurants will serve some of the freshest and yummy seafood. Don't be surprised if you do not find too many buildings or churches with a blue rooftop, there are hardly any! You might have to go searching for that spot from where you can capture the typical Santorini picture. The famous sunset spot begins to get crowded at least an hour before the sunset is predicted to happen so check the time and be there to take up your perfect spot in time.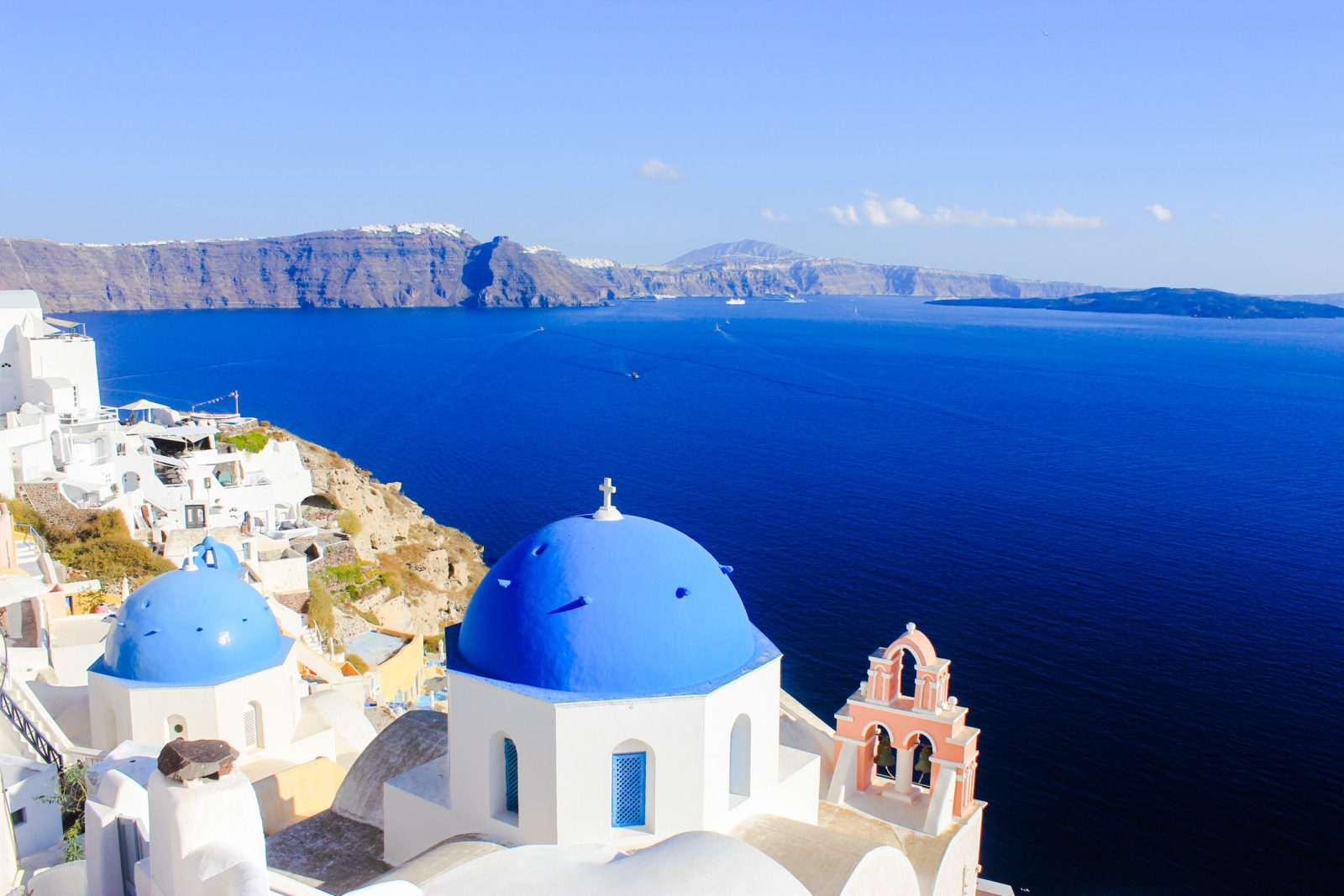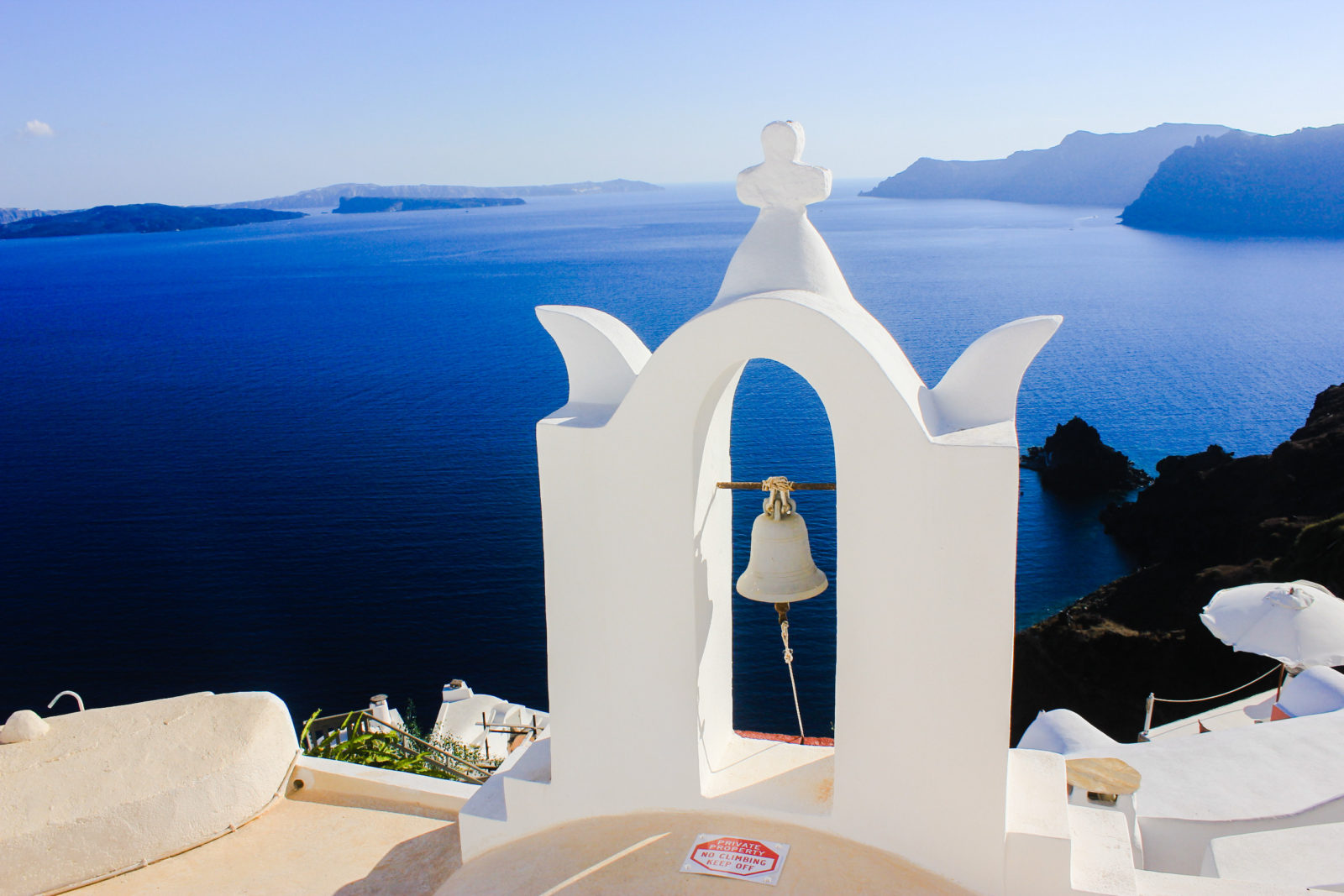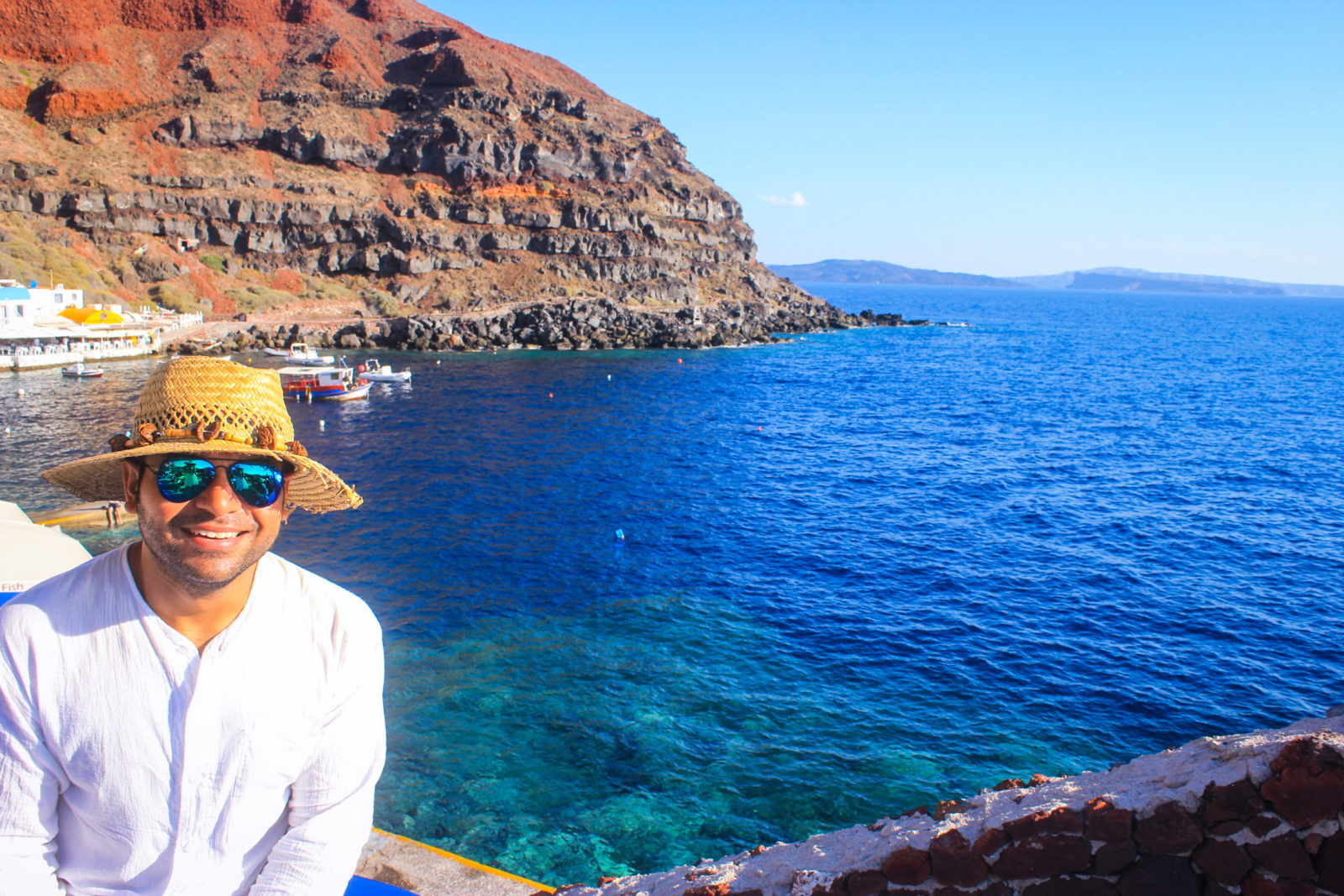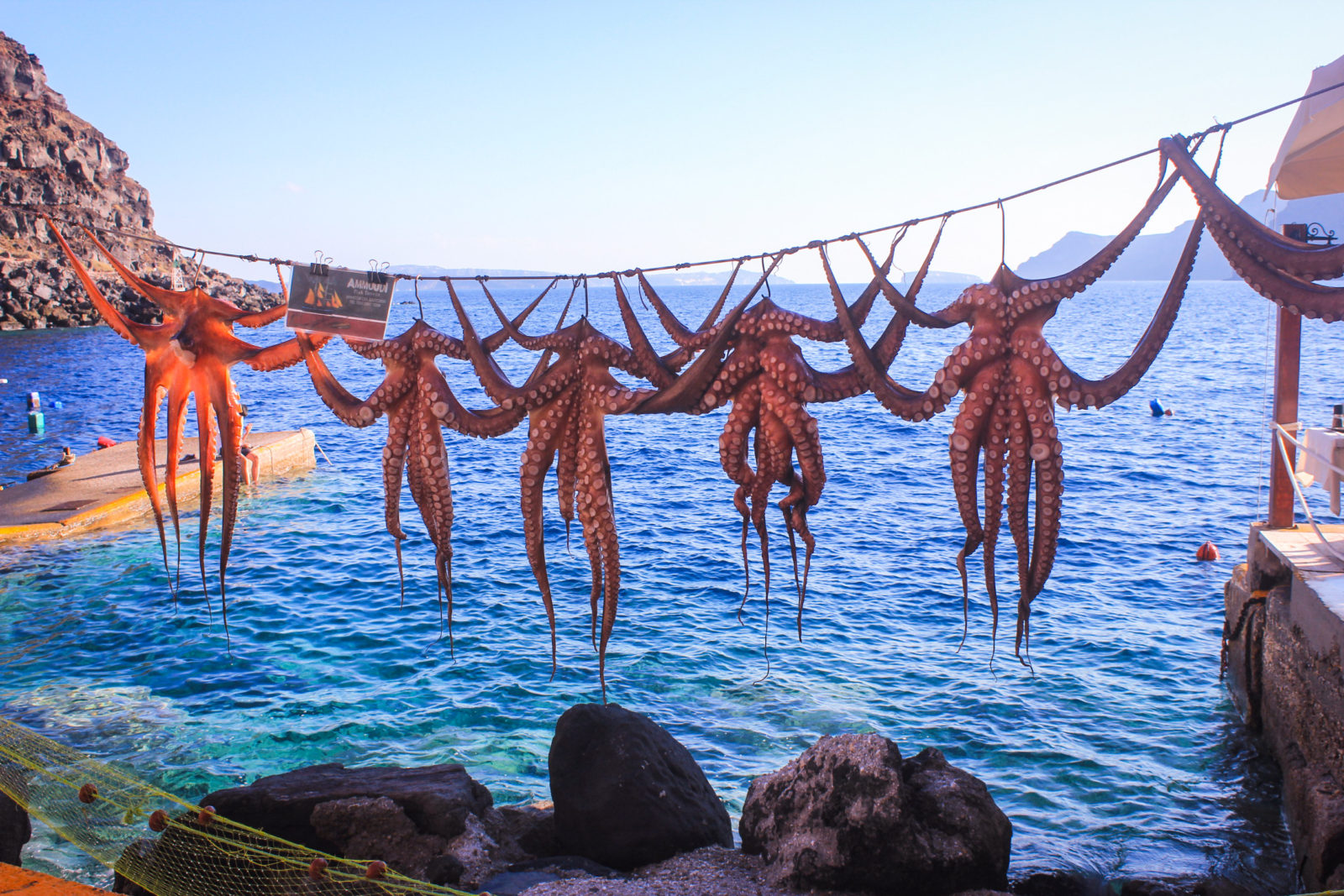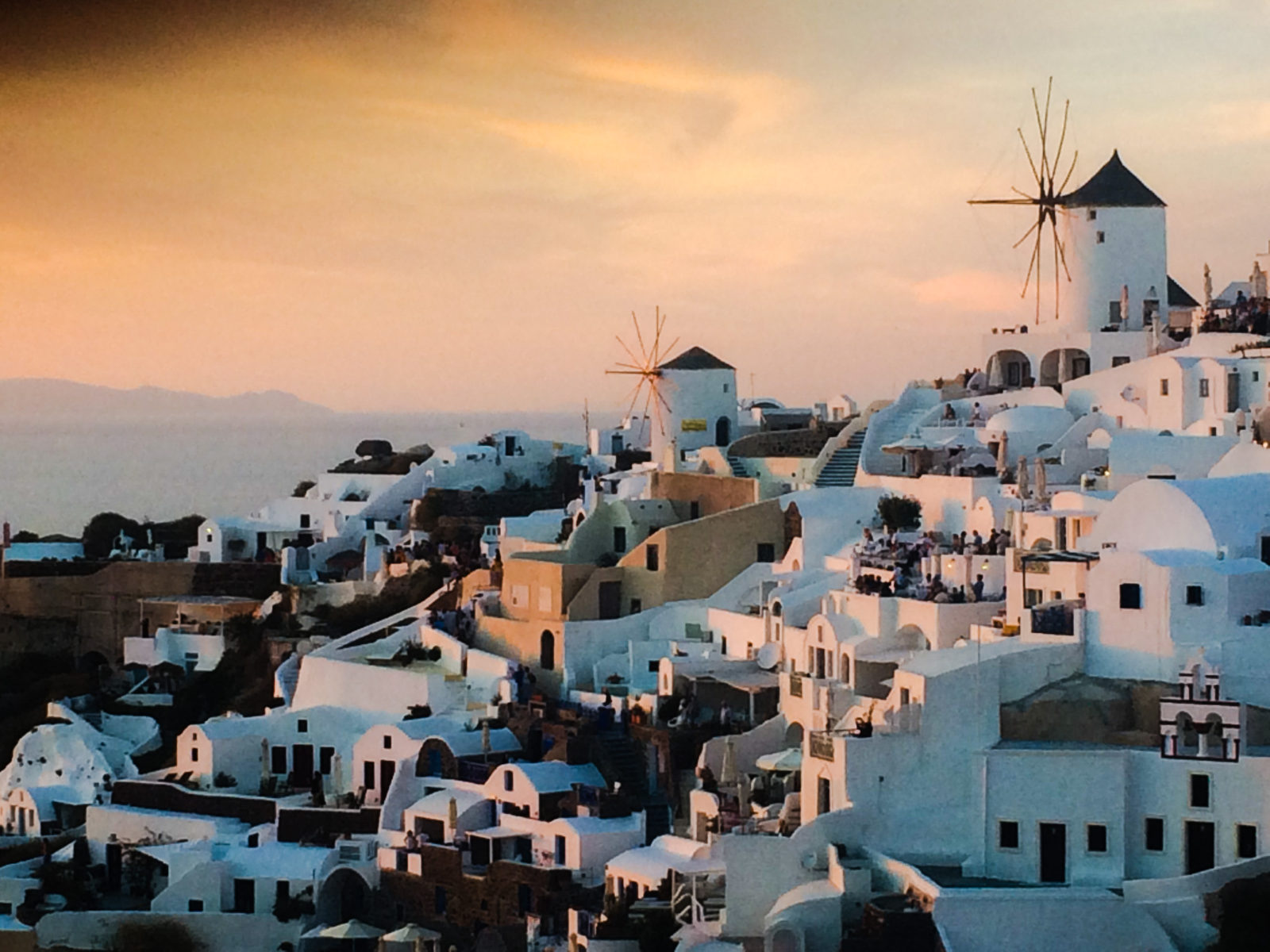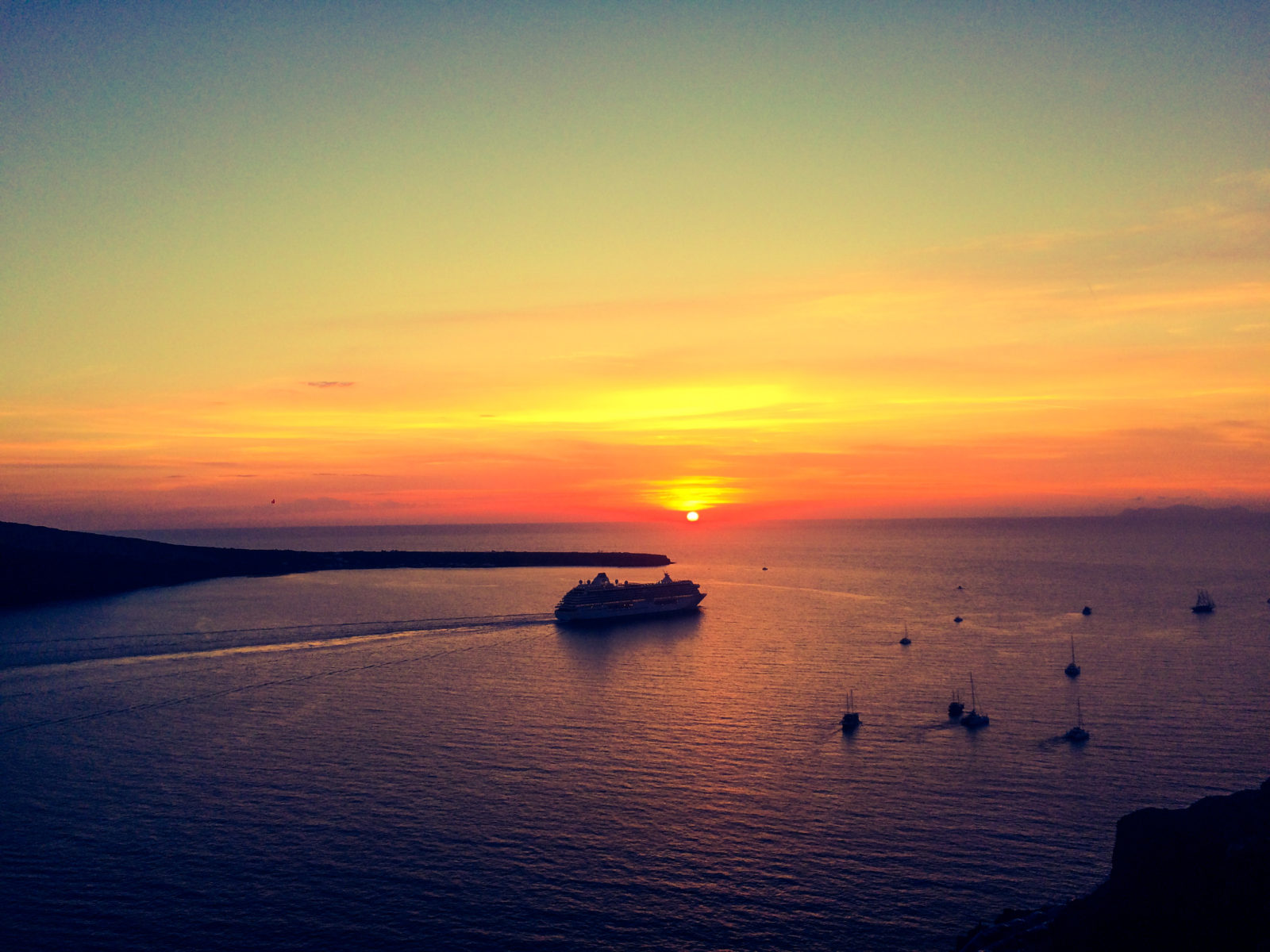 Spend your next day walking around Fira. There are several cafes, bars, restaurants with patios and balconies, offering amazing unobstructed views from the caldera cliff. You can enjoy a cable car ride from the mountain to the coast below and back. There are also several museums that you might want to visit (we were enjoying the views too much to go and visit any museums) such as Megaro Gyzi Museum near the cable car stop, Lignos Emmanuel Folklore Museum (a cave museum), Santozeum an art gallery, Museum of Prehistoric Thira and several others. Although a lot of people would not agree, I find the sunsets much prettier from Fira as compared to Oia because of the view of the volcano right in front.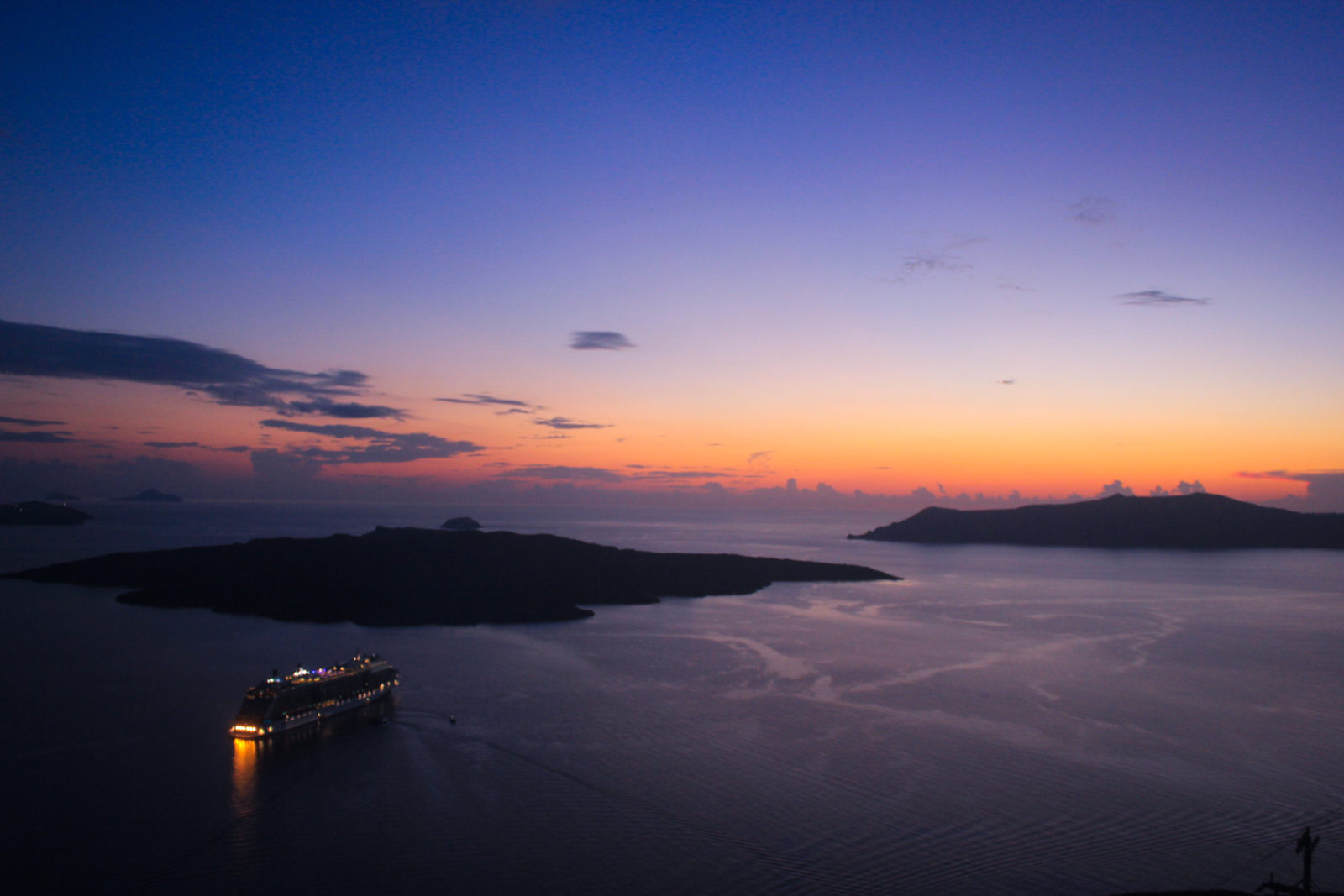 One the third day, there are several things you can explore. You can visit either (or all) of the black sand beaches - Perissa, Kamari or Perivolos. These beaches are unique because of the black colour of the sand, which is due to the high volcanic ash content in them. They are on the opposite side of the island, so I would recommend you rent a car for a day and visit these locations, which are far from the caldera side.
Read about exploring Red Beach Santorini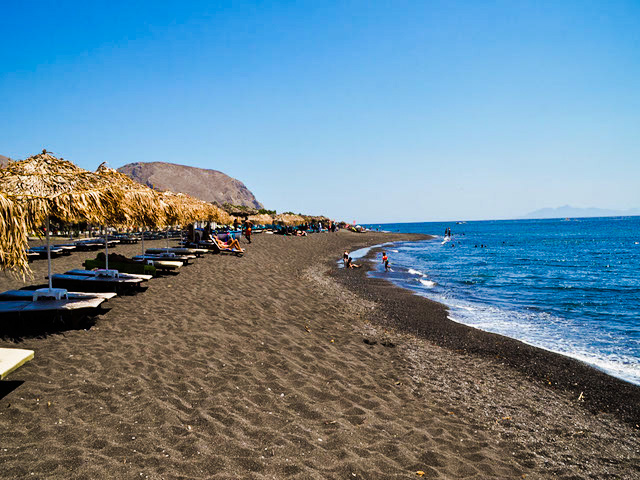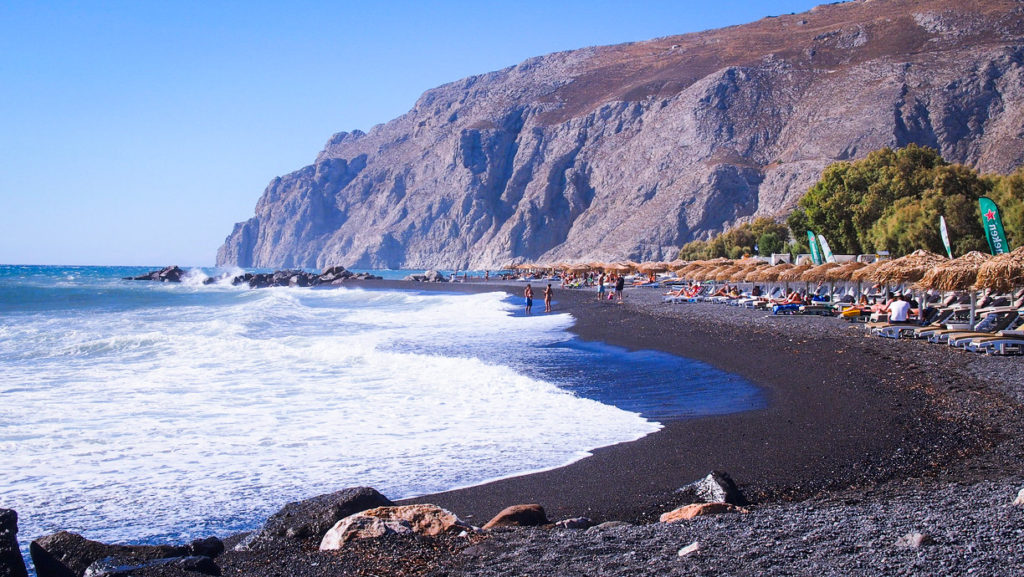 Drive up to Profitis Elias, the highest point on the island of Santorini. You will be able to see the entire island from here unless you're above the clouds!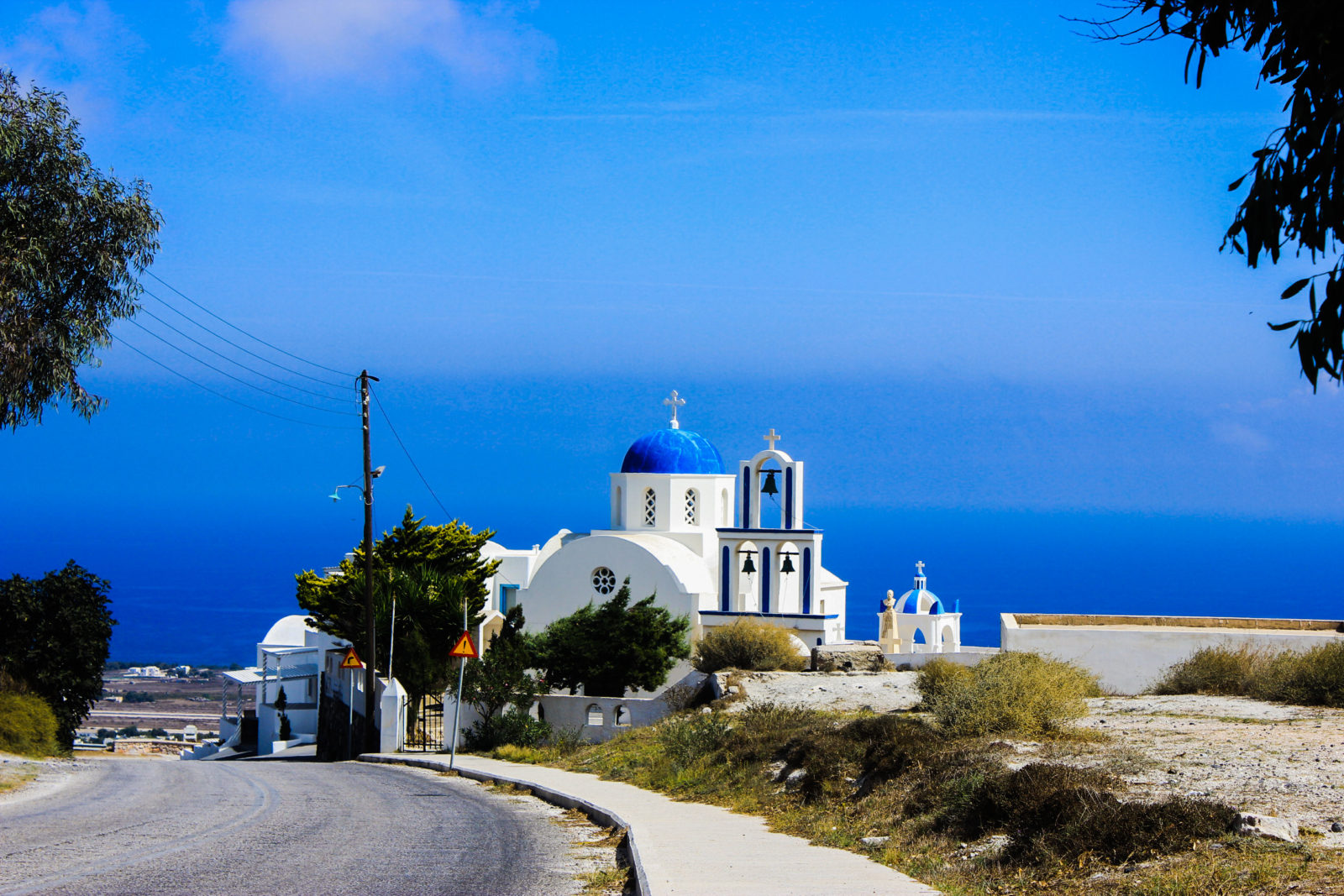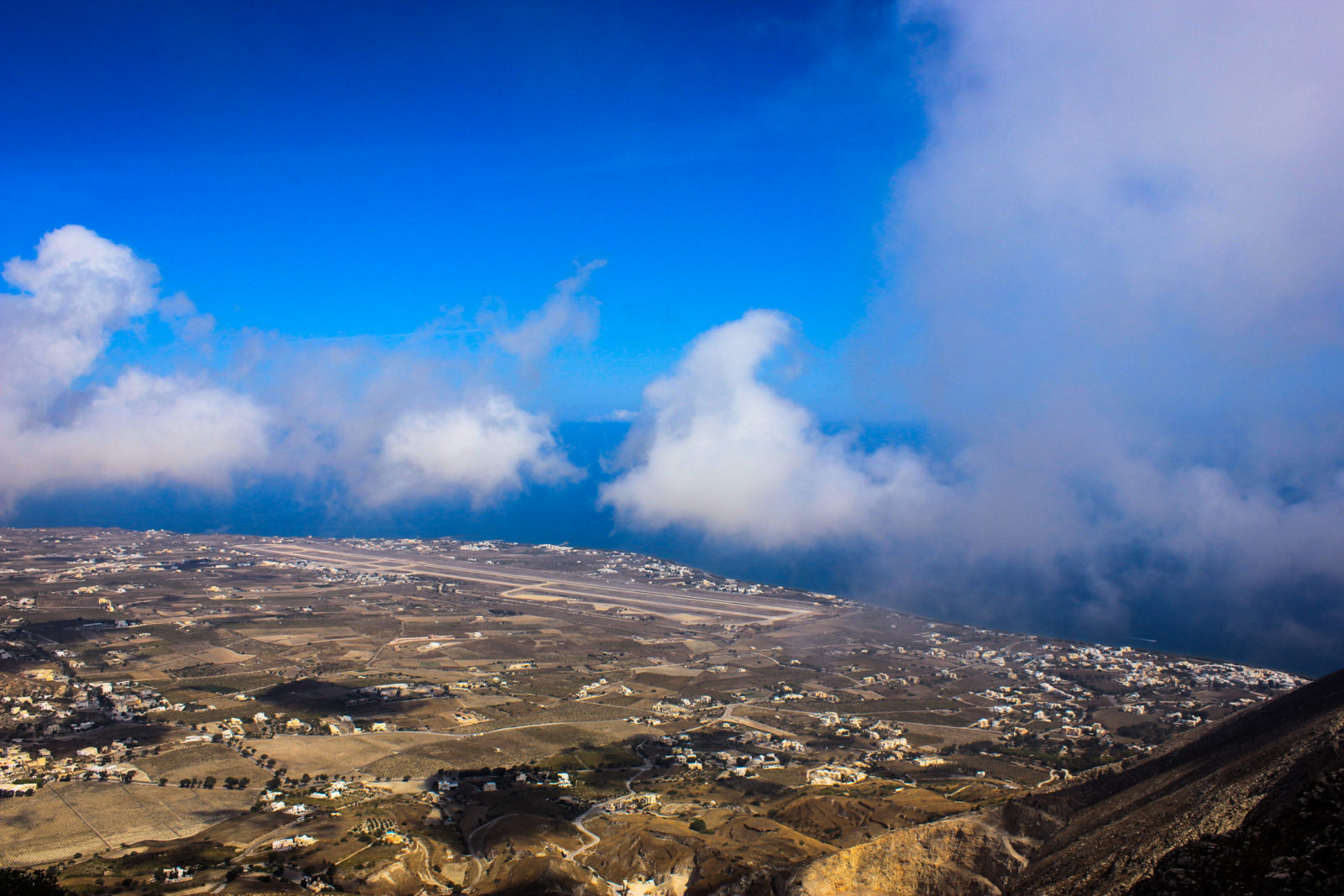 View the sunset from the lighthouse point in Akrotiri. Located at the other extreme of the island is this beautiful spot which also offers some amazing sunset views. If you have already seen the sunset from Fira and Oia, this is one to compare!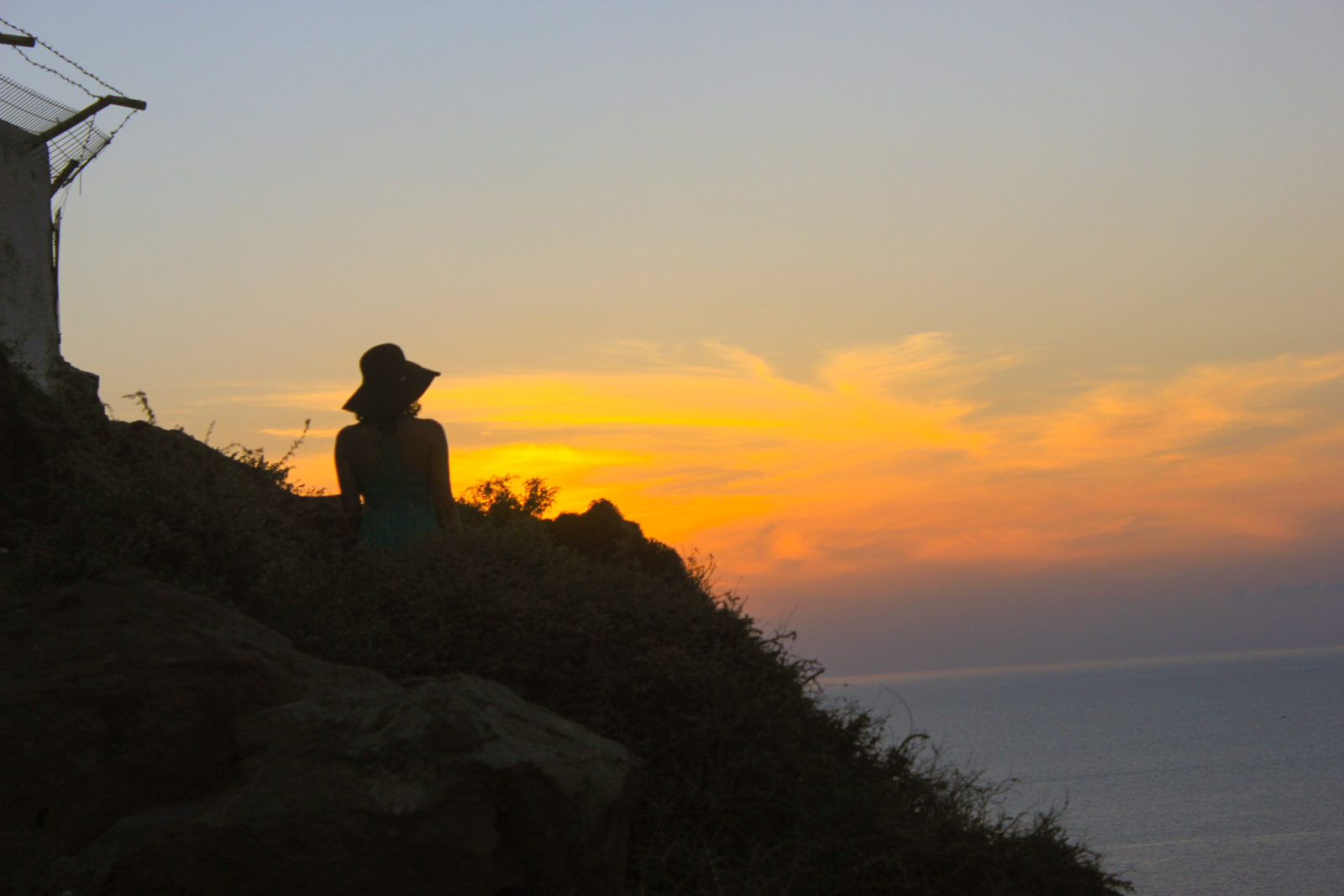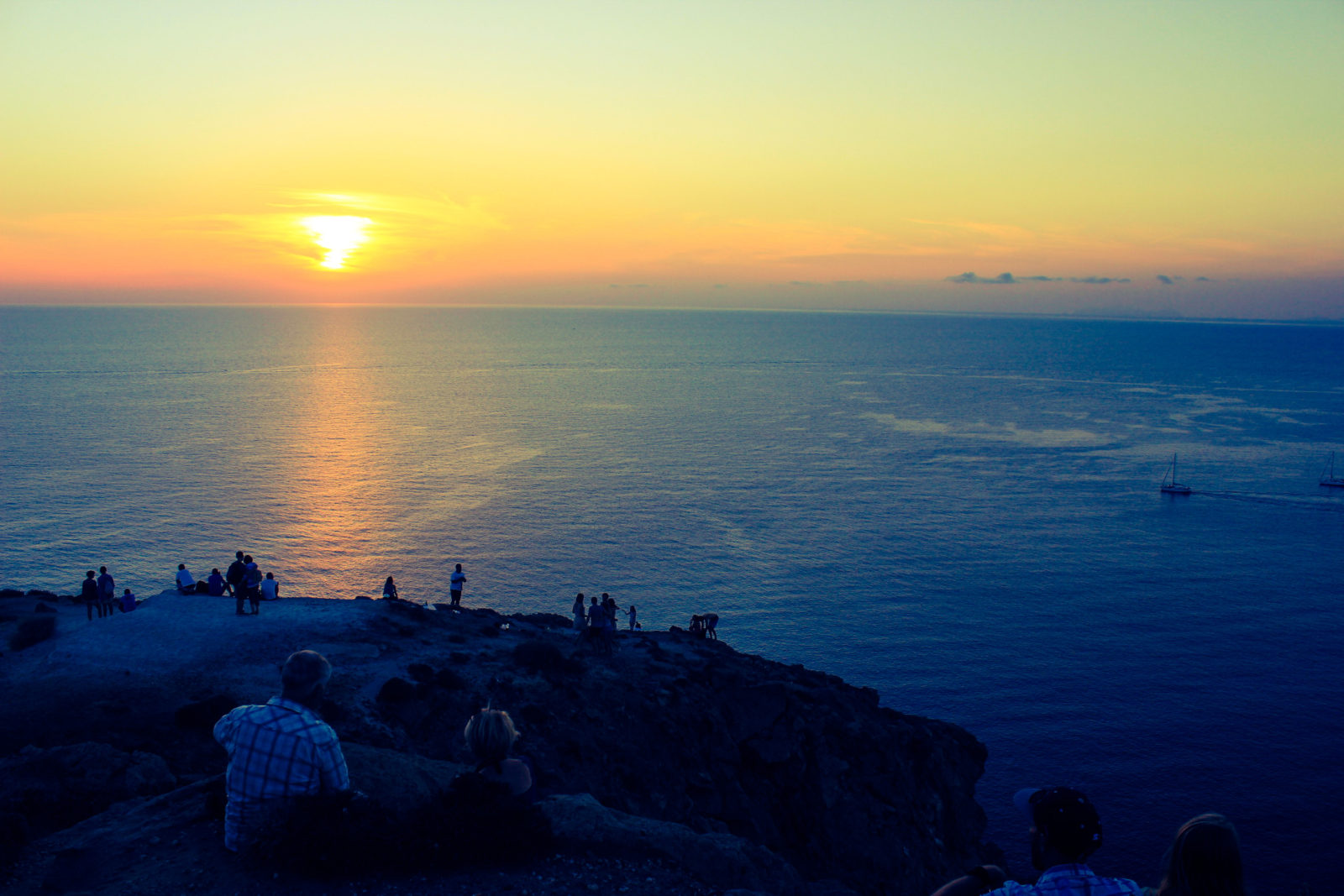 Last but not the least, this magical hidden gem was located right in the middle of the island, between Akrotiri on one end and Oia on the other. Very close to the port and right above it is Senor Zorba, a Mexican restaurant that has probably the most amazing Mexican food on the entire island. What's more, it even offers superb views over the caldera!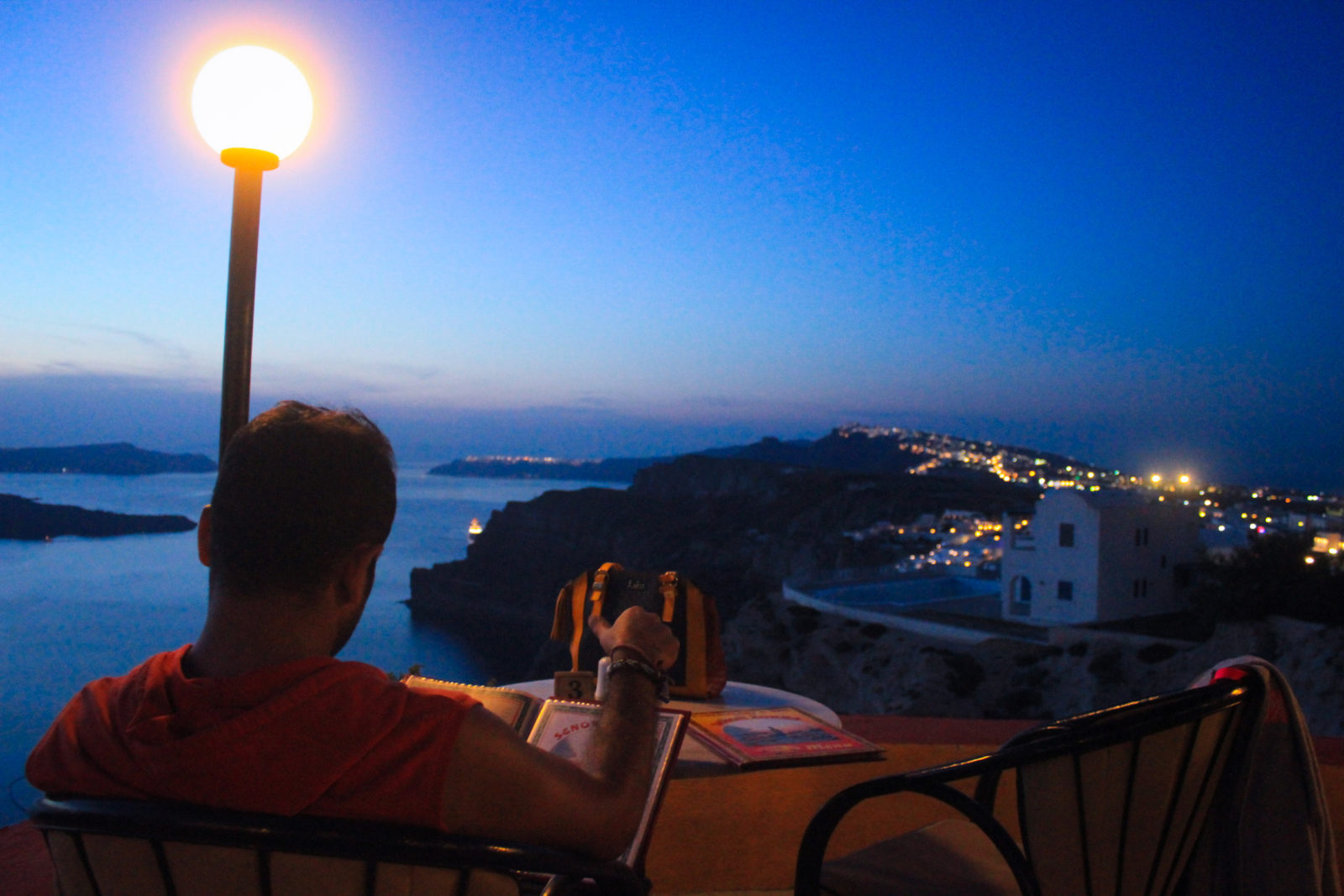 Although Santorini is famous for its lovely sunsets, I also managed to catch a sensational sunrise the next morning!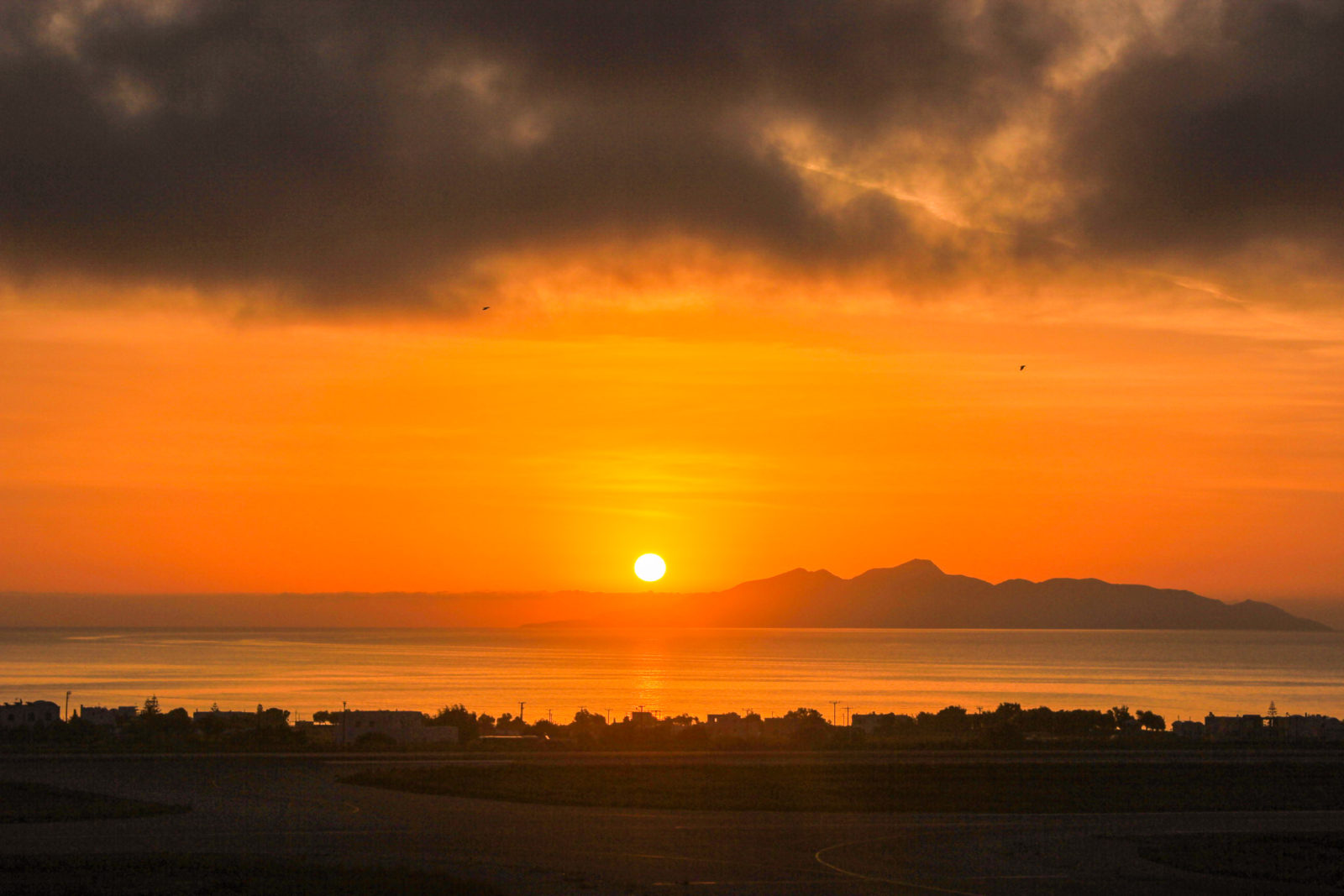 We took a flight from Santorini to Athens as we had our return flight from Athens early next day. Alternatively, you can choose to take a ferry. Although there are many options, the fastest ferry (Hellenic Seaways Highspeed 4) costs about € 75 and takes less than 5 hours.