If you have decided to visit Ireland, prepare for an adventure like no other! You must be a nature lover, looking to get away from big cities and explore the bucolic countryside, laidback lifestyle, acres and acres of green lands, beautiful coasts and fresh, crisp air. Ireland is fascinating, there is magic and romance at every turn and the country is steeped in rich history. The Irish are musical people, they're warm and welcoming, they're fun to chat with and they know how to have fun. Your itinerary for Ireland will be packed with sublime, postcard-perfect beauty, dramatically wild countryside, lyrical evenings, excellent whiskeys, gins and beers, well-preserved historical ruins, and of course, the 'craic'.
A few things to keep in mind, to be well-prepared for your trip:
Renting a car is the best way to explore the country. Any itinerary for Ireland is incomplete without some stunning coastal and rural drives in the world. Besides, it is the best & fastest way to get to the remote areas, untouched wilderness and rugged landscape.
It has been said enough times, but Ireland's weather is notorious for being unpredictable. It is rare to see bright blue skies and sunny days, even during the summer, for a long duration. It rains often and can be extremely breezy most times. When breezy and rainy, the temperatures can drop drastically.
You're unlikely to have a downpour, however. A rain spell is most likely to last a couple of hours in one go and it's not uncommon to have gloomy, dark days.
During such rough weathers, the sea activities such as boat trips, whale watching tours, etc can be cancelled. This means, you've to be very flexible with your itinerary for Ireland and it's best to have a backup plan for the day, in case the weather doesn't improve.
Needless to say, warm and water-proof clothing & shoes are essential to carry, to be able to make the most of your trip. Layer up, rather than carrying thick clothes (in the summer). On sunny days, the temperatures can go as high as 25 degrees so T-shirts could be helpful to beat the heat.
Try to look for hotels or BnBs with free onsite parking. Most accommodations outside bigger cities will have ample parking available on-site but it's always sensible to keep in mind while working on your itinerary for Ireland.
Ireland has some of the best liqueur chocolates in the world! Do not forget to stock up. Also, the Hot Chocolate you'll get (mostly with marshmallows) is absolutely heavenly!
Teelings Whiskey, Jameson Whiskey and Guinness Beer are home-grown brands and they go really well with the authentic Fish & Chips which you won't find hard to get almost anywhere you go and are a must-include in any itinerary for Ireland.
Irish people are musical. Don't forget to visit the local pubs for live music, traditional Irish dance and 'craic'. That's one more thing that any itinerary for Ireland is incomplete without!
During the summer months, Ireland has long days (with the sunset at 10 pm). However, most tourist sites close between 5 - 6 and markets also shut down by 6 pm in most towns. This leaves you with only one choice - hit the pubs!
Drives can be longer than GPS will tell you. This is not only because some of the roads are narrower and not easy to speed on but also because you'll want to stop very often to enjoy the beauty. So, keep a relaxed schedule and enjoy the journey!
Click here to book your car.
---
Day 1 & 2: Dublin
My suggested itinerary for Ireland begins at Dublin because this is where most flights arrive. The Irish capital makes for the perfect introduction to Ireland - it has palpable energy, great music, and some really cool museums. History meets vibrancy and ancient architecture blends with the modern lifestyle in Dublin. The markets and exhibitions here are unparalleled, as is the decadent, trendy and spirited nightlife scene.
I've written a detailed post for a 2-day Dublin itinerary that includes a visit to the key places within Dublin which include historical sites such as Dublin Castle, Trinity College and Book of Kells; streets with a great vibe and amazing nightlife such as Grafton Street & Temple Bar; day trip to the charming little coastal town of Howth and several other options.
Read here about What to do in Dublin in 48 hours.
---
Day 3: Dublin - Glendalough - Kilkenny
Dublin to Glendalough (1.5 hours drive)
Time required in Glendalough: 3-4 hours
An early Christian monastic site located in the middle of Wicklow Mountains, 'Glendalough' translates into 'valley of two lakes'. It was founded by St Kevin in the 6th century and the 3-km spread area around the glacial lakes is strewn with several pieces of historical importance. I suggest parking your car at the National Park Information Centre near the Upper Lake before you proceed with taking up one of the hiking trails in the area.
One of the popular and not-so-tough hikes is the one to Poulanass Waterfall (1.6 km, 40 min) near the Upper Lake. If you're looking for an easier one, a short walk (1 km, 30 min) to St Kevin's Cell and the Reefert Church might interest you.
Tougher hikes such as Spinc and the Wicklow Way (11 km, 4 hours) and Derrybawn Woodland Trail around the Lower Lake (8 km, 2 hours) are also available for the more fit people. No matter what your fitness level, the National Park is a great place to spend some quiet time in the middle of tranquil oak woodlands, waterfalls and lovely lakes.
Glendalough to Kilkenny (1.5 hours drive)
Explore Kilkenny Town
As you're likely to arrive in Kilkenny during the evening hours, you can spend your time exploring the cute town. Kilkenny forms an integral part of our itinerary for Ireland not only because it makes for a timely stop, but because the charming city is home to several medieval cultural wonders, hidden shopping jaunts and vibrant nightlife. Don't be surprised to see a lot of quirky cars, loud and drunk people on the streets and crazy sights because Kilkenny is a popular place for several hen and stag parties over the weekends.
Suggested BnB stay in Kilkenny: Glendine House, Kilkenny
---
Day 4: Kilkenny
Kilkenny city is not just about the crazy nightlife, it is replete with ancient sites such as castles, churches and abbeys as well as beautiful street-scapes, especially around the River Nore. If you have a car, you're lucky because you can also visit the magnificent monastic ruins from the 12th century - Jerpoint Abbey, that lies about 30 minutes outside the city.
I have written a detailed post on a 1-day itinerary for this charming town in Ireland. If you are here only for one evening, then do make it to the Kilkenny Castle at the centre of the town, St Canice's Cathedral (the walk from Kilkenny Castle to the cathedral is through some of the best historical marvels in the town) and the Nore Valley (sip on some hot chocolate at the Riverside Restaurant of Kilkenny River Court Hotel).
Read here about What to do in Kilkenny in 24 hours.
---
Day 5: Kilkenny - Rock of Cashel - Killarney
Kilkenny to Rock of Cashel (1-hour drive)
Time required at Rock of Cashel: 1 hour
Rock of Cashel was undoubtedly my favourite historical site in all of Ireland. As I drove towards it, the looming structure situated on top of a plateau against the green grassland backdrop was a sight that deserved to be captured! Although the earliest surviving archaeological building (the Round Tower) dates back to the 12th century, the site is known to have existed since the 5th century when King Aengus, Ireland's first Christian ruler, was baptized.
There is a free tour that runs at Rock of Cashel which lasts about 45 min and I would highly recommend you to join that so as to understand the historical significance of the building. If that doesn't interest you, you can take one of the walking trails in the area. I highly recommend the Cashel Heritage Walking Trail, an easy 1.6 km loop trail that'll also take you to another iconic historical site in the area - the Hore Abbey.
Hore Abbey is visible from the grounds on top of the Rock of Cashel but a walk down to explore the ruins is a must! Firstly, the views of Rock of Cashel from the abbey are unparalleled. Secondly, it is not crowded at all, with hardly any people visiting or exploring the ruins. The place is completely non-commercial and it is accessible to anyone, without any entry charges, supervision or gates. It is basically just lying away in one corner and all you need to do is open the gates and enter! You can have the entire archaeological site all to yourself!
Rock of Cashel to Blarney Castle (1-hour drive)
Time required at Blarney Castle: 3 hours
Most people visit this gorgeous medieval royal property to kiss the Blarney stone, which is believed to give one the gift of eloquence. However, even if you don't believe in legends, Blarney Castle and the sprawling gardens are a great place to spend some time amidst nature and greenery, especially on a clear and sunny day. Unless you get to the castle really early, you're likely to encounter a massive queue to enter the stone tower, to go up and kiss the Blarney Stone (1 -2 hours during summer is normal).
Even if you decide not to stand in the queue and enter the castle, and climb the narrow, winding stairs to the top to kiss the famous stone, I recommend you to take a walk in the castle gardens. They're really lush, widespread and impressive, with all sorts of wildflowers, little waterfalls, streams and forest plants & trees.
You may also want to explore the dungeons below the castle but make sure you're ready to bend and crawl through low lying ceilings, stone walls and uneven surfaces. I recommend a walk towards the gorgeously constructed Blarney House, overlooking the lake. The architecture of the house is quite intriguing and perhaps, one of the better-looking buildings in Ireland. It is hardly a 7 min walk from the castle itself.
Blarney Castle to Killarney (1.5 hours)
You'll only arrive in Killarney late evening/ night. I suggest enjoying a nice walk, some drinks and dinner in the colourful town centre before you head to your hotel for a good night's sleep!
Suggested BnB stay at Killarney: Ryebrooke House
---
Day 6: Killarney National Park
This massive National Park comprises of 26,000 acres of gorgeous landscapes - mountains, lakes, waterfalls and hiking paths. If you're a nature or adventure lover, you have to spend a day exploring the wilderness of this park, which has in the past won several accolades for being the favourite day out for a lot of Irish locals as well as tourists.
From kayaking in the lake to exploring historical gems such as Muckross House and Gardens, Ross Castle, to cycling along the lake or hiking the rugged mountains, Killarney National Park makes it to the Top 10 things in the itinerary for Ireland, in my opinion. Some things I recommend to do while in Killarney National Park:
The boat tour from Ross Castle to Inisfallen Island
Horse Carriage Ride around the Muckross Estate and Gardens
Hike the Muckross Lake Loop
Sunset kayaking trip on the lake, with Outdoors Ireland
---
Day 7: Ring of Kerry
A part of the Wild Atlantic Way, Ring of Kerry qualifies as one of the most iconic coastal drives in Ireland. If you're renting a car and taking a road trip, you must spend at least a day exploring this gorgeous highway, with several pit stops which are for history, nature and food lovers. I was not very lucky with the weather (it was pouring on the day I did this loop), however, I was still rewarded with some scenes that I will never forget.
Some of the key highlights of this drive are:
The cute and cosy town of Kenmare (a great place to stop for breakfast)
Staigue Stone Fort (archaeological ruins of an Irish Ring Fort from 300 AD)
The town of Waterville, famous for being one of Charlie Chaplin's favourite vacation spots
Ballinskelligs Castle, ruins of a 16th-century castle and abbey, situated right on the beach with breathtaking views of the blue ocean
Skelling's Chocolate, a local chocolate factory where you can taste the best hot chocolate in Ireland and buy some really amazing Irish artisanal hand-made chocolates
Kerry Cliffs, the ultimate destination which left me breathless because of the sheer magnificence of the rocks jutting into the ocean
Read my detailed post on Driving the Ring of Kerry in Ireland.
Suggested overnight stay: Portmagee is a nice town, just about 5 minutes away from Kerry Cliffs. Although quite small, you will find several restaurants here for a nice dinner. It also makes a great base for the next day's ferry trip to Skellig Michael.
Book your stay in Portmagee here. 
---
Day 8: Skelling Michael & Dingle
This island was made famous because of the shooting of Star Wars - The Last Jedi here. Even if you're not a fan, I would suggest that you visit to enjoy some stunning scenery and beautiful hikes. However, the tour is dependent on the weather so you'll have to check before you go if the boat trips are running on that day.
There are two types of trips that you can choose from:
Eco Tour - 2.5 hours
Takes you around two islands (Great Skelligs and Small Skelligs) but only circles around them, bringing you close enough to observe the wildlife and historical sites but does not land at any of the islands. There are multiple departures daily from the marina at Portmagee.
Landing Tour - 5 hours
The landing tour usually takes you to the islands to spend some time exploring the sites on your own. These usually depart early in the morning and return by afternoon. If you have time, I suggest you try this tour as you can visit the 6th-century monastic site located at a 200-meter height, where you can reach by climbing hundreds of stone steps built by the monks centuries ago. You're likely to see a lot of puffins and seagulls on these UNESCO World Heritage Sites.
If you're, however, not into boat trips, you can simply visit a few spots on the mainland itself from where, on a clear day, you can view these islands because of their distinct shape. Some of these spots are:
Coomanaspic Pass in Portmagee
Bray Head Signature Point on the southern tip of Valentia Island, right across from Portmagee
 Ballinskelligs Blue Flag beach
Kerry Cliffs (although a very far off view, can be visible only a very clear day)
Book your trip to Skellig Michael here.
Onto Dingle ( 2 hours) via Inch Beach
Once you're back from your boat trip to Skellig Michael, you can continue your trip on the Wild Atlantic Way, towards Dingle. On the way, you might want to grab a bite at Inch Beach, a popular one for surfers. Sammy's Restaurant is located right at the beach, with clear views of the sand and the sea.
Spend the evening exploring yet another colourful and charming town of Ireland. Walk into an Irish pub where you can hear live music or even watch some really amazing, professional tap dancing. I highly recommend The Dingle Pub for some great 'craic', the Irish way.
Suggested budget BnB stay in Dingle: Dingle Harbour Nights
---
Day 9: Blasket Islands & Whale Watching Tour
Whale watching must be on the list of things to include in your itinerary for Ireland. The best whale watching tours in Ireland depart from Dingle. A guided eco-marine tour that can be booked through Marine Tours will take you from Dingle to Blasket Islands (without landing) and give you an opportunity to see dolphins, minke whales, basking shark (in season) and other species including humpback whales occasionally.
However, I would recommend you to take the Full Day Tour that not only gives you the opportunity to enjoy whale (and other sea wildlife) watching in the afternoon but will also land on Blasket Islands, giving you a few hours to explore these lovely historical islands. Unfortunately, the boat trips to the Blasket Islands are dependent on the weather and are likely to get cancelled if the weather is not good.
TBlasket Islands do not really have any residents but you can see the drystone walls of village homes and fields that once existed. Sheep, rabbits and hares now inhabit the island, and a walk around here is the best way to immerse yourself amidst wild, rugged nature.  If you prefer to relax, beautiful sandy beach called An Trá Bhán is a great place to just sunbathe (on a clear & sunny day) or you could visit The King's house, a popular historical building that was home to the leader of the local community.
The full day tour departs from Ventry at 10 am and returns at 5 pm. Alternatively, during summer months (April - September), ferries run on an hourly basis from Dunquin Harbour to Blasket Islands between 10 am - 2 pm.
For a coffee break in a place that offers fantastic views, visit Great Blasket Island Coffee Shop.
---
Day 10: The Slea Head Drive & Tralee / Limerick
This amazing drive will take you through beautiful rugged countryside landscapes as well as untouched coasts, where you will have the chance to land on some off-beat, unexplored, secret beaches which are literally empty and unknown except to the locals. The day I drove, I experienced the typical Irish weather (wet & gloomy) but that did not take away from the charm of the drive. Sheep grazing on the farms, calm and pretty blue waters of the wild Atlantic, peaceful and laid-back pastoral villages with hidden cafes and restaurants - everything about this drive from Dingle to Dunquin Harbour and onwards to Tralee was amazing!
Astoundingly dramatic scenery greets you as you drive from Dingle, on R559 towards Ventry and eventually towards the southern coast of the Peninsula. If you do not stop along the way, you will arrive at Dunquin Harbour in less than 40 minutes.
Dramatic cliffs, deep blue ocean and brilliant green grass - this is how I would describe the highlight of Dingle peninsula - Dunquin Harbour. Once you reach here, you will see the signs pointing to the famous Sheep's Highway, which is where the iconic postcard image can be seen. You can walk down the narrow winding path which will take you all the way down to the pier, or climb up to the point from where you can get a panoramic view of the entire area. Unfortunately, I did not see a herd of sheep climbing the highway but the views were striking nevertheless. Small, carved out paths can take you to the edge of the cliffs but be careful, especially on a windy day, sometimes the breeze can be strong enough to make you lose your balance!
From Dunquin Harbour, instead of heading back to Dingle to complete the Slea Head Loop, we headed towards Tralee, a small town where we decided to spend the night in a budget castle hotel. Alternatively, you can spend the night in Limerick as well.
The drive from Dunquin Harbour towards Tralee was magical as we passed through not only more extraordinary landscapes but also some of the most charming villages I've ever seen. I drove via Cloghane, Castlegregory, Ballycurrane and Derrymore before finally arriving at Tralee for the night. Here are some pictures I captured during my road trip.
This was a fairly relaxed day that allowed me to take it easy and drive leisurely. I stopped for lunch at Island Seafood Restaurant in Ballycurrane, a cosy place with amazing views of the sea and some decent seafood.
Suggested stay for the night: One of the key things to do in Ireland is to stay in a castle hotel After a lot of research, given that I am a budget traveller, I found an affordable castle hotel called the Ballyseede Castle Hotel. You can read about my experience of staying here in detail.
An affordable castle stay in Ireland - Ballyseede Castle Hotel. 
Alternatively, Limerick is a nice town to stop over for the night before you proceed to Cliffs of Moher on the next day. Book your stay in Limerick here.
---
Day 11: Cliffs of Moher & Galway
If you're driving from Limerick then Cliffs of Moher, yet another iconic site which is a must-include in your itinerary for Ireland, are only an hour away. If you're going from Tralee, it is about 2.5 hours and you'll pass through Limerick.
While you drive from Tralee to Limerick, you will pass through one of the most magical, fairytale villages in Ireland called Adare. Traditional thatched cottages which date back to the early 19th century are still inhabited by the locals and the historical Desmond Castle by the river captures your attention immediately. Stop for a quick bite at the popular Blue Door Restaurant, or buy a souvenir from The Gift Box, not too far from it.
From here, continue driving for another 1.5 hours through some more charming, small villages of Ireland where you'll get a glimpse into the rural countryside. You'll cross yet another picturesque riverside town called Lahinch right before you arrive at the awe-inspiring Cliffs of Moher.
Cliffs of Moher are undoubtedly one of the most important places to be included in any itinerary for Ireland. Towering cliffs, jutting into the ocean, with the waves crashing wildly against the sharp edges make for a dramatic scene which is why you'll be greeted with a large number of crowds at this place. Several walking paths along the edge, some fenced and others not, allow you to capture the spectacular vistas but be very careful if you choose to take the path that is not protected by a fence – especially on a windy day.
If you wish the walk the entire length, it's about 8 km from one end to the other. When you arrive at the starting point, you will have the option of either walking towards the O'Briens tower to the right or the walled section on the left that offers some really crazy views. If you wish to cross and walk outside the walls, then do it at your own risk. Some parts of the path are gravel, so be sure to wear good shoes.
After Cliffs of Moher, head towards Galway to stay for the night (1.5 hours drive). Spend the evening in Galway's charming city centre, where you can enjoy shopping, walking the cobbled stone streets and experience amazing nightlife.
Book your stay in Galway here.
---
Day 12: Aran Islands
If you haven't managed to catch any of the boat tours to any of the islands yet due to the bad weather, Aran Islands, located 45 minutes off the shores of Galway (by ferry), are a great getaway for the day. You will be transported back in time in a place which is inhabited but not crowded and far away from the typical city life. A ferry ride from the Rossaveel ferry port near Galway will transport you to the largest of the three islands - Inishmore, where you will find minibuses waiting at the arrival port, offering a 2.5-hour tour of the island for as less as €10. Alternatively, you can rent a bike or even horse carts to explore.
The landscape of the islands is quite rugged - rocky, steep, harsh cliffs, stone paths and historical structures that date back to the Iron Age hanging at the edge of cliffs, with dramatic drops into the ocean. A handful of shops, pubs and restaurants can be found here, making it even more remote, facility-lacking and an absolute pleasure to walk around.
Click here for more information on the ferry timings from Rossaveel.
Alternatively, you can also take a ferry from Doolin (1.5 hours sailing time). Click here for more information. These ferries are available only from April to October.
Click here to read about Glamping in Ireland.
---
Day 13: Connemara
This may not be a usual day trip to include in a typical itinerary for Ireland but I absolutely loved exploring the untouched, picturesque peninsula along the Atlantic Coast because I had the opportunity to see some of the most scenic beaches, lush countryside, charming villages and idyllic landscapes in this region. The drive towards Kylemore Abbey, a spectacular castle-turned abbey on the shores of a lake amidst the mountains, takes about 2 hours with detours to several gems such as Spiddal Craft Village, Gurteen Beach, and Lough Inagh Valley.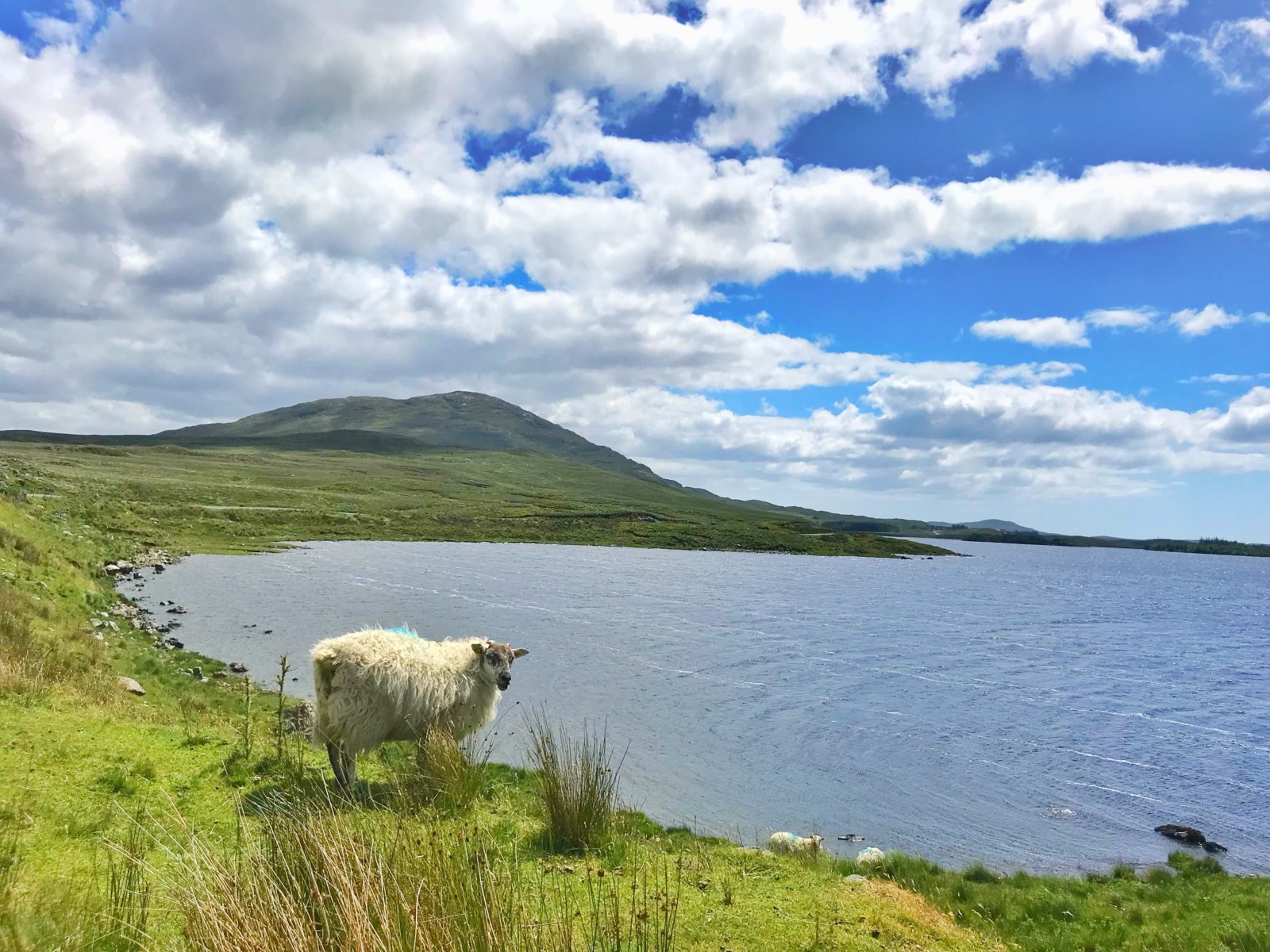 Read my detailed post on What to do on a day trip to Connemara from Galway.
---
Day 14: Return to Dublin
Drive time: 2 hours.
You're likely to catch your flight back home from Dublin. This is the end of my recommended perfect 2-week road trip itinerary for Ireland!
---
Got more time? Why not explore Northern Ireland?