Transylvania is a region in central Romania that is diverse not only in terms of the landscape with beautiful green hills, lakes, historical gems such as castles, fortresses and cathedrals but also an eclectic mix of cultures, ethnicity, linguistics and religions. Until the end of World War 1, the region was still a part of the Austrian - Hungarian empire before it ultimately became a part of Romania. You will see a mix of Romanian, Hungaria and ethnic German (Saxon) population here now, and this is reflected in the architecture as well as the urban landscape of the region. One of the top things to do in Transylvania is to explore the complicated history and visit the many historical landmarks and culturally significant sites the region has to offer.
Transylvania has also, traditionally, been associated with mythical characters, stories and tales (I'm sure you've heard about Dracula's association with this region). It is rich in medieval fortresses, fortified churches, old towns, and quaint villages that till date, have maintained a sort of laidback, disconnected and rustic feel. The top things to do in Transylvania include a visit to some famous well-maintained icons, rich in history and folklore, as well as the rural countryside with its unique way of life, and of course, exploring the many small cities and towns.
Click here to book your car.
---
Top things to do in Transylvania
#1 Explore the famous castles & fortresses
Replete with numerous castles and fortresses, some of which are even inaccessible today, Transylvania's royal historical architecture is reflective of the troubled era that they were built in. Many of them today exhibit the instruments of torture that were once used and the ghastly prisons that were used to capture criminals. Constant wars and the fight for power led to the need for creative and heavy defence infrastructure, which is visible on its raw form today. Although many of them were targetted at a later stage by the communists, who ripped them of the opulence they once flaunted, leaving them bare and unattractively basic from the inside, they're still a great insight into the way of life back in the 14th and 15th centuries, in this part of the world. With such diverse architecture that reflects the settlements over a large period of time, exploring the castles was one of my favourite things to do in Transylvania.
Peles Castle
Probably the most picturesque castle because of it's setting with the Bucegi Mountains in the backdrop and the German new-Renaissance architecture, Peles Castle is a popular castle located in the cute little town of Sinaia, only 1.5 hours away from Bucharest and 30 minutes away from Brasov. The castle is fairly new, built in the late 19th century by King Carol I and was used as the summer residence of the royal family up until mid 20th century. Very plush interiors, with Murano crystal chandeliers and mirrors, teak-wood furniture, beautiful ceiling and wall paintings, and stained-glass windows, Peles Castle is representative of immense luxury - and a pleasure to take a guided tour of. It is also the first European castle known to have electricity, an accomplishment not so common in the mid to late 19th century.
You can enter Peles Castle only on a guided tour (also available in English) and although it is reasonably priced (Lei 30 per person), there was a photo tax which you needed to pay if you wanted to take any pictures inside the castle, even if it is just with a phone, and this was (ridiculously) another Lei 35, double of the entrance and guided tour price. Nevertheless, the interiors are beautifully done and I recommend that you pay this photo tax.
Bran Castle
More popularly known Dracula's Castle, Bran is one of the most visited castles in Transylvania but for all the wrong associations! This castle is linked with Dracula (the fictional character who is a Vampire) because it perfectly fits the description of the character's place of residence as per the novel by Bram Stoker, as being located high above a valley perched on a rock with a flowing river below, in Transylvania.
Alternatively, a notoriously cruel ruler in Romania, Vlad the Impaler, or Vlad Dracul is also often confused with the mythical character of Dracula. His association with this castle was, however, minimal or non-existent. In reality, the castle is not in any way historically linked to any vampires or ghostly creatures. The only association between the two is that the cruelty of the ruler Vlad Dracul is what inspired the fictional character Count Dracula in Bram Stoker's novel.
The most interesting part of the castle is the exhibition of the medieval instruments of torture - a chilling display of the methods used to torture the prisoners during those days. Unlike most other castles in Romania, you did not require a guided tour to enter this castle and you're to explore on your own, although I would recommend you get to it early as possible as there are massive queues on most days. Exploring Bran Castle has to make it to the top of the list of things to do in Transylvania!
Corvin Castle
Several movies have been shot at this well-preserved Gothic masterpiece - Corvin Castle, the most recent one being The Nun. Apart from being one of the largest castles in Europe, Corvin is also notorious for being one where Vlad the Impaler (also known as Dracula, but not the same as the fictional character from Bram Stoker's book) was held for several years, although the validity of that story has not been established. The main purpose of the original castle that was built in the 15th century (and later restored in the 17th) was of defence and imprisonment, an example of which you can see inside the castle, where you can access the dungeon which was once used to imprison and eventually, murder the prisoners.
You do not need a guided tour to enter this castle and there is a minimal (reasonable) photo tax to take pictures in this one. Personally, of all the castles I visited in Romania, this one was my favourite and thus, made it to my list of top things to do in Transylvania.
Rasnov Fortress
A fortress perched on the hilltop, forming a typical European small-town backdrop, Rasnov is not too far from the city of Brasov. Unlike most other Saxon fortresses, this one was designed for the purpose of refuge over several centuries, which is why it houses a school, a chapel and houses, almost like a little village in itself. The stone fort with its orange-red rooftops rises dramatically above the town of Rasnov, in the Carpathian Mountains and can be reached by a cable car. Today, the fortress lies in ruins and is surrounded by several souvenir shops and local sellers. Nevertheless, a walk in the narrow alleyways inside the fortress, all the way to the top, makes for great views of the city below. The stone buildings inside the fortress are absolutely spectacular and transport you into the olden times.
Optional: Cantacuzino Castle
The castle itself was a little disappointing, considering that it was completely stripped of all it's interiors - including the furniture and artistically painted walls, during the communist era. The castle was built in the early 20th century in New-Romanian style, which did not impress me as much as the Gothic architecture does. Also, you could enter the castle only with a guided tour, which was in Romanian, not English!
However, the setting of this castle is absolutely gorgeous, with a view of the mountains and the valley. If you're visiting Peles Castle, you can drop by to visit Cantacuzino Castle, even if you do not plan to explore inside the castle. Their terrace restaurant with lovely views of the Bucegi Mountains might be a good place to enjoy a drink!
---
Top things to do in Transylvania
#2 Visit the rustic villages
One of the top things to do in Transylvania is to spend some time in the rustic villages, which still seem to have preserved the simplicity, charm and conventional lifestyle of the olden days. Artisinal decorative objects, home-made bread and cheeses, locally-brewed drinks and freshly picked fruit and vegetables are the way of life here. You may have a little bit of language difficulty because a few people speak English comfortably here but the experience, nevertheless, is like walking into a time warp and being transported back into the middle ages. Don't be surprised to see shepherds tend to their cows,  old men and ladies enjoy a gossip session in the evenings, hand-knitted woolens being displayed and sold at very reasonable prices, wood-carved cutlery being used to serve food, and people flocking to the village church for the Sunday mass. Life is blissfully simple!
Prejmer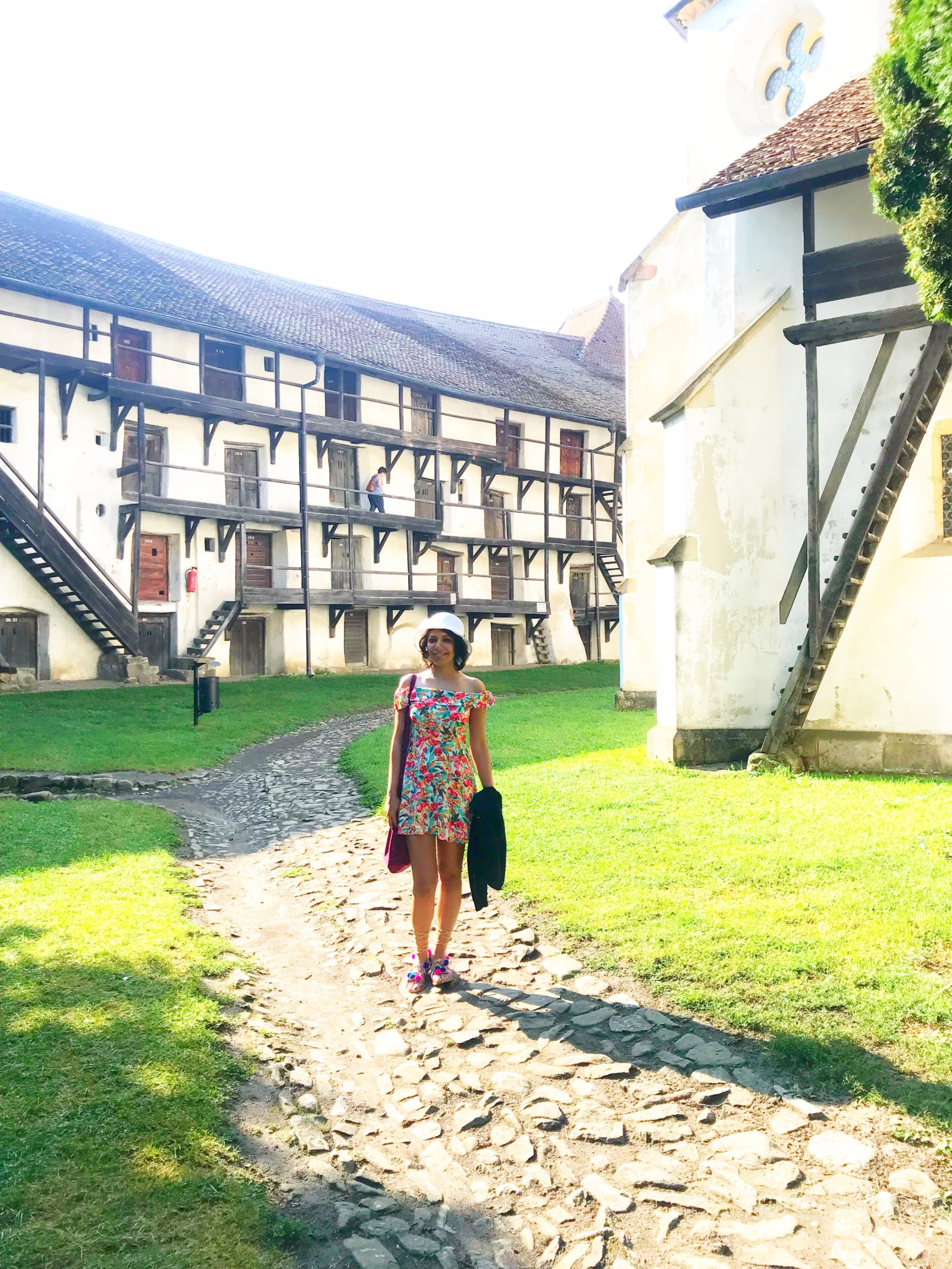 One of Romania's key UNESCO World Heritage Sites can be found in Prejmer. An intriguing fortified church which is an architectural and cultural beauty, in my opinion, Prejmer's fortified church is over 800 years old and extremely well-preserved! The church is surrounded by tall, think walls which were to defend the people of the city and provide a refuge to them when being attacked. Each resident of the village was granted a room in case of an emergency, and the church also houses a school which continued to educate the children even when the war was on. The entrance to the church has a small courtyard followed by a tunnel, which still has the iron gates that could be used to block the enemy out when under attack. It is said that Prejmer's fortified church was attacked on more than 50 occasions but was never conquered, which speaks volumes of how brilliantly the walls were constructed.
The most interesting part of the site is the 'watch road', a tunnel inside the defence walls and next to the rooms allotted to the residents during attacks. You can walk the entire 360 degrees of this tunnel and get a good idea of the defence tactics used by the people in those days.
Prejmer is about 30 min away from Brasov, making it a good stop on the way to visiting Sighisoara.
Viscri Village
This village, although one of many in Romania, became popular about a decade ago when Prince Charles visited it and fell in love, so much so that he even bought a traditional house here. Viscri Village also has been designated as a UNESCO World Heritage Site and is undoubtedly a great Saxon village to explore. Despite being sensationalized in the recent past, the village has still managed to retain it's untouched, authentic beauty. If you do plan to drive here, beware of the unpaved roads and numerous potholes on the way.
Like most other villages and small towns in Romania, the central and key attraction of Viscri is also its fortified church. I was lucky to arrive on a day when a local band was playing some traditional Romanian music in the church courtyard. Climb to the church's towers to enjoy a fantastic view of the surrounding green countryside, the hand-tiled red-roofed houses, the hills and the meadows.
Do not forget to visit Cafe Artizanat, a courtyard cafe not too far from the church, for some freshly made bread, homemade cheese and elderflower cordial and freshly baked cakes. Visiting a rural locale is definitely one of the top things to do in Transylvania in my opinion.
---
Top things to do in Transylvania
#3 Explore the Medieval Fortified Towns
Three towns stand out as being known as some of Europe's best preserved medieval fortified towns - Brasov, Sibiu and Sighisoara. These three walled locales once formed a part of  'Siebenburgen' (Seven Fortresses) which were adopted as the home of the Saxons that came to Transylvania in the 12th century. The craftsmen and merchants established powerful and rich citadels, the ruins of which can still be visited in most of these towns. Nine centuries of their residence in this area of Transylvania has left the towns with a unique cultural heritage - something you'll be made aware of when exploring these towns extensively. I was lucky to have a friend who is a local from Brasov, it gave me a deep insight into the history and heritage of South Transylvania. Visiting these three dreamy towns is highly recommended and one of the top things to do in Transylvania.
Brasov
A Hollywood-like sign with the name of the town atop the hill will catch your eye as you enter this charming fortified town with cobbled stone streets, Gothic and Baroque buildings and churches, ruins of the walls surrounding the town and the lush green Tampa Mountain in the backdrop. Brasov is one of the largest cities to have a fortified well-preserved old town in its centre and makes for a great base to explore the rest of Transylvania. I suggest to spend a few nights here and take day-trips to the other places from here. The city does not have nightlife like Bucharest but is charming, traditional, rich with history and culture, and surrounded by the Carpathian Mountains, making for a marvellous landscape.
The monumental Black Church stands dramatically in the middle of the fortified town, colourful houses line the alleyways, red rooftops in the middle of green forests and mountains make for the perfect picture, especially when taken from a vantage point. Outdoor cafes and bars serving traditional Romanian foods and drinks make for a great vibe, that promises not to disappoint. Visit Brasov for its rich history, iconic architecture, warm people, great food and fairytale landscapes.
Sibiu 
This idyllic town was my favourite place in all of Romania that I was able to see. A culture that is so diverse and accommodating of Germans, Hungarians and Romanians, here you'll find some of the best local dishes, creative drinks and gelato. A distinct element you'll notice in the homes here are their eyelid shaped windows. Two pedestrian areas - The Upper Town and The Lower Town, accessible through a flight of stairs, with cobbled stone streets, numerous cafes, boutique shops and baroque architecture are the highlight of Sibiu. Piata Mare, or the Big Square, is where you can begin your exploration and visit the religious and architectural masterpieces such as The Catholic Basilica, The Orthodox Cathedral and the Lutheran Cathedral.
Climb to the top of Lutheran Cathedral's steeple or The Council Tower for beautiful views of the town or cross the Bridge of Lies that, according to the legend, can tell when someone is a liar! All in all, I'd recommend you to spend at least a day in Sibiu to be able to enjoy a leisurely stroll around one of the most magical and charming old towns in the region. Visiting Sibiu had to make it to my list of best things to do in Transylvania.
Sighisoara
A very cute old town, Sighisoara is the place to buy souvenirs to take back with you from Romania. Pastel coloured houses, quiet and empty streets, cosy cafes, and craft shops make for the perfect day at this dazzling UNESCO World Heritage Site, which once held great importance as a trading settlement. The town also has the house of Vlad Dracul, where he was born (the leader who inspired the character of Count Dracula in Bram Stoker's book), a popular place for tourists to visit.
Due to its well-preserved fortified ruins (9 of the 14 strategic towers can still be seen), Sighisoara makes for one of the most beautiful and authentic towns in Transylvania. To enter the Sighisoara Citadel, you'd have to cross one of these towers, each of which is named after the original craft that was carried out in that tower (Blacksmith, Ropemaker, Shoemaker, etc). To get a fantastic view of the city from a vantage point, climb to the top of The Clock Tower, or go up the hill to visit Sighisoara's fortified church.
---
Top things to do in Transylvania
#4 Spend a day amidst spectacular nature
There are several hiking trails in the Carpathian Mountains, and many of these start from Brasov. The mountains offer you a diverse variety of landscapes which include peaks, rocks, waterfalls, forests, plants and animals. Several people who have climbed the Tampa Mountain which lies in the backdrop have claimed to have seen wild bears too! If you're not looking particularly for tough hikes, but still love the nature, a visit to this gorgeous green lake (Bâlea) either by car, cable car or on foot is something I highly recommend.
Bâlea Lake & Transfăgărășan Road
The glacial lake located high in the Făgăraș Mountains also knows as the Transylvanian Alps, is a treat for the eyes! Not only is the lake one of the most stunning ones you'll find in the region, the road to it is quite spectacular too. Transfăgărășan Road is one of the most scenic highways in Europe because of the hairpin bends and the winding paths. Even if you choose not to drive on this twisting road, you can take the cable car up from the Balea Waterfall station and you will be transported above this lovely road, with unparalleled views from a vantage point.
Once you're at the lake, be prepared to be greeted with colder weather. A jacket during the summer would help as it can be breezy and may even rain unexpectedly. Walk around the lake, have a coffee or a meal (or even stay for the night if you like, in the lake chalet) on a wooden terrace above the green waters of the clear lake or go for a hike further up the mountains. However, do not expect to swim in it because the waters are really cold, even during the summer! During the winter, they build an Ice Hotel in the area which probably would be a fantastic experience, and the lake transforms into a ski resort!
I would recommend you to visit this place on your way to Sibiu from Brasov (or vice versa).
---
Top things to do in Transylvania
#5 Try local food and drinks
I was lucky to have a friend who is Romanian who gave me the best recommendations on the food to try. Transylvania, given the mix of cultures here in the past, has a fusion of dishes with German, Hungarian and Romanian origins, making it an interesting mix for those who love to try local cuisines when they travel. I'm a foodie and since food is one of the key attractions for me to explore the world, I was happy to try some popular Transylvanian dishes while in the region.
Sarmale
Romanians eat a lot of pork and beef so if you're vegetarian or vegan, you might have a slightly hard time finding dishes to your taste. However, these Traditional Romanian Cabbage Rolls are absolutely delicious! I was lucky to be able to try them homemade, by my friend's mother, and they were absolutely yummy!
Ciorba de Fasole
This Bean Soup with bacon and chard is usually served in a bread bowl and is one of the most popular local dishes in Transylvania.
Salata de Vinete
That's another one for the veggies - roasted eggplant salad, usually served with bread. It's very simply made - with fresh ingredients such as onions, lemon juice, salt, pepper and parsley. If you like eggplant, you'll love it!
Papanași
These traditional Fried Cheese Donuts with sour cream and jam are sinfully delicious and a must try for those with a sweet tooth. They can be really heavy though, so keep enough space after your meal or share one between two people. If made at home, they can also be baked, however, if you're eating them at a restaurant, they're more likely to be fried.
Kurtoskalacs
A traditional Hungarian pastry, like a sweet roll dough, is wrapped onto cylindrical moulds, rolled into sugar and oil and then roasted over open coal. It's quite easy and common to find this street food/ sweet in Transylvania.
Galuste cu Prune
Yet another traditional Hungarian sweet, these Plum-filled Dough Balls are usually made using potato and dough stuffed with plum, cinnamon and sugar, and then boiled, like dumplings and covered in breadcrumbs. An interesting alternative to the Papanasi, though I'd recommend you try both!
Tuica
An alcoholic beverage made of plums, Tuica can be easily bought as souvenir shops across Transylvania and is usually served as an aperitif. It is known to be quite potent, so I decided to give it a skip but if you're into potent, alcoholic drinks, do give it a shot (no pun intended)!
Suc de Soc
I personally fell in love with this drink on my trip (the alcoholic version of it anyway!). Made from Elderberry flowers, this drink is extremely refreshing on a hot day, after a long walk. The cocktail made from it, called Hugo, has lime, mint and prosecco, absolutely amazing! I couldn't get enough of it.
---
Additional Tips:
If you have additional time to explore Transylvania, I would highly recommend to include the city - Cluj Napoca in your itinerary. I was unable to make it due to time constraint but it seemed like I missed out on a really vibrant city!