Boracay, a small island in The Philippines, has repeatedly been declared as one of the Top 10 world's best islands in several travel forums and publications across the planet. Postcard-perfect white sandy beaches, lined with palm trees, stunning blue waters and a vibe that is unmatched in any other part of the country, Boracay has seen a tsunami of tourists in the last 5 years. While the focus is now slowly moving towards the more remote and pristine Palawan, for those looking to enjoy a vibrant beach vacation, pulsating nightlife and a buzzing atmosphere in a gorgeous setting, Boracay is the place to be! 3 days is a good amount of time to spend on this island, and here's everything you need to know for planning a trip, including what to do in Boracay.
---
How to get to Boracay
The island itself does not have an airport of its own. However, the closest airport in on the neighbouring island - Caticlan Airport. You can easily find flights from the main hubs in The Philippines to Boracay such as Cebu, El Nido and Manila.
Once you land at Caticlan Airport, you need to take a tricycle to the pier (5 minutes away) and board the ferry to Boracay. The ferry ride from Caticlan Airport's pier to Boracay takes about 15 minutes, runs every 30 minutes from the pier and accommodates about 25 people at a time. It is not the most convenient to store large luggage so try to carry small bags with you, if possible.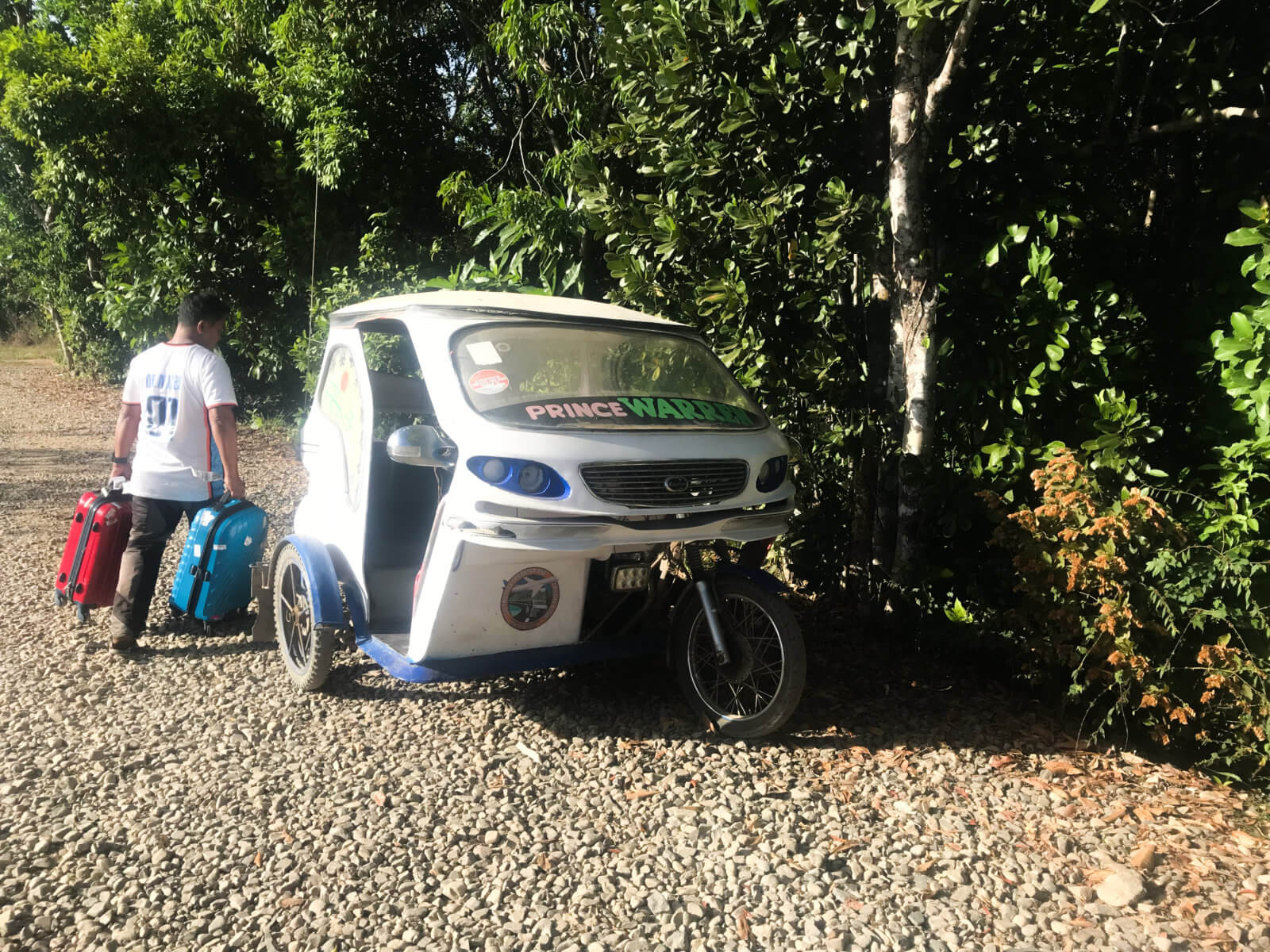 ---
Where to stay in Boracay
Before talking about what to do in Boracay, you need to decide where you want to stay. By far, the most popular and happening place to stay in Boracay is the White Beach. This 5-km stretch of white sandy beaches is divided into 3 main areas -
Station 1
This is the area where you'll find the maximum luxury resorts. Although it is not as loud as Station 2, you're still in the centre of all action and you'll find several pubs, beach bars, clubs and restaurants, one next to the other in this area. This is also where one of the most popular visual landmarks of Boracay is located - Willy's Rock. As you walk along the beach in this area during the day, you will find several bars offering Happy Hours on their drinks along with providing sun loungers on the beach. The beach here is slightly quieter than that of Station 2.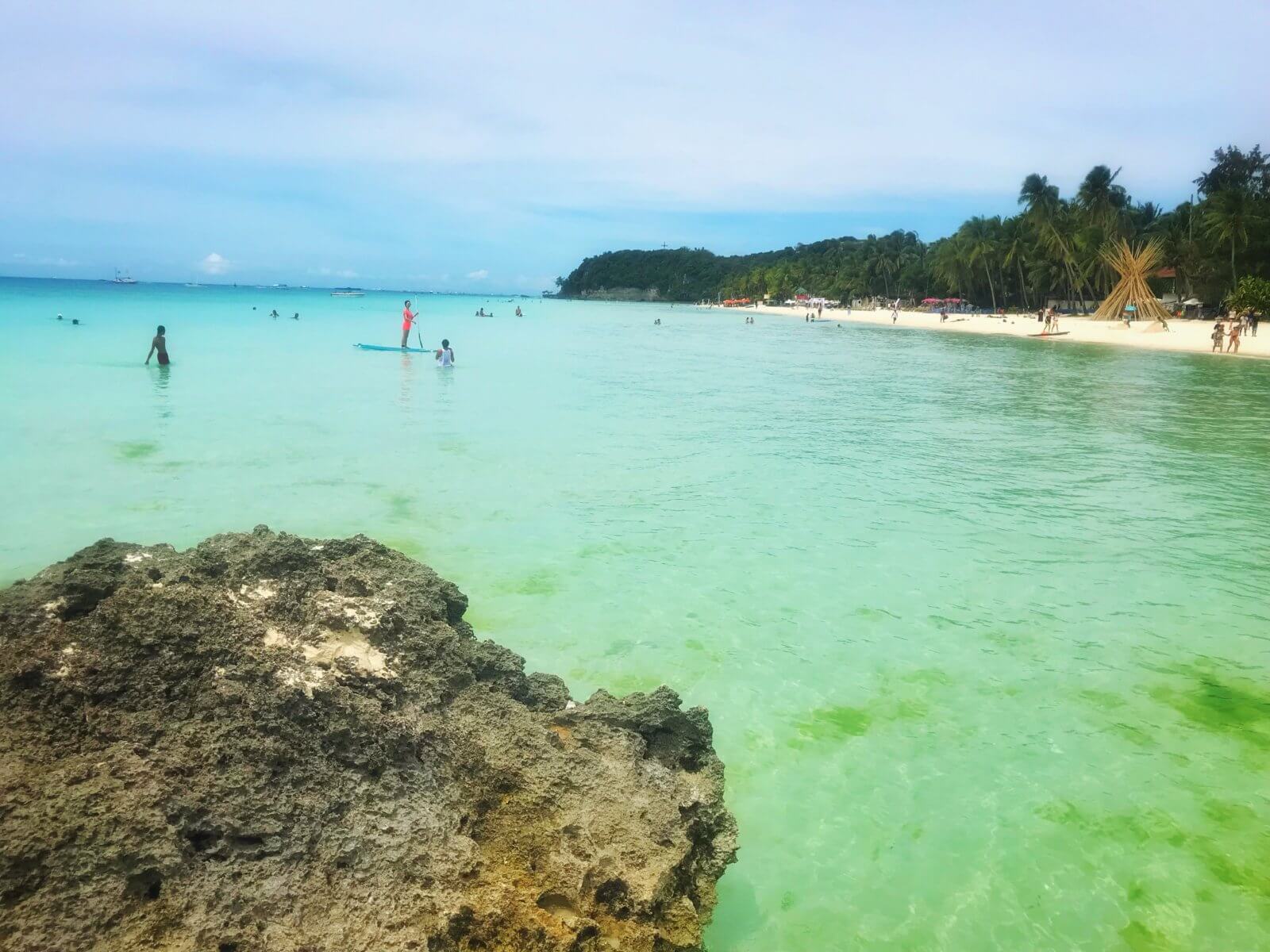 Recommended budget hotel to stay in Station 1, Boracay: Willy's Beach Hotel
Station 2
This is the epicentre of all the action. A walking path parallel to the beach takes you through several boutiques, shops selling watersports and other experiences, restaurants, bars, diving centres, supermarkets, hotels, henna tattoo designer shacks and beach massage centres. This is, by far, the most crowded part of the White Beach and also the most lively.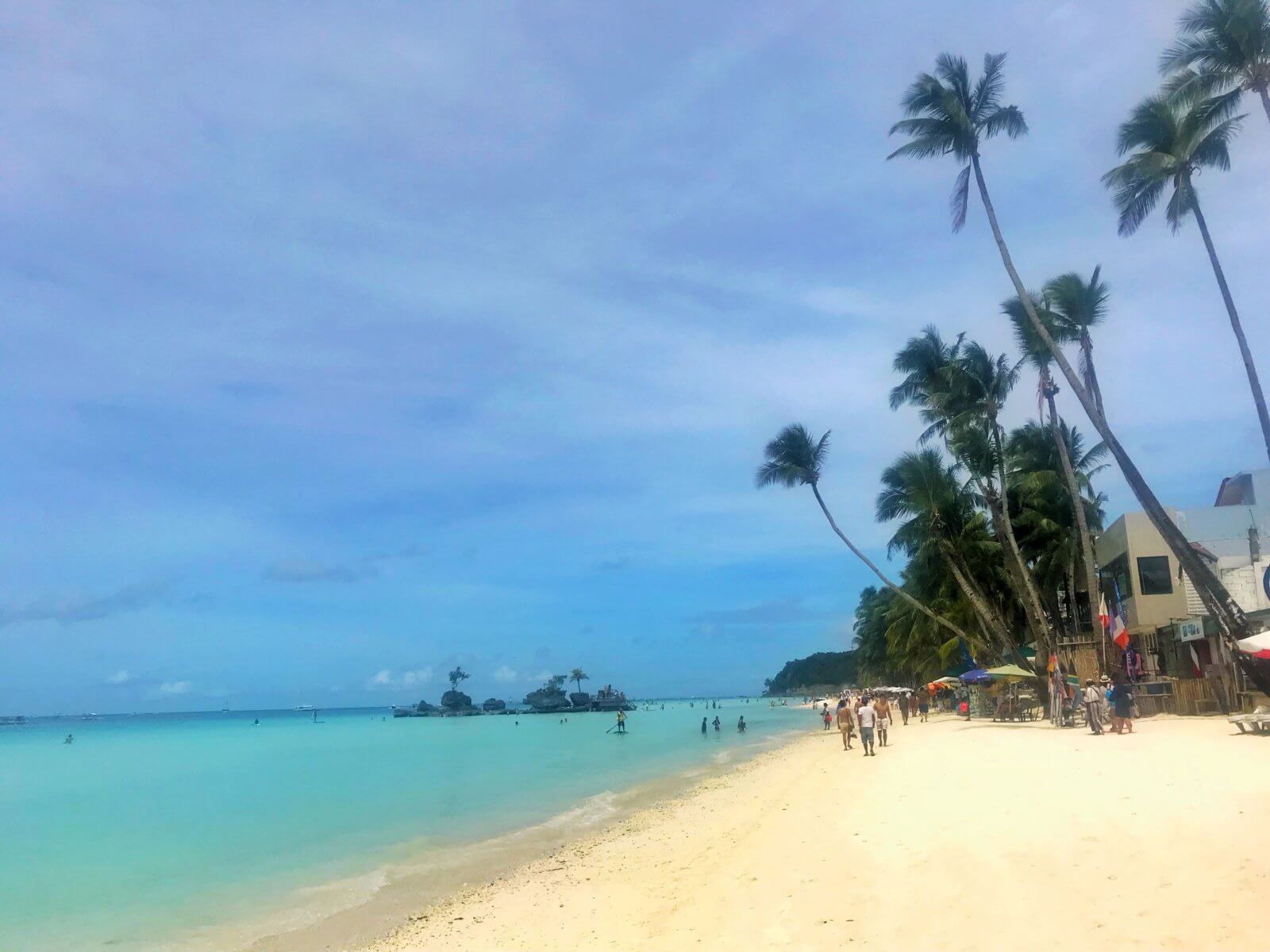 To book your stay in Station 2, click here.
Station 3
This is the quietest part of the White Beach. This is where a lot of budget and backpacker hostels are located here, however, since the water becomes much deeper, this isn't the best area for swimming. There are some laid-back bars and restaurants in this area but it is not as lively or crowded as the other two stations. It calls for a peaceful time amidst nature, away from the crowds.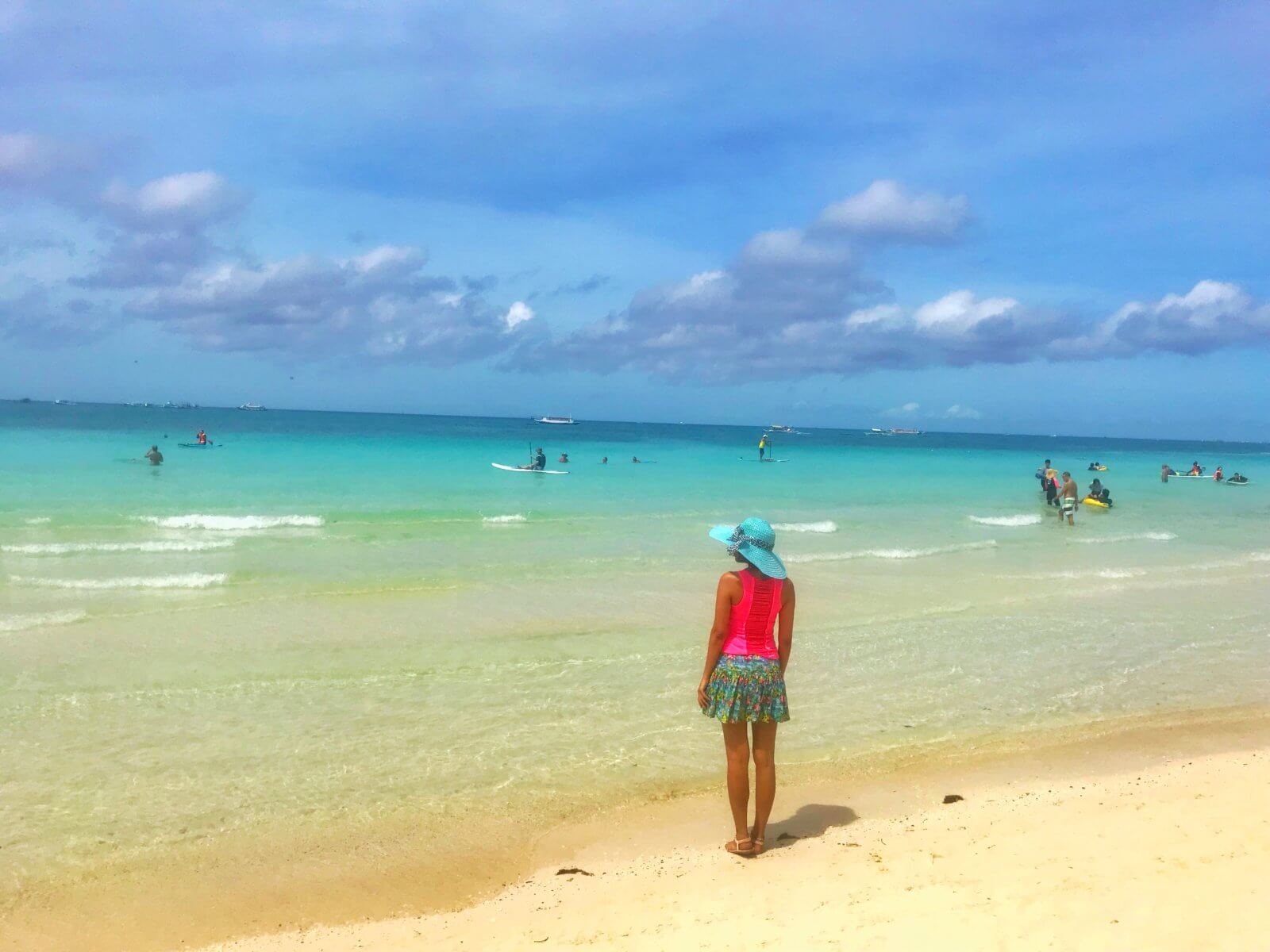 To book your stay in Station 3, click here.
---
What to do in Boracay
Day 1: Explore the White Beach
This is the number one thing to do in Boracay. There's a lot to do on this 5-km stretch of pristine white sandy beaches and turquoise blue waters. If you're here in Boracay, you can look forward to a lot of sunbathing (the sun can be strong, don't forget to carry your hats and sunblock creams), inexpensive cocktails, fresh seafood, music on the beach, shopping in colourful & vibrant markets, watersports and a good amount of relaxation. Here are the top things to do on the White Beach:
 1. Watersports
In such gorgeous and clear blue waters, you will want to take a dip or get a little more adventurous and try one of several watersports available here. As you walk along the White Beach, you will be approached by several touts selling island hopping tours, diving experiences, sailing adventures and other water sports. Do negotiate with them! Some of the popular activities you'll find are - stand up paddle boarding, diving, island hopping, banana boat rides, parasailing, helment diving, speed boat hire and snorkelling. Although the diving sites in Boracay are known to be quite amazing, if you're planning to continue your journey to Palawan, you'd want to choose to go diving there instead of Boracay.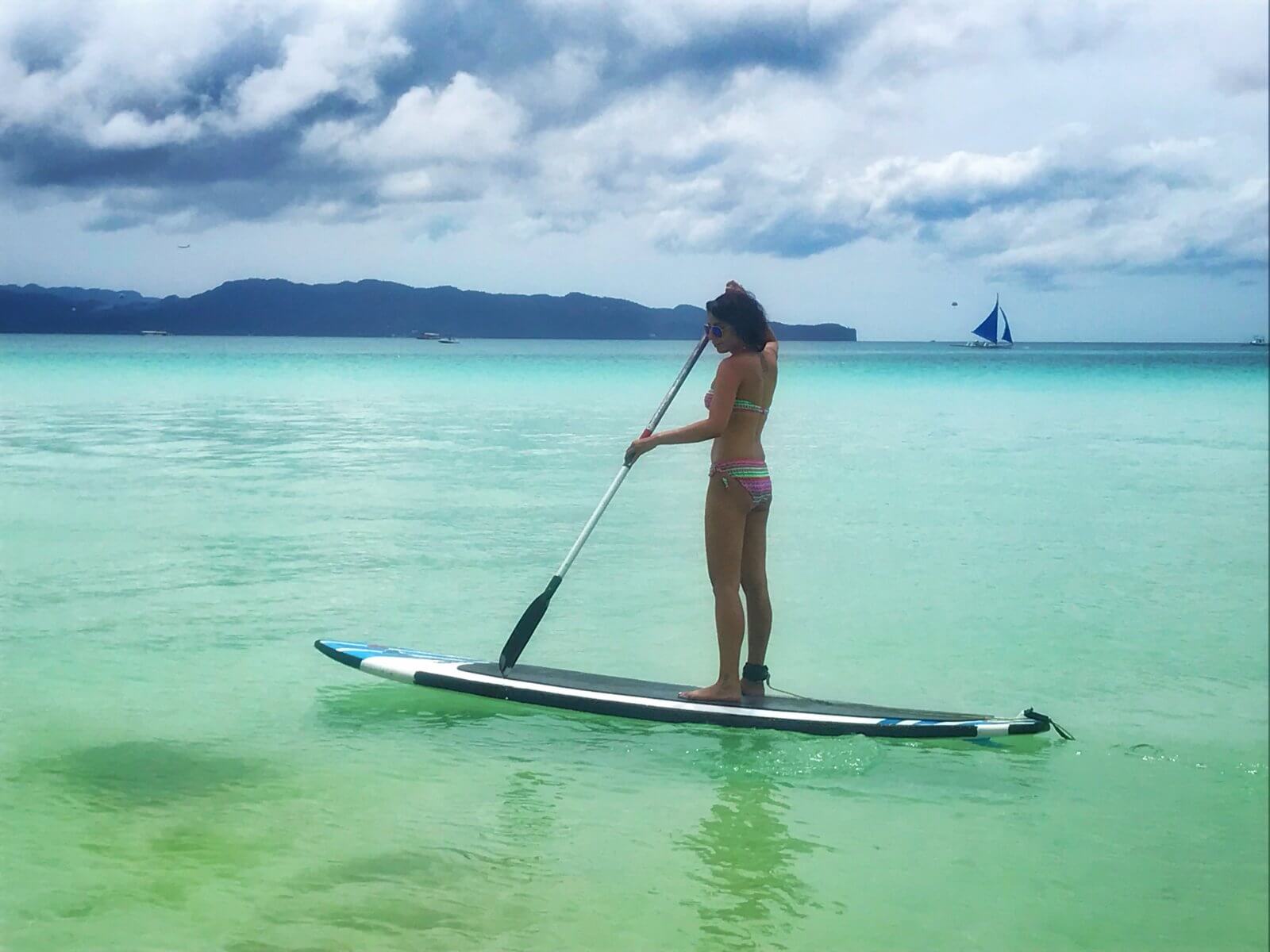 2. DMall
An open-air collection of several shops and restaurants, DMall is not anything like a mall! Expect lanes of shops selling colourful summer and beachwear clothes, accessories, electronics (waterproof iPhone covers, accessories for Go Pro), sunglasses, fridge magnets and other souvenirs. As common with most other southeast Asian countries, this is where you must exercise your bargaining skills! Don't forget to buy the famous Philippines Dry Mango and sip on some refreshing coconut juice - something I highly recommend to do in Boracay.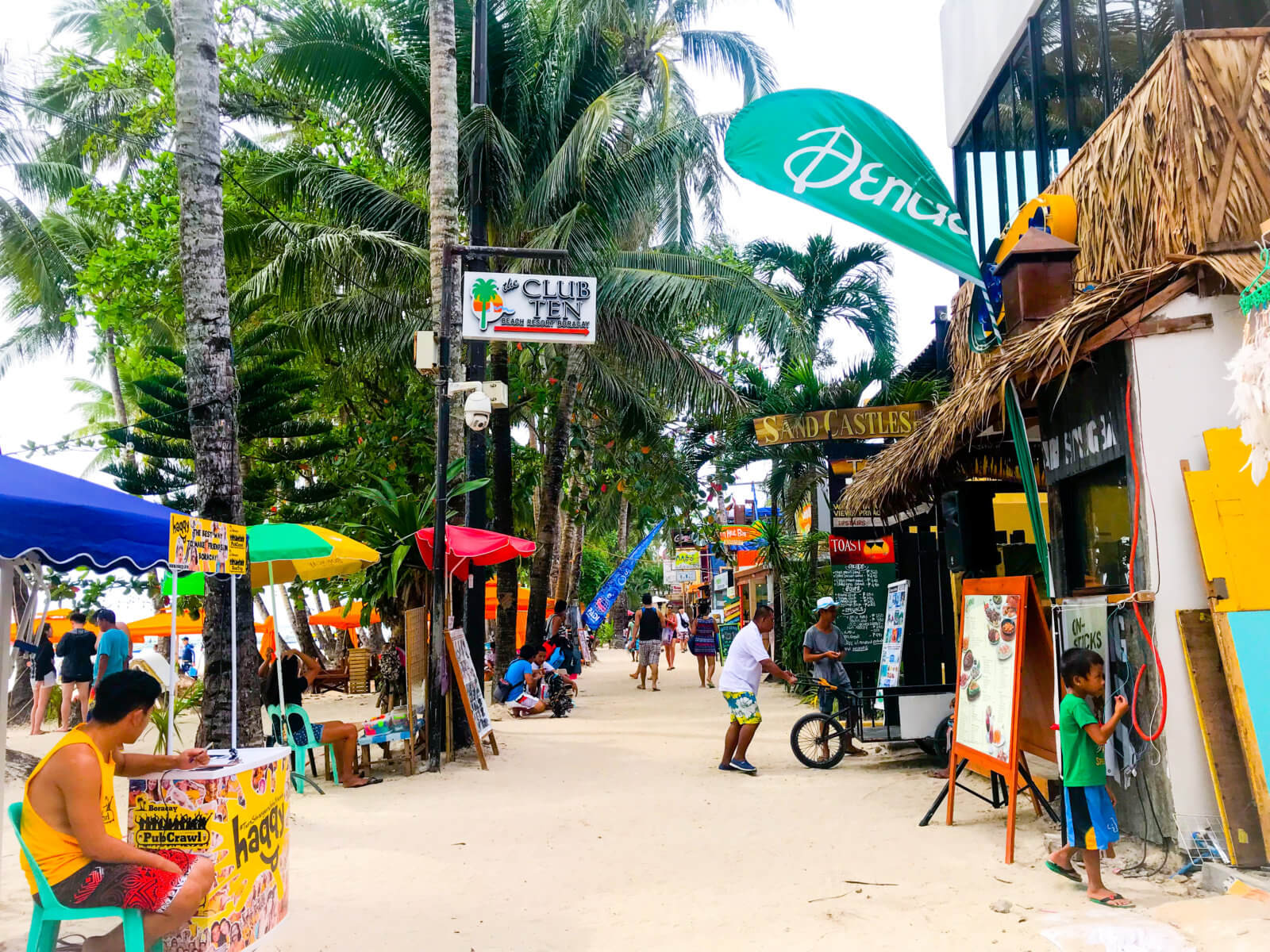 3. Beach Massage
In as less as USD10, you can enjoy a very relaxing massage, right on the beach and this is one of the best things to do in Boracay. Choose from a variety of pampering treatments such as foot massage, pedicure, manicure, head massage and full body oil massage in the incredible backdrop of the picturesque blue waters.
4. Henna Tattoo
Ever wondered what a tattoo would really look like on you but didn't really have the courage to get it? Why not get a temporary henna tattoo that stays for over 10 days! Several tattoo artists line the White Beach and will whip up some amazing designs for you, within a span of 15 minutes! I couldn't resist, I got 'inked (more like henna-d)' all over!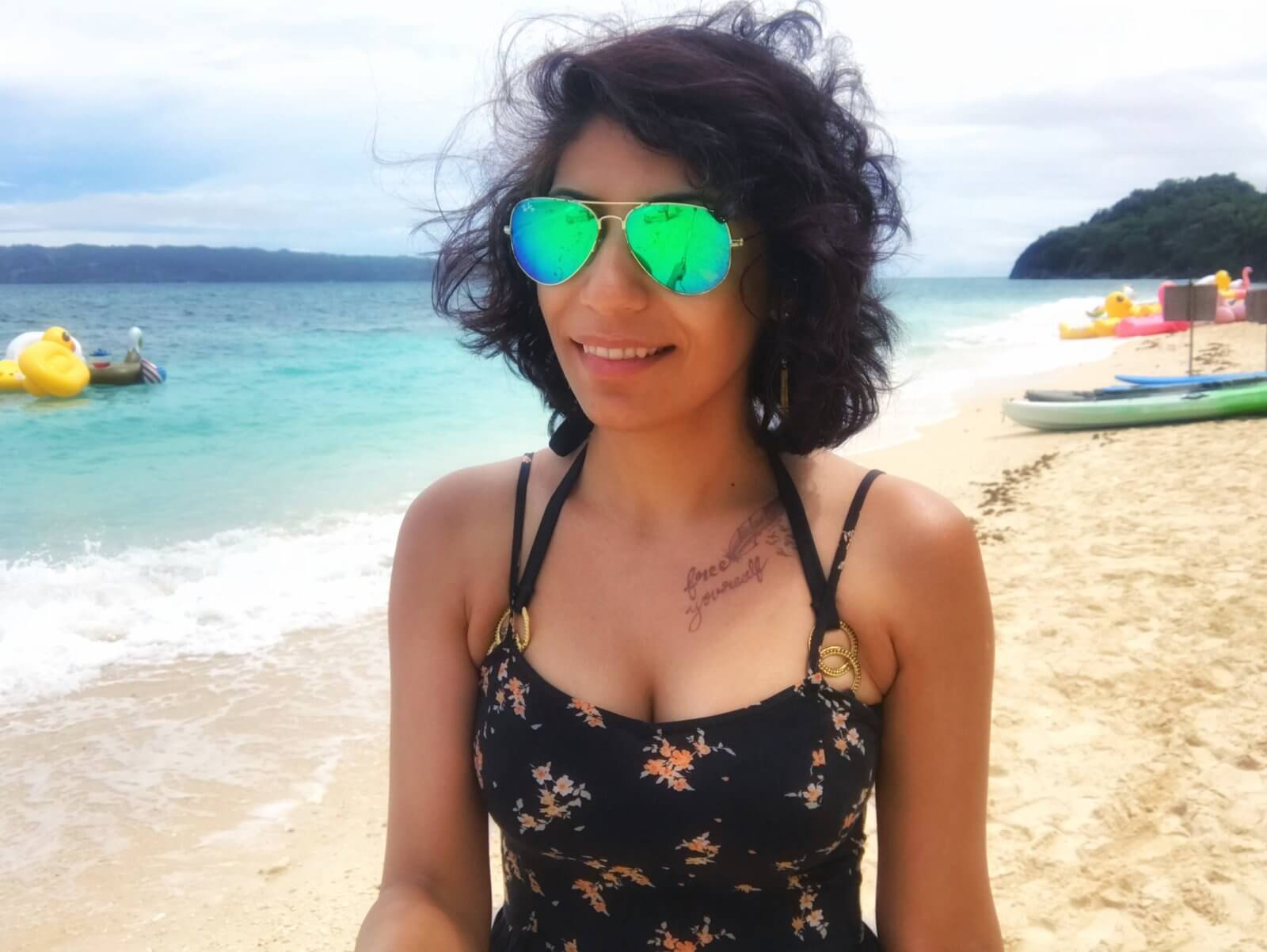 5. Sand carvings
You don't really need to go searching for these. As you walk along the White Beach, you will see several beautiful sand carvings with 'Boracay' and the date written. You might even catch some of the artists at their job if you venture out early in the day. You will have to pay for a few pictures with the carvings, which is fair considering the amount of hard work that's been put into making it!
6. Willy's Rock
This is one of the most iconic visual treats located on this stretch, at Station 3. A little statue of Virgin Mary on a rocky outcrop in the middle of the water, Willy's Rock can be reached by just walking across as the water is not very deep. Alternatively, you might want to just grab a sun lounger right across on the beach and enjoy the incredible views. The volcanic rocks stand in a sharp contrast to the crystal clear waters and a small flight of stairs can take you to the top where the statue is, providing some pretty amazing views of the beach.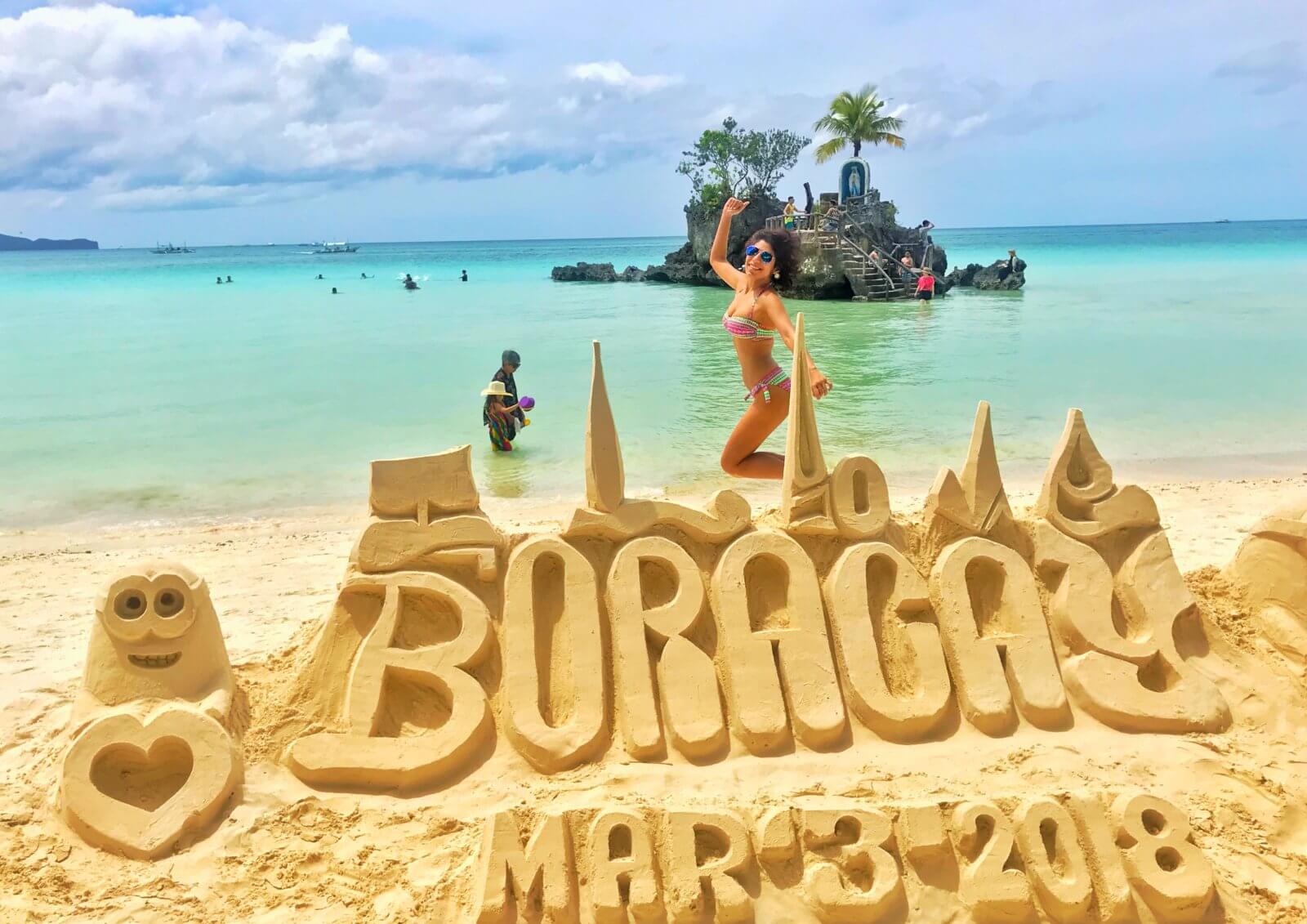 7. Incredible Sunsets
I have seen some of the most amazing sunsets in my life, on the White Beach in Boracay. As the sun goes down the horizon, the sky turns into a fiery orange that reflects stunningly in the transparent waters, and the small boats with their distinct sails in a distance carve a majestic black shape in contrast to the bright orange skies. The dusk colours are even prettier, as the sky mellows into a magical pink before dying out into profound darkness.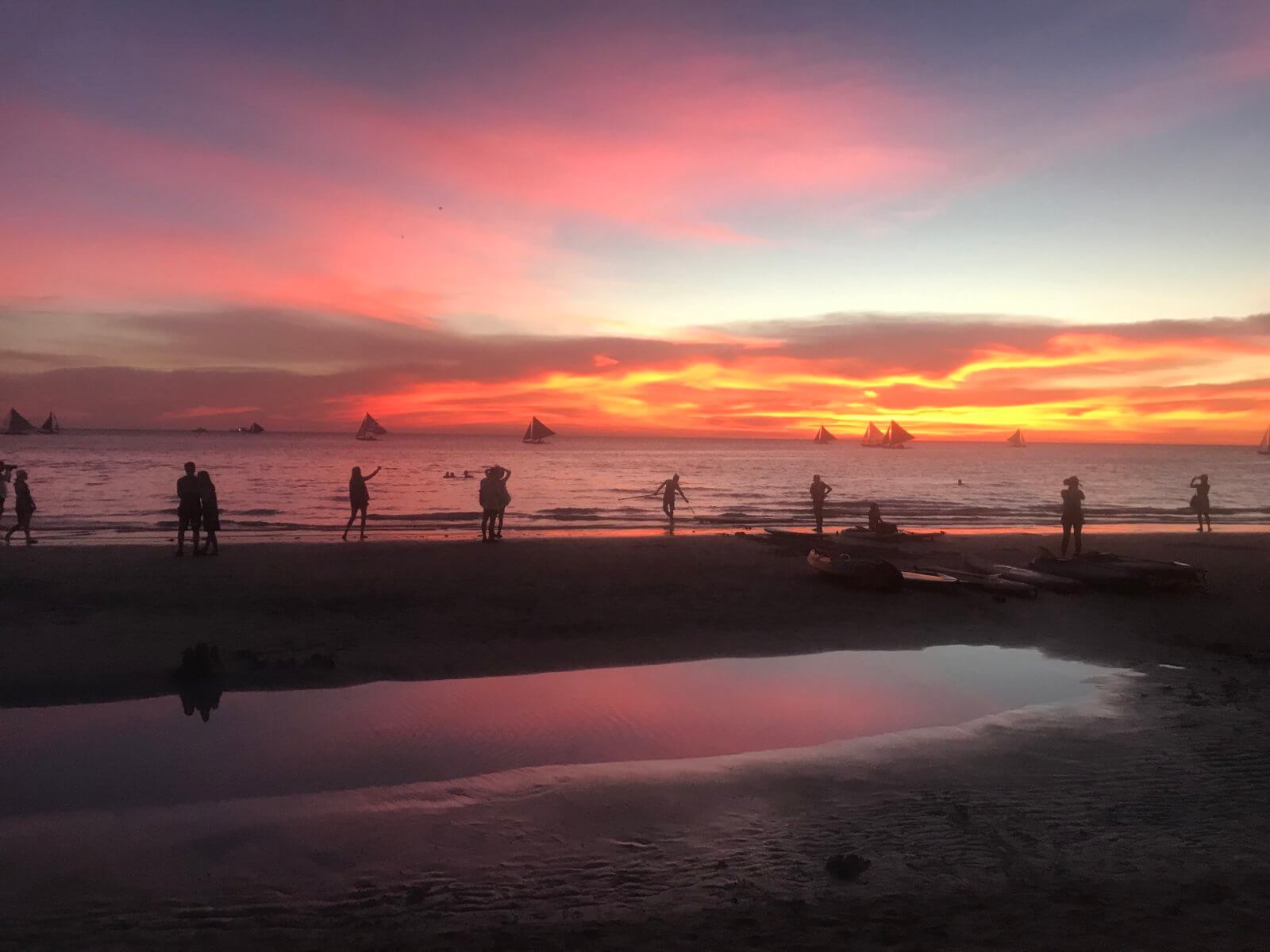 8. Pulsating Nightlife
Picture this - flashy disco lights, loud music, live bands, bean bags, free-flowing San Miguel, people in a vacation mood, the sound of the waves and great food! Boracay is lively and happening 7 days a week, not just on weekends. From wild parties to clubs and lounges with live music places, you can decide what you like and you'll find it there! Unfortunately, I did not find too many parties happening right on the beach (rather, people dancing on the beach) but some of my favourite places were- Epic for a late night DJ party, Club Cocomangas if you want to get really drunk and have fun, Club Paraw if you want to mingle with the locals, Kalinga Bar for a laid-back vibe with amazing sea views and Bom Bom bar for live music. The nightlife here is unlike any other island in the Philippines and hence, it is one of the highly recommended things to do in Boracay.
9. Fresh seafood
Needless to say, if you're in The Philippines, you must try the fresh seafood. I always make it a point to taste the local cuisine when I am in a foreign country and many times, I've fallen in love with the food so much that I've come back home and looked for places locally where I can find the same dishes. Two of my favourite Filipino dishes, which you will find easily in Boracay, are Spicy Shrimp Gambas and Crocodile Sisig. 
---
Day 2: Move away from the crowds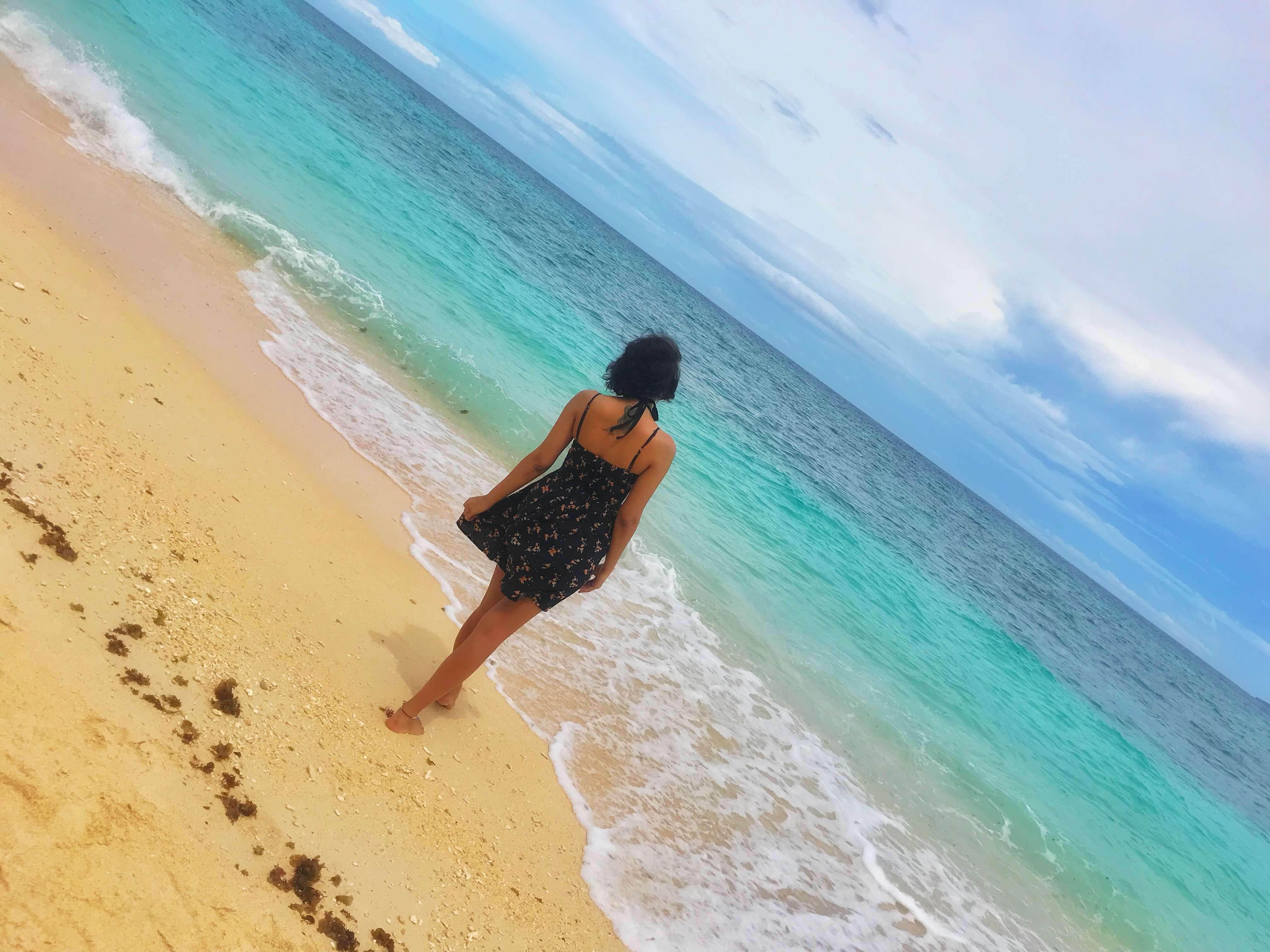 Don't get me wrong- I absolutely loved the vibe of White Beach and if you're limited on time, that's where I'd suggest you spend most of it. However, if you're looking to move away from the crowds towards a more peaceful, beautiful and laid-back place, visit one of the more off-beat beaches such as the Puka Shell Beach.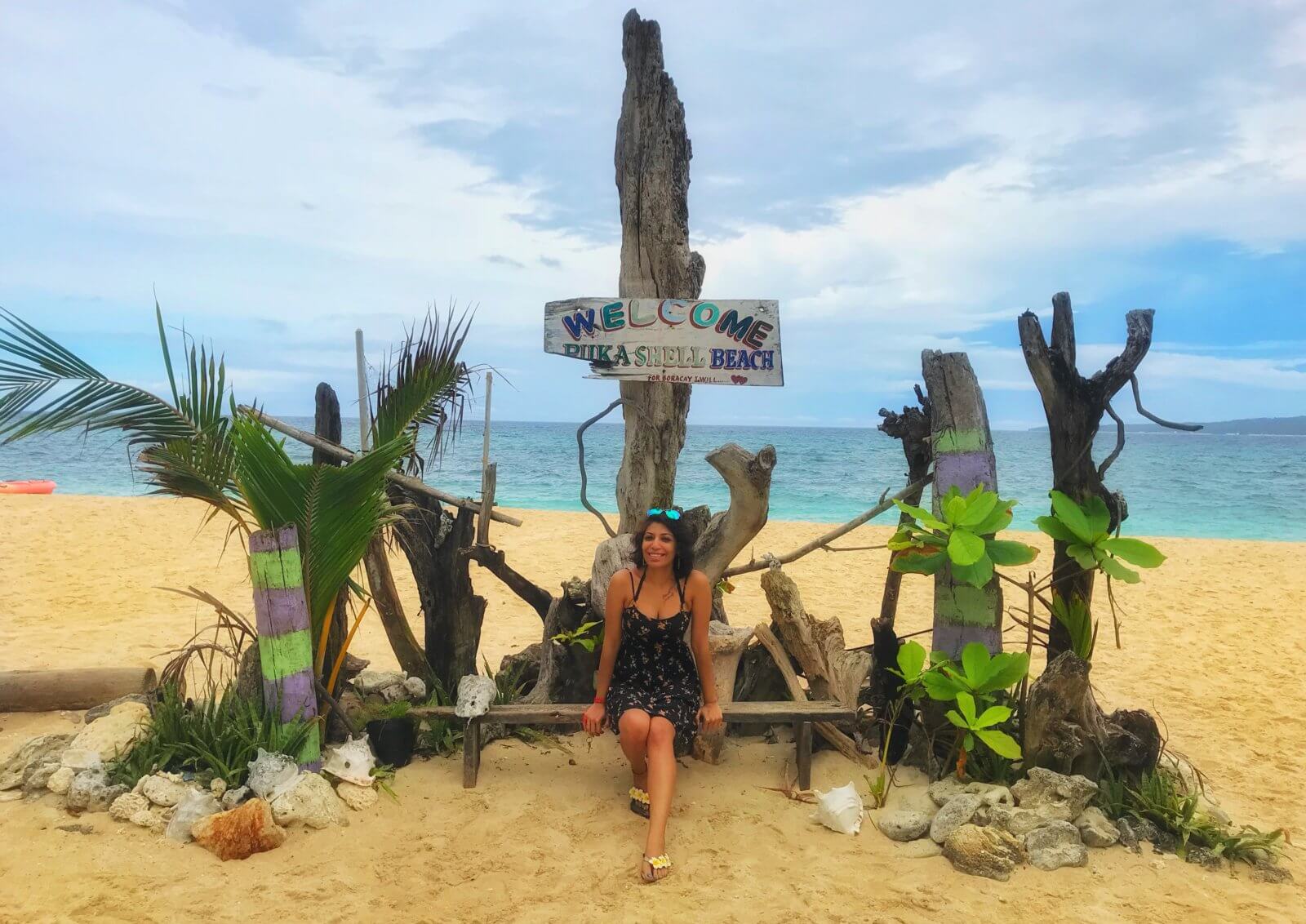 There isn't a lot to do on this beach in terms of bars, clubs and restaurants but it has a few beach shacks that offer snacks and drinks, albeit overpriced, because they include the charge for the sun loungers and the usage of the kayaks and the floats. I was pleasantly surprised on arriving here as the beach is gorgeous and quite isolated, so you can enjoy a massive stretch of white sand and blue waters, all to yourself. This is also where I found the glass-bottom kayak and going out far into the sea, where the corals are, with that kayak, what quite an amazing experience and a must to do in Boracay.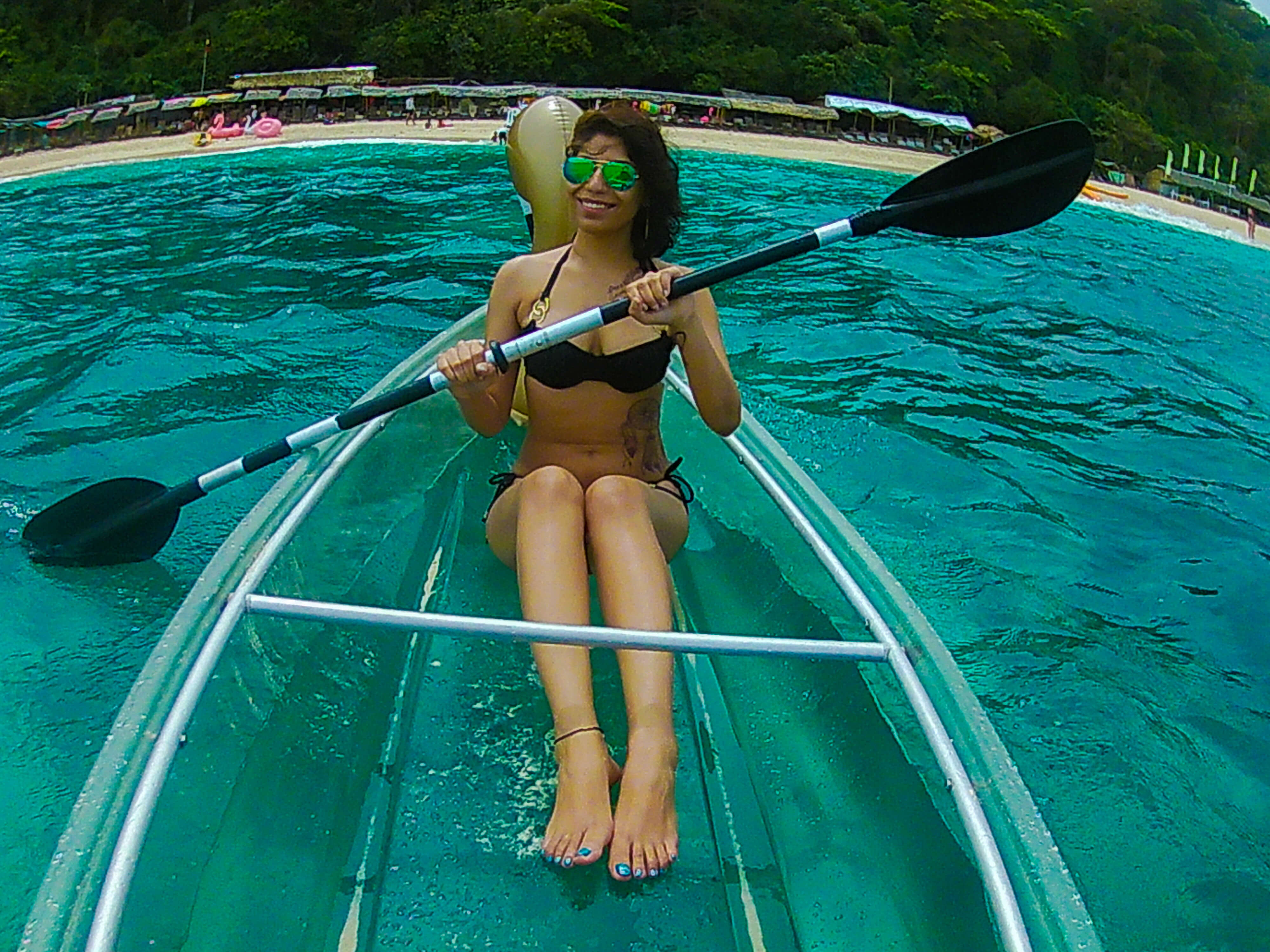 A small street market at the entrance of Puka Shell Beach sells some really cool shell-based souvenirs and decorations for the home. Swimming in the waters here can be a bit challenging as the currents are quite strong and the water also gets deep faster than it does on the White Beach. Due to the lack of many options for food and overpriced beverages, it might be a better idea to carry your own picnic to this beach.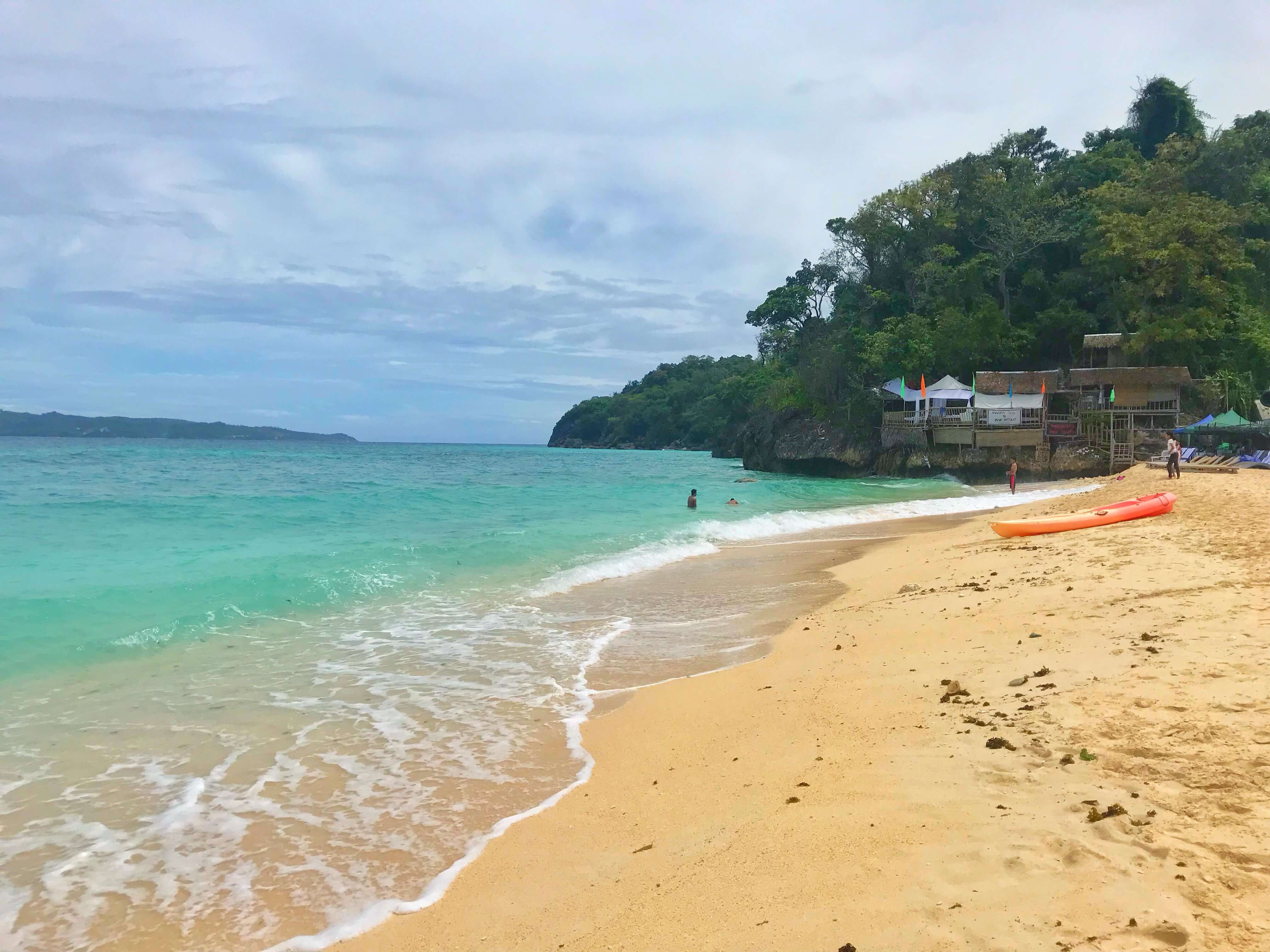 ---
Day 3: Cliff Jumping or Scuba Diving
Once again, I'd like to stress that although Boracay does have some pretty amazing dive sites for scuba diving enthusiasts, if you're visiting Palawan on your trip, it might be a better idea to experience the diving there instead. Calypso Diving and New Wave Divers and two popular companies that organise dive trips for certified scuba divers.
Alternatively, a popular activity in Boracay is the cliff diving at Ariel's Point. You can book your tickets for this experience at the White Beach 'Ariel's House' on Station 1. It is a full day activity, with tours departing from White Beach at 11 am and returning at 5 pm. Make sure to carry your sunscreen lotion, hats, waterproof bag and swimwear, of course. Even if you're not interesting in jumping off a cliff, the day-trip is quite an exciting way to be on a boat which offers alcohol (unlimited San Miguels), BBQ lunch and access to a lovely beach where you can go kayaking or snorkelling.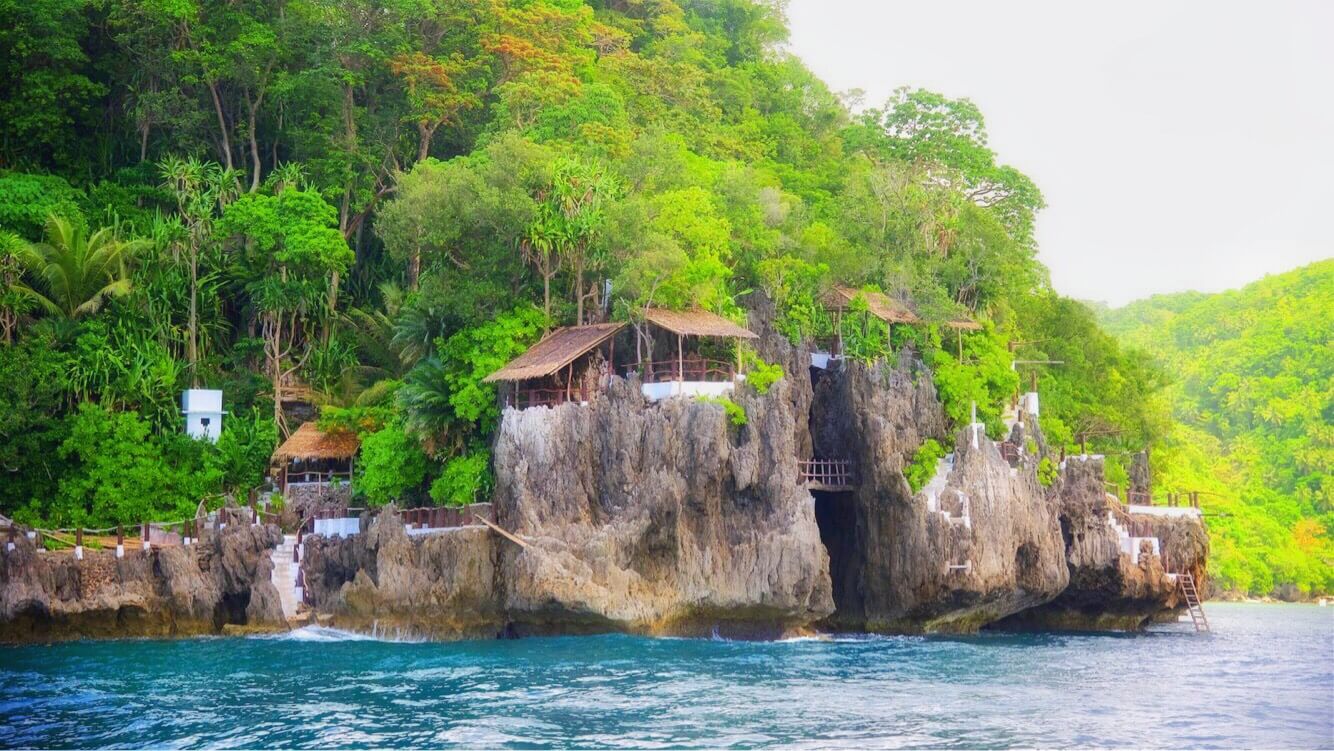 As for cliff jumping, there are 4 levels you can attempt to jump off from, depending on how brave you are. The trip costs $40 for a full day of fun. As you get off your boat, you will have to climb some slippery rocks to the top, where there are three bars offering views of the jumping people and the dark blue waters below. You can choose to have a few drinks here before mustering the courage to jump or just watch the brave divers take the plunge.