Let me start by saying – Malaysia deserves a lot more time than just 12 hours in every city but when you're on a cruise, your only option is to make the most of the little time you have while your ship is docked in the port. The highlight of such a trip is the cruise itself, and several people do not even disembark on these stops. However, I wasn't going to give up on the opportunity to explore a new country, so I chose a cruise that went to 3 cities I've always wanted to visit – Penang, Langkawi and Kuala Lumpur. Here are my suggestions on what shore excursions to take if you visit Malaysia on a cruise.
Our cruise was for 5 days and 4 nights, from Singapore and I was very happy to find this cruise on Princess Cruises, after going through several itineraries. It was our first cruise ever and it seemed perfect – not too long, enough time to explore the cities, and covering all the cities in Malaysia that I wanted to see! 
---
Penang
If you're doing Malaysia on a cruise, Penang is likely to be one of the cities you will visit. We got 9 hours in Penang. Unfortunately, this was in the afternoon/ evening (from 3 pm onwards), giving us fewer daylight hours to explore the city. There are several excursions that you can purchase on the cruise itself, however, we decided to wing it and roam about the city, exploring it ourselves.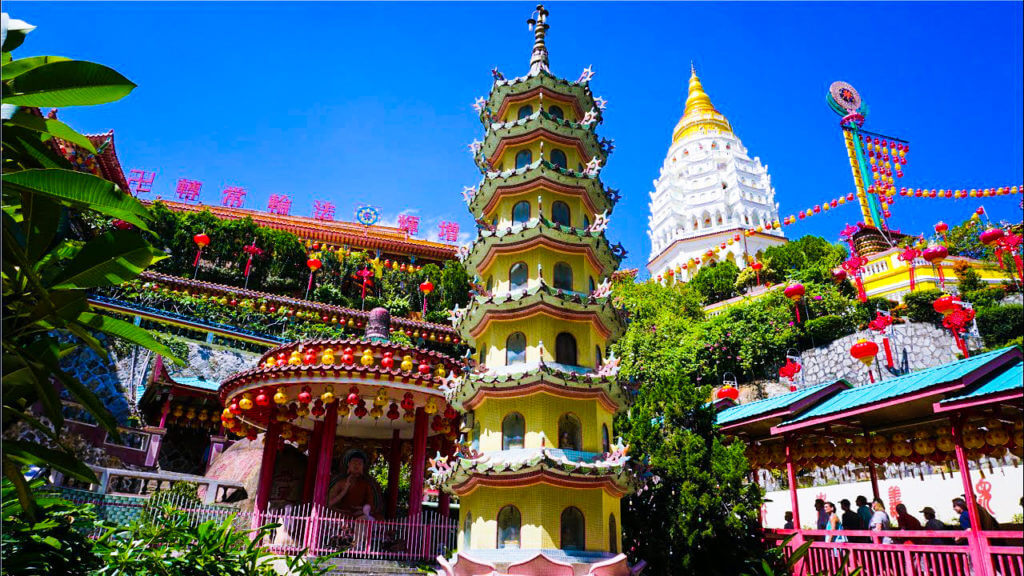 Penang is Malaysia's street food capital! And maybe I am biased, but Malaysian food is unmatched by any other cuisine when it comes to the flavours, the spices and the aroma. If you're a seafood lover, you're going to thank your good luck for landing in this little haven. Nothing ever pays like experimenting with local flavours in Southeast Asia, trying fish that you might never have heard of and picking up delicious eatables off the street vendors, even if you do not understand their names (which are usually in the local language).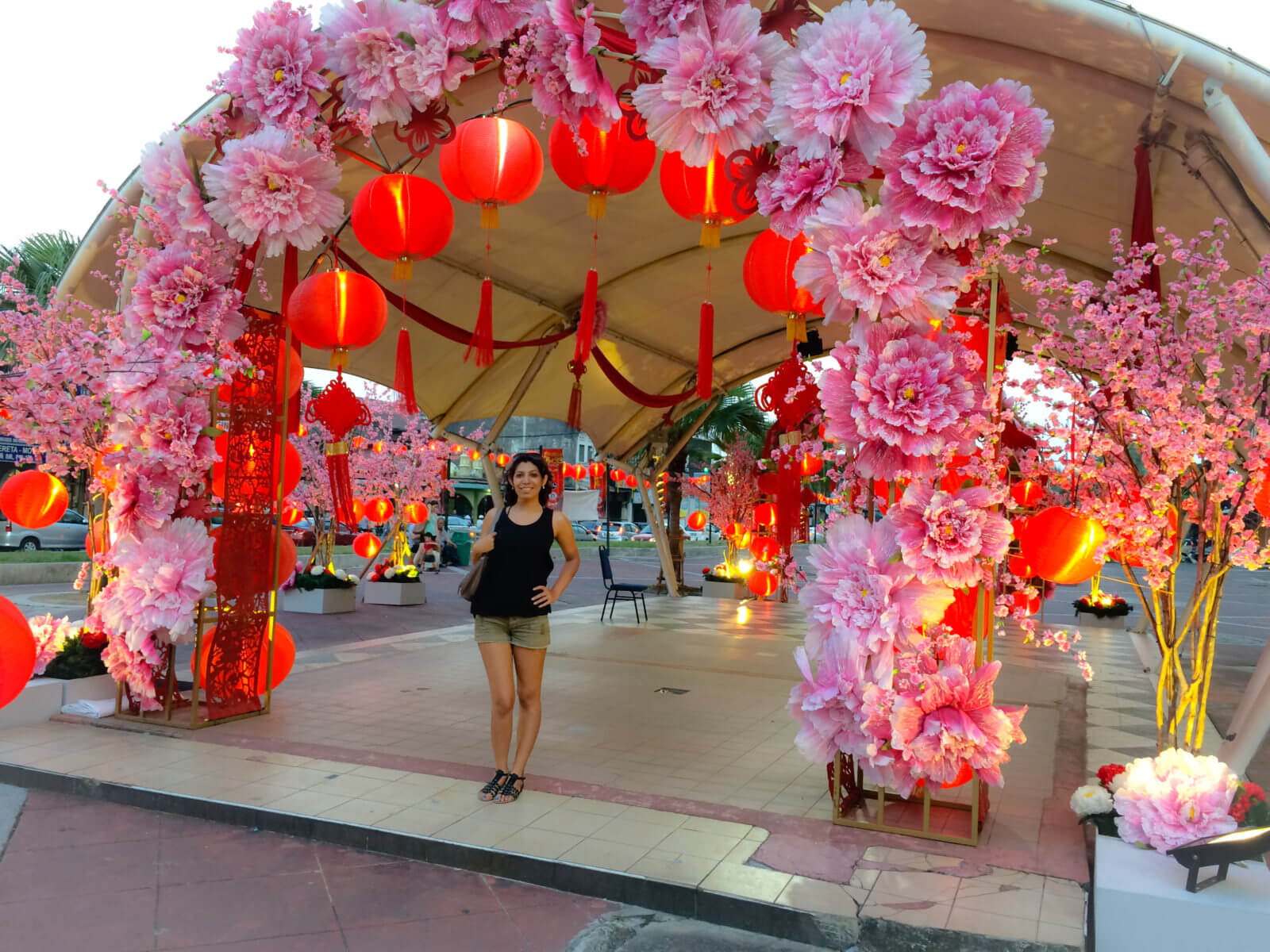 Unfortunately while visiting Malaysia on a cruise, we arrived in Penang only in the evening, so we decided to explore one of the two famous temples (Kek Lok Si & Wat Chaiyamangalaran) before their closing hours (5.30pm). I would've personally loved to visit both but decided to go with Kek Lok Si as this was also close to the area from where we wanted to take the railway to Penang Hill. We rented a taxi from the pier and it took us about 40 minutes to get to this gorgeous temple. It is known to be the largest Buddhist temple in Malaysia and stands on a hilltop, with a grand presence in its white, red and orange colours. If you visit during Chinese New Year, you will see most of the streets and temples in Malaysia come alive with decorations. This adds to the amazing colours, making it more vibrant. The prayer halls, gardens, statues, ponds with fish, perfectly manicured trees, wish-ribbons, and the courtyards are amazing. The area requires a lot of walking, so make sure you're in comfortable shoes. Do not miss the Ban Po Thar pagoda, a 7-level temple that is built in three different styles (Chinese, Burmese and Thai). You can climb the narrow stairs to the top, from where you can catch amazing views of the city.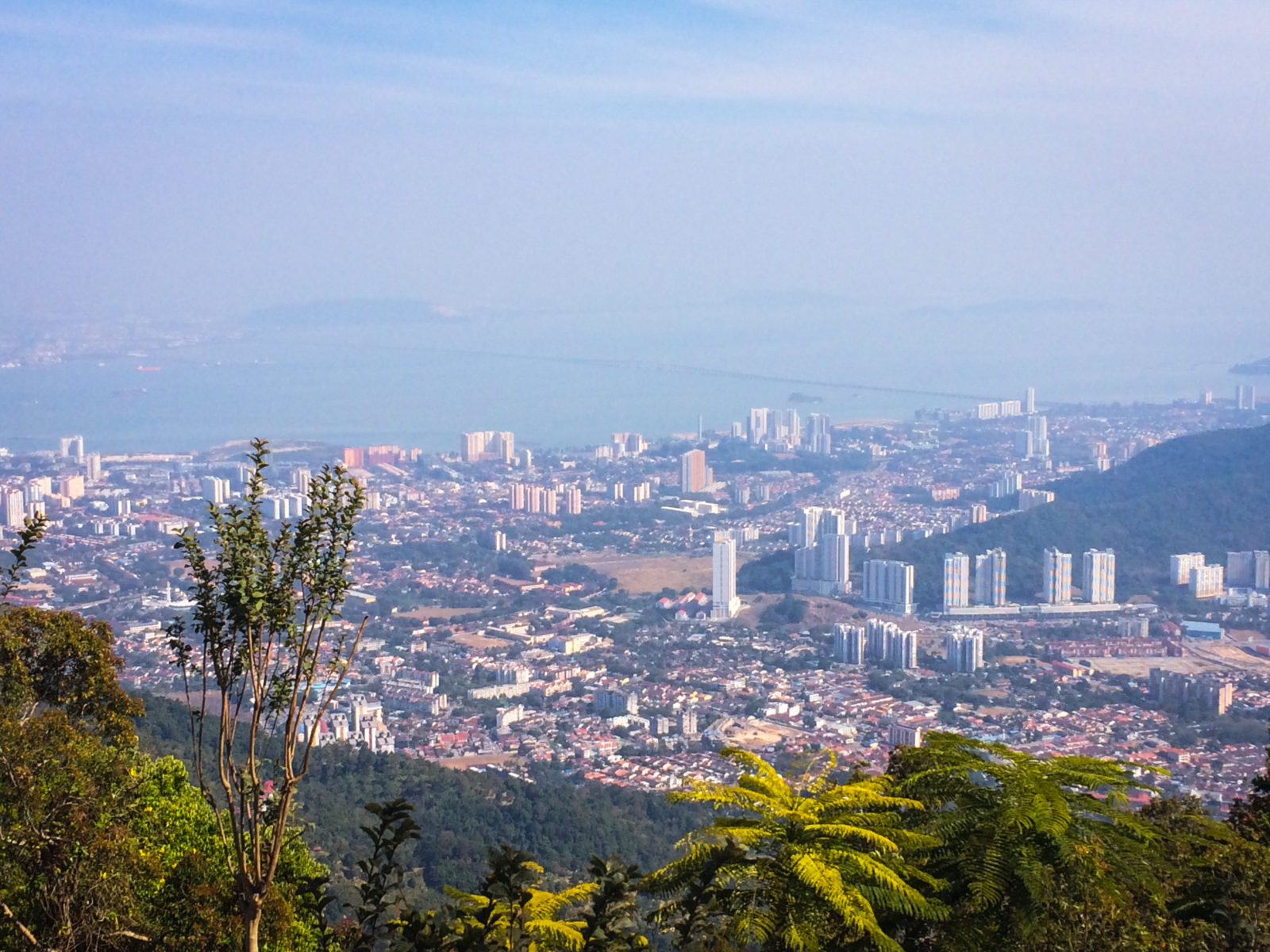 From here, we headed towards Penang Hill. Not very far from the temple, you can catch the railway to the hilltop and enjoy amazing views as you descend all the way to the top. You will notice the temperatures drop as you go up, making it extremely pleasant to walk around here. You can sit here, sip a coffee or enjoy a meal, with amazing views of George Town below. You will come across an Indian temple and a mosque, built side by side, lots of souvenir shops, historical buildings, and a viewing deck. Spend a couple of hours in this laid-back hilltop town before you head back down to George Town.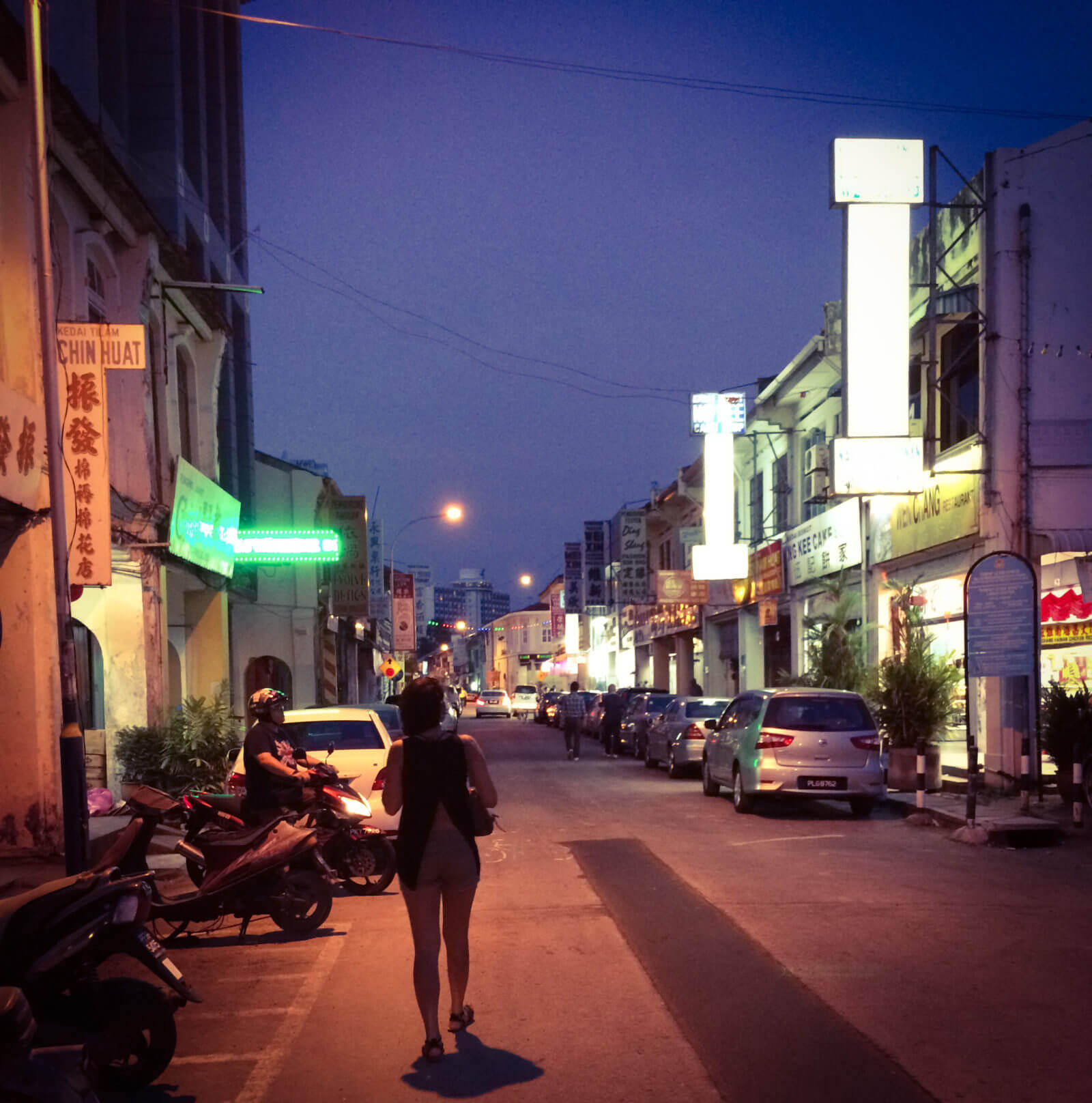 As night approaches, the best place to spend your hours is Georgetown. Take a walk around the streets here and you'll be amazed at the street murals, hawker stalls selling food that will make you constantly hungry, bars and cafes, souvenir shops and little markets. Don't be surprised if you hear Bollywood music blasting in the streets! The wall art particularly is very impressive here.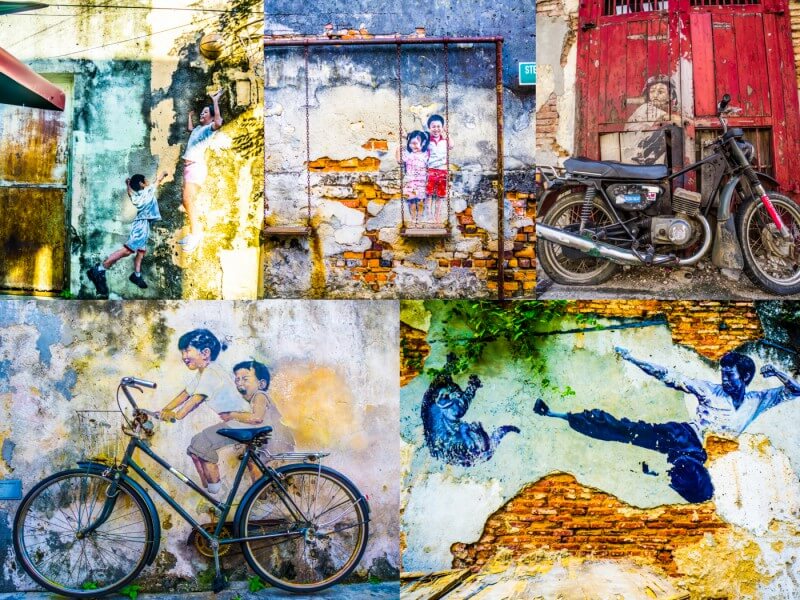 The pier where the cruise was docked was hardly 2-km away from here. We walked, ate, took pictures and shopped before we headed back at 11 pm to continue to explore the rest of Malaysia on a cruise.
Click here to read about Backpacking Southeast Asia.
---
Langkawi
Ah, the city with the most amazing beaches! If you're doing Malaysia on a cruise, you may or may not have a stop at Langkawi. Many Star Cruises do only Penang and Kuala Lumpur however, we particularly chose the Princess Cruises because a stop at Langkawi was a must for us!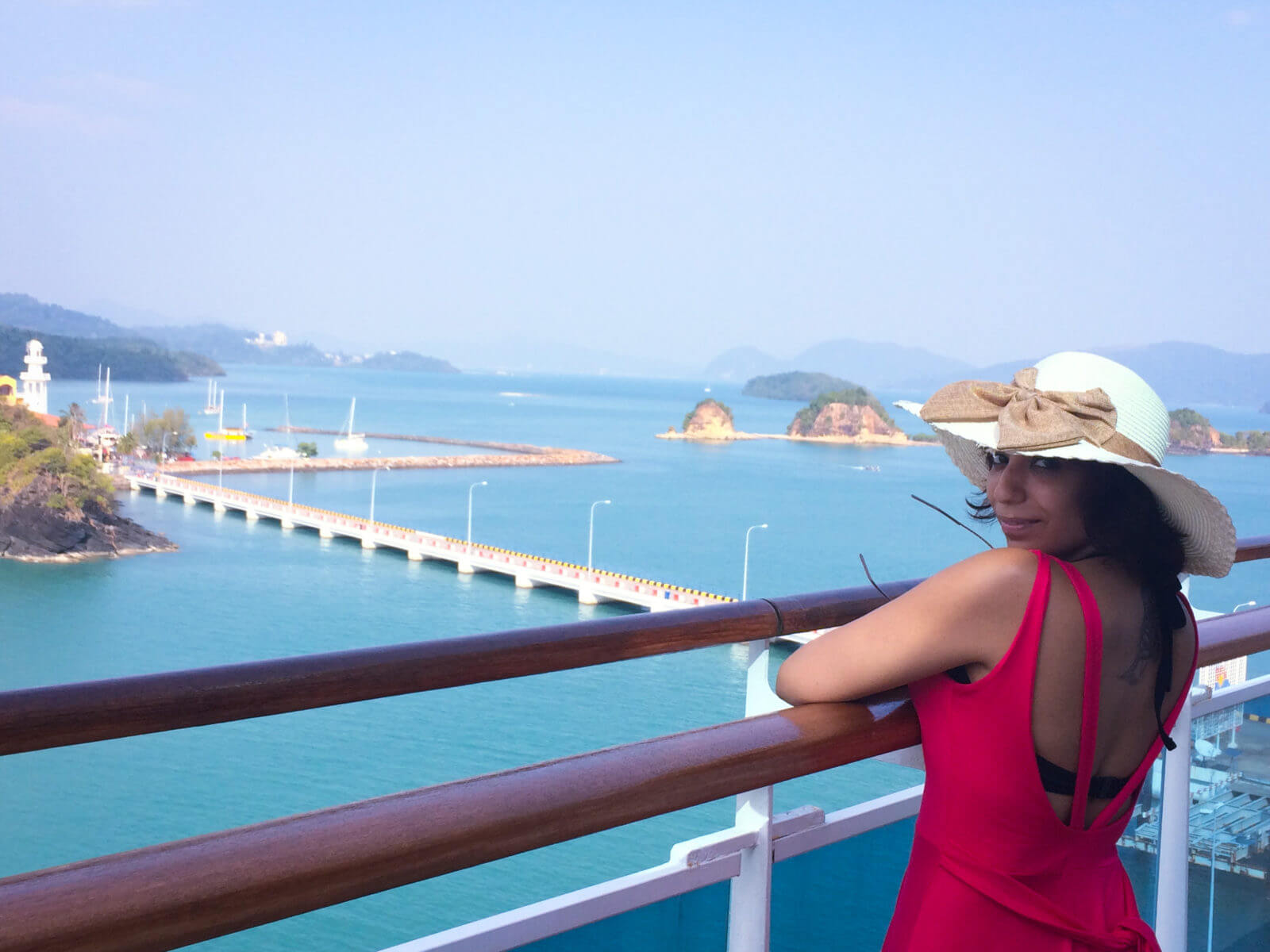 We had 9 hours in this city which was a pity because there was so much to do and so little time. I had a hard time while leaving, with a promise to myself that I'd return one day. However, here's what we did to make the most of our Langkawi day trip.
Luckily, we docked here at 8 am, giving us the entire day to enjoy activities in this beautiful green place. This is also where the famous Eagle Square is and luckily, it was hardly 2 km away from the pier. This needed to be ticked off from our list so we went here and then quickly took a taxi to take us to the Langkawi Cable Car.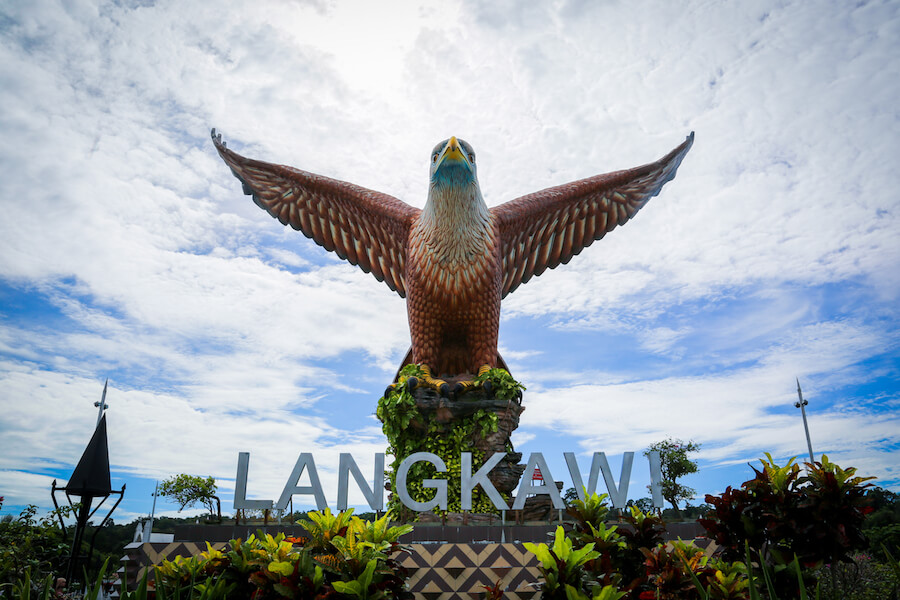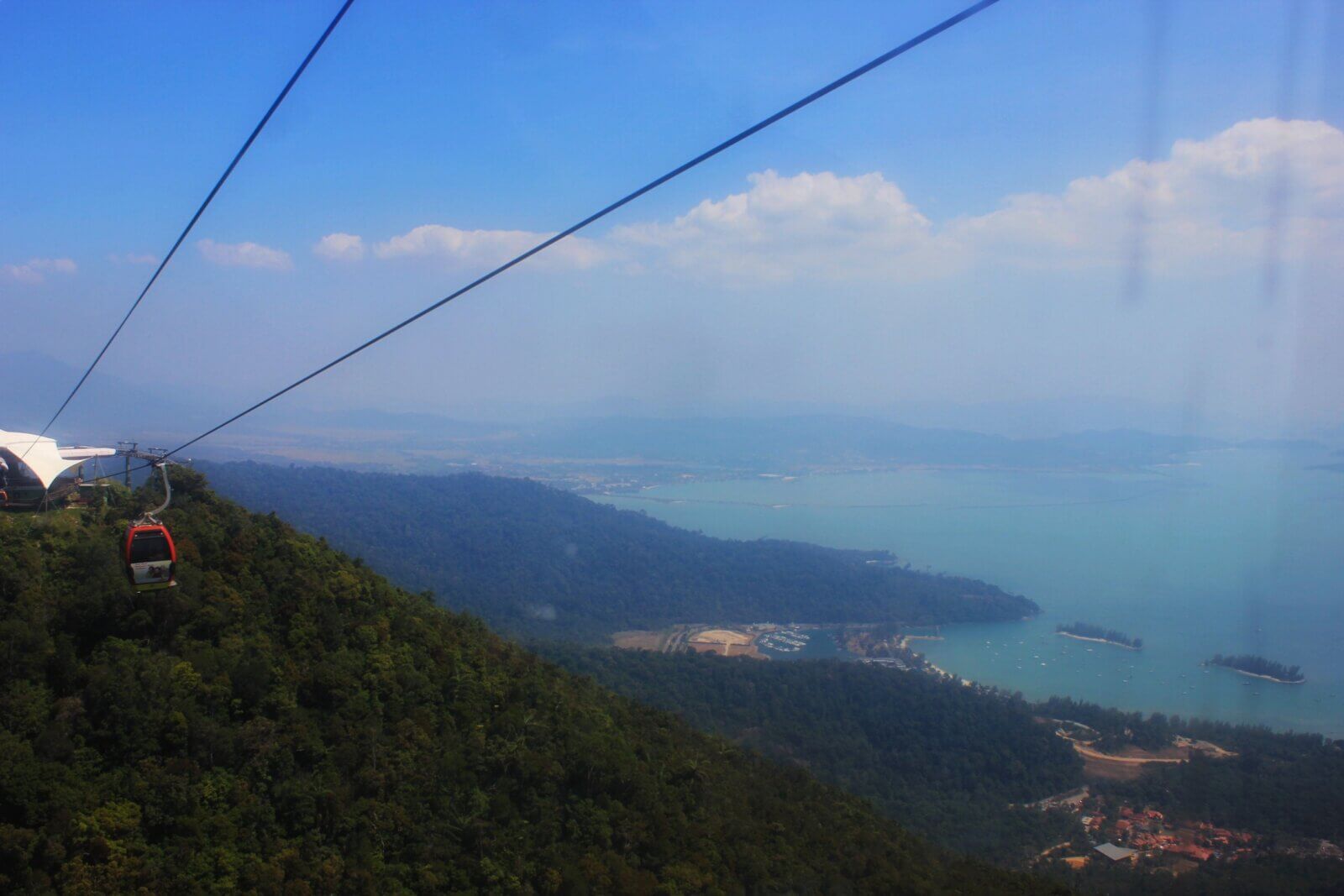 My favourite part of taking the cable car, apart from the gorgeous coastal views, was the Skybridge. The walk to the bridge, however, is steep, long and tough., so take it up only if you're in good shape! It can also get very hot so make sure to carry some water with you (I was severely dehydrated by the time I reached the bridge).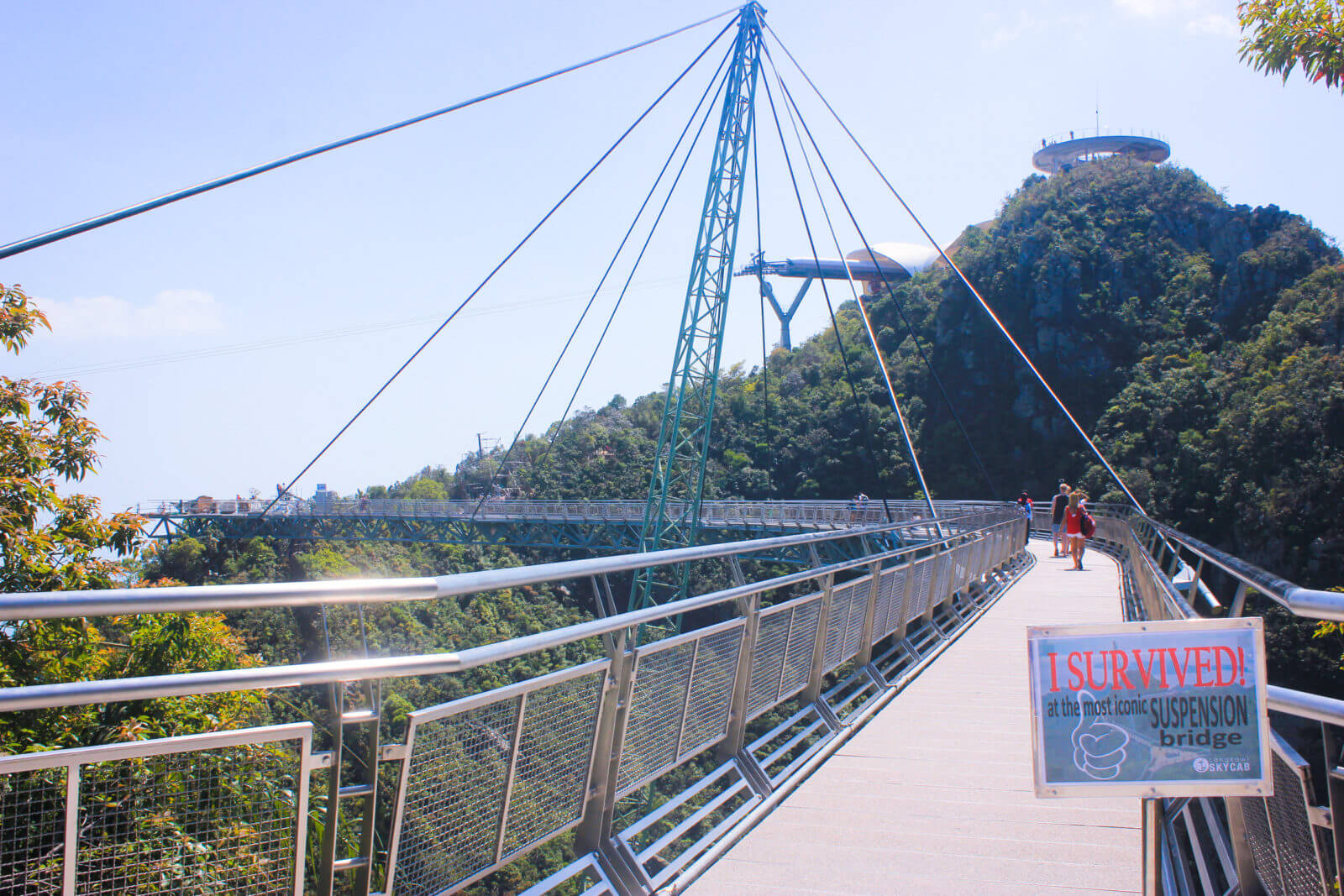 After we got back down from the cable car, we decided to go on a 1-hour ATV tour, something we always love doing, it's an amazing way to explore the nature and forest areas of a town. The tour was amazing as we went through immensely green areas, amidst small forested lands with streams of water, hidden in the middle of nowhere. We then proceeded to our final destination for the day, Tanjung Rhu.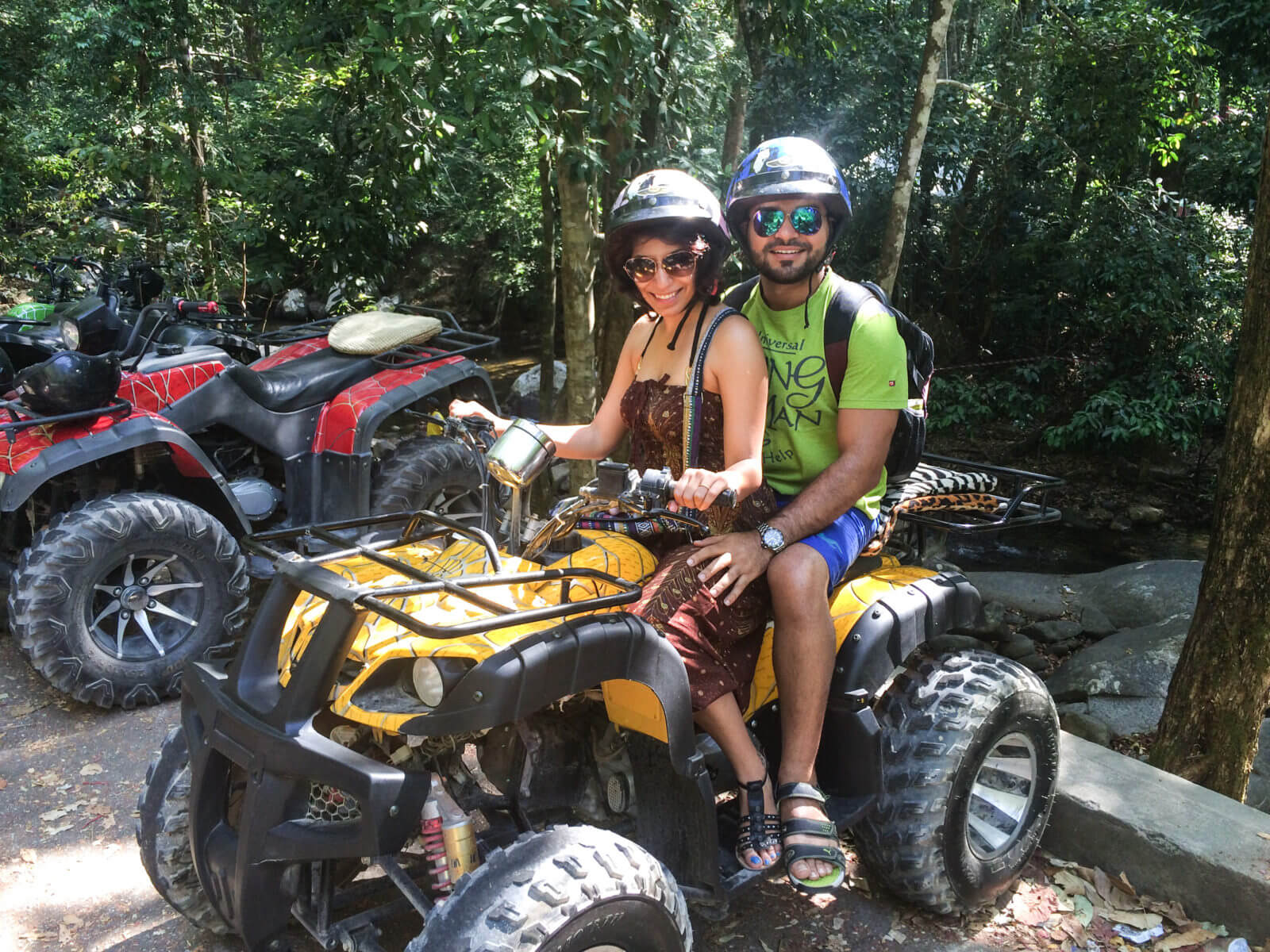 Before visiting Langkawi, we had heard a lot about the Tanjung Rhu beach, which is said to be one of the prettiest ones here. Although Tanjung Rhu was far from the Cable Car, we decided to go for it because had rented a taxi for the entire day. It took us 40 minutes to get there but it was totally worth it! We were greeted by gorgeous blue waters, powder-fine white sands and lovely views. We were lucky to find very few people on the beach; we quickly grabbed a sun-lounger, stripped into our swimwear, got ourselves cocktails and relaxed for a few hours.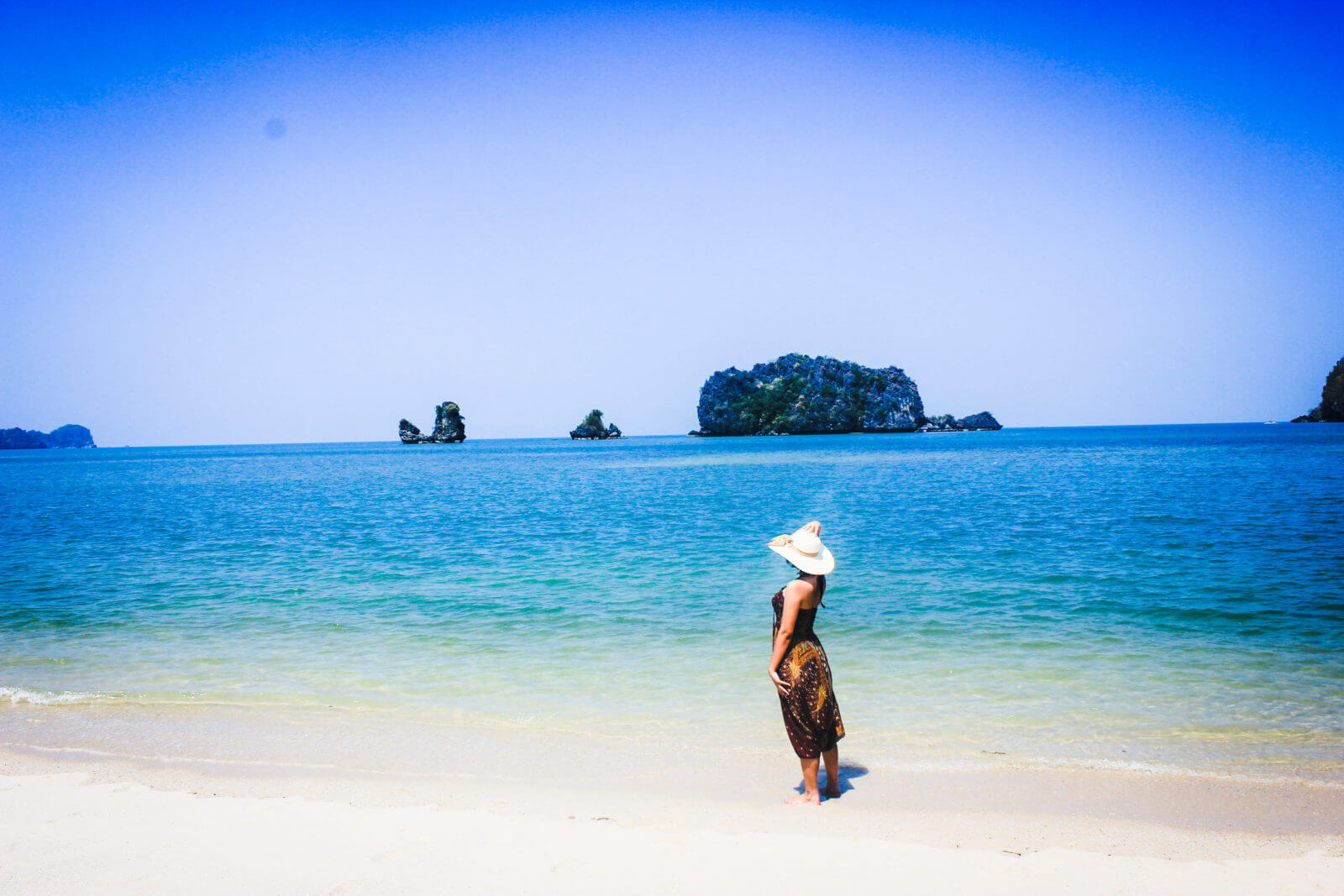 The souvenir shops right outside the beach have a lovely collection of beachwear clothes and accessories, and the most refreshing coconut water I've ever had! The drive back to Kuah Town (or the cruise pier) is about 30 minutes, so if you do plan to visit this amazing beach, make sure to head back in time.
Click here to read about the Best Time to visit Malaysia.
---
After visiting the street food capital and the beach-haven of Malaysia, it was now time to visit the urban centre, the capital of Malaysia, Kuala Lumpur. The last destination on the cruise was Port Kelang, which is more than an hour's drive away from Kuala Lumpur city. This gave us lesser time than we would've liked but we quickly grabbed a taxi as soon as we got off our cruise and headed towards the iconic Petronas Towers, to make the most of our Kuala Lumpur day trip.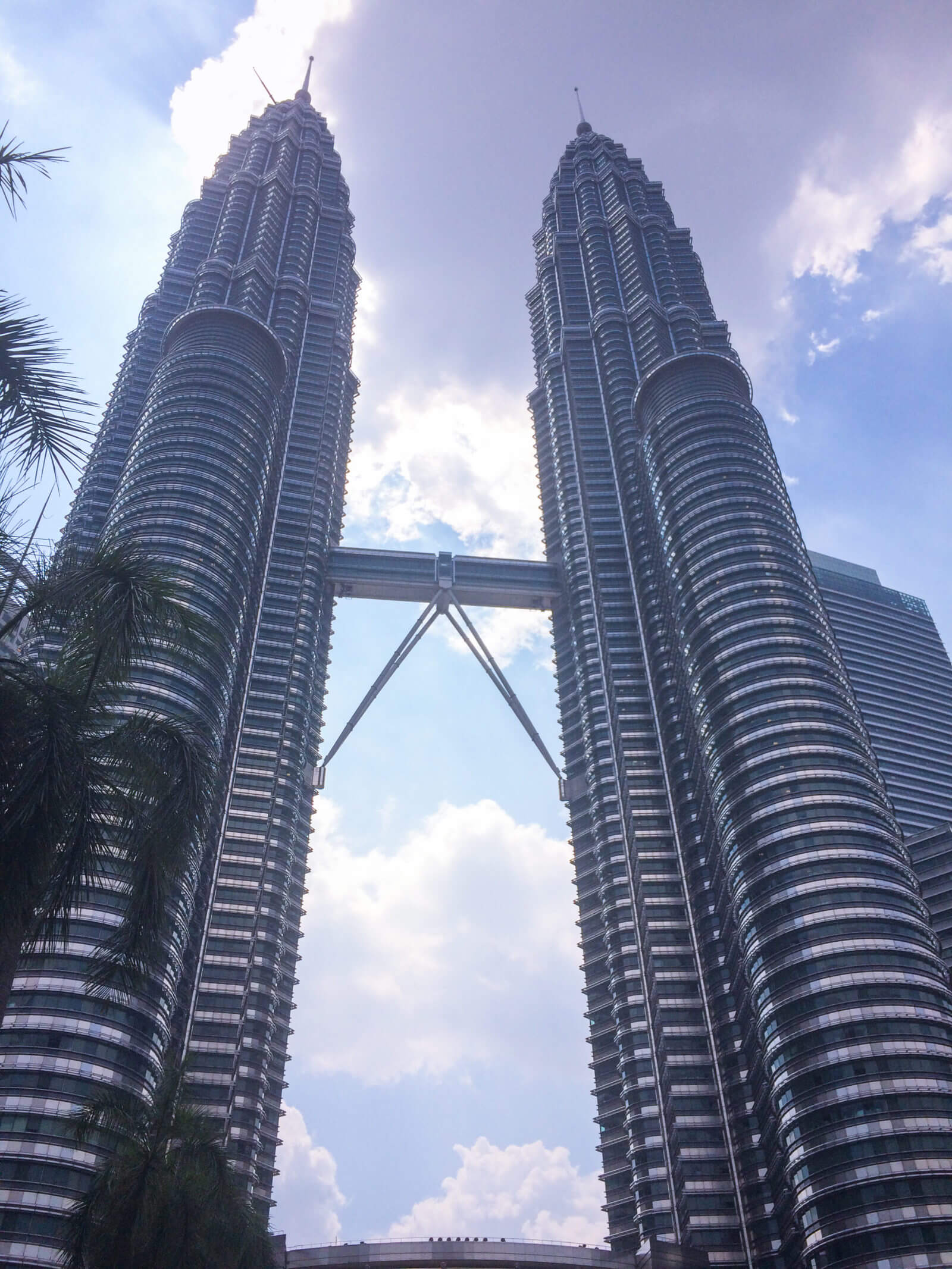 If you're visiting Malaysia on a cruise, this is likely to be one of the cities where you'll have a stopover. We decided to spend a chill-out day in Kuala Lumpur, walking around the downtown, grabbed breakfast with a view of the towers and then headed to KL Tower and its observation deck, which offered sweeping views of the entire city, famous for its skyscrapers.  The tower is a bit far from Petronas but we decided to walk to it, taking it easy and exploring the sights and sounds of the city. There's also a revolving restaurant at the top of the tower. However, since had just had our breakfast, we decided to skip it and move on to do some shopping.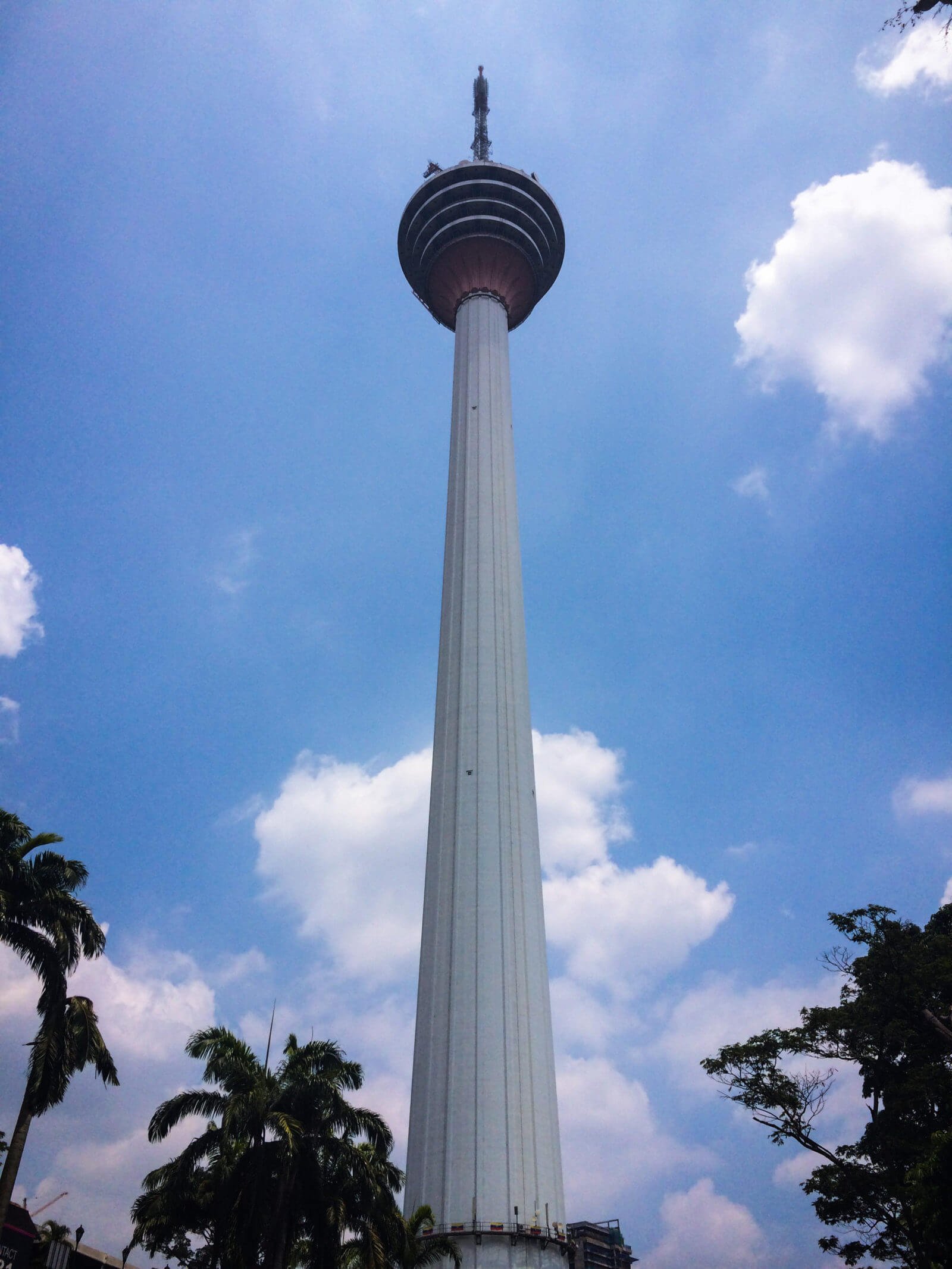 From there, we headed to Central Market. Very much like New York's SoHo flea market, this air-conditioned, covered market had souvenirs, handcrafted items, embroidered scarves, Malaysia's famous Batik designs, art and craft. After picking up a few gifts for our friends and family back home, we decided to head out to the next marketplace – Chinatown. This was probably the best time to visit (it was Chinese New Year) as the already vibrant market had come even more to life with hanging red and gold lamps all over. There is no dearth of imitation goods here, and you can strike a good bargain many accessories and clothes. Amazing street food complemented with a great vibe, this was a fun place to be!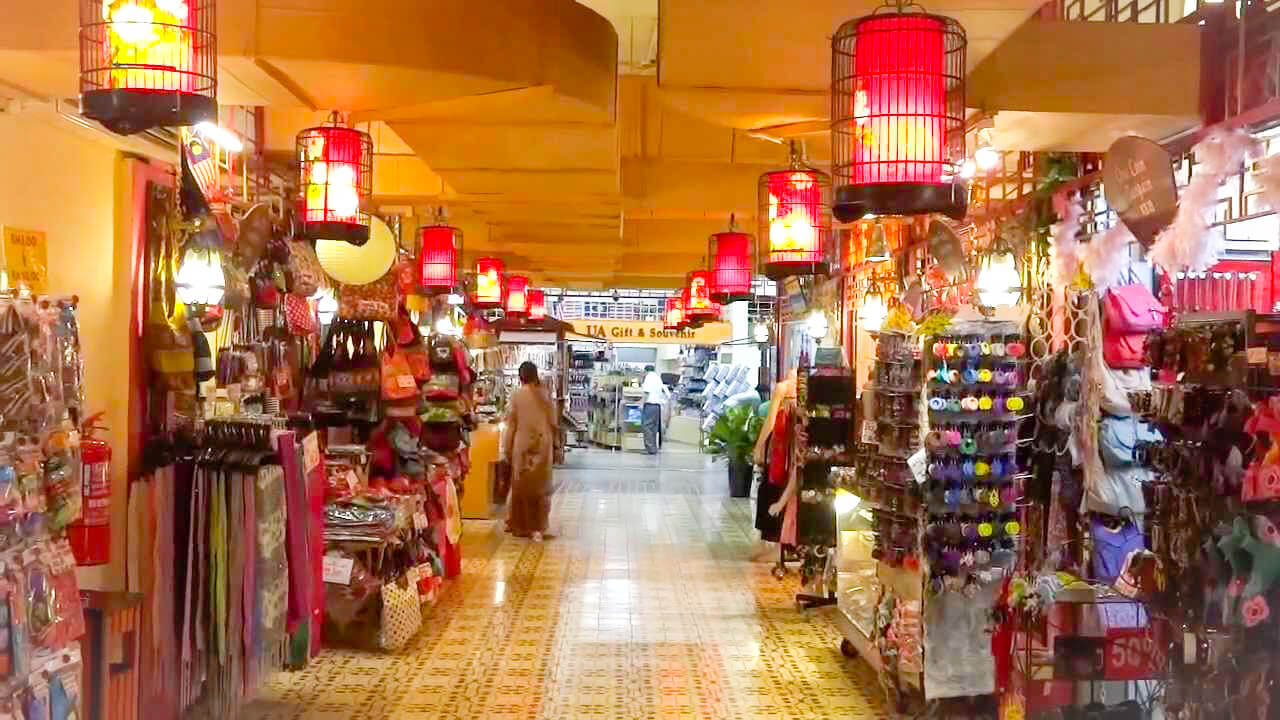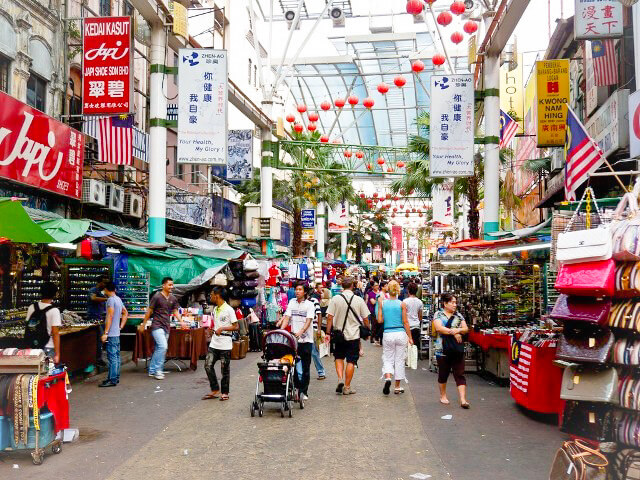 It was now time for lunch so we headed to a popular place we had read about – Lot 10 Hutong. A massive air-conditioned food hall which has some of Malaysia's best hawkers, this is the best way to enjoy authentic, delicious local flavours. You're not in the sun because the hall is covered yet you have access to 'street' food., which, without a doubt, is better than eating in a fine-dining or proper restaurant in Malaysia. If you're looking for recommendations on food to try – go for the Hokkien Mee, Fried Oyster Omelette, and of course, Curry Laksa.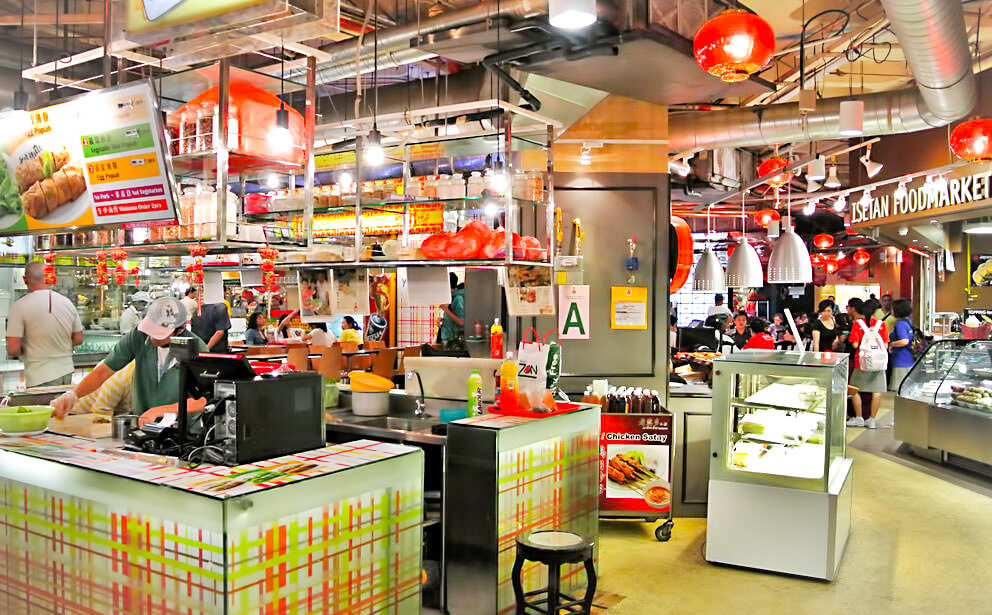 We were now ready to head back to our cruise; we had been warned by our taxi driver that the traffic gets very heavy during the evening hours and we must leave at least 2 hours before our cruise is set to sail. I was so disappointed!
A visit to Batu Caves would've required at least a couple of hours more so we decided to skip it. However, that is probably one of my biggest regrets! I have so many reasons to return to visit the many stunning places in Malaysia! And although I totally recommend visiting Malaysia on a cruise, I wish we could have had a lot more time to explore these lovely cities.