El Nido is the most popular district in the island of Palawan in The Philippines. With its pristine white sandy beaches, remote and untouched islands, clear water lagoons, limestone cliffs jutting out into the sea, hidden caves and rich corals, El Nido is a tropical paradise which is every nature-lovers dream come true. If you're planning a visit to El Nido, I suggest keeping at least 3 days (if not more) in hand to explore the best this place has to offer. Here are my suggestions for the perfect El Nido itinerary for 3 days.
---
El Nido Itinerary
Getting to El Nido
From Manila, Boracay & Cebu
Air Swift has several flights during the day from Manila as well as Boracay (Caticlan Airport) and Cebu.  Several resorts have a tie-up with Air Swift and provide a van pick-up for their guests while others have a fleet of tricycles lined up outside to take them to their hotels.
From Puerto Princessa
Unfortunately, there are no flights from Puerto Princessa so the road is the best way to traverse between the two provinces. Several companies run mini-buses & vans through the day, starting from as early as 6.00 am from Puerto Princessa to El Nido, and the journey takes about 6-7 hours. Alternatively, you might want to rent a car and drive yourself (although this is not recommended as driving in The Philippines isn't as much a pleasure as you'd want it to be).
From Coron
There is a fast ferry (Montenegro Lines) that departs from Coron at 12 pm every day and takes about 3.5 - 4 hours for the journey. Apart from this, there are several slower ferries that take about 7-8 hours and can be booked when you're on the island.
In El Nido, you can consider renting a motorbike to travel around or use the most common mode of transportation- the tricycles, which are quite inexpensive.
---
Where to stay in El Nido
Water villas of Miniloc Island (El Nido Resorts)
An experience that I'd always imagined was exclusive only to the Maldives and some other very expensive destinations, El Nido Resorts located on Miniloc Island give you the option to stay in a water villa! Built on stilts right over the crystal clear green waters of this remote island, which is about 20-minutes away from the mainland, this is a luxurious and romantic experience, recommended for those looking to spend some quiet time amidst extreme beauty and tranquillity.
A more reasonably priced option which is also on the mainland in El Nido, with one of the best beaches in the area offering spectacular sunsets is Las Cabanas Beach Resort. Located only 3 kms away from the town, Las Cabanas Beach Resort is on a beach that has several other bars and restaurants, allowing for enough options outside the resort if you wish to explore. The resort itself is quite small, offering only 9 rooms, with a huge botanical garden, beach cottages, an island that you can walk to, right across from the resort and superb service.
Budget beach hotel: El Nido Four Seasons Resort
---
Day 1:
Zip lining at Las Cabanas Beach
As you are likely to arrive late during the day, you can spend some time relaxing at the long stretch of the public beach near Las Cabanas Resort on day 1 of your El Nido itinerary.  The beach is lined with several restaurants and bars, playing good music, offering a great concoction of cocktails and superb food. You can go for a swim here, as the water is very clear and beautiful. This is probably the only beach in El Nido that has lively, has beach-side dining options and is perfect for swimming.
For the adventurous, there's a zip line that goes from the coast to the island across and it's a brilliant experience because of the breathtaking views along the way. You need to climb a steep path behind the beach to the platform which is placed on a cliff (you need good shoes, water, sunscreen because the path is extremely steep and right under the sun, without any shade). A 15-min climb to the top will bring you to the platform where you'll be made to wear the harness and you can choose between going the 'normal' way or 'Superman' style. Make sure you carry all your things with you unless you want to take the zip line back to the starting place.
Once you're on the other side, be prepared to climb down a rickety mud-and-stone path down to the beach, full of pebbles. On a rainy day, this can be very slippery so you'll have to be very vigilant while getting down. There is no proper path, just a small rope to hold on to while you figure your way out. The experience, nevertheless, is worth it.
The zip line is open from 7 am until 5.30 pm every day so make sure you get there before sunset!
Sunset at Las Cabanas
Any El Nido itinerary is incomplete without including this spectacle of nature. The sunset at Las Cabanas beach is famous and probably one of the best I've ever seen in my life! Due to low tide, the water in the sea recedes, and the island across can almost be walked to. The burning yellow sky with the silhouette of the hills in the background makes for a stunning sight. To get the best views, walk all the way to Las Cabanas Beach Resort's beachside restaurant.
---
Day 2:
Scuba Diving
You cannot visit Palawan and not experience scuba diving! Rich marine life, kaleidoscopic corals and reefs and shoals of tiny, colorful, harmless fish in some of the clearest waters you'll ever see, are reasons enough to want one to explore the mystical underwater world. When I visited The Philippines, I had never gone scuba diving and I wasn't even PADI certified. Yet, I knew I wanted to go.
Most diving companies in El Nido will offer two types of dives - Discovery Dive & Fun Dive. The Discovery Dive is targetted towards non-divers, it involves some theory and in-water training with experienced and professional instructors before going for a real dive. If you're not certified and trained, you're likely to be taken only to the shallow reefs (not deeper than 12m below sea level). If you would rather go in a group with a professional company (which I highly recommend for first-time divers), Palawan Divers are one of the best companies you can do this tour through.
We stumbled upon another company in El Nido called Plankton Divers in Corong Corong. A family-run business, we were initially very apprehensive to go for a dive with them. There aren't many reviews of them on the internet and they have a small shop but we went ahead anyway and the experience was amazing because it was personalized. We were the only two divers on the boat but we each got one instructor and complete attention. I would highly recommend taking a trip with them if you're not too keen on going with a group and are not worried about getting a highly professional training before the experience.
We went for 2 dives in areas which were not very crowded and saw some beautiful fish! The experience was so amazing that it made me want to get PADI certified in the future. Scuba diving is a key inclusion in any El Nido itinerary!
Sunset at Nacpan Beach
This is a remote beach, located about 45 min away from the city center. Nacpan beach is yet another beautiful beach for swimming (there are very few of those in El Nido, unless you plan to take a ferry and explore the neighbouring islands), and although it is not as lively as Las Cabanas Beach and a lot less crowded, there are a few restaurants and bars located here where you can grab a bit and sip a cocktail. The ride to this beach is bumpy, you'll not see a lot of people along the way and it'll make you wonder where you're headed! Before approaching the beach, there is no proper road, just a rough path with lots of pebbles along the way and it seems slightly daunting to be going towards such an isolated place. But once you arrive, you're greeted by a beautiful white sandy beach, strewn with coconut palms and clear blue waters. Thatched-roof huts provide ample shade and fresh coconut water will keep you refreshed and hydrated during the day.
This is yet another beach to catch a brilliant sunset in the evening. However, most restaurants and bars here shut early so ensure that you make your way out before it begins to get too dark and isolated. Not that it is unsafe, but it is the sensible thing to do!
---
Day 3:
Island Hopping Tour
Before traveling to El Nido, I researched the 4 types of Island Hopping Tours available thoroughly. As you will read anywhere else, the tours in El Nido are fixed (the stops do not vary from one company to another and the cost doesn't either) so it does not really matter who you purchase it from. All tours (A, B, C, D) depart at about 9 am and return at about 5.30 pm.
If you have only 2 days, your El Nido itinerary must definitely include at least one Island Hopping Tour.
Here are my two cents on selecting the Island Hopping Tours in El Nido:
Tour A and Tour C are the two most popular tours in El Nido. Tour A takes you to the lagoons (mostly) whereas Tour C takes you to some hidden/ secret beaches (technically, everyone goes there so they're not really hidden or secret anymore)
All tours include lunch on board and you can ask for vegetarian food before you board the boat. They will be happy to carry some fruits, salads and vegetarian dishes along (apart from, of course, fresh seafood)
You will be provided with life jackets and snorkeling gear on board. However, you're recommended to carry a pair of water shoes with you (which are available for rent at the pier before boarding the ferry)
If you're choosing Tour A, be prepared to get out of the boat and into the water (either swim or in a kayak) as there are hardly any stops which will offer you white sandy beaches to sit and relax on
A combination tour is also available (you can combine Tour A and Tour C if you like) but the total time of the tour remains the same which means, you will get only limited time at each of the stops on the tour. In my opinion, it is better to choose one of the tours so that you get enough time in each of the stops
If you're more of a beach bum, you should choose Tour C or Tour D.
Island Hopping Tour A
We chose the Island Hopping Tour A. This tour was the highlight of my El Nido itinerary. We visited some of the prettiest lagoons I have ever seen, kayaked in the clearest green waters that exist, surrounded by massive brown cliffs. This tour left me in total awe of nature and its wonders.
Kayaks are available for rent at a minimal price at each of the stops. You get about 30 - 45 minutes in most places and if you're an under-confident kayak rider, then don't be shy about asking your tour guide/ boatman to help you out!
Small Lagoon
You can only explore this lagoon by kayaking, so hop on one (available on the spot for a minimal charge). It is located at Miniloc Island and is usually the first stop on Tour A. The rocks and corals can be sharp (if you plan to get off the kayak) so make sure to wear your water shoes. Also, you might get bitten by some territorial fish (not poisonous, but still), so stay in your kayak if you're not willing to risk that!
Big Lagoon
This is the place which has been captured on several drone videos recently. When you say El Nido, you picture massive limestone rocks in the middle of emerald green waters and Big Lagoon is exactly like that! These calm waters are perfect for kayaking and if you're adventurous, you will discover some hidden caves too. Just remember to be back to your boat in time! Also, the lagoon has a lot of sea urchins, so be very careful, should you choose to go snorkeling or swimming. My advice? Stay in your kayak!
Secret Lagoon
Located in one corner of Miniloc Island, the secret lagoon is accessible only via a small crevice in the limestone rocks and you need to crawl through (prepare to be flexible!) to get to the other side, where the hidden lagoon is. Once you're inside, you're surrounded by very tall cliffs and a small lagoon located in the middle of it. Luckily the place was not very crowded when our boat arrived so we managed to get quality time. There is a beach next to the secret lagoon that you can swim too. It's not very big though and there really isn't much to do here. The boat did not stop for more than 30 min. You do not need to rent a kayak here, you can simply swim to the lagoon and the beach.
Lunch at Shimizu Island
The boat didn't exactly stop at the island for lunch which meant we ate on board. The lunch was quite decent - they had options for vegetarians as well. Just let them know in advance if you don't eat meat/ seafood and they will ensure to carry salads, fruits, and even dishes for vegetarians. The boat docked in the middle of the sea for about an hour, giving people enough time not only to enjoy a meal but also go for a swim, if they liked. There was no kayak rental available here but you could borrow the one kayak from your boat if you want.
7 Commando Beach
Each boat doing Tour A in El Nido covers the same places. However, the order may differ. We started from 7 Commando Beach on our tour. As per the story told to us by our boatmen, there was once a ship that was stranded on the island and the name of the island was derived from the name of that ship. Another white sandy beach with coconut palms lining the stretch, 7 Commando beach is not very far from El Nido town. Free to use thatched roof cottages, shops selling fresh coconut juice and snacks, and a beach swing are the highlights of this stop.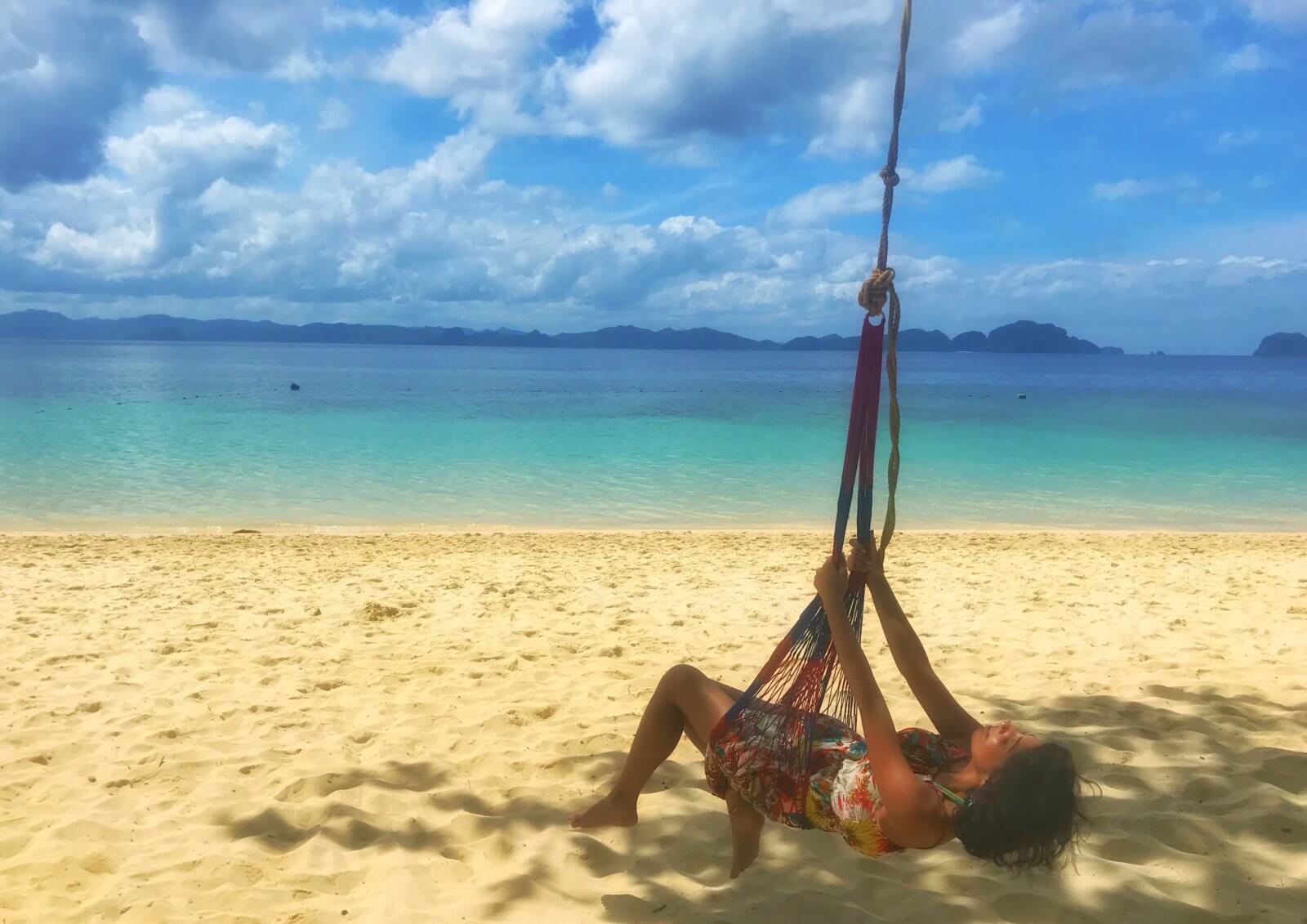 Sunset (and stroll) at El Nido Town
I almost didn't include this in my perfect El Nido itinerary for 3 days but we happened to get really late on one of our tours on the last day and reached the pier when the sun was going down. El Nido's sunsets did not disappoint me and having the opportunity to catch a new one every evening, each one better than the last, was something I really appreciated. A few restaurants located right on the beach (although the beach is not that great) serving mouthwatering Filipino delicacies is a nice place to sit and watch this spectacular scene.
You may also want to explore the town, buy some souvenirs here. Colorful beachwear clothes, waterproof bags, sunglasses, water shoes, GoPro accessories and local handicrafts are easy to find here. This is the perfect end to your 3-day El Nido itinerary.