Day 1: Oslo
As most flights land at the capital city, it was the obvious choice to start from. However, we are not very city people and wanted to explore more of the rugged nature, so we decided to limit our time in Oslo to just 2 days.
The city centre is about 40 kms from the airport; if you plan to stay in the city for a couple of days, it may not be ideal to rent the car from the airport itself as the city centre has parking issues. Take the airport express train from the airport to city centre (best and most convenient way to travel from airport to city, takes 20 min only).
You can read about the best hotels in Oslo here.
Recommended to visit:
Karl Johans Gate(city centre) for street cafes, nightlife. Café Cathedral has a really good ambience and seating, open air, stone building, and corner of the road.
Frogner Park: Buy a full day travel pass at the 7 Eleven store which entitles you to unlimited travel within the day by bus, tram and metro rail within the city. Frogner park is a tranquil park away from the city and is the world's largest sculpture park. Nice for a walk around.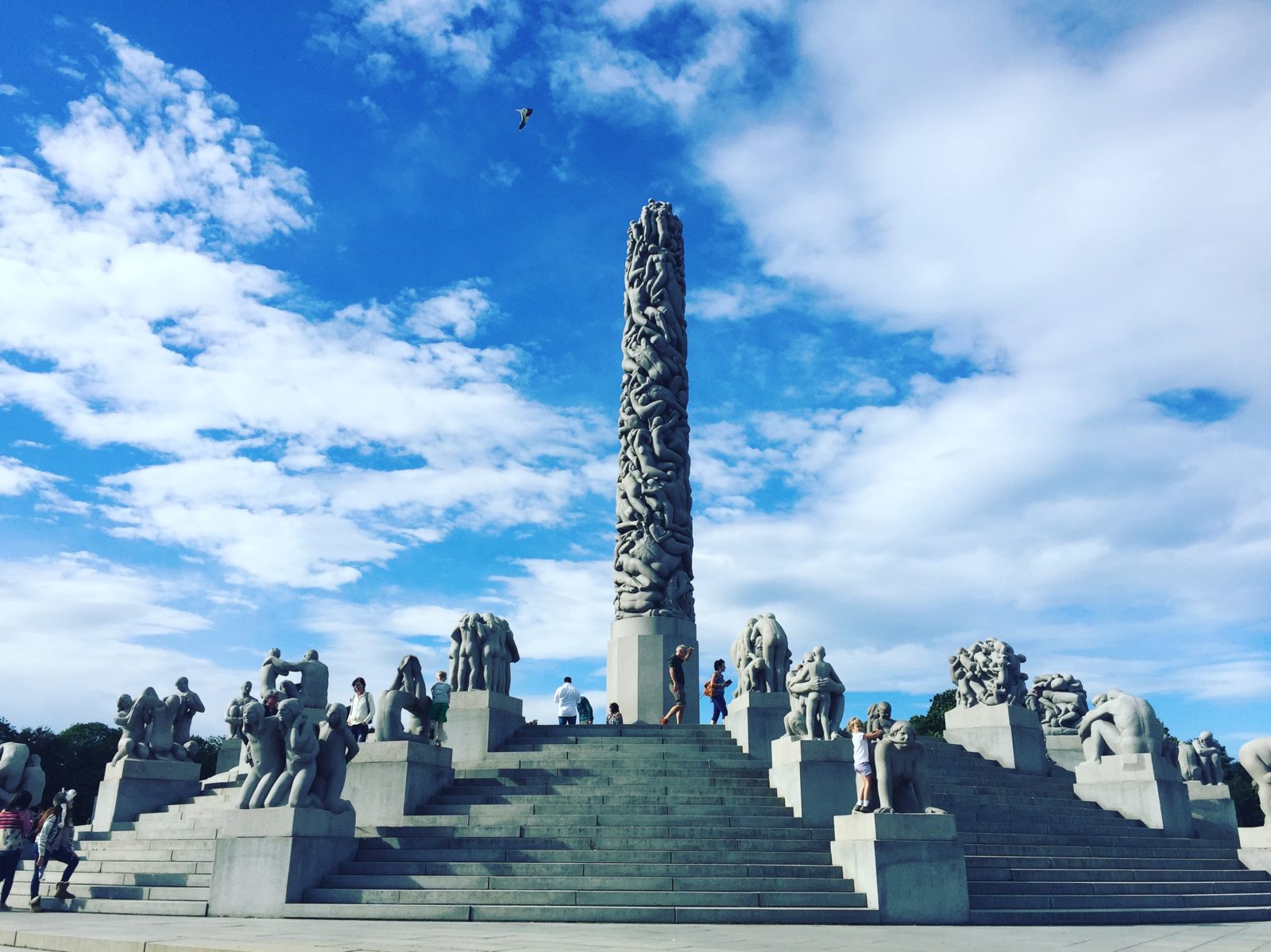 Bogstad Gard: Not one of the popular places to visit, we saw some pictures and decided to have a look anyway. A beautiful manor by the lake, with amazing gardens, streams, bridges and sheep.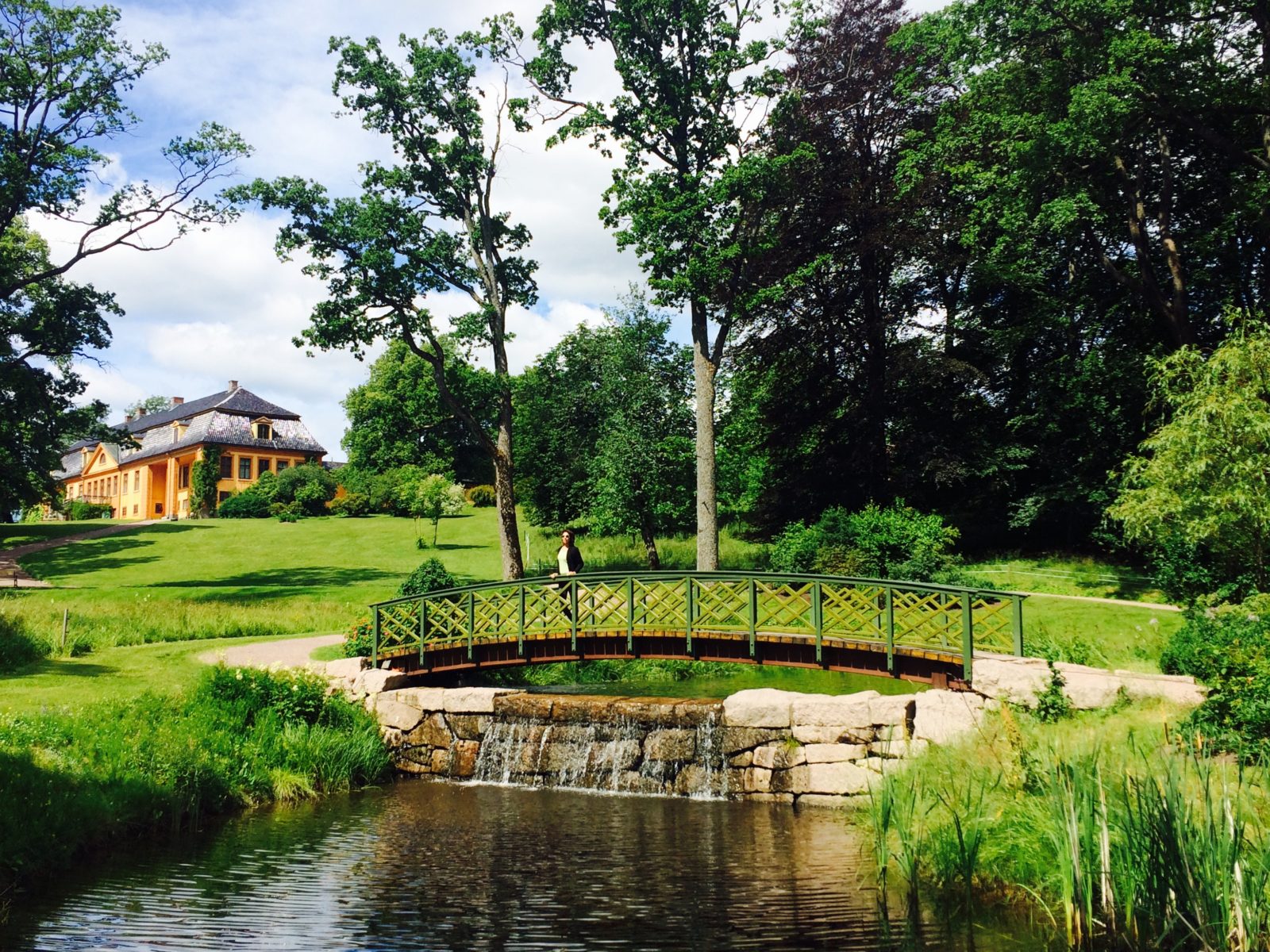 Akershus Fortress: Very close to the city centre. The fortress is old and a pleasure to visit for architecture lovers.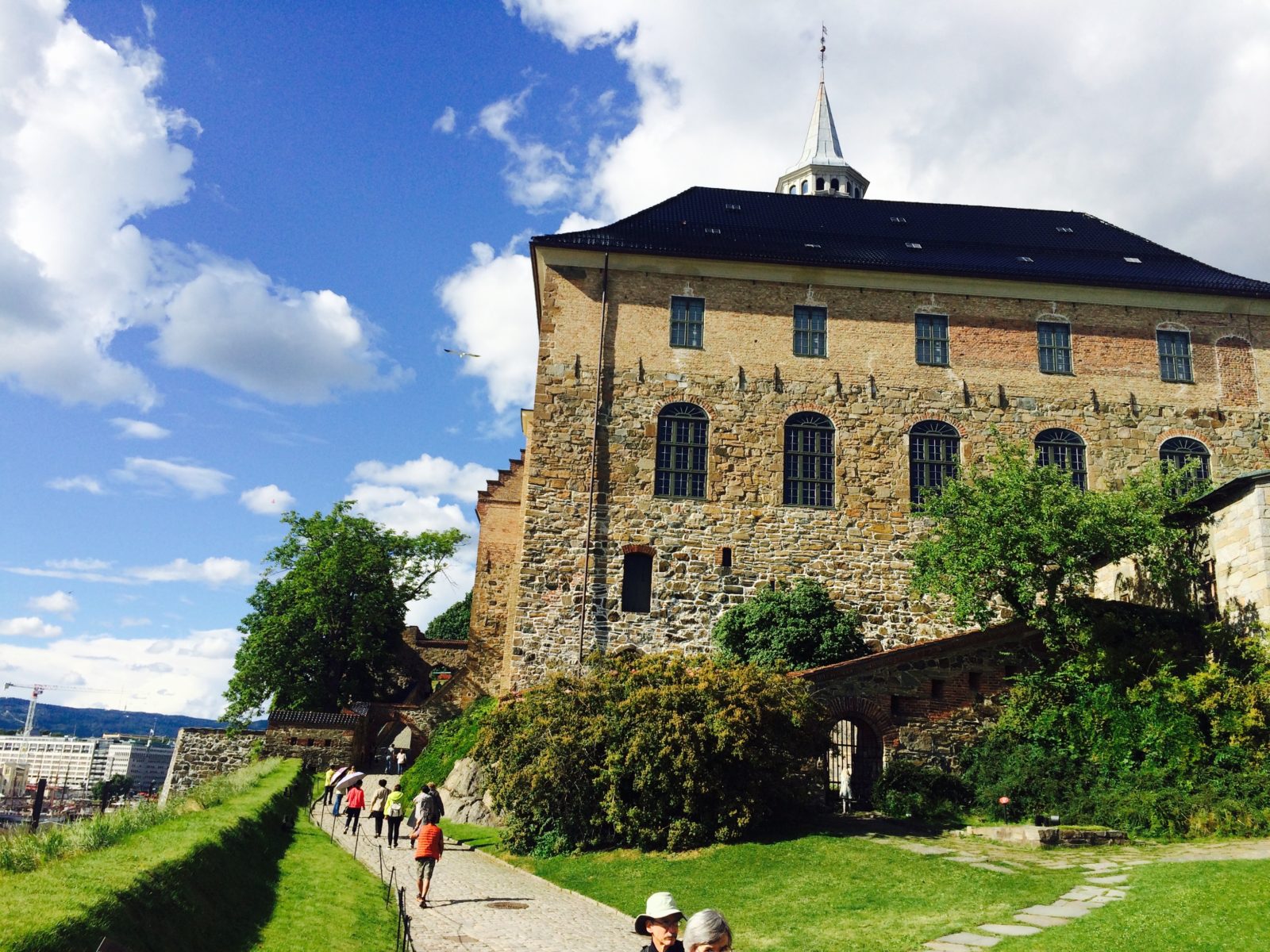 Day 2: Train/drive to Flåm
From Oslo, we both decided to take our own journeys. Mohit wanted to do the Trolltunga Hike however I wasn't confident of myself so I took the train from Oslo – Myrdal – Flåm and we decided to meet in Flåm eventually. The train journey from Oslo – Myrdal was absolutely stunning (the latter half). It took approx. 4.5 hours for the journey (I decided to change trains and head to Flam from Myrdal, most people would take this journey all the way to Bergen).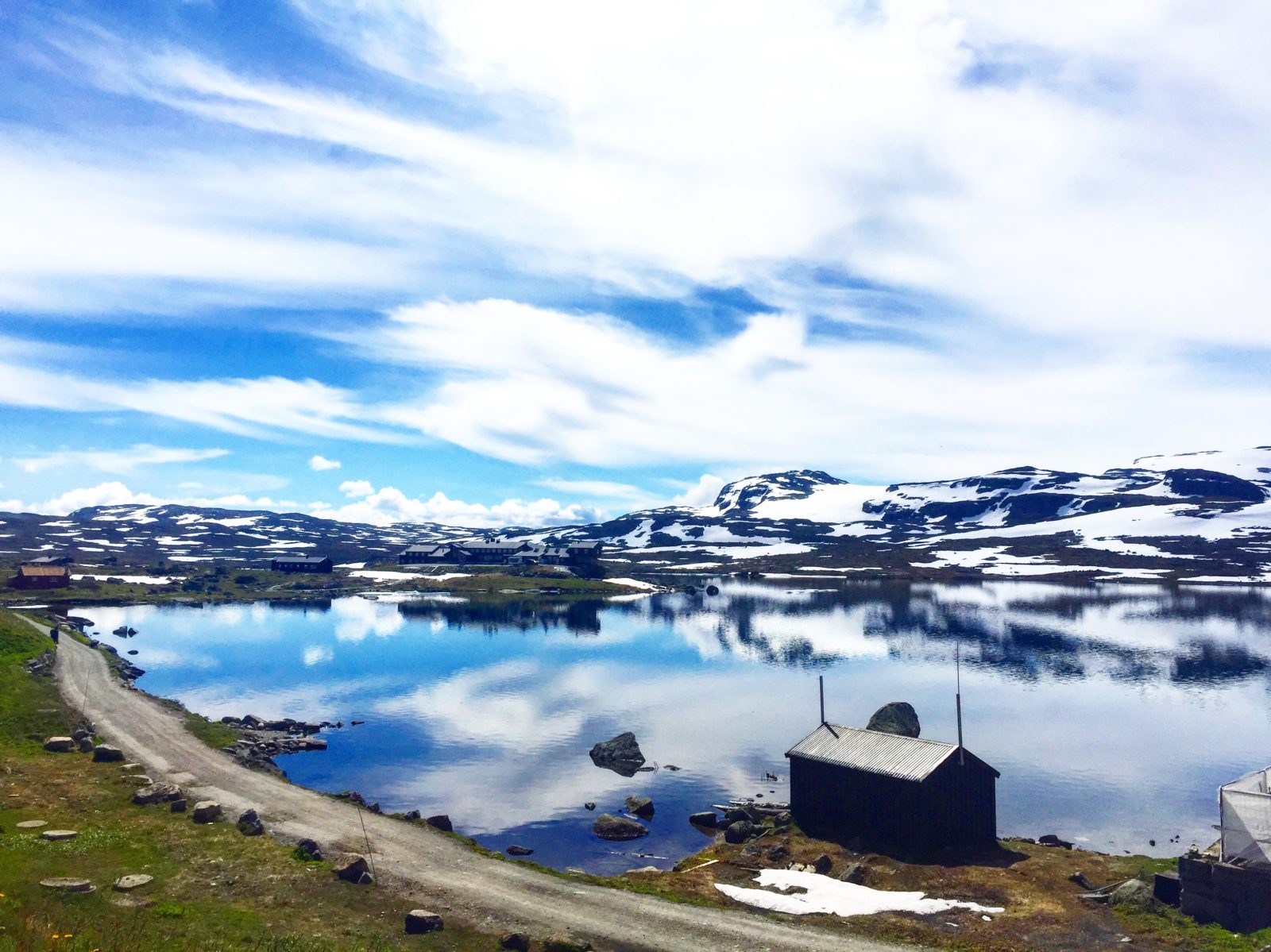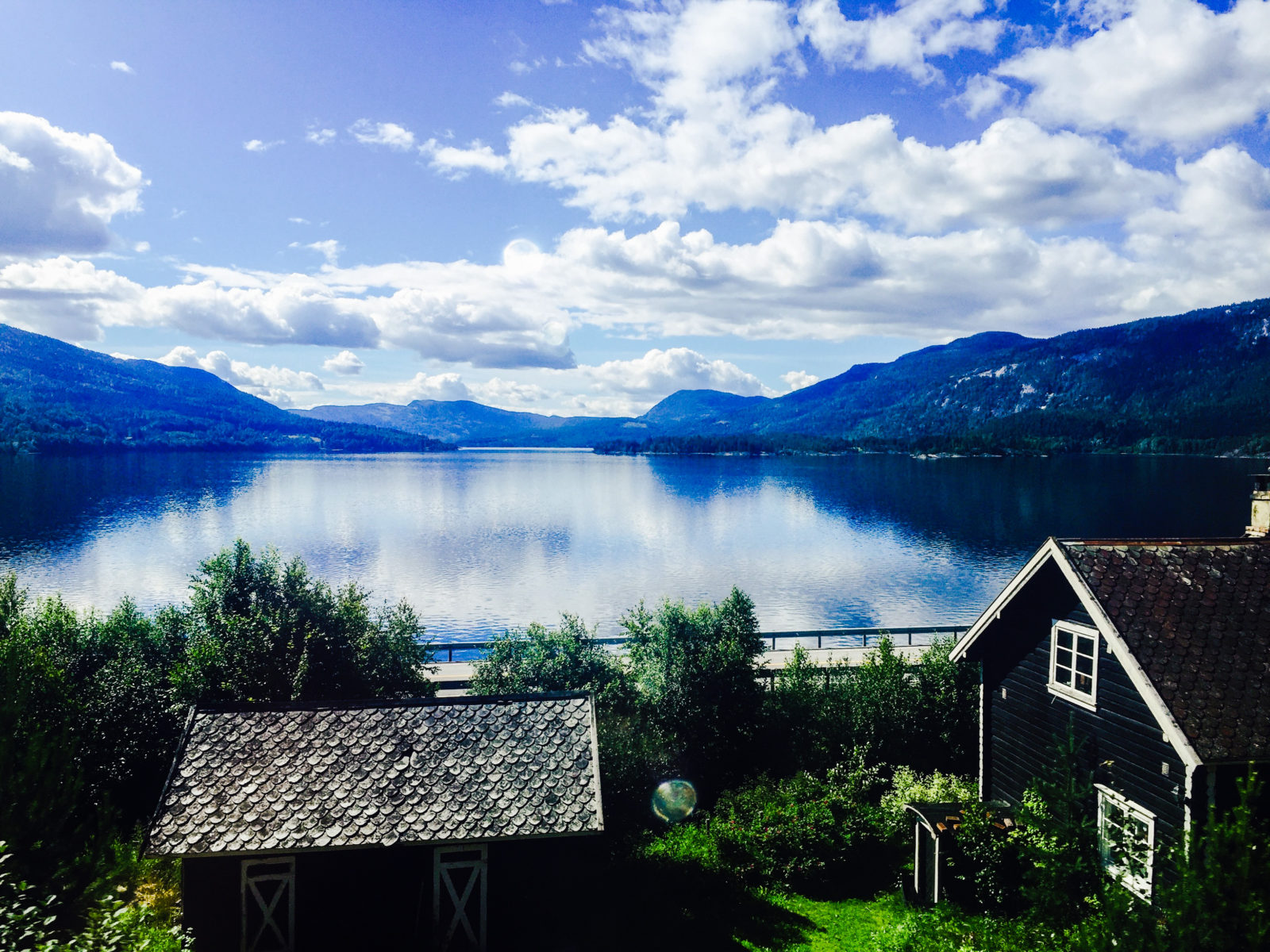 Flåm city centre is very small with hardly 3-4 cafes, restaurants and a few shops. I would not suggest you spend a day here. The only reason for our detour was to take Norway in a Nutshell Tour from here (which can alternatively also be taken from Bergen). The tour included a trip on the Flam Railway from Flåm to Myrdal, a trip on the Bergen Railway from Myrdal to Voss, a bus trip from Voss to Gudvangen and a fjord cruise from Gudvangen to Flåm.
I would NOT suggest Norway in a Nutshell Tour to people who have rented cars; only take the Fjord Cruise from Flåm – Gudvangen (or vice versa). However, if you are not driving around in Norway and have taken the train from Oslo to Bergen, this tour is a good idea.
You can book your Norway in a Nutshell Tour here.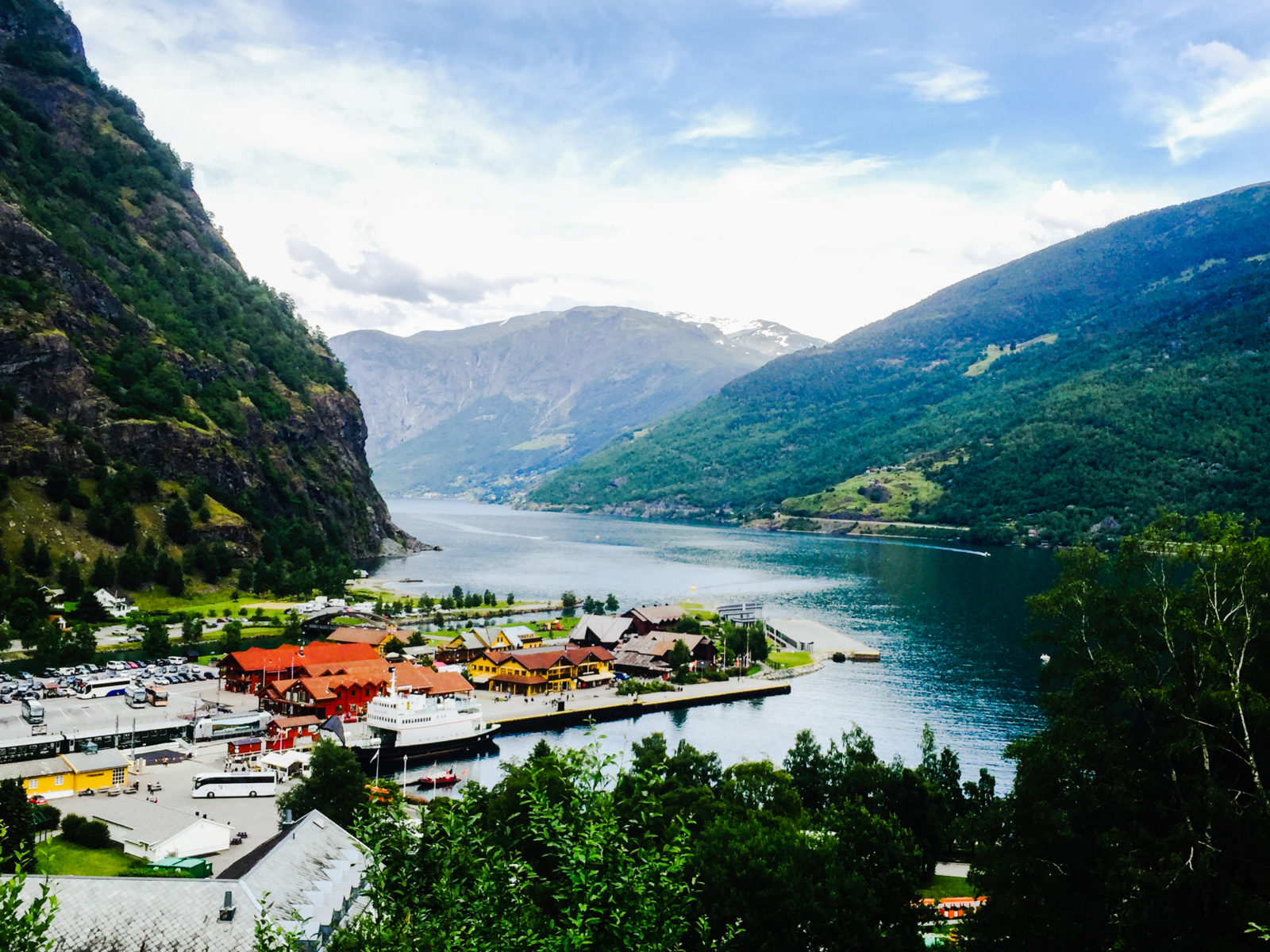 Recommended to visit:
Fjord Cruise from Flåm to Gudvangen: This 2-hour cruise on a ferry is a good way to experience the fjords. Amidst tall mountains, small villages and green-blue waters, you must take this tour irrespective of the weather.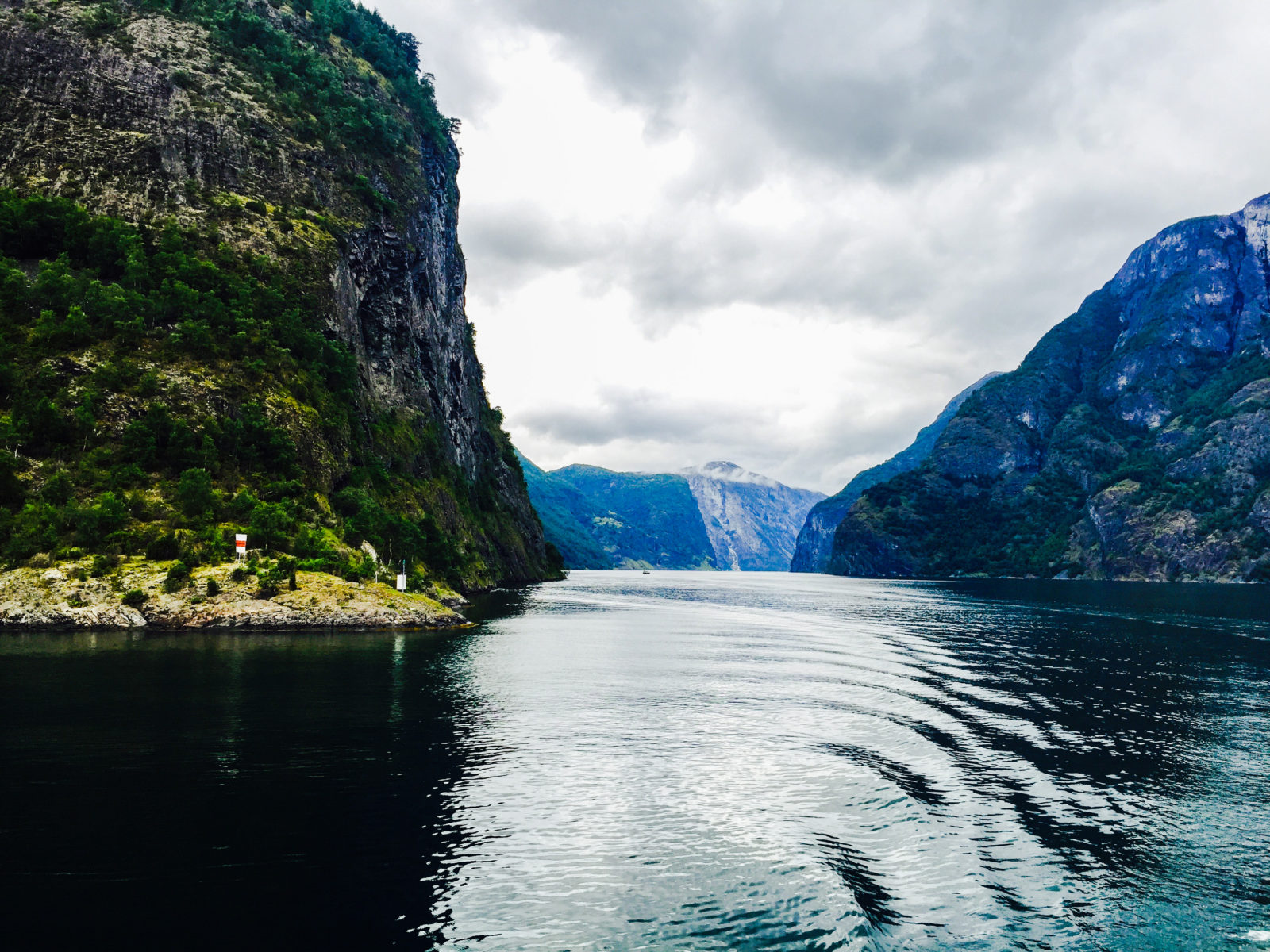 Stegastein View Point: If time allows, take a return bus trip to this viewpoint which is in Aurland, about 40 min drive from Flåm city centre.
Brekkefosen Waterfall: A medium difficulty trek to a waterfall, which takes about 3 – 4 hours return trip, depending on your fitness and ability. We had decided to do it as per initial plan, but didn't find the time so skipped it.
Day 3 & 4: Bergen
Although a bit overrated, it is one of the few crowded cities we went to; and the last one before heading into absolute remoteness. The seafood street market (fish market) was great for seafood lovers, right in the city centre: a good place to try sea delicacies such as whale meat, monkfish, halibut. The city is lively with a great nightlife.
Recommended to visit:
City centre and its vibrantly coloured wooden houses, next to the wharf
Fish market in the city centre, particularly for seafood lovers
Fantoft stave church
Ulriken cable car for fantastic views of the city from the top and some interesting hikes
Fløyen funicular
For hiking enthusiasts, it is considered a very 'local' experience to try the 15-km (red level) Vidden hike from Ulriken to Fløyen. In good weather, a lot of people would take the cable car to Ulriken, hike to Fløyen and then take the funicular down. Although we started the hike from Ulriken, the weather began to deteriorate after 2-3 kms so we planned to return rather than continue the hike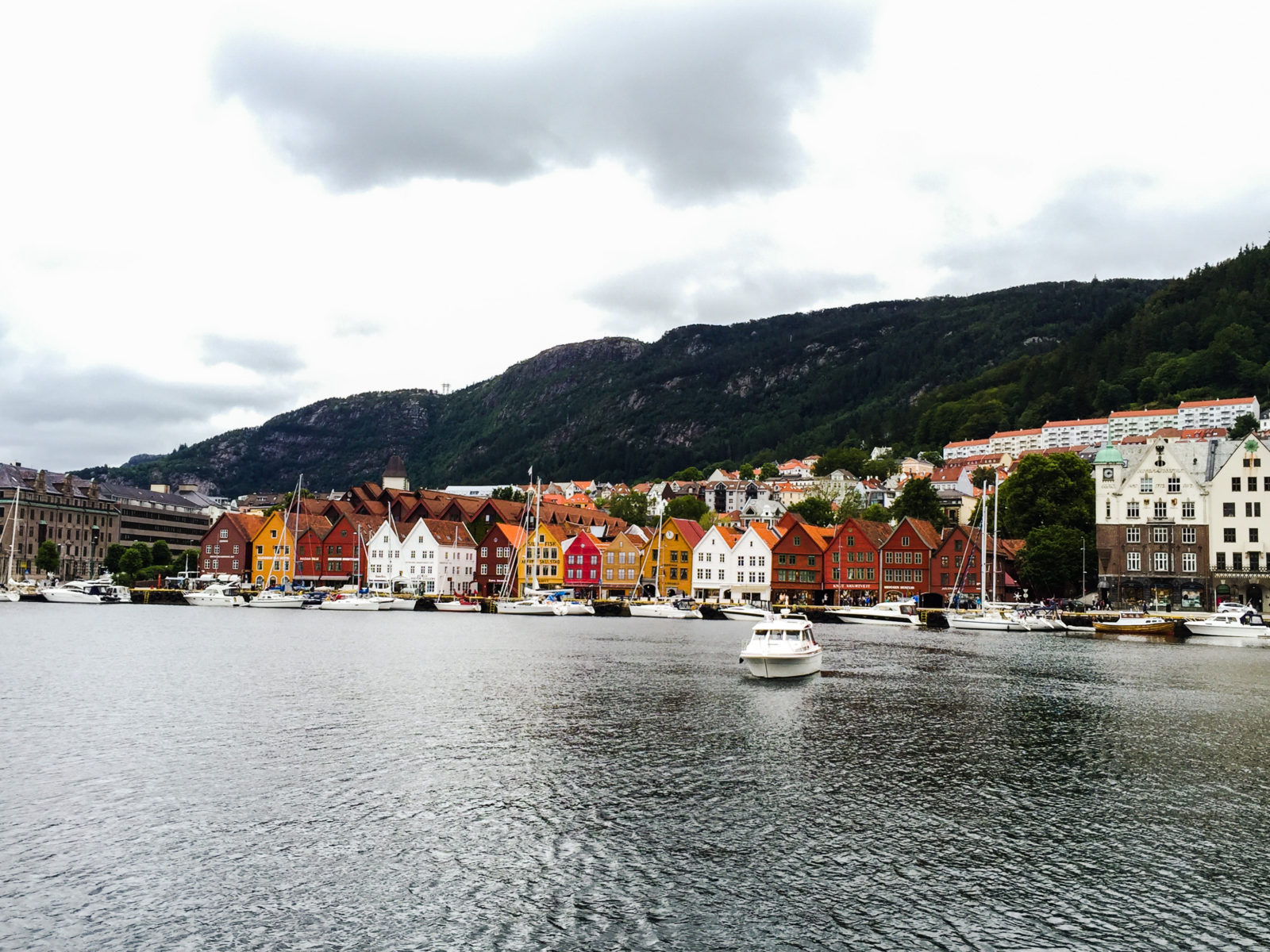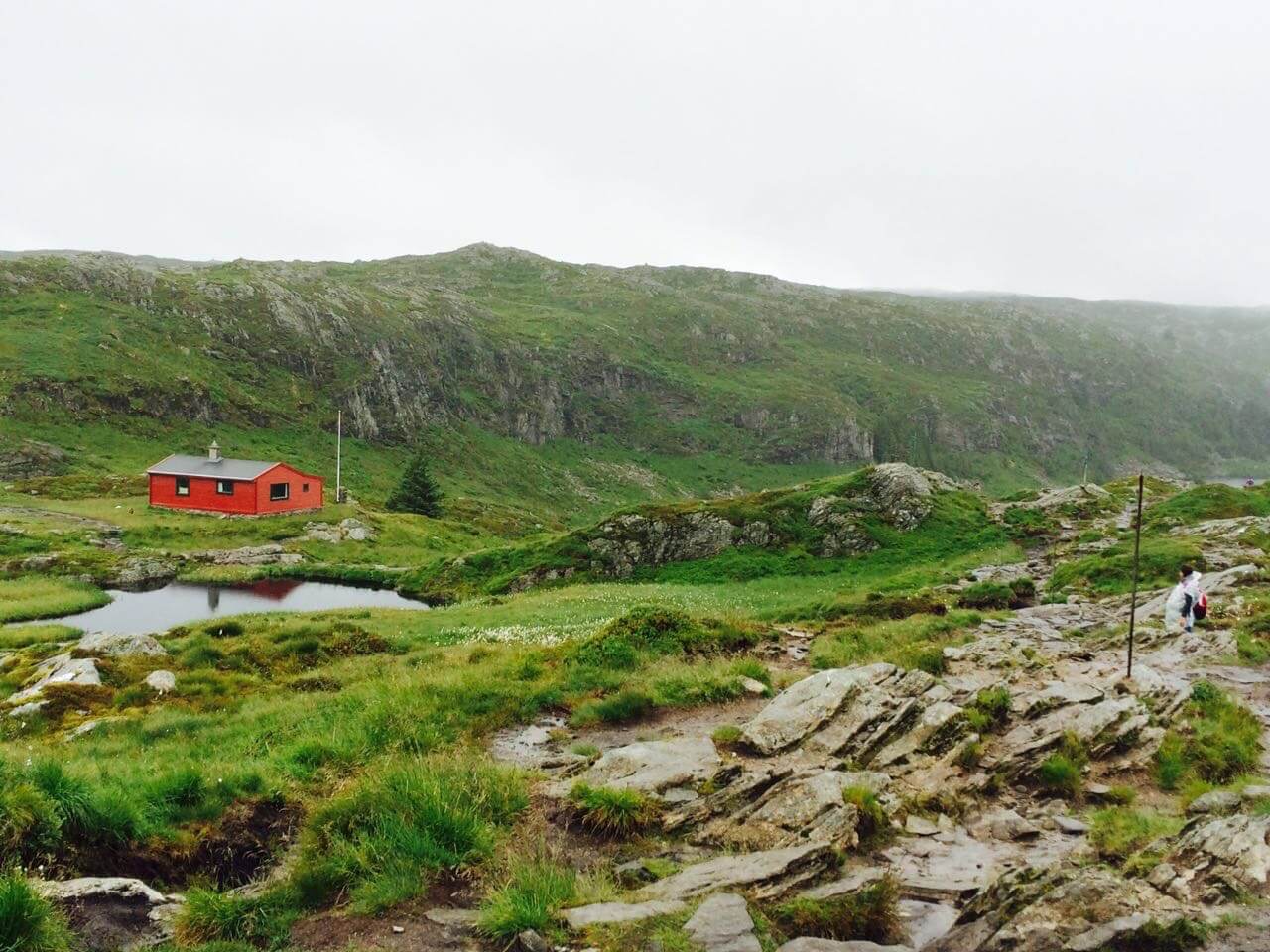 Day 5: Balestrand
We stopped at Balestrand for one night only because the drive from Bergen to Jotunheim would have been too long for one day. A very small town but extremely picturesque, on the most popular Norwegian fjord (Sognefjord), Balestrand is about 4-5 hours drive from Bergen. We stayed in a little village called Dragsvik which is about 10 kms away from Balestrand- very remote but extremely beautiful and peaceful. This was also a convenient option as our drive towards Jotunheim was to start from the ferry point in Dragsvik itself.
Recommended to visit:
Our recommendations are for places onward from Balestrand as there aren't many places to visit in the town itself.
Sognefjellet road: a very scenic road, this is the name given to Rv 55 that runs from Balestrand to Lom (about 200 kms). Although the entire drive is beautiful, the road begins to get extremely gorgeous passing through snow and blue lakes after Skjolden. Keep enough time during the day to take this pretty drive as you will be stopping every few miles to take pictures!
Solvorn: about 1.5 hours away from Balestrand and a short (downhill) detour from the Rv 55 road, Solvorn is a very small picturesque and photo-friendly village on emerald green waters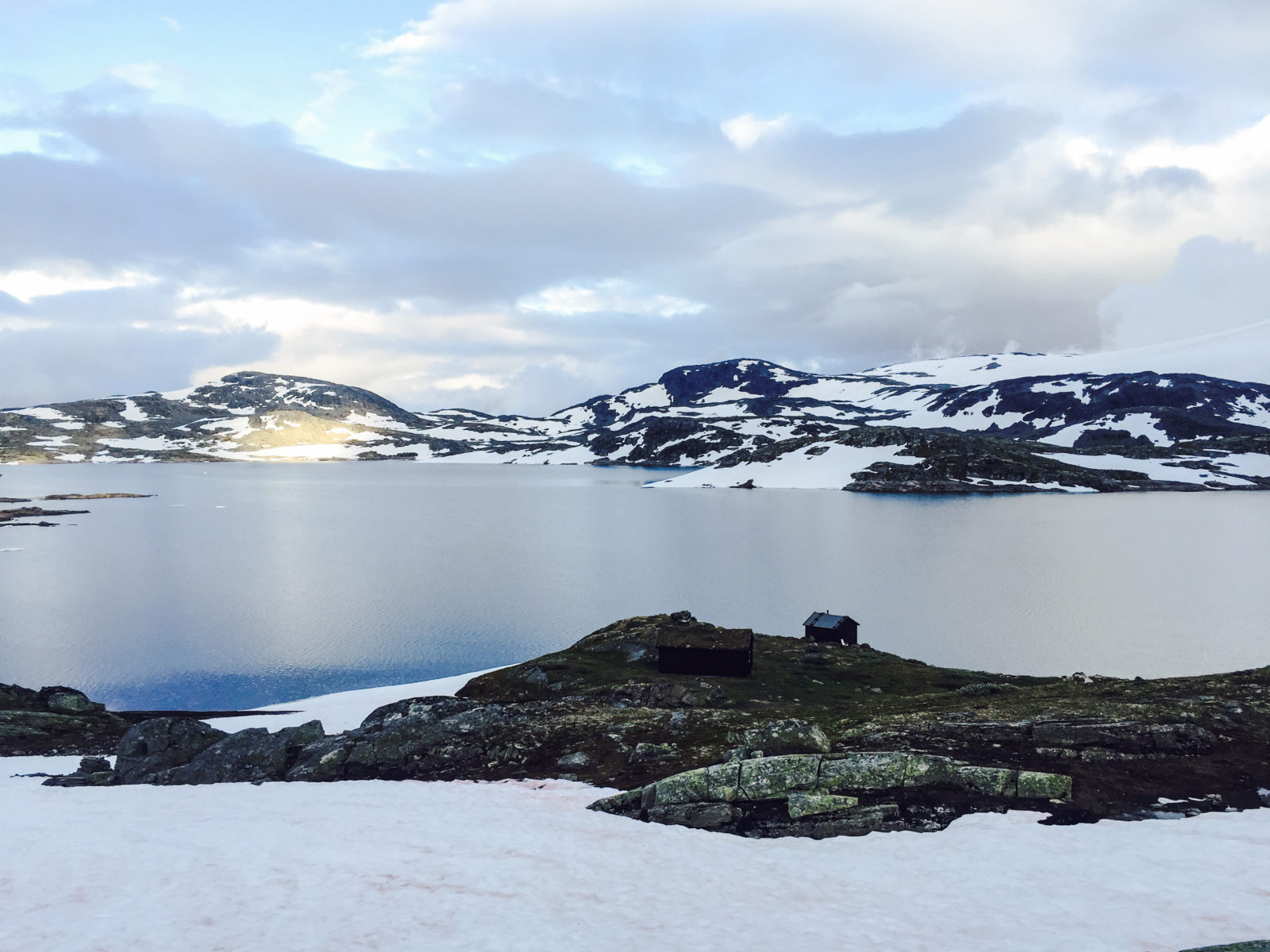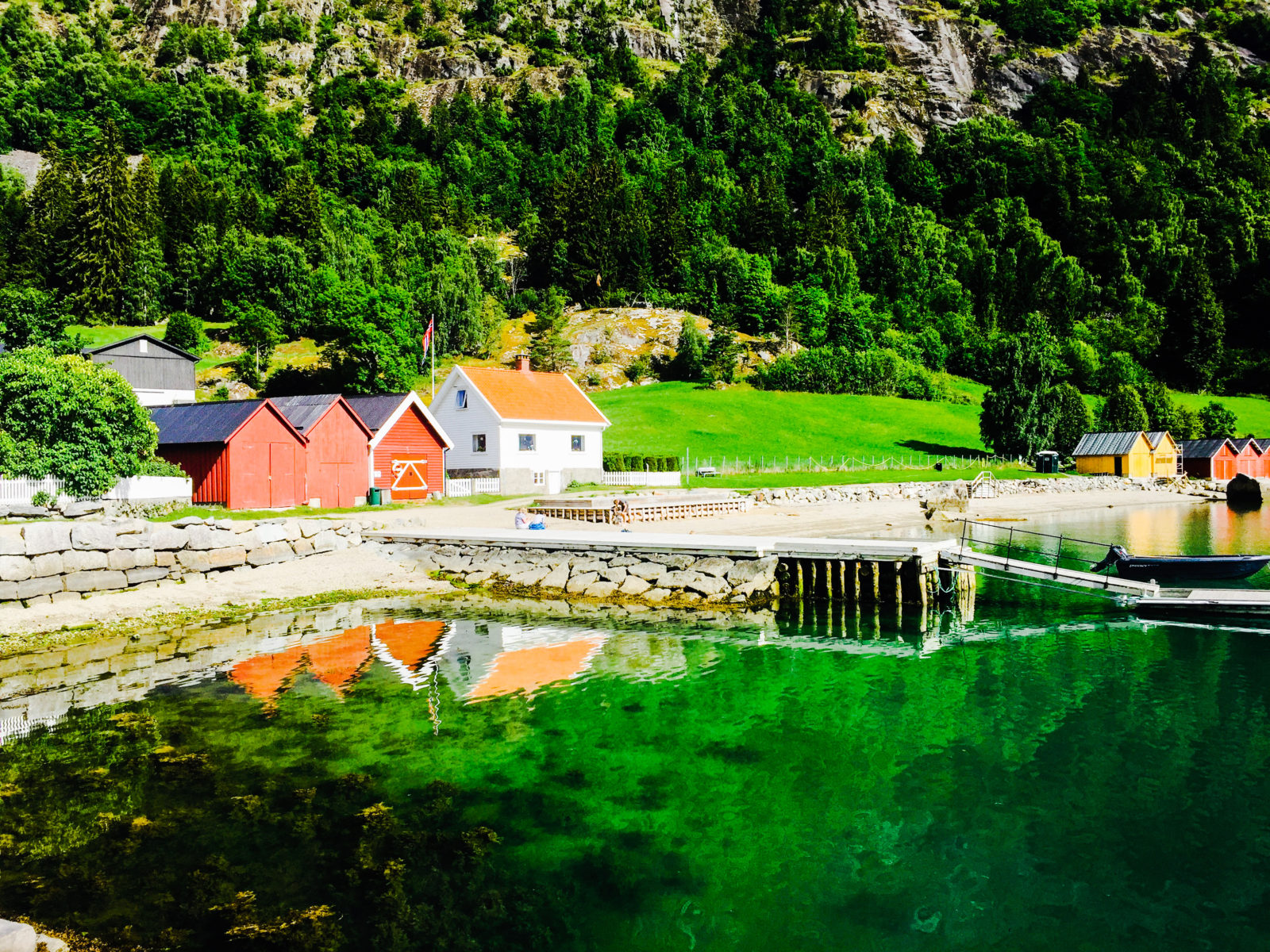 Nigardsbreen Glacier: 2.5 hours drive from Balestrand, the impressive glacier comes down the valley into a sparkling blue lake and many companies organize glacier walks on the blue ice, a superb experience we highly recommend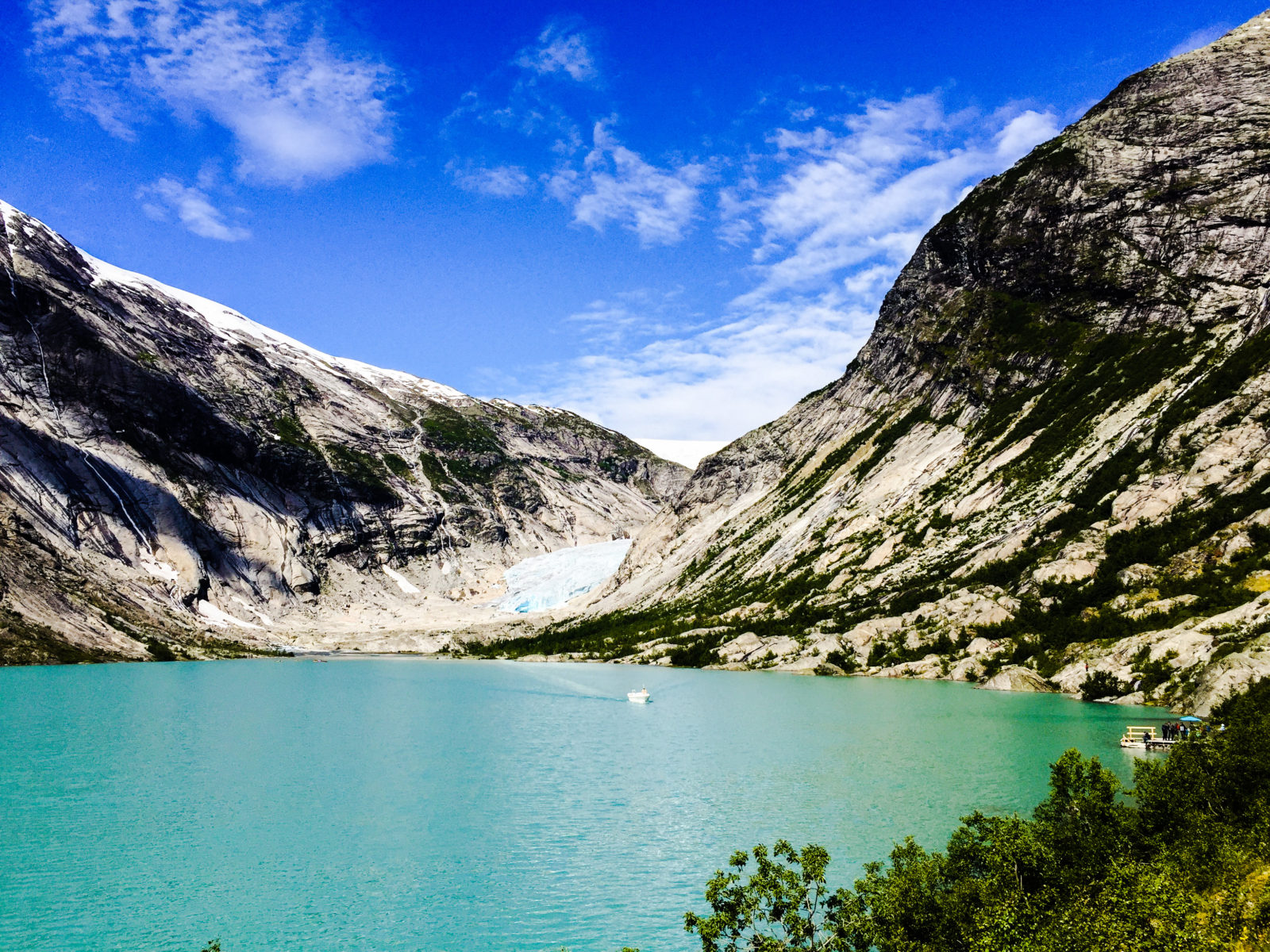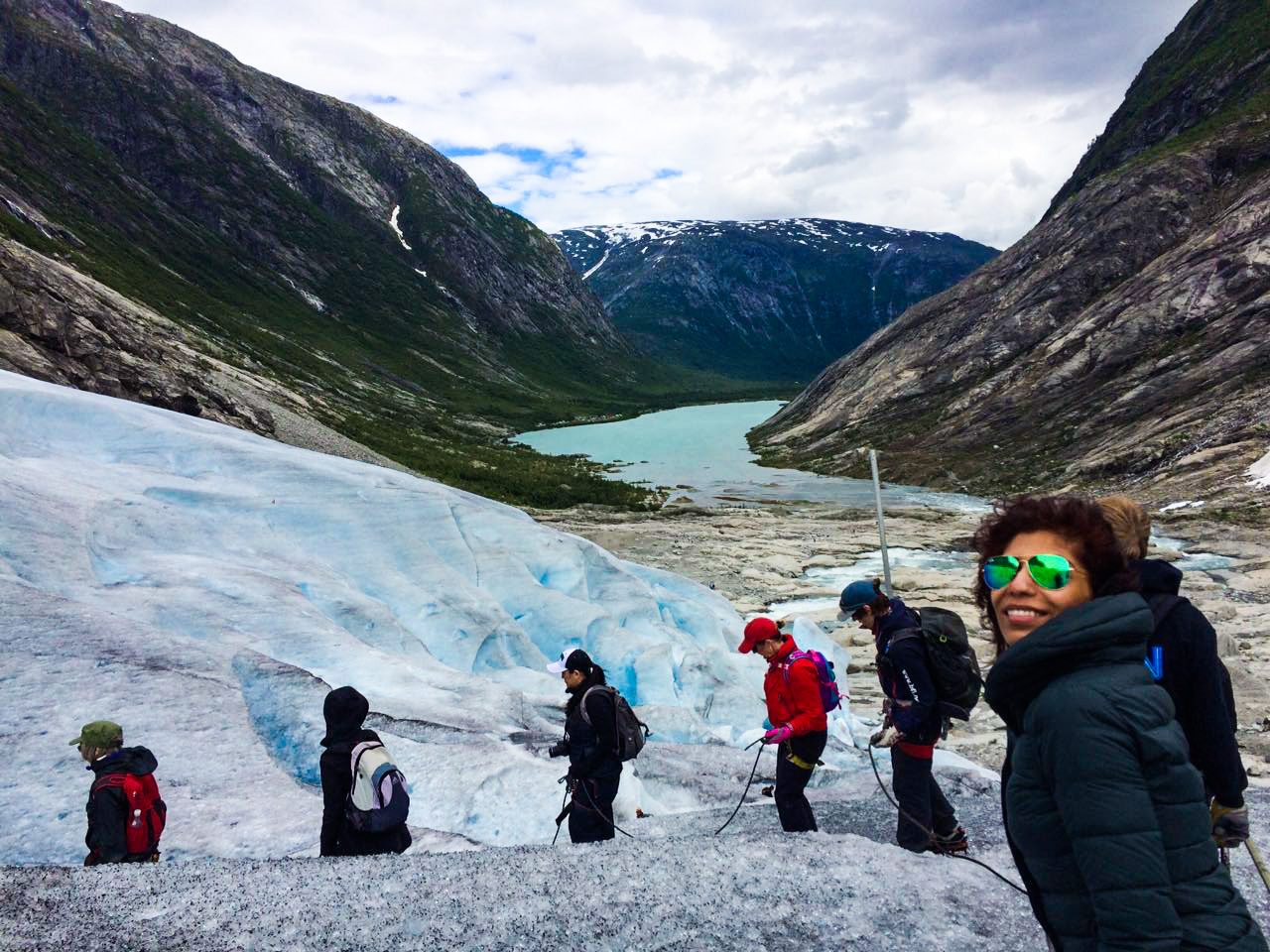 Skjolden: another little village on the Rv 55 road located at the end of a beautiful green water lake; stopover at the Skolden Hotel Lustre's terrace for a meal/drinks to enjoy the gorgeous views
Lom stave church: at the end of the Sognefjellet road, this stave church is not much of a detour from the Rv 55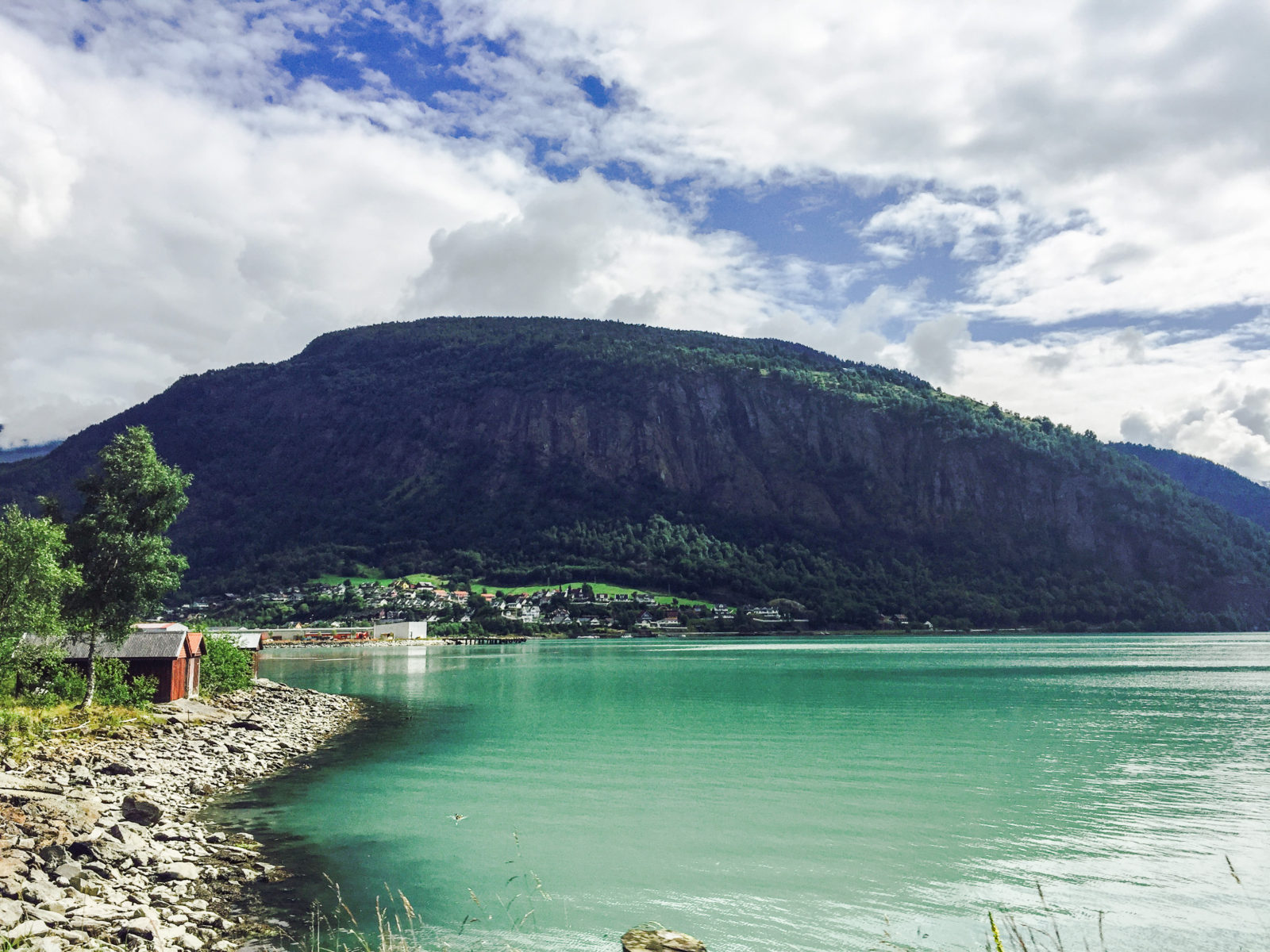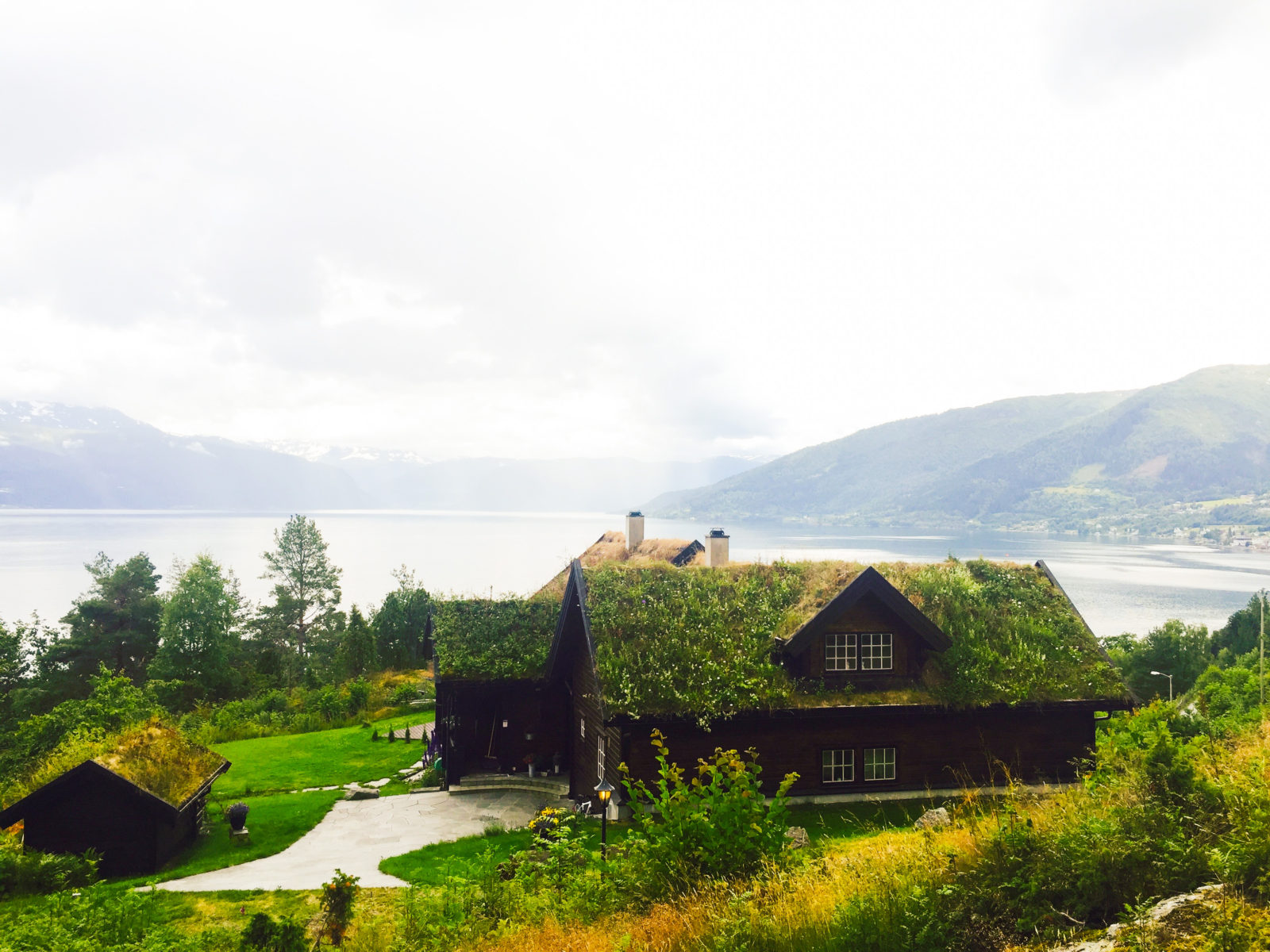 Day 6 & 7: Jotunheim National Park
Although there is a lot to do and see in this national park, our main reason for visiting was the iconic Bessegen Hike.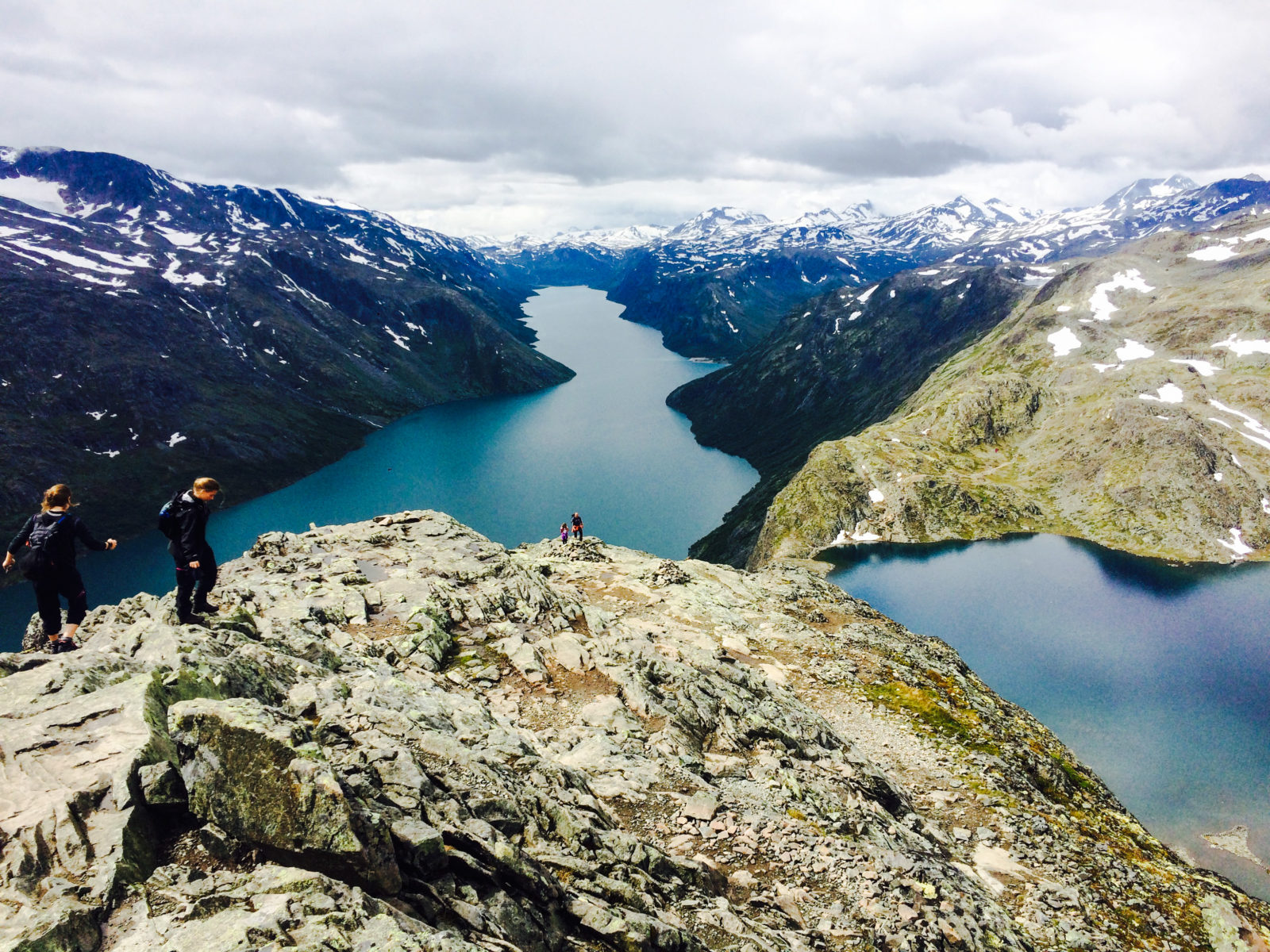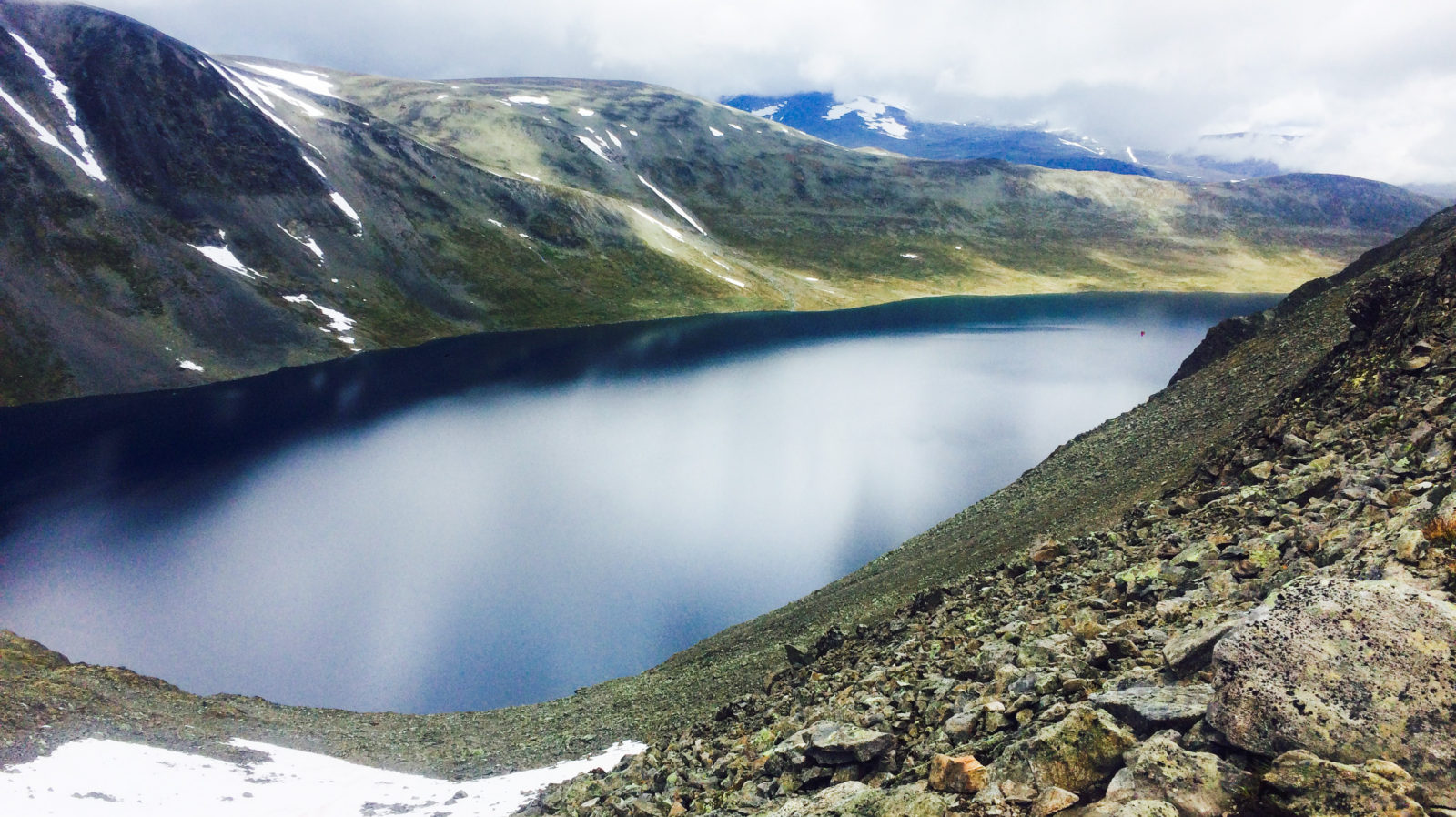 For those not looking to attempt the extremely tough hike, you may try the simpler one around the Gjende Lake. Be warned: although this one is not as tough as the Bessegen hike, you need to be in a reasonably good shape to attempt it! It's a medium toughness hike that starts from Gjendesheim and goes around the beautiful long green lake towards Memrubu (about 8 – 10 kms). For people who are reasonably fit, it takes about 3.5-4 hours but has some pretty amazing views to offer!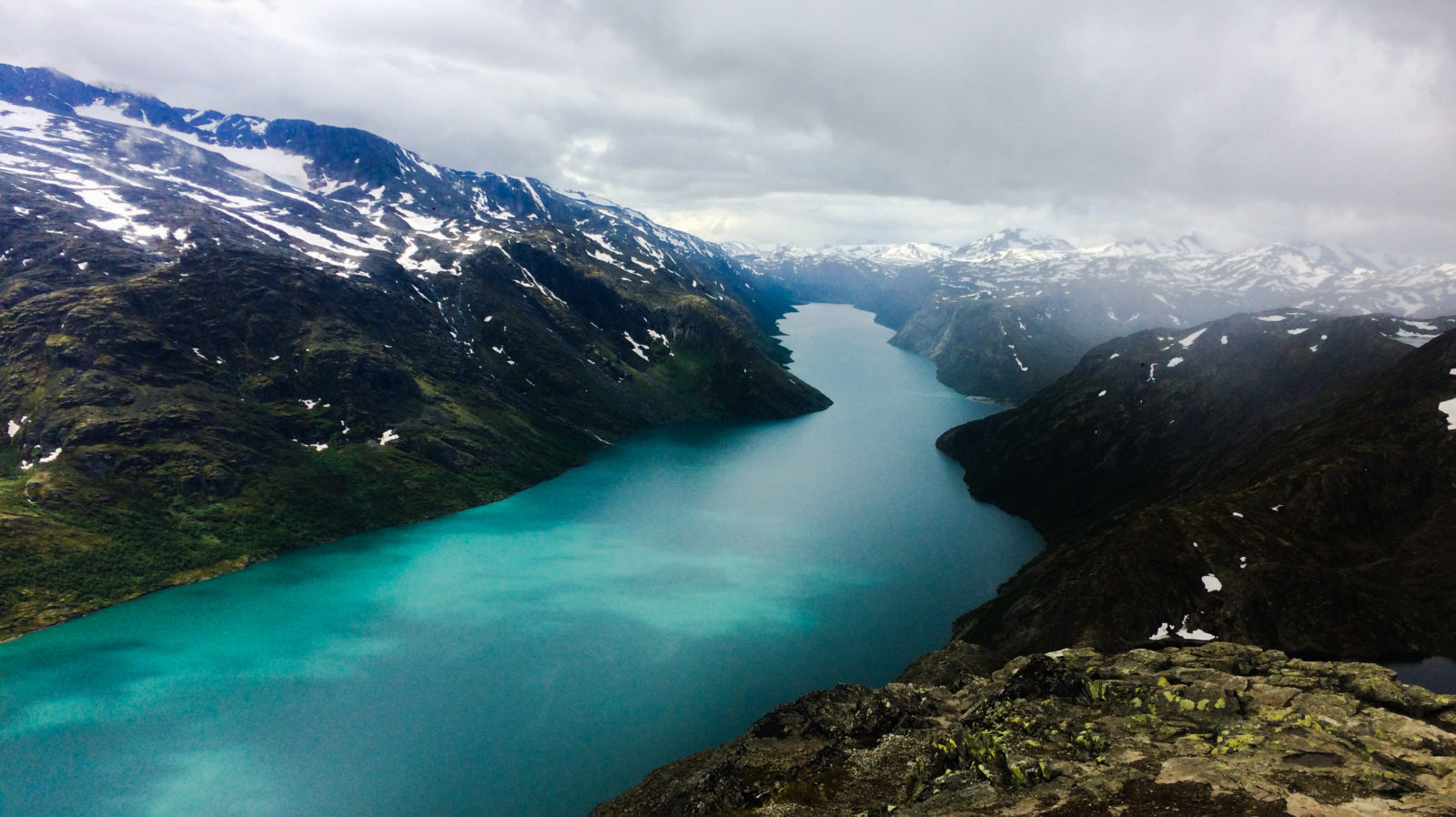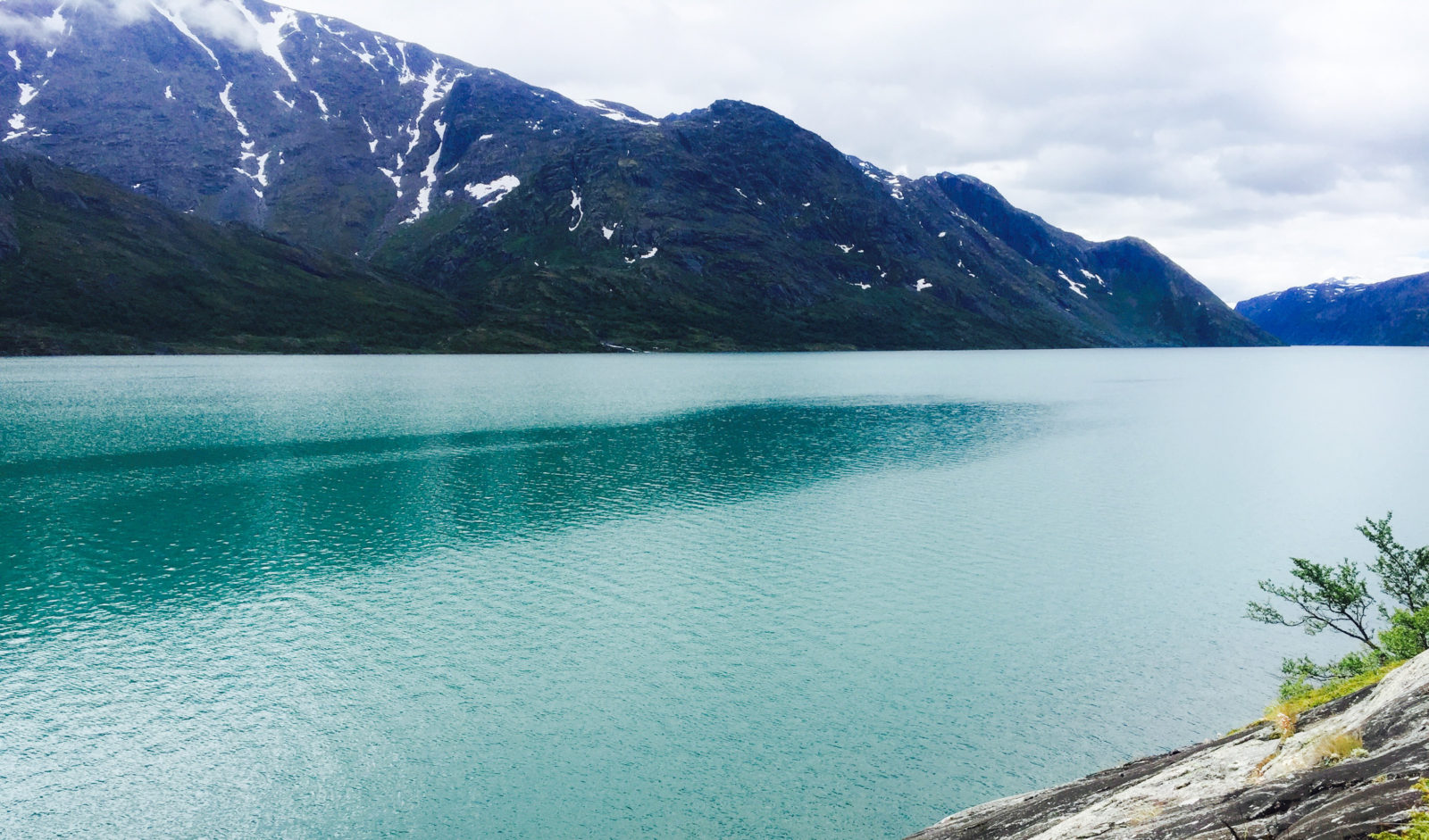 Be sure to make it to Memrubu before the last boat leaves at 4.30 pm (in the summer) or else you might have to hike the entire way back or worse, stay at Memrubu for the night. A better idea would be to take a boat to Memrubu first and then do the hike back from Memrubu to Gjendesheim so that you can do the hike in leisure and have enough time to stop for pictures.
Day 8: Olden
We decided to break our journey from Jotunheim National Park to Geiranger with a stopover at Olden. It is no doubt one of the prettiest villages we saw in Norway. The Oldevatnet Lake was arguably one of the most beautiful lakes we have ever seen, despite the heavy cloud cover that refused to leave until we were there. Although the town itself doesn't have much to offer in terms of things to do, cafes and restaurants, you must visit this little village for some amazing natural beauty and the Oldevatnet and Lovatnet lakes.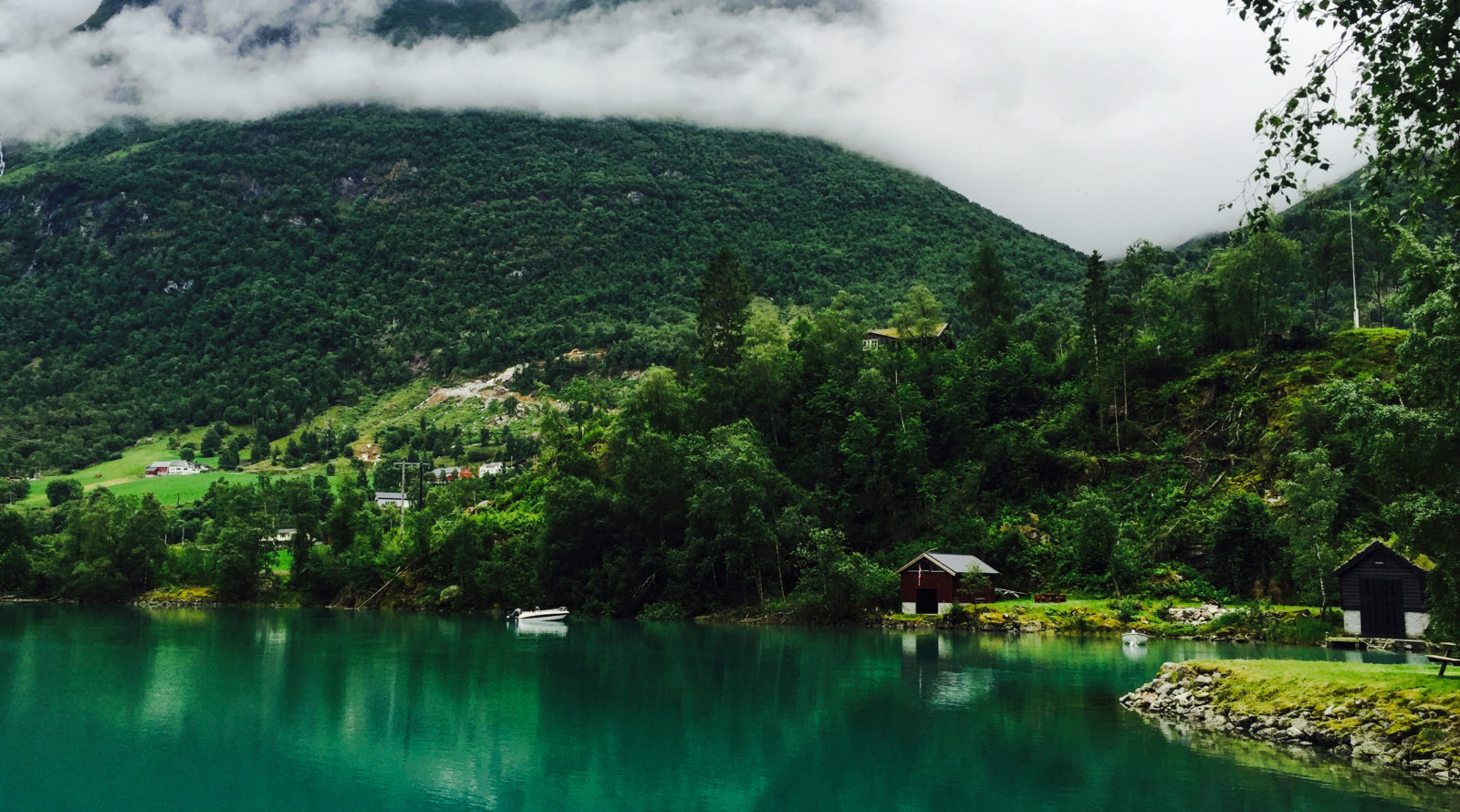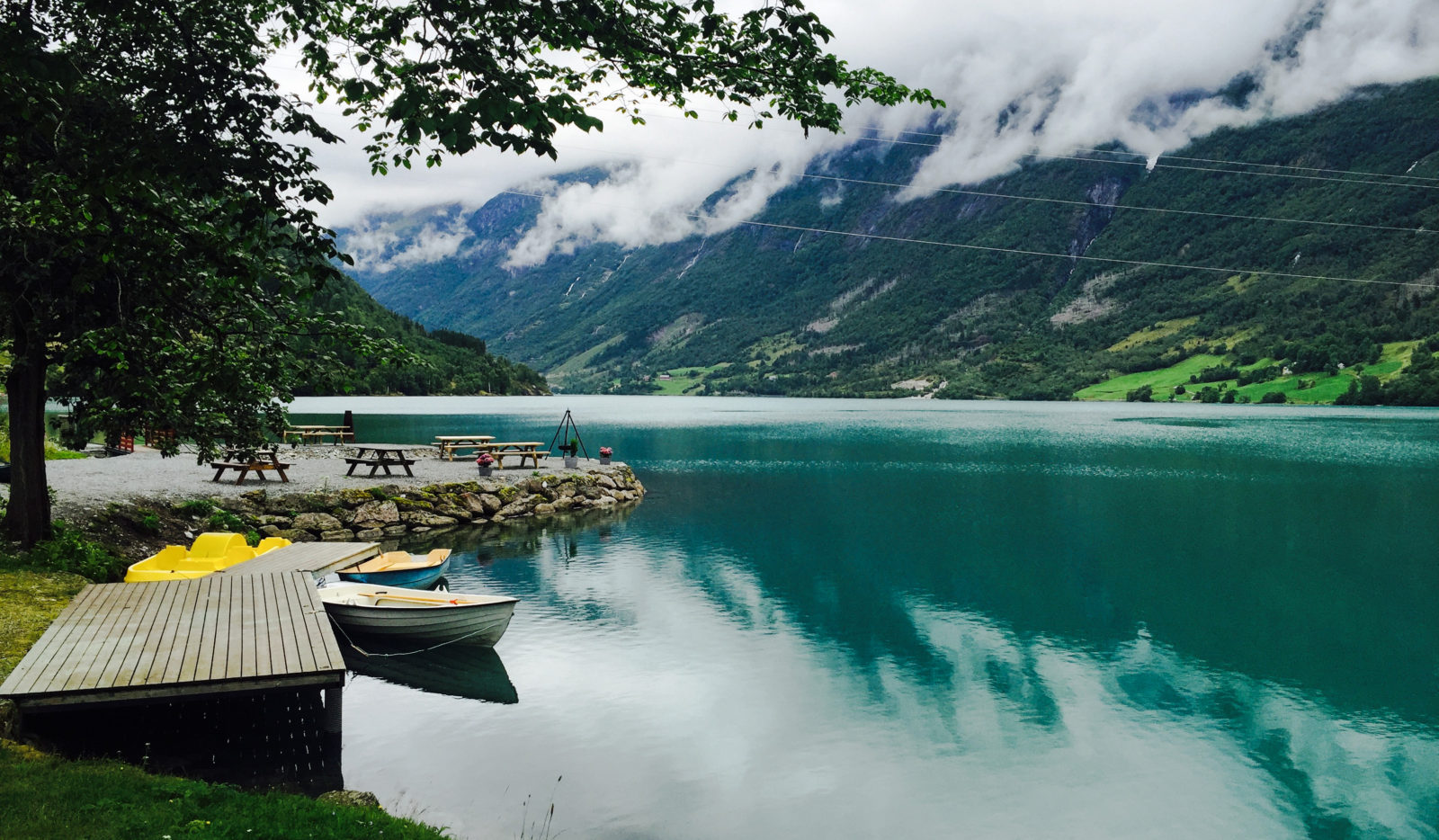 Recommended to visit:
Oldevatn camping site: absolute bliss! Situated right on the strikingly green and crystal clear Oldevatnet Lake, this campsite is purely delightful to stay in.
Lovatnet lake: hardly 20-25 min drive from the Oldevatn Lake is this another beautiful and peaceful lake; get ready for some breathtaking pictures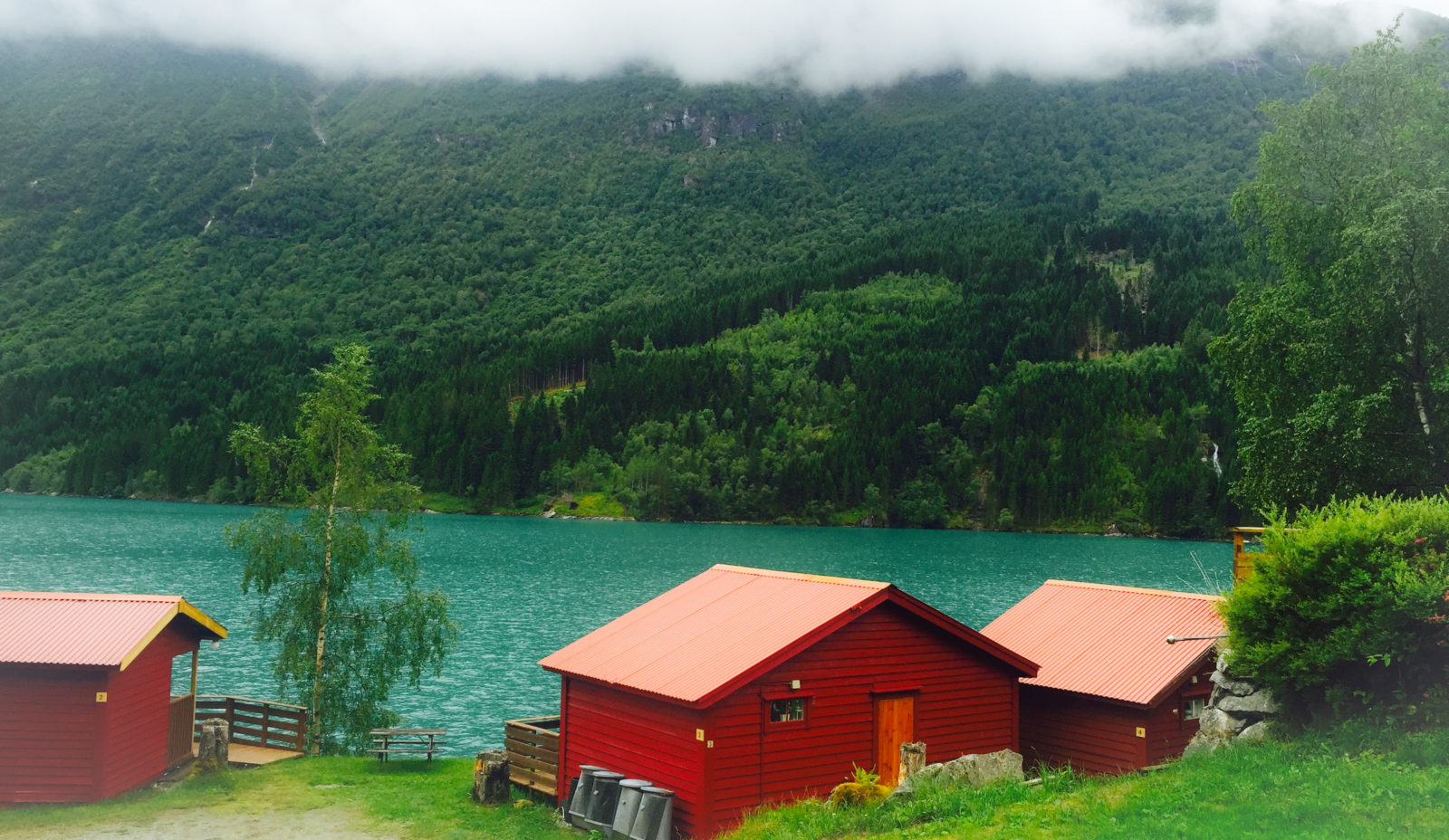 Day 9: Geiranger
We had heard a lot about this UNESCO protected area so we planned to visit it and spend a night amongst these humongous mountains and waterfalls. Although we were unlucky with the weather, the clouds laying low and not a speck of sunshine to be seen, the beauty of this place was in no way diminished by this. A very small town with hardly a few shops and eating joints, Geiranger is crowded because of the cruises that stop here.
Recommended to do:
A drive to the zig-zag Trollstigen mountain road, which is only 30 minutes ahead of Geiranger Fjord area
Hiking up to the famous Seven Sisters Waterfall
Camping on the lakeside, in the valley amidst the towering fjords
Kayaking on the calm waters of the lake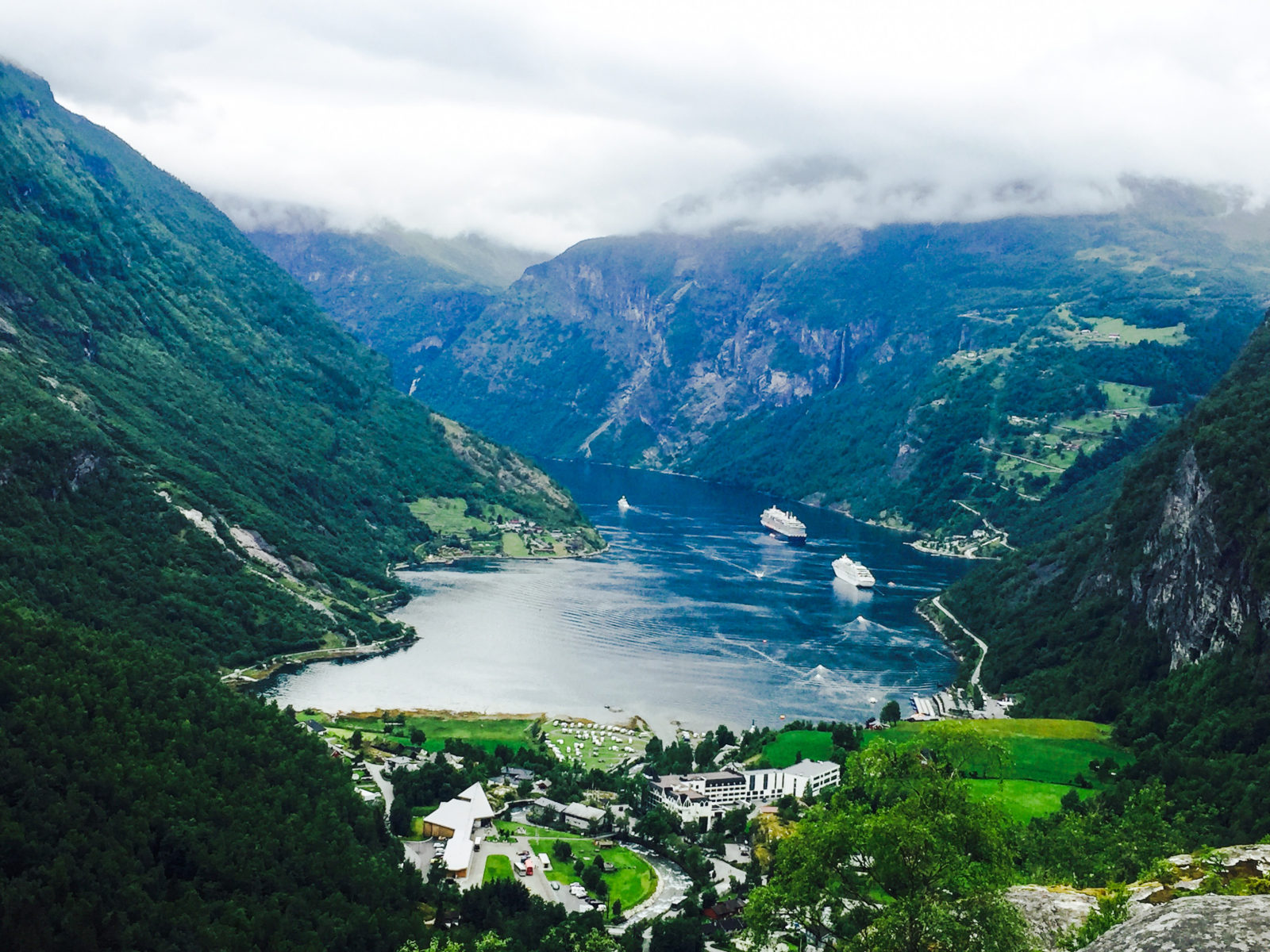 Day 10: Drive back from Geiranger - Oslo
As this is a long 7-hour drive, it takes almost the full day.
Here are a few places we would have loved to visit if we had more time. Given a choice, I urge you to include them in your itinerary.
The Atlantic Ocean Road drive
Lofoten Islands
The Nordkapp
Some Tips for Driving in Norway
Expect a lot of narrow and winding roads, which barely allow two cars to pass by at the same time
Long tunnels are common
Speed limits differ so keep an eye out for when they change while driving
Cameras are usually marked with a warning before you approach, keep an eye out
Exceeding speed limit by more than 30% can lead to your license being seized by police
Fuel is expensive. Petrol costs USD 1.78 / L and diesel USD 1.53 / L (usually fuel is cheaper within the city than in the outskirts)
A lot of towns are not connected by road. In these cases, you will have to ferry yourself and your vehicle across. As this is a common practice, ferries on the common routes or the National Highways are quite frequent through the day
Suggested read: What you need to know BEFORE your trip to Norway