This post follows How to Choose your Island Hopping Tour in Coron part 1.
Coron, a province in Palawan, one of the most visited islands in The Philippines, is home to some of the most untouched islands, clearest waters, rich marine life and rugged nature. I suggest spending about 3-5 days here, exploring secret beaches, hidden lagoons, clear-water lakes, uninhabited islands, shipwrecks under the sea and exotic wildlife. Part 1 of this post talks about the Ultimate Island Hopping Tour (the most recommended one to take in Coron). This post will elaborate on the other Island Hopping Tour in Coron which is highly recommended as well.
Although the Ultimate Island Hopping Tour in Coron is a must-do, with a visit to the iconic Kayangan Lake with its crystal clear waters, if you have another day to spare in this town that has rugged, untouched beauty, you must opt for the Coron Island Escapade Tour.
I was not very sure about taking this tour because the islands that you visit on this one are about 1.5 hours of ferry ride away from the town. Just the journey itself sounded like it would be painful, considering that the temperatures were a harsh 30 degrees C and the seas were a little rough on the day. However, when I realised that there really wasn't much else to do on Busuanga Island itself, I wasn't left with much choice.
I am so glad I went on this tour in Coron because the 3 islands we visited were some of the most scenic ones I have seen in my life! Once again, I would like to remind you to carry your sunblocks, hats, water bags, swimwear, water shoes and sunglasses because you'll have ample opportunity to soak up the sun and most of the times, the ferry drops you in the water, a little away from the shore.
---
Coron Island Escapade Tour - A Remote Islands Tour in Coron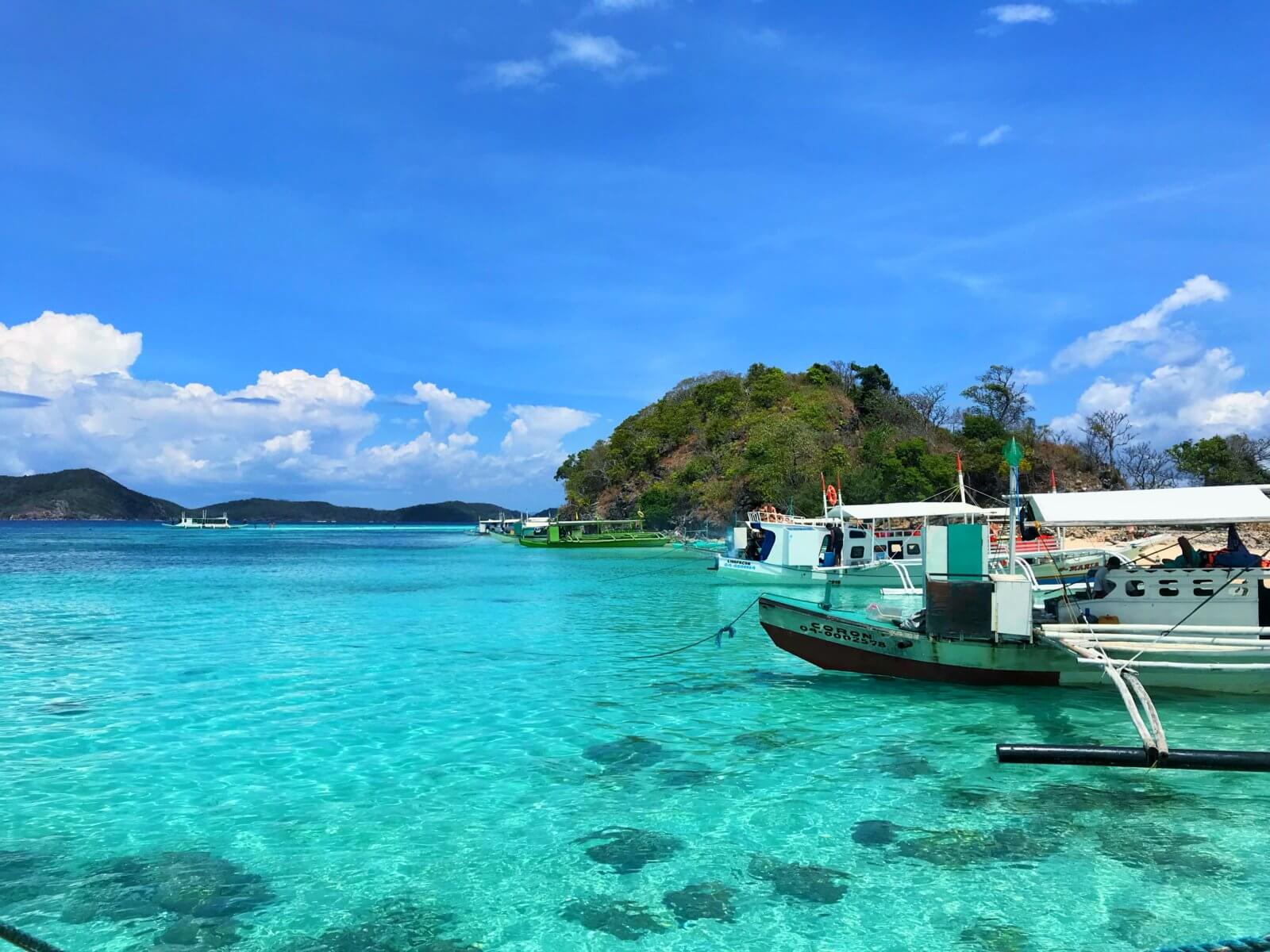 It might have different names depending on the tour operator that you buy it from, but most tour operators will be running this one; it covers three islands: Bulog Dos Island, Banana Island and Malcapuya Island.
The ferries leave the pier at 9 am, lunch will be served on board or on one of the islands (we had ours at Banana Island) and although the islands are about 10 minutes away from each other, the journey from the town to the islands (and back) is for 1.5 hours. There are no restaurants or bars on any of the islands. At best, you'll find a little stall selling fresh coconut juice and some chips. So make sure you carry your beverages and snacks with you if you like to drink and munch on food, like me!
I paid ₱ 1,200 for this tour.
---
Bulog Dos Island
The immaculate white sands, green waters, brown rocks and a long sandbar are what make Bulog Dos, a remote island that has absolutely nothing on it, stunningly beautiful! Colourful marine life will swim right next to you on the shores and a short climb up the small cliff to the top offers magical views of the private island across and the stretch of crystal clear waters. There are no beach shacks, snacking bars, huts, resting areas or anything of that sort on this island. It is quite small and can be just walked across from one end to the other. There is no shade here except under the trees, so be prepared! It is the smallest island of all you'll visit on this trip yet the most beautiful of all.
The ferry stops here for about 1 hour.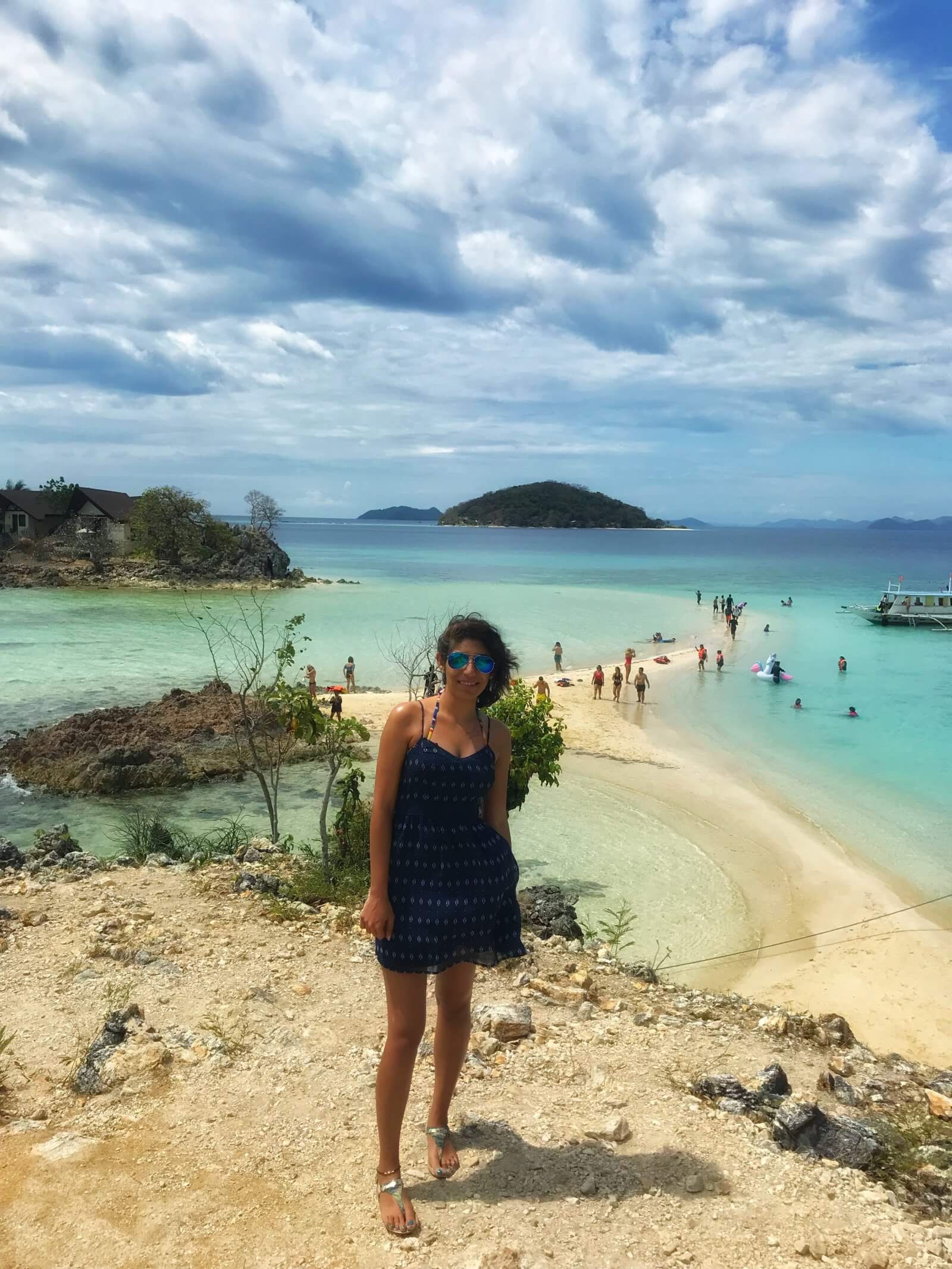 Read about Everything you need to know before visiting Coron.
---
Banana Island
About 10 min by ferry from Bulog Dos Island is yet another remote island called Banana Island. A much larger one, it is also privately owned like Bulog Dos Island but open to the public for a small fee, which is included in your ferry tour price. However, if you plan to rent a private boat and come here, you'd have to make sure that this fee is paid beforehand.
This island has cottages, huts and tables where one can sit and relax as well as eat. This is where we had our lunch. There is a massive beach lined with palm trees, hammocks and kayaks lying on the sand which can be used. This is the only island offering so many facilities, which is probably why it is the one chosen for lunch stops by tour operators. The ferry usually stops here for about 1.5 hours. This is the least pretty of all three islands, though.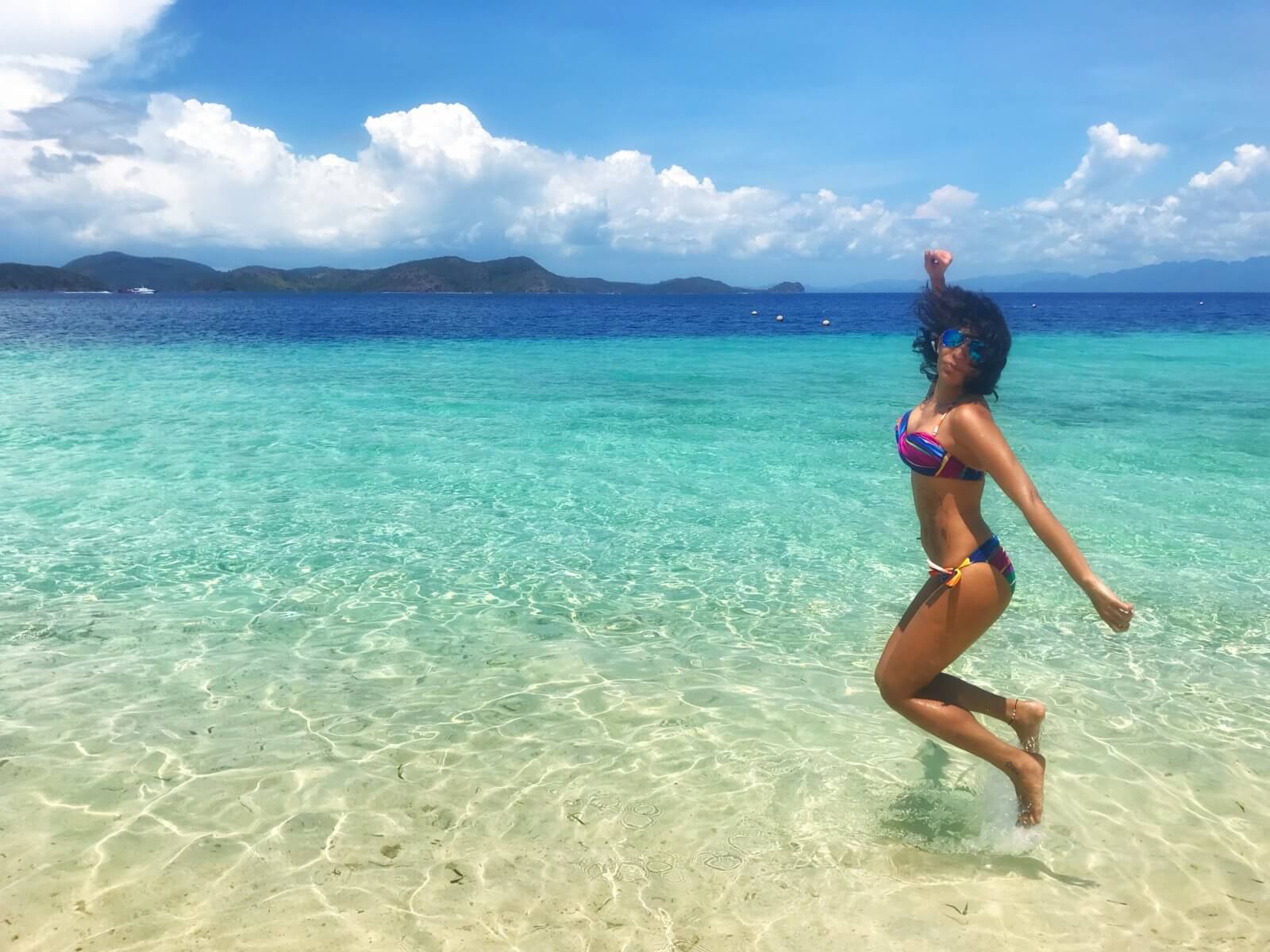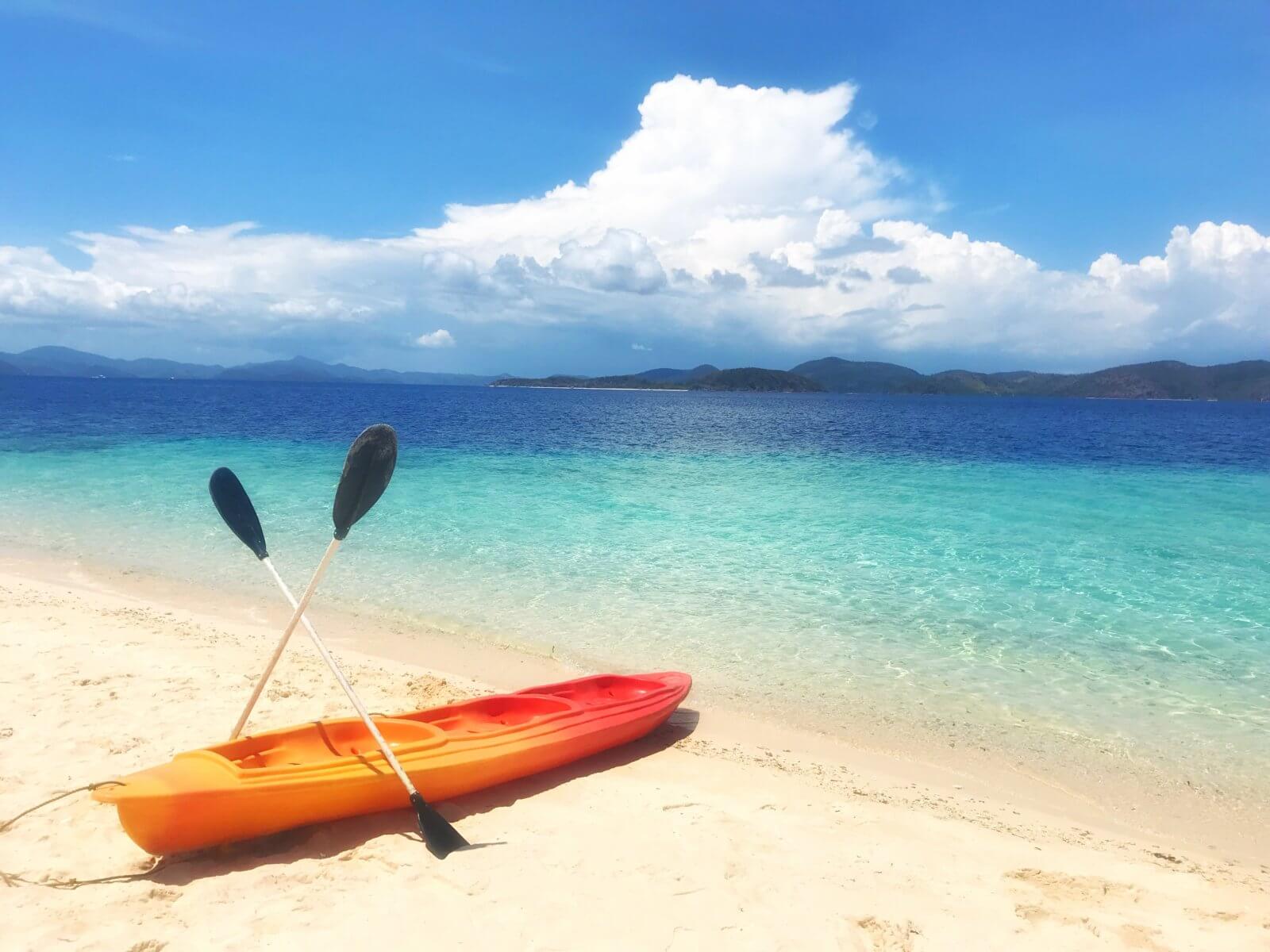 ---
Malcapuya Island
This idyllic island was the last stop on our tour and was about 25 min away from Banana Island. The boats dock on one side of the island whereas the beach is on the other side. You need to walk about 5 min from the boat to the beach. There are a few huts lining the beach with tables, which provide a good rest area and shade from the strong sun. There is a shop that sells coconut juice as well and a few resident puppies to keep you entertained! The translucent waters are absolutely inviting and a swim here, despite the scorching heat, is a must! The waters are shallow to a great distance, making the waters look a gorgeous light blue in contrast with the deep blue waters of the deeper end ahead. The beach is insanely beautiful and some white tree branches accidentally placed on the sand make for a fantastic photo opportunity.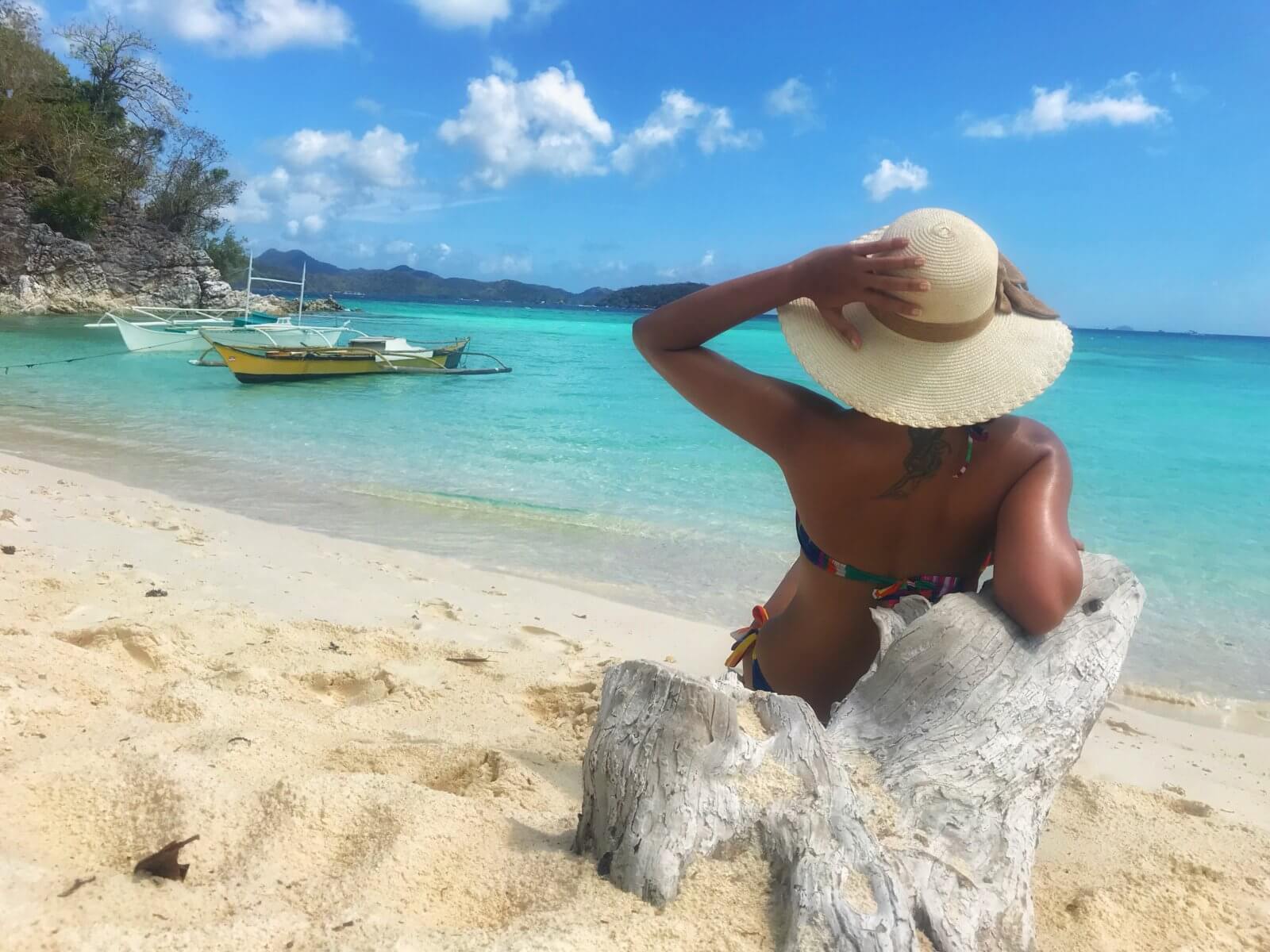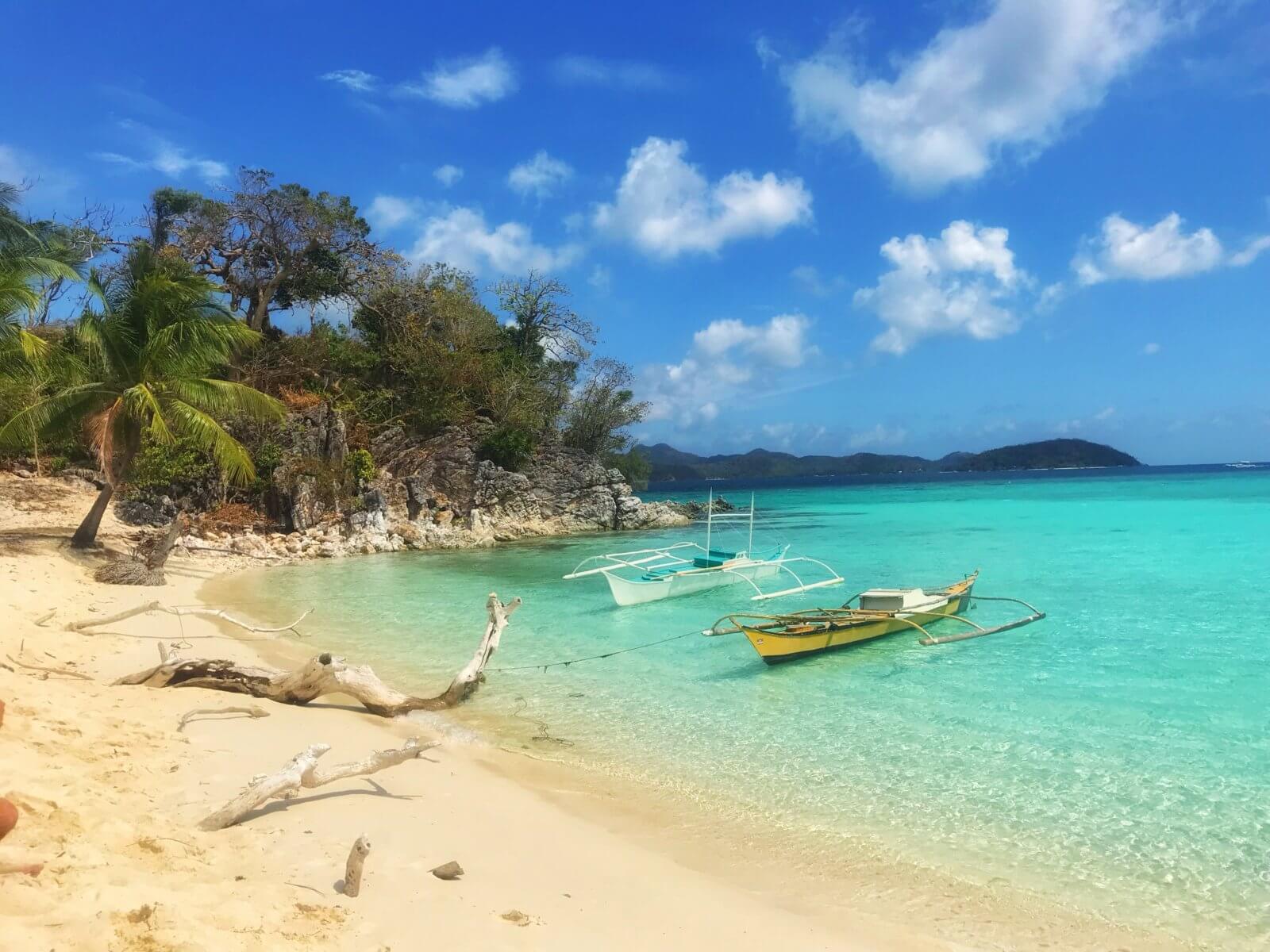 Malcapuya island is about 1.5 hours away from Busuanga Island so be prepared for a long journey back. Unfortunately, during our tour, the waters began to get very rough and it wasn't pleasant for some people. The ferry drops you back at Coron Town at about 5.30 pm, which is the right time to catch the sunset!
Click here to read about What to do in Coron in 3 days.