One of the few recently opened theme parks in the city, Legoland Dubai is a part of Dubai Parks and Resorts, which also houses other theme parks such as Motiongate, Bollywood Parks, and Legoland Waterpark, apart from Lapita Resorts. You have the option to buy a 1 day-1 park pass, 1 day-2 parks pass or 2 days-all parks pass.
If you're traveling during the winter months, which is the peak tourist season in Dubai, you're likely to encounter queues. However, the good part is that most of the waiting areas are in a closed, air-conditioned space which makes it a lot easier to wait than standing right under the hot Dubai sun.
Legoland Dubai's experiences are targetted towards children in the age groups 4-12 years. This is the reason that I visited this theme park with my 7-year-old nephew (you will see him in the following pictures). The park is partially in a closed space, which makes it easier to explore in the summer months as well. However, be prepared to walk in the open while going from one ride to another. Your kid can enjoy some fun and even some educational rides here. For the little adventurous, there are roller coasters and for the Lego masters, there are places where they can build their dream cars and try them out!
The first thing I suggest is to purchase the AED 40 souvenir bottle with allows you unlimited refills of soft drinks (and water) throughout the park, for the entire day. The bottles are small but they help you stay hydrated through the day as you walk along and also turn out to be cheaper than if you were to purchase cold drinks by the glass. Also, do not forget to pick up a map at the entrance, it'll prove to be very helpful in navigating your way through the park. Each ride has a height restriction and your kid will be allowed to experience it only if (s)he qualifies as per their measurements. On average, every ride allows children above 100 inches height to ride with an adult and above 130 inches height to ride by themselves.
Legoland Dubai comprises of 4 major areas connected through the central 'Miniland'. I will mention the main rides in each of these areas and the best ones to experience. If you have limited time, you may want to pick these and skip the rest. Each zone comprises several themed rides and F&B options. You will also find several shops along the way for buying Lego souvenirs, games and building blocks. You can also get a free collectors brick at the 'Factory' and your very own Legoland Dubai driving license at the 'Driving School'.
You can book your tickets to Legoland Dubai here.
---
Miniland
Although not that exciting for a child, Miniland left me in awe! Miniatures of the tall skyscrapers of Dubai, made completely with Lego blocks, can be found here along with Lego miniatures of several other iconic sites from around the world such as Petra, Pyramids of Giza, Taj Mahal, and several others. The intricately placed small blocks of Lego, forming these exact replicas, are absolutely mesmerizing. You can see Burj Khalifa, Burj Al Arab, Mall of Emirates, Dubai Marina's buildings and buildings of Sheikh Zayed Road perfectly laid out and though this may not be something your infant will appreciate, you are sure to be amazed by it.
Miniland is right at the entrance of Legoland Dubai, after the 'Factory' - where you can enjoy a little tour of a Lego Factory and understand how Lego blocks are created from scratch. There are 4 different exits from Miniland to the other key areas - Adventure, Imagination, Kingdoms and Lego City.
---
Kingdoms
One of the most adventurous rides of Legoland Dubai can be found here - an exciting roller coaster called 'The Dragon'. My 7-year old nephew absolutely loved it, though I would recommend you to take your children here only if they are daring enough. The ride starts from inside a castle, which itself has many elements made completely of Lego blocks. Even if you do not plan to go on the ride itself, I'd still recommend you to explore inside this beautiful castle.
For the less daredevil children, a smaller roller coaster called 'Dragon's Apprentice' might be a better option. The only other ride worth experiencing here was Merlin's Flying Machine, which is a carousel with airplane seats and a lever, that allows you to 'fly' (ascend) or land (descend) your flight while the carousel turns. My 7-year old nephew seemed extremely excited that he was able to steer the plane!
---
Adventure
This zone has some really exciting rides and I don't mean it from an adult's perspective only! A free-fall gravity ride called 'Beetle Bounce' meant for children is a great introduction to this zone and although it isn't as much of an adrenaline pump as the roller coaster, it's definitely a good one for the kids.
The highlight of this zone, however, is the 'Submarine Adventure' in which you board a submarine from a platform and then travel under the water! Glass windows allow you to look outside and you will encounter some really colorful fish as you sail along. Watching the variety of fish swimming by and lego miniatures of the Lost City of Atlantis at the bottom of the 'ocean' makes you feel as if you're in a real submarine, out in the sea!
The 'Lost Kingdom Adventure' is yet another 4D ride which is really cool. However, this is not operational throughout the day and you would have to wait for the specific show times to be able to watch this.
While you wait for the next show, you might want to experience 'Wave Racers', yet another exhilarating ride for the kids as it allows them to steer their 'boats' while on a carousel,  getting slightly splashed in it too.
---
Imagination
This zone is mainly for kids who want to play with the Lego blocks and build something. Only two rides - 'Kid Power Towers' (similar to the free-fall gravity ride in Adventure Zone) and 'Lego Studios' (a 4D show) here seemed interesting. If your children like to play with Lego blocks and use their imagination to the fullest or are car enthusiasts, the 'Build and test' experience might be worth it.
'Lego Mindstorms' is for the older kids (8-12 years old) whereas 'Stepping Stones' is for the younger (4-7 years old). Let your child's imagination run wild in this zone at Legoland Dubai!
---
Lego City
This zone in Legoland Dubai is an educational one for the kids. Rides such as 'Driving School', 'Boating School', 'Police Headquarters' and 'Rescue Academy' teaches the children through experience, basic civil rules of our cities. Children can actually steer a boat, drive a car and be a part of a fire rescue while understanding the nuances of living in the society and the jobs of the heroes of our day to day lives such as the cops and firefighters. Although the rides are low on the exhilaration quotient, they are meant to educate.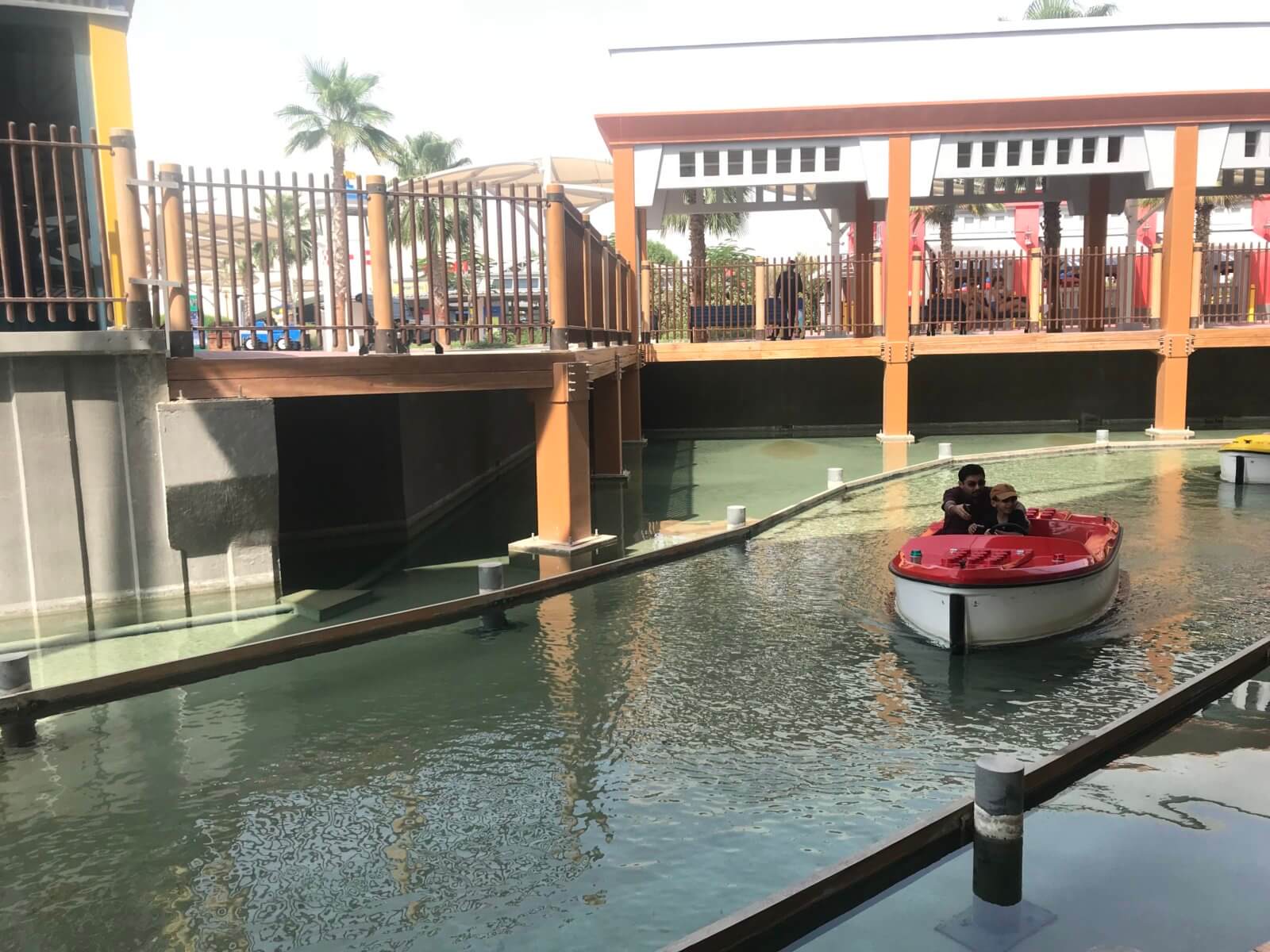 Click here to read about 15 amazing things you can do for FREE in Dubai.
Disclaimer: This is NOT a sponsored post. I paid full price for the ticket and all the opinions expressed in the post are my own genuine views about the theme park.