Updated: November 2020
A modern metropolis that is home to some of the most iconic architectural marvels in the world, Dubai has a pulsating day and nightlife, with numerous options for people who're looking to enjoy a lively, action-packed vacation. During the winter months, when the patio cafes, al fresco restaurants, rooftop bars and beach clubs are in full swing, the city comes to life with the sort of energy that is palpable yet hard to replicate. Here's a list of some seriously cool places to hang out in Dubai, if you are looking to become a part of the buzzing city life here.
---
#1 Sheikh Mohammed Bin Rashid (Emaar) Boulevard
Sheikh Mohammed Bin Rashid Boulevard located in the Dubai Downtown area has proved to be an excellent alternative to  Souk Al Bahar (in Dubai Downtown) with the variety of eating options available. It's a street decorated with well-lit up trees and lined with al fresco cafes and restaurants. Even some hotel chains have come up offering amazing lounges, views of Burj Khalifa and superb ambiance.  Simply saunter down the boulevard from the Dubai Mall or you could hop on the Dubai Trolley from Burj Khalifa and Dubai Fountains area to come to the Boulevard. From local to international chains, this is one of the upcoming, trendy and uniquely cool places to hang out in Dubai.
Insider tips: One of the interesting places to watch out here is the Dubai Opera. For food, Reem Al Bawadi is an amazing Arabic restaurant and Royal Orchid has great Asian fare.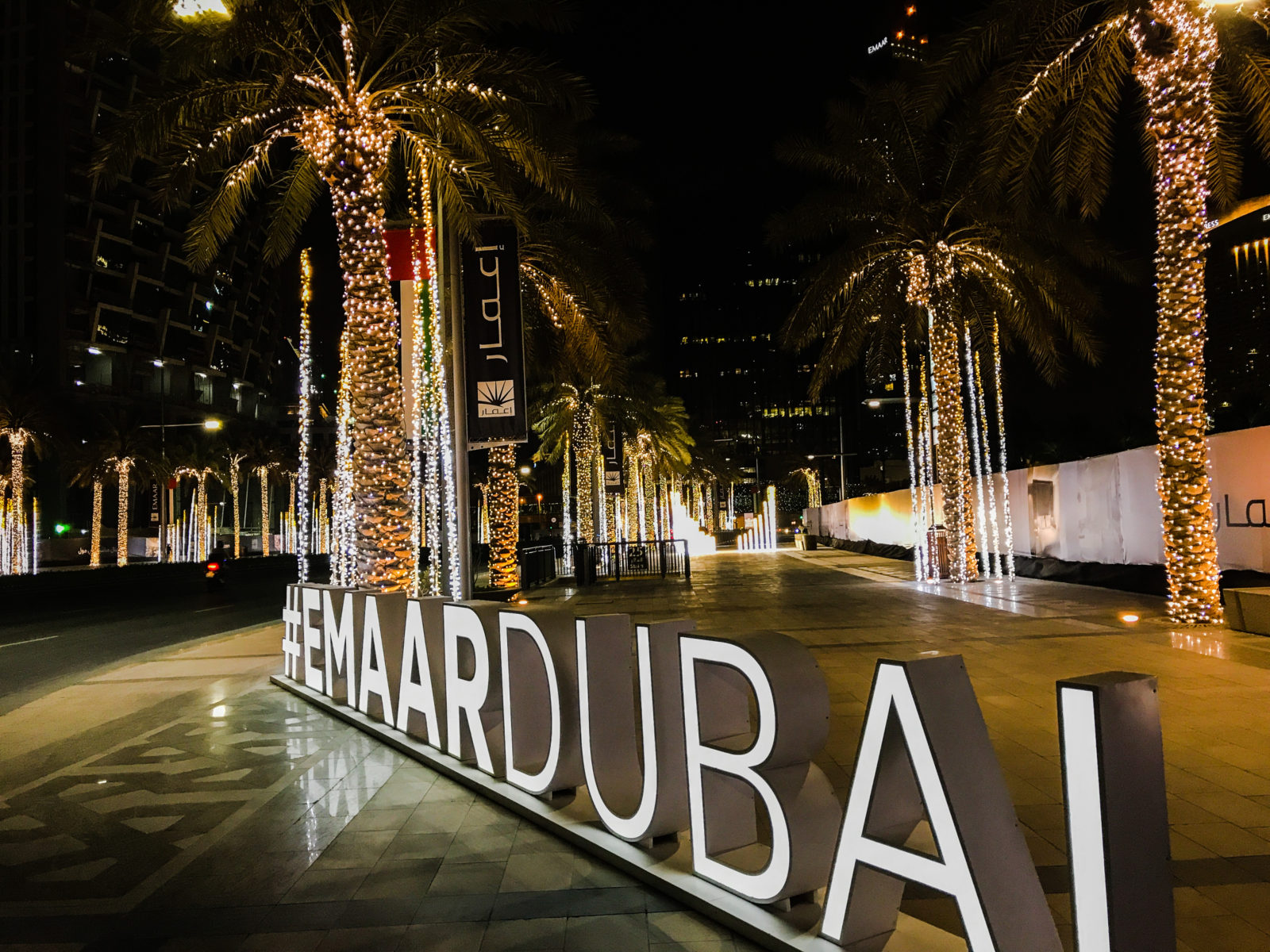 ---
#2 Marina Walk
This is easily one of my favourite cool places to hang out in Dubai. You can walk amidst towering skyscrapers on one side and the green canal waters lined with yachts on the other, or choose to sit back and relax on one of the patio shisha cafes while sipping on refreshing mocktails. A very chic place with numerous dining, leisure and entertainment options, Marina Walk extends to about 3.5 kms from one end to the other and has many diverse areas that you can explore, such as Dubai Marina Mall, The Address Hotel, Marina Plaza and Pier 7, a multi-storey tower focusing on providing superlative dining experiences.
Insider tips: For some amazing views of Dubai Marina from a height and extremely good Pan-Asian cuisine, Asia Asia on Pier 7 is an excellent choice. Two of my favourite lounges offering breathtaking views with shisha as well as interesting cocktails are Shades at The Address Hotel and Atelier at Pier 7.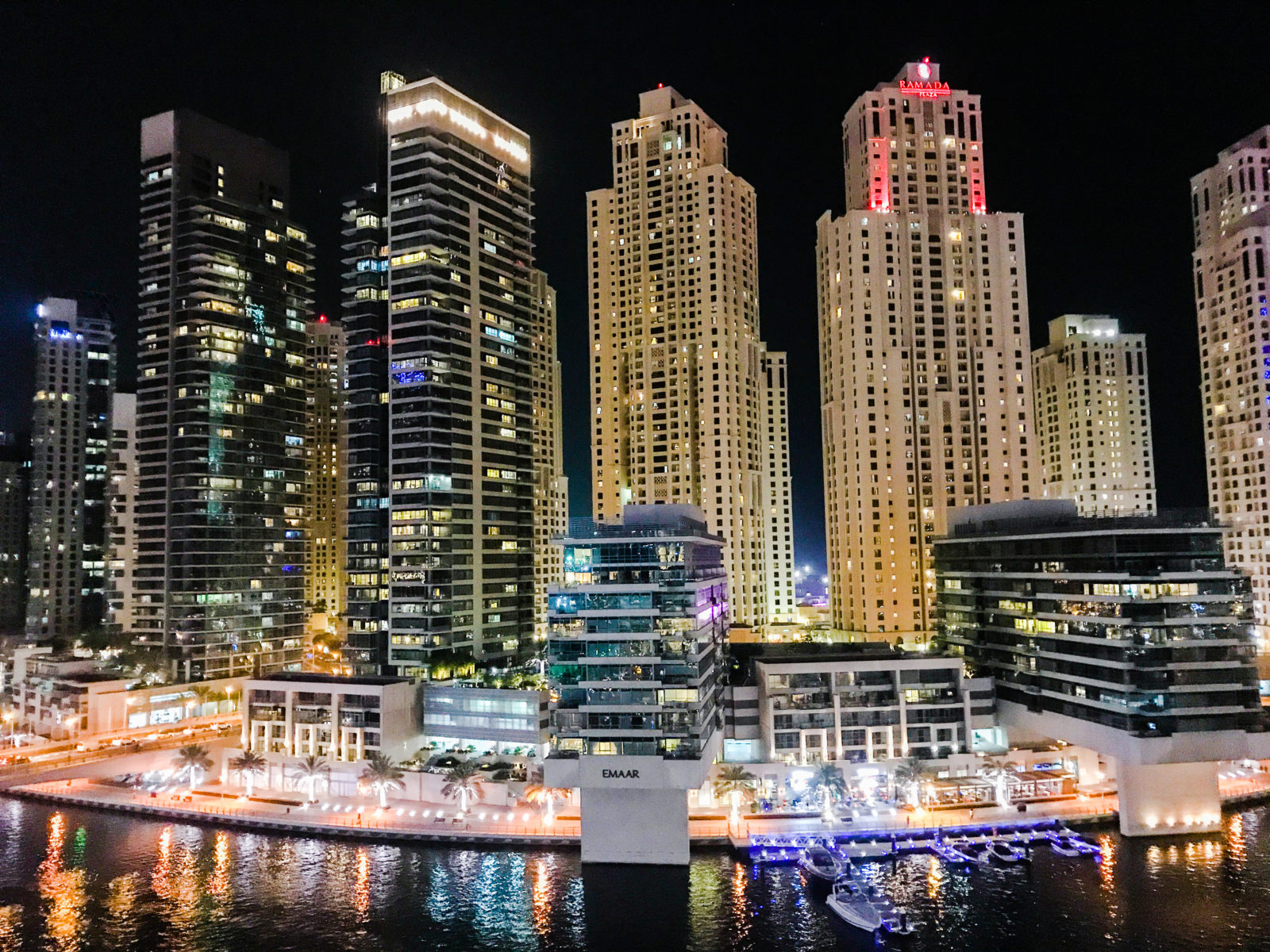 Read about What you must know BEFORE travelling to the UAE
---
#3 Jumeirah Beach Residences (JBR) Walk
Not too far from Dubai Marina is another one of the cool places to hang out in Dubai. Jumeirah Beach Residences, better known as JBR Walk, is Dubai's version of South Beach, Miami. Dubai's most extravagant and flashy crowd, with swanky cars that'll make your jaw drop, can be seen here. A gold-plated Rolls Royce can be spotted on certain days, parked in front of one of the hotels. A stone-paved path, alfresco cafes, and restaurants with beach dining, bars and lounges with beachside parties, open-air cinema with bean bags, chic and fashionable shops as well as a 'Beach Mall' are a few things that'll spark your interest here.
During the day, you can enjoy some water activities at the inflatable water park, just off The Beach, JBR. In the winter months, this is one lively and crowded place. A recent development, visible from here, is the upcoming Bluewater Island, which will feature the Ferris Wheel or Dubai Eye, considered to be one of the largest of its kinds in the world. A modern tramway system is a perfect way to get to JBR Walk, avoiding the jam-packed streets. This shopping and dining destination, which is also great for nightlife, is one you cannot miss!
Insider tips: Between November - April, you will often find an outdoor artisan market with food stalls, and art & craft vendors at The Beach. You're spoiled for choice when it comes to gourmet food and some of my favorite restaurants here are PF Changs for Chinese, Busaba Ethai for Thai cuisine and Bosporus for Turkish fare. For shisha lovers, Smoky Beach is a great option to enjoy a chilled out vibe with unique flavours, right on the shore.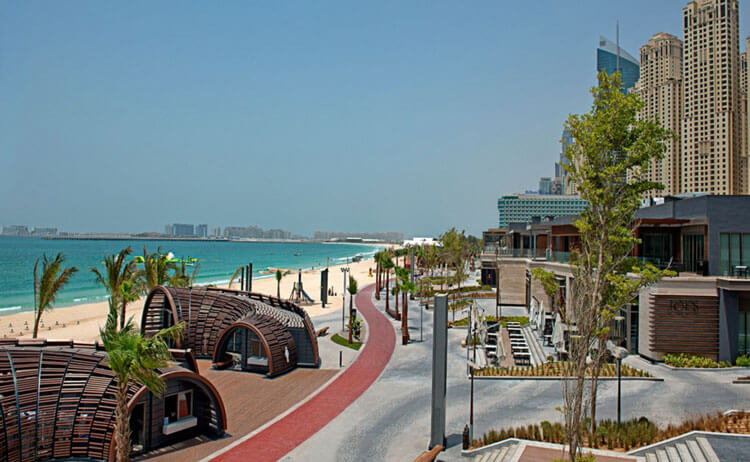 ---
#4 Madinat Jumeirah
I love this place because of the eclectic mix of the old (architecture) and the new (bars, restaurants, nightlife). Madinat Jumeirah is a hotel complex which comprises of 3 luxurious hotels, a bunch of bars and lounges, a souk, beachside and other fine dining options and a lovely meandering canal which connects all these places, which can be visited by an abra or simply enjoying a nice walk on the pathways.
Some areas, especially the beach and fine-dining restaurants, are accessible only if you have a reservation or are a hotel guest. However, most of the outlets are open to the public. Be it during the day or at night, this place is always buzzing with events that'll capture your interest, cocktail concoctions that'll amaze you and variety of food options. It is one of my favourite places to hang out in Dubai.
Insider tips: Cocktail lovers must try the Tiki Puca Puca at Trader Vic's. On-site is also one of the best spas you'll find in town, Talise Spa. Opt for a Yoga session by the beach or simply enjoy a massage treatment in one of their luxurious private rooms. If you like Thai food, Pai Thai is a great choice: amazing food and the perfect setting, on a wooden platform right over the canal. If you're happy to shell out some bucks for a luxurious dining experience, Pierchic will not disappoint you. Situated (as the name) on a pier jutting out into the sea with unparalleled views of Burj Al Arab, this place is a seafood lover's haven but stands out more for its setting and brilliant views.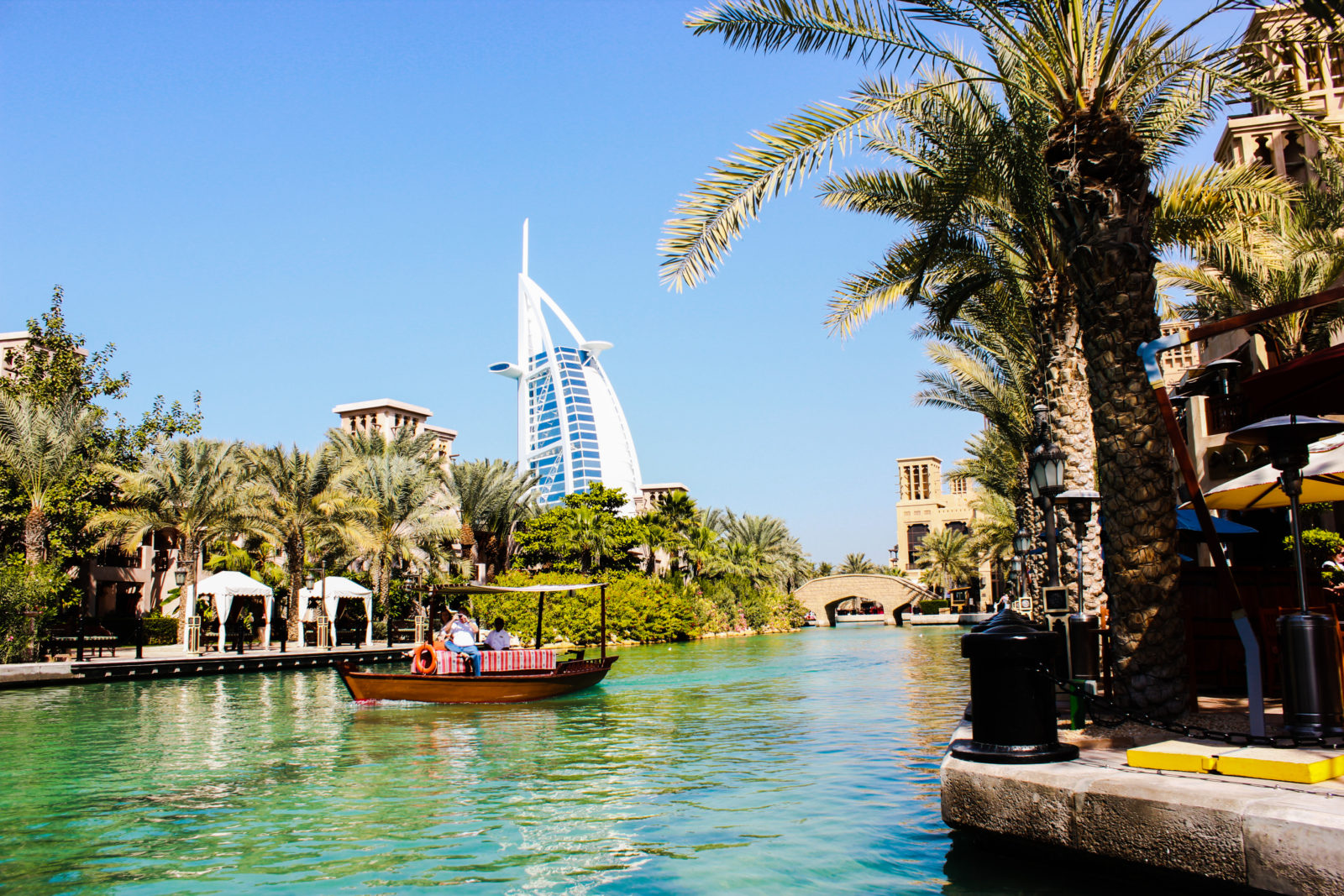 Read about 15 amazing things you can do for FREE in Dubai.
---
An area that has come up only recently, Citywalk is unlike any other place in Dubai. Set in the backdrop of Burj Khalifa, this place has numerous patio cafes, food trucks, miniature buses (for children), gaming outlets (such as Hub Zero and Mattel Playtown), ice cream vendors, retail outlets, a cinema and so much more! It is a lively place to hang out, especially for families, with a very London-like feel. However, none of the restaurants here serve alcohol (there are no bars and lounges). Nevertheless, the food and entertainment options available make for Citywalk to be one of the cool places to hang out in Dubai.
Insider tips: For fusion Indian food, Farzi Cafe is a must-visit. Not only is surprisingly reasonably priced, the food is finger-licking good, with very creative combinations, suitable for all types of palates. Green Planet is yet another interesting concept, an immersive vertical indoor tropical forest with exotic flora and fauna.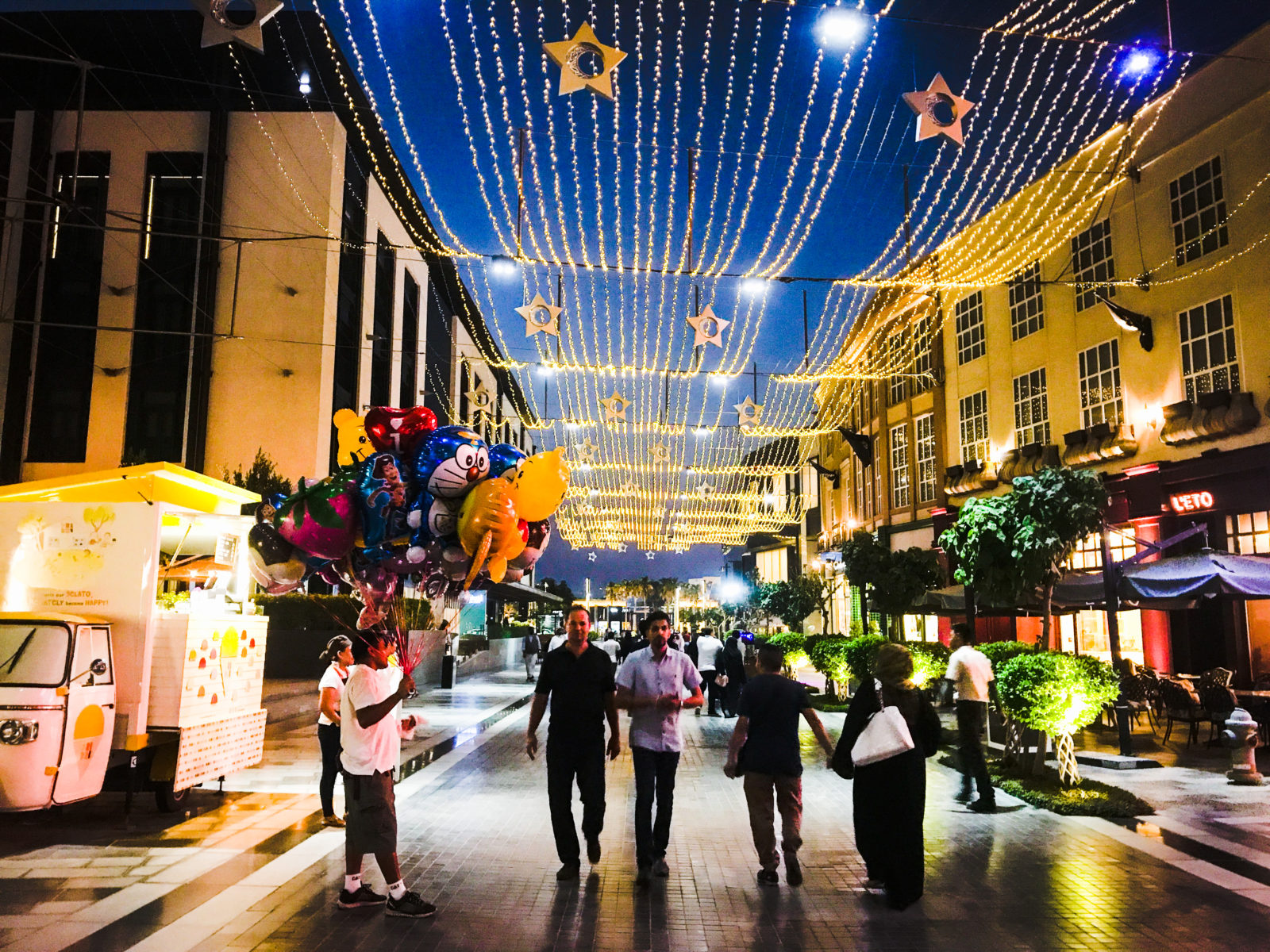 ---
#6 Jumeirah Kite Beach
Jumeirah Kite Beach is one of the best public beaches in the city, set against the backdrop of Burj Al Arab. Although there are no lounges or shacks here serving alcohol, many restaurants and cafes line the white sandy beach, offering fresh juice, snacks and seafood, with amazing views of the colourful kites in the green waters. A walking/ running path, water sports, sun loungers with umbrellas, beach volley and other activities make this beach a fun one to spend time at and the only such public beach in the area. During January/ February every year, Dubai's Food Festival sees the springing up of Etisalat Beach Canteen, a temporary street food set up right on the white sands, with live music, bean bags and beach sports. This is what makes it one of the coolest places to hang out in Dubai.
Insider tips: Stationed right next to the Kite Beach is the popular casual dining destination, a food truck called Salt. Although slightly expensive, their contemporary-styled burgers are a must-try!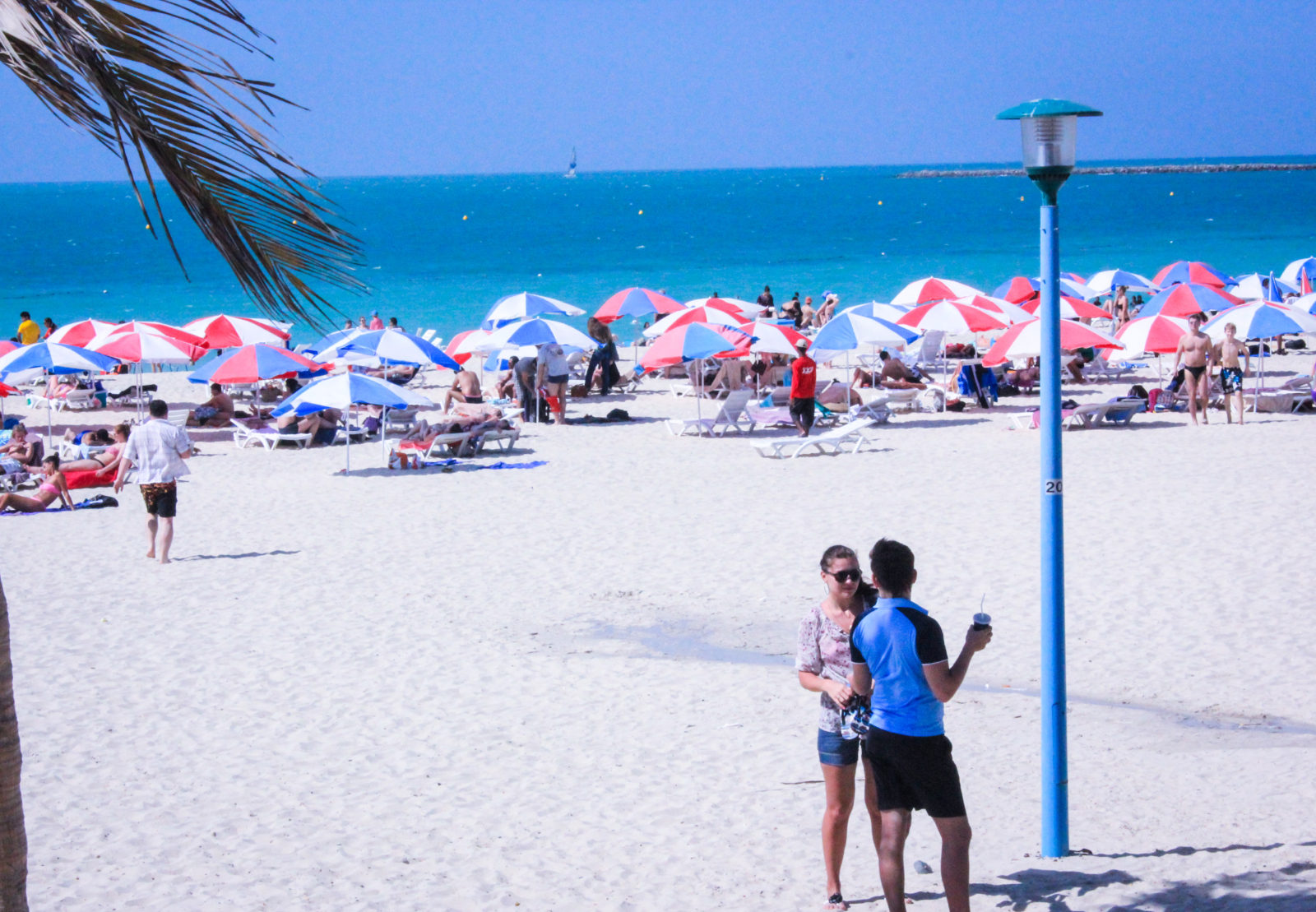 Read an interesting post on How to experience 15 world records in 4 days in the UAE.
---
The concept of street food and food trucks is fairly new to Dubai and unfortunately, due to an unbearably warm summer, it is only in the six winter months that you'll find people swarming to outdoor places to enjoy the cool weather. From November - April, many events, and festivals focusing on street food take place. However, The Last Exit is not a temporary set up, it is a place dedicated to food trucks and street food lovers, beautifully decorated with lights, light and soothing music playing on the loudspeakers and the option of drive-in as well as dining area for the visitors. It is a one-of-its-kind place to hang out in Dubai.
As the name suggests, The Last Exit is a themed food truck concept that is usually found at the last exit of a highway in the UAE. At the moment, we have four existing Last Exits and the largest one is on the Sheikh Zayed Road (E11), on the way from Dubai to Abu Dhabi.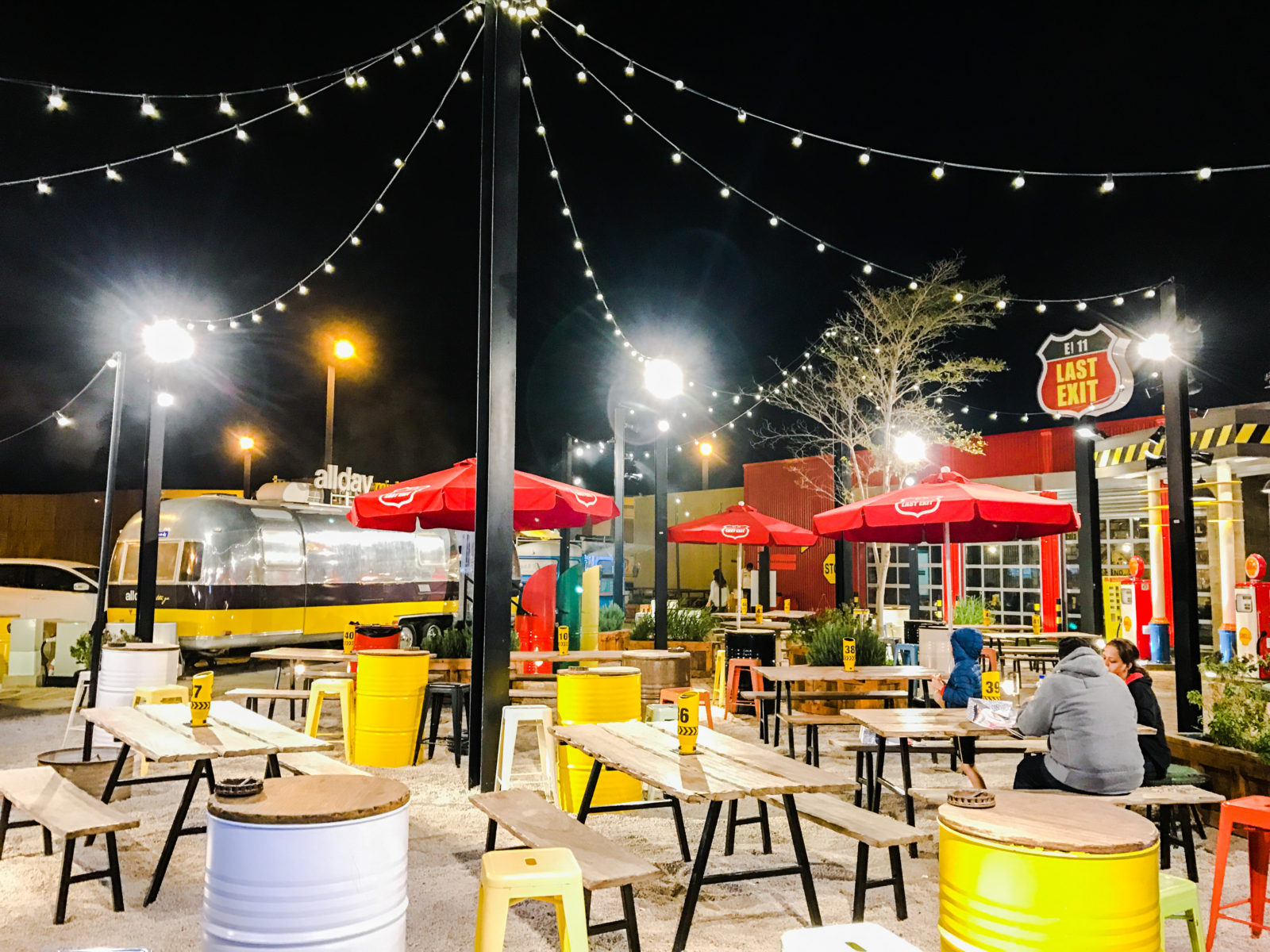 Planning a short trip? Here's your guide to a quick 4-day itinerary for Dubai & Abu Dhabi.
---
#8 Al Bastakiya
Al Bastakiya is one of the most unique places to hang out in Dubai. Also known as Al Fahidi Historical district, although most people come here to experience the heritage of Dubai in a place that is designed like an open-air museum, with old-age architecture, wind towers, and several cultural displays as well as art galleries, what makes this place seriously cool are the cute courtyard and terrace cafes that you'll find here. Just allow yourself to get lost in the lanes and explore the area without any agenda - you'll stumble upon restaurants built inside heritage houses, cafes with bean bags, courtyards converted into reading spaces and boutiques.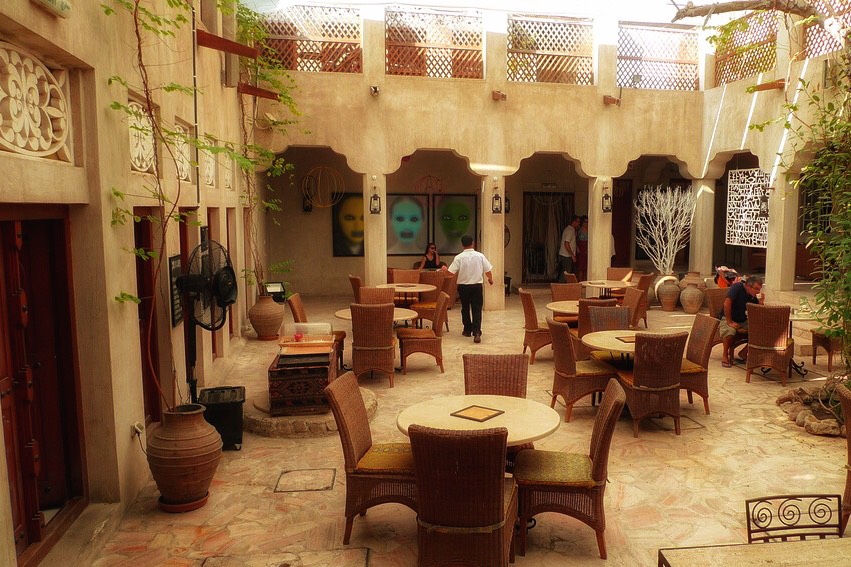 Insider tips: Right across the creek, you'll find the famous Gold & Spice souks, which are accessible by the traditional 'abras' on the creek. While in Al Bastakiya, do look for Make Art Cafe, one of the coolest places to hang out in the area, a cafe built in the courtyard of a heritage house which also has a bookshop, a rooftop relaxing area, a boutique and handmade souvenirs shop. If you're looking for the perfect Arabian food in a cosy ambience, Arabian Tea House is a fantastic one.
---
#9 La Mer
La Mer was opened quite recently and has become one of the most happening places to hang out in Dubai. A beachside stretch of numerous cafes, restaurants, bars, boutique shops, and even a waterpark, La Mer is buzzing during the day as well as at night. A very contemporary and minimalistic design, white sands and the blue ocean, beach loungers (although expensive), bars playing live music, food trucks serving street food, cool street art, fairy lights, watersports during the day (paddle boarding, kayaking, etc) and terrace cafes offering superb views of Dubai's skyline are all reasons why this relatively new destination has become one of the local's and tourists' favourite places to hang out in Dubai.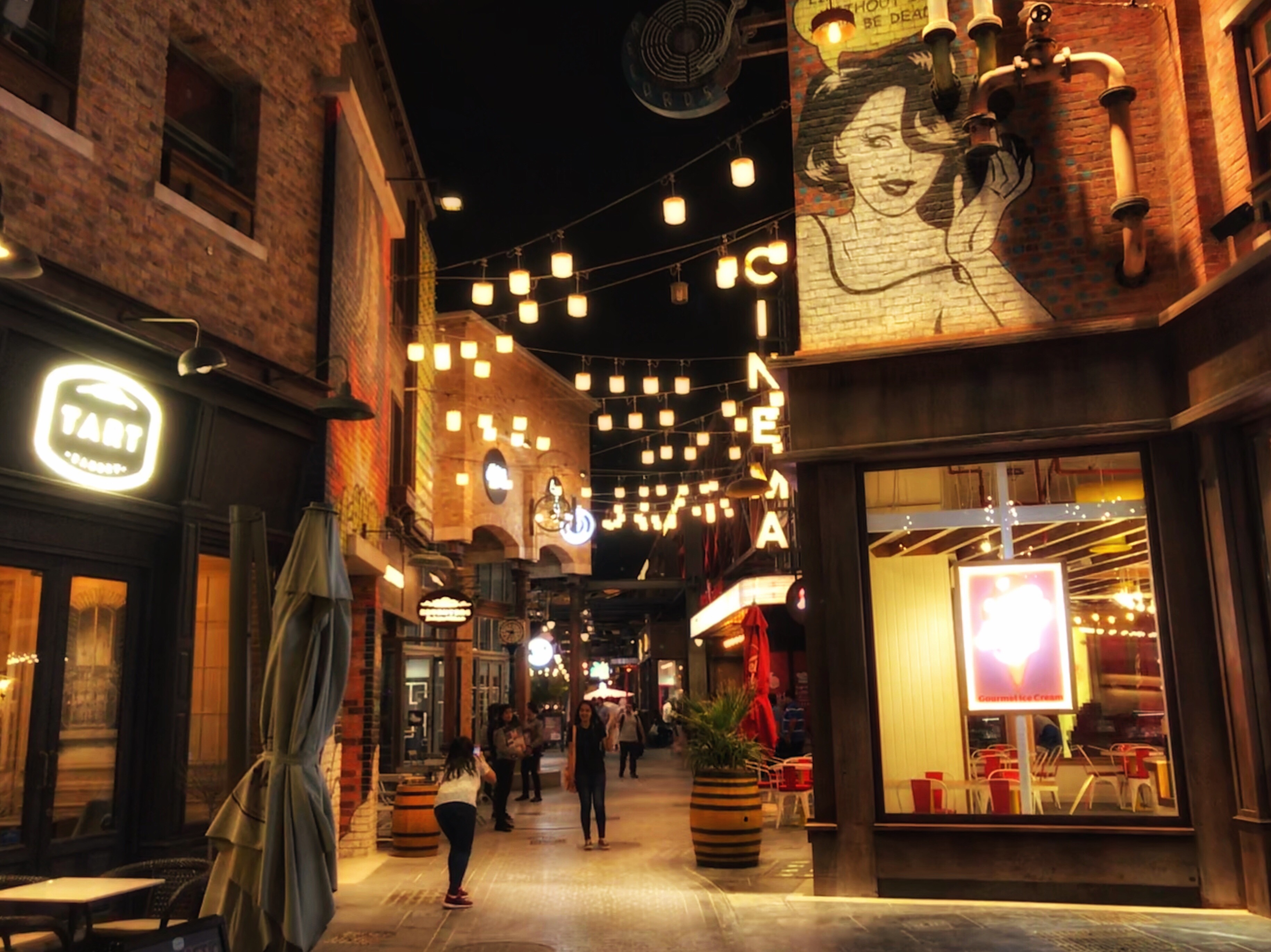 Insider tips: Although it is rare to find places serving alcohol in Dubai unless they're a part of a hotel, La Mer has some restaurants which have a liquor license. Stars and Bars, located at one end of the stretch, is one with a really cool vibe, rustic seating, live performances on the weekend and some decent cocktails. For authentic and good Arabic food, Zouzou is a great option and Masti is a popular one for cocktails and fusion Indian food with a chilled-out vibe. La Mer also has a small waterpark called Laguna Waterpark, a great way to spend some time if you love slides, lazy rivers and lounging.
---
BONUS
#10 The Pointe
A fairly new addition to Dubai's already pulsating hangout scene, The Pointe is located in one of the most luxurious neighborhoods of the city, The Palm. With the iconic Atlantis hotel in the backdrop, the blue waters of the ocean and the monorail that connects over the sea, not only does the place make for some really instagrammable spots but the boardwalk is a nice place to enjoy an evening walk. Several restaurants and cafes line the promenade, while the key spot is the small sandy beach that offers free bean bags right on the shore and with head-on visibility of the Atlantis Hotel. Undoubtedly one of the best places to catch the sunset, this is also where all the live entertainment and events take place during the weekends.
Very recently, The Pointe became home to the World's Largest Fountain, with shows taking place daily, from sunset to midnight.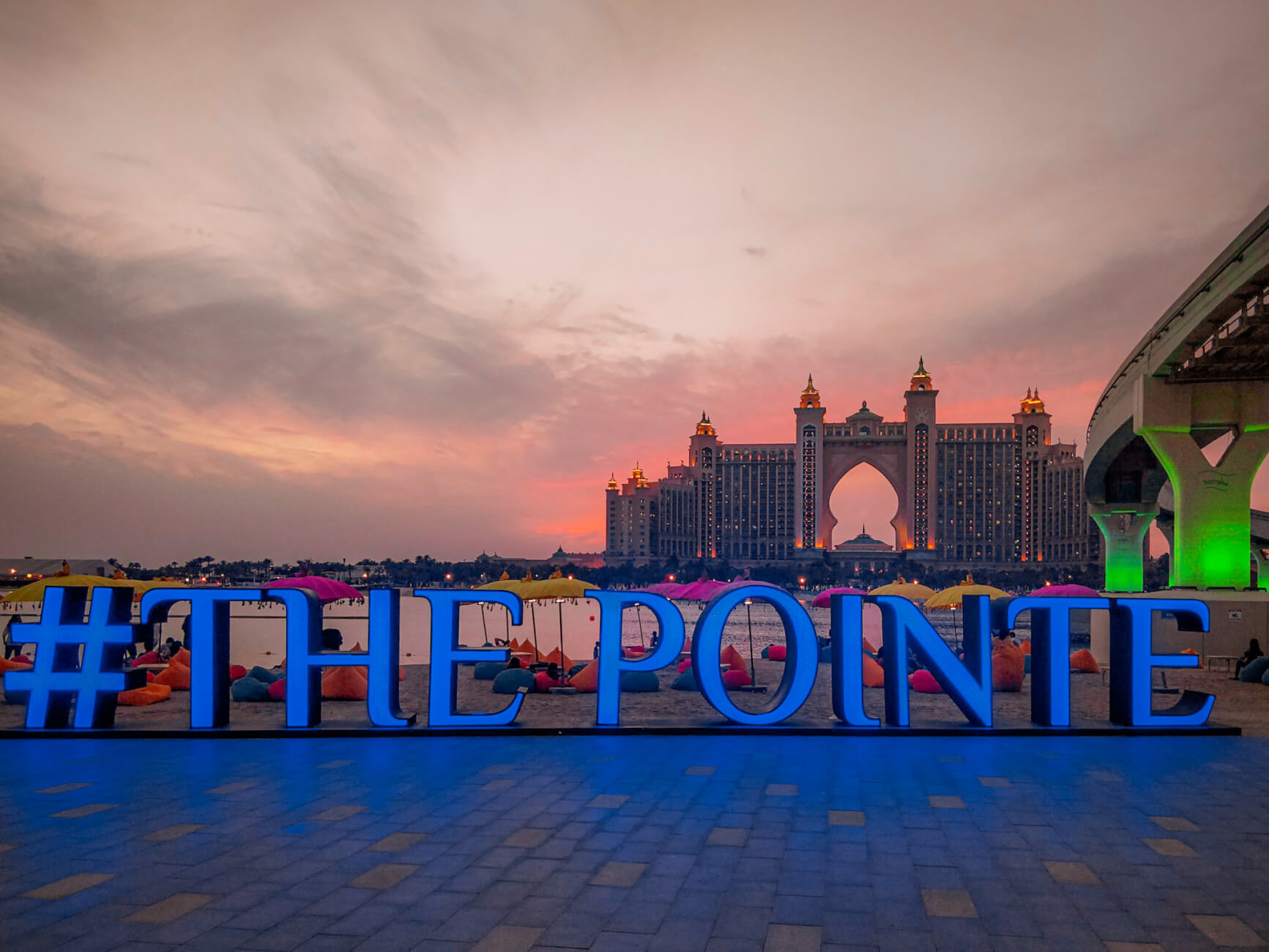 Insider tips: Adventure junkies and active families can try out the aqua-cycle or book a kayaking/ stand-up paddle boarding experience through Yellow Boats. Foodies can head to Chuan for fresh seafood with amazing views, and A Cappella for cocktails.
You can also find here a detailed guide on Where to stay and things to do in Dubai.
---
Looking for a hotel in Dubai? Click here to find your best options.